Never miss a bite! Sign up here to receive new recipes and reviews straight to your inbox.
Disclosure: I was invited to dine as a guest of the restaurant. No monetary compensation has been received for this post. As always, all opinions are 100% my own.
Everyone's mind is on NFL and college football this time of year, and it's good to have a go-to spot to cheer on your favorite team. Bokampers, with locations in Fort Lauderdale, Miramar, Plantation, Naples, and Estero, is a perfect place to do so!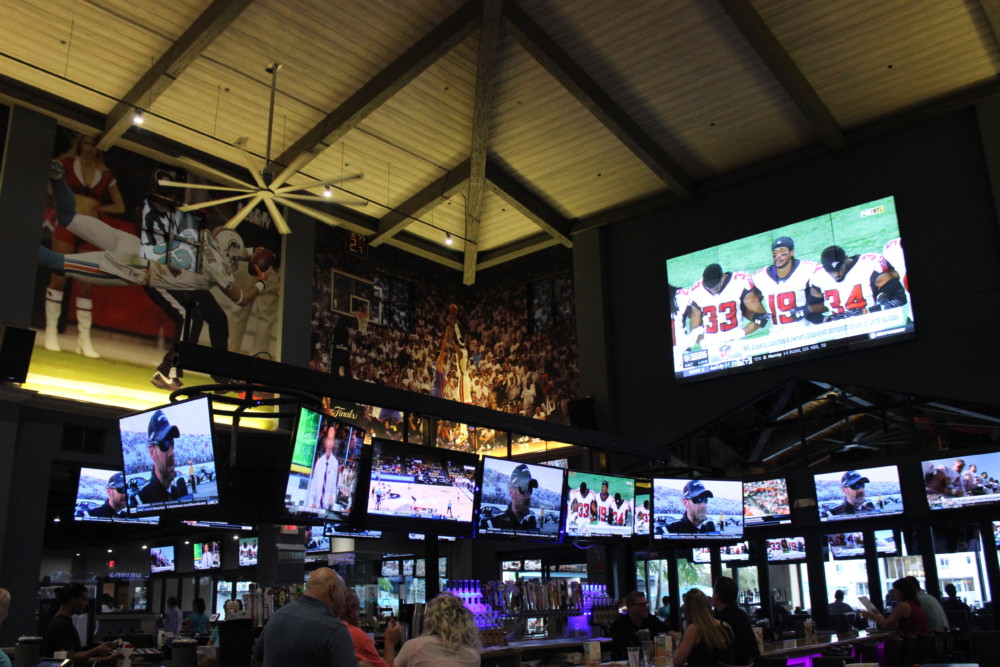 I had a chance to check out the Fort Lauderdale location one night for Monday Night Football and enjoyed prime seating at the bar to watch the game. There are more than 150 TVs inside the restaurants, plenty of seating including both an indoor and outdoor bar, and the largest dock in all of Broward County (350 feet), making it super easy for guests to make their way to the restaurant via boat. The first Bokampers location was opened in 2008 by former Miami Dolphin's linebacker, Kim 'Bo' Bokamper, to show off his passion for sports, food and entertainment. The menu is pretty diverse, featuring your favorite sports bar staples with a Bokampers twist. Things like loaded nachos that you can add cactus chili to, sliders with a onion-bacon marmalade, and spinach and artichoke dip with applewood smoked bacon. But what Bokampers is really well known for is their 'Killer B' wings. The signature wings are tossed in a combination of medium, BBQ and garlic sauces, then grilled to perfection. You also have the option of choosing your own sauce — mild, medium, hot, scorching, honey BBQ, tangy Carolina BBQ, sweet and spicy and mango habanero — and ordering the wings boneless, also with your choice of sauce.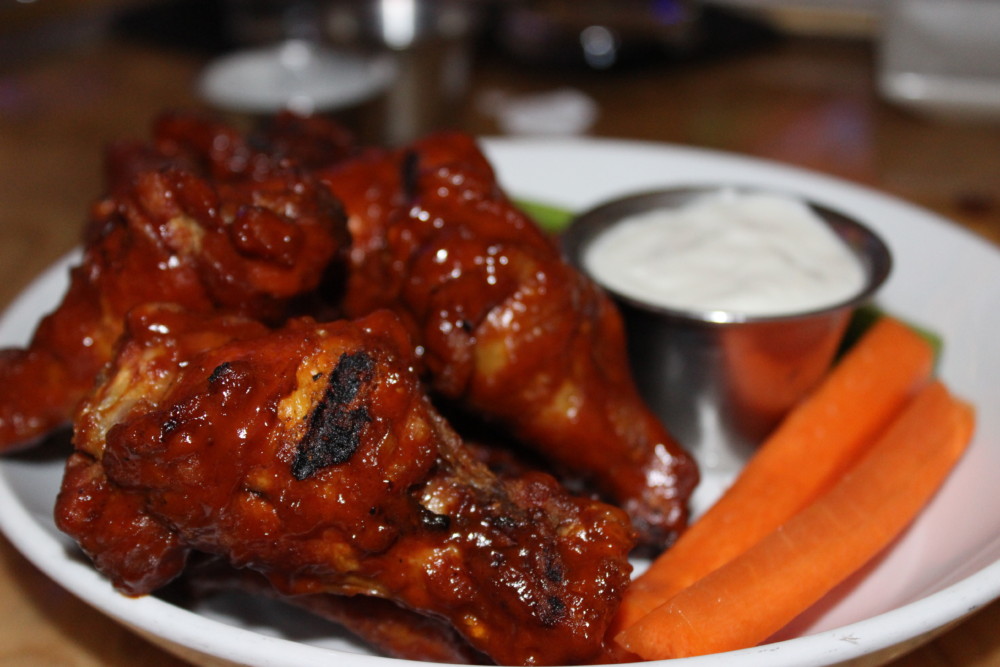 Of course, we had to order them — A) so I could take a picture, and B) so my E.P.I.C. (eating partner in crime), Jill, could devour them. Not gonna lie…I grabbed a celery stick and tried to swipe some excess sauce to try. Although I could only grab a little bit, it was a whole lotta YUM!
We also tried the Sriracha-spiced tuna wontons topped with Japanese wakame (seaweed) salad, teriyaki and wasabi dressing served on crisp wonton squares. These were so good. Just the right amount of heat balanced out by the sweet teriyaki. I could have eaten a dozen of these! Not only were they delicious, but they were presented beautifully too, which also adds extra points.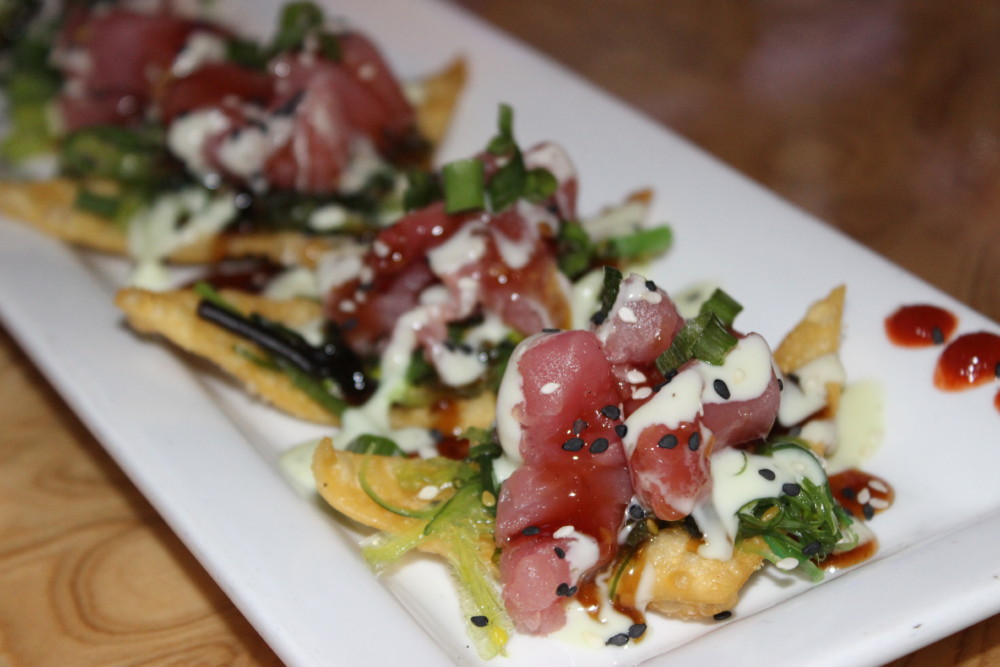 I also couldn't get enough of Bo's Bangin' Shrimp, topped with toasted sesame seeds and served with a thick and creamy ranch sauce. I know you're all thinking these are probably super similar to a certain chain restaurant's signature appetizer, but no — these are much better. I promise. Don't believe me? Hop in your car right now (or take an Uber because the beer and cocktail list is quite extensive) and head down to Bokampers to give 'em a try. You can thank me later.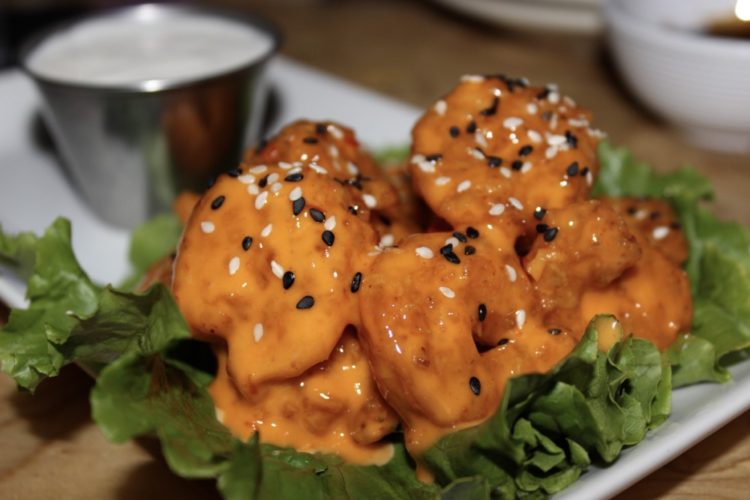 Exclusive to the Fort Lauderdale location is the raw bar and sushi menu, which gives this place a one-up on all the others in my book. Unfortunately, we were there on a Monday so I wasn't able to try the chargrilled oysters (my favorite!) since it's a weekend-only special. Next time, for sure! We did, however, get to experience the sushi. The sushi chef created a unique roll for each of us — he even made mine wrapped in nori (seaweed paper) instead of rice. If you'd prefer this preparation, just ask! Mine was a mix between salmon and tuna, both equally as fresh and flavorful. Sushi isn't as filling when you get it without rice, making it much easier (and much more guilt-free) to inhale an entire 8-piece roll without thinking twice.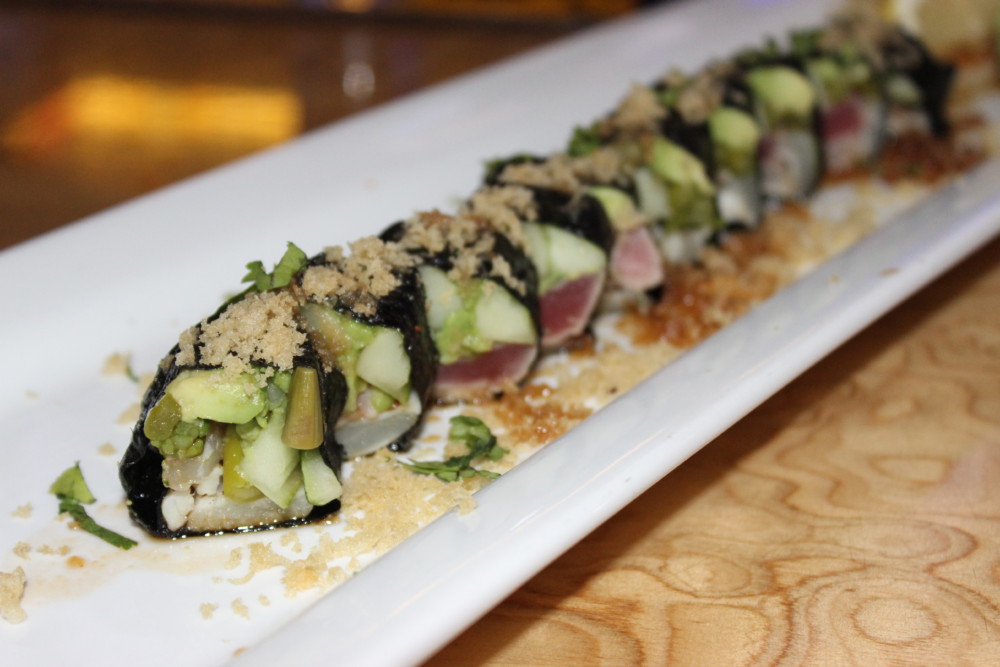 Now, who would Jill and I be if we didn't order french fries while out to eat? ESPECIALLY at a sports bar! Bokampers loaded fries are topped with melted cheese, sour cream, bacon and chives — basically the definition of football food. But neither of us like sour cream, and I don't eat bacon, so we got our "loaded" fries a little less loaded. We nixed the sour cream, and got the bacon on the side. Basically, we had a plate full of cheese fries, and I couldn't have been happier. The french fries themselves still managed to stay crisp on the outside despite being covered in gooey, melted cheese. I'll never dip my fries in something basic like ketchup, but you can bet I'll dip them in something a little less ordinary — like the spicy mayo served with our sushi and the ranch sauce that came with our shrimp.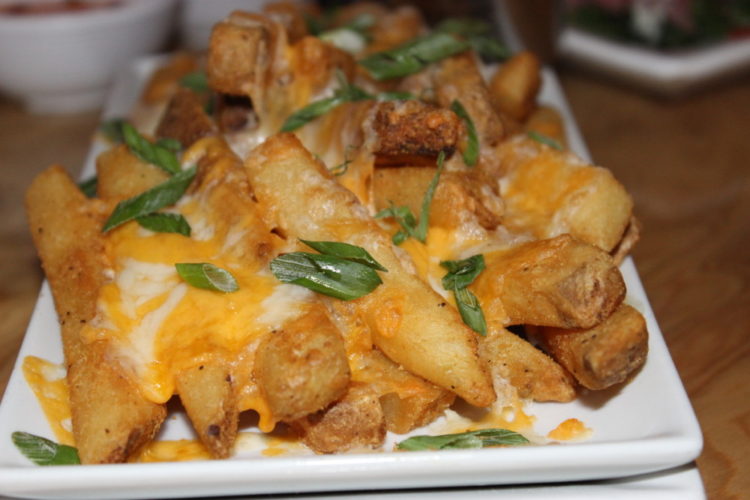 All football feasts must come to an end — but that end must always include dessert. We saw fried Oreos on the menu and needed no further time to discuss. The cookies are dipped in a sweet cream batter, fried until golden brown, and then topped with white and dark chocolate, with a scoop of vanilla ice cream on the side. Think carnival meets game day and that's this dessert in a nutshell. Bokampers did not disappoint, and I'll be returning soon to try those chargrilled oysters!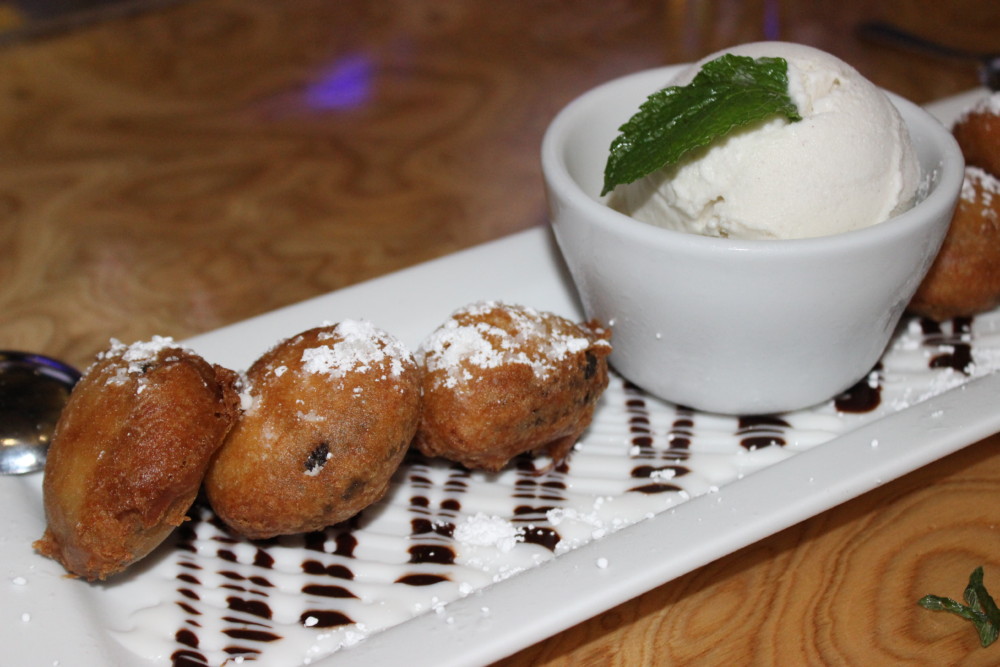 Bokampers has daily happy hour specials from 11:30am to 7pm, featuring $1 off craft beer bottles, $3 and $4 draft 16oz. beers, $4 wines by the glass and $5 cocktails. There's also a late night happy hour Sunday through Thursday from 10pm to close, featuring all drinks at half price. A Sunset Dinner menu is available Monday through Friday from 3-6pm, featuring $11.99 entrees + soup/salad with the purchase of a beverage. Bokampers is open Sunday through Thursday from 11:30am to 1am, and Friday and Saturday from 11:30am to 2am. Bokampers is located at 3115 NE 32nd Avenue in Fort Lauderdale.