Never miss a bite! Sign up here to receive new recipes and reviews straight to your inbox.
Disclosure: I was invited to dine as a guest of the restaurant. No monetary compensation has been received for this post. As always, all opinions are 100% my own.
One of the many perks of living in Florida is the abundance of restaurants with an oceanfront view. Case in point — Steak 954 located inside The W Fort Lauderdale. The restaurant is also accessible to non-hotel guests from a convenient entrance on A1A, and has an outside patio area that looks out onto the gorgeous palm tree-lined street, with the ocean just footsteps away. The beach is still in view even from the seats inside, where you also get an up-close-and-personal look at a huge, illuminated jellyfish tank. During my visit for dinner, I couldn't help but think to myself the entire time, this is the life.
Steak 954 is part of iconic chef/restauranteur Stephen Starr's STARR Restaurants, a group with numerous restaurants all over the place — Philadelphia, New York, New Jersey, Washington, D.C., and Florida. I grew up with the Continental and Buddakan in Atlantic City, just minutes away from my home, and was excited to check out another one of his restaurants.
At the moment, the W is going through some serious renovations so I wasn't able to walk through the hotel as I would have liked to do. But experiencing Steak 954 for dinner was enough to entice me to come back again after the construction is complete to check everything out — and have another fantastic meal. Like any steakhouse, the seafood is just as impressive as the list of filets, strips and rib eyes. Luckily, I was with people who were totally okay with Pescatarian-friendly eating. I was feeling bubbly that evening, so I stuck to sparkling rose to complement what was about to be one incredible seafood fest. I've been all about the bubbles lately — prosecco, champagne, sparkling wine — if it has carbonation and can be served in a split, I'm there.
But that's besides the point. Let's talk appetizers, shall we? Lobster and crab coconut ceviche. Read that again — lobster and crab COCONUT ceviche. A lot of ceviches are all about the lime and some like to add heat. But this one? Allllll about that sweet, tropical coconut flavor perfectly enveloping the fresh chunks of seafood. I kept sneaking my fork back for another bite until all that was left were drips of broth just begging me to use the freshly baked bread on the table to sop it up. Not that I listened or anything…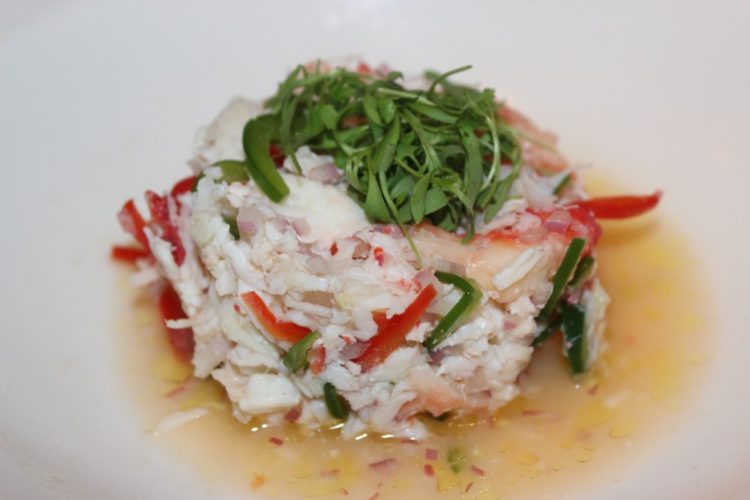 We also had the Yellowfin tuna tartare, topped with lemon aioli and radish sprouts. I've had many tartares that mix the tuna with things like cucumber and avocado, but this one was very simple and to the point — strictly fresh, perfectly seasoned tuna. It didn't need any other ingredients to get in its way. That tuna was the star, and it totally stole the show. I wasn't surprised that such a simple dish could be so delicious. When you have a talented team in the kitchen who knows how to properly prepare a beautiful cut of fish, nothing can go wrong.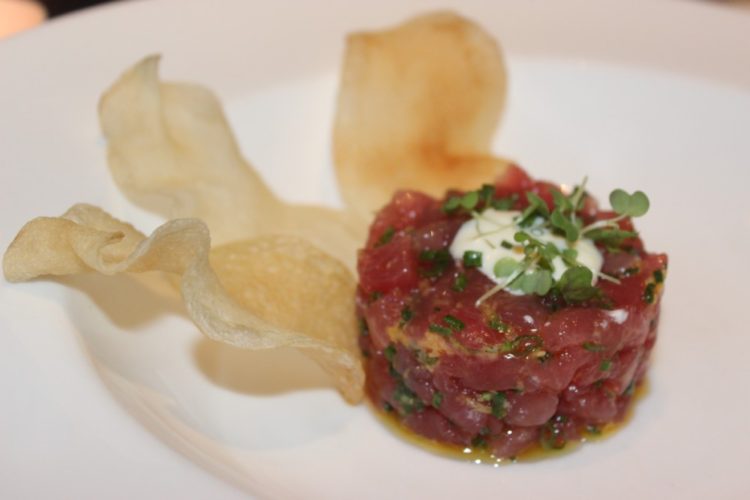 Keeping the seafood game strong, we ordered a dozen oysters from both the east and west coasts. Steak 954 serves their oysters with a yuzu cocktail sauce and champagne mignonette, both of which are fantastic. The yuzu added such a delicious depth of flavor to what would otherwise just be regular old cocktail sauce, and the champagne mignonette was a little less acidic than normal and really balanced out the brininess of the oysters.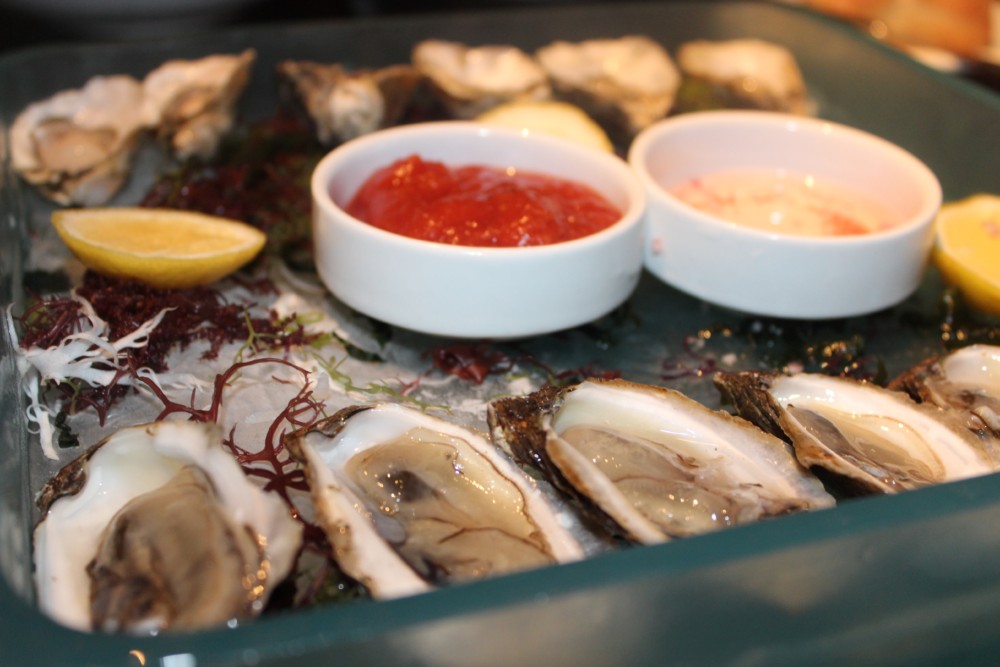 We came to a lull in the meal where we had an important decision to make — do we order a salad to share or is it time to go for the entrees? But then we saw the baby beet salad on the menu, and the decision wasn't hard to make. Beets, it is! Out came the most gorgeous salad I've ever seen — roasted beets sat upward, alternating with dollops of whipped cream cheese that looked more like vanilla cupcake frosting. Microgreens, toasted pistachios and crispy beet chips were strategically positioned over top of the beets and goat cheese, drizzled with an orange-sherry vinaigrette. We marveled at this salad for a good ten minutes before we could bring ourselves to dive in and destroy its beauty. But as pretty as it was, it tasted even better. The beets were perfectly cooked, the whipped goat cheese added creaminess and tanginess, and the vinaigrette was bright and flavorful. The only thing missing was that saltiness I expected from the pistachios — it could have used a few more scattered throughout. But aside from that, the dish was a winner.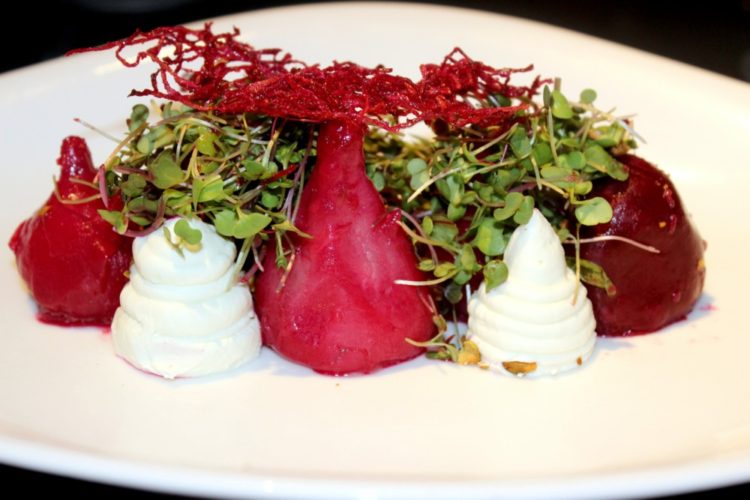 Now we could move onto the entrees! One of the best (and worst) parts about going to a steakhouse is that the entrees are a la carte, which means you have to order your side dishes separately. Yes, this may make for a more expensive meal, BUT it also means your sides come big enough to share with those you're dining with, and you can get a variety of things to try. Obviously when the word truffle is on the menu, you give in to it. We had to choose between the truffle mac and cheese or truffle potato gratin. The gratin won the battle and won our hearts while at it. Rich, velvety smooth potatoes swimming in melty, cheesy deliciousness mixed with the essence of truffle and topped with truffle shavings. The tops of the potato and cheese bubbling and crisp. This is going on my list of last foods I want to eat before I die.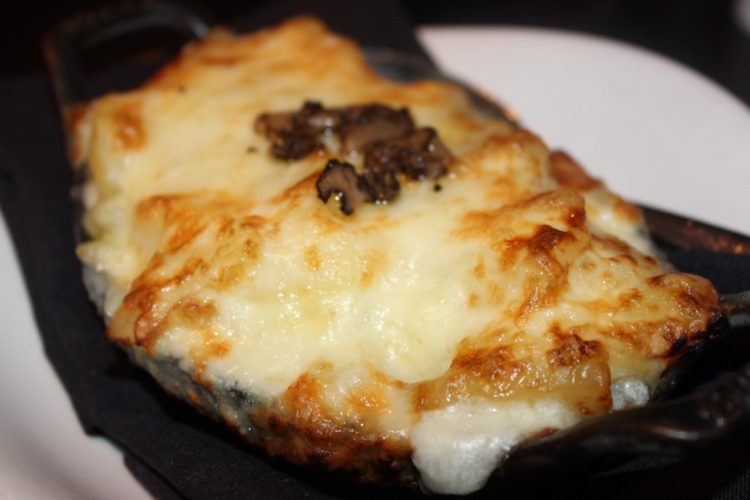 Since I was out with Fashionably French Fried, as per usual, we obviously had to order the fries. Little did we know we had a literal mountain of them coming our way. No truffle, no parmesan, nothing fancy at all — just crisp, crunchy french fries that gave our tastebuds a run for their money.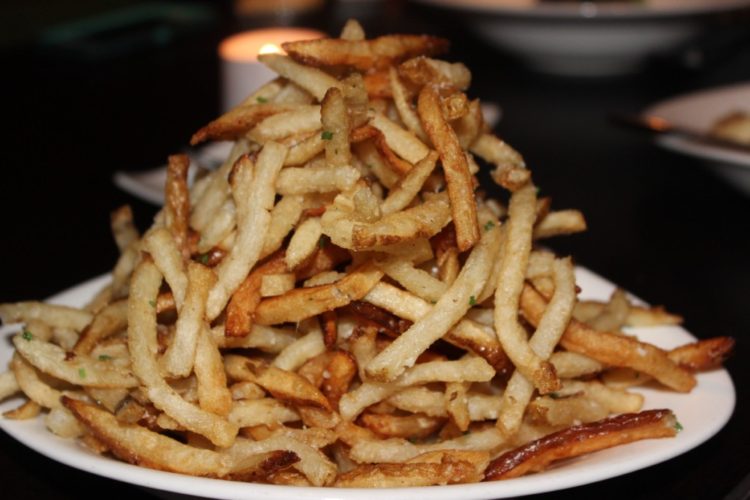 Yeah, you see the picture? There wasn't one fry left. There were three of us, mind you, but still…we did good.
In an effort to at least have one healthier side dish to balance things out, we ordered the smoked cauliflower and kale. This was excellent. The texture of both veggies was exactly how I like it, especially the cauliflower. I love that charred smoky flavor, and this dish definitely had it.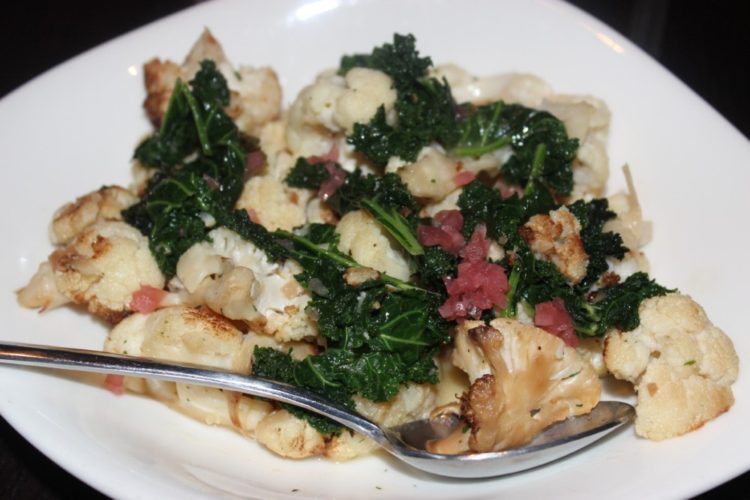 For my entree, I was immediately drawn to the Asian-style miso black cod with baby bok choy and maitake mushrooms. I'd order this again and again. The black cod was buttery smooth, melt-in-your-mouth delicious. The miso broth surrounding the fish and veggies had that umami flavor that keeps you going back for more — it was hard not to pick up the bowl and drink it. There's a reason why I couldn't give up seafood when I decided to stop eating meat, and this is it.
We somehow managed to leave room for dessert. After such an incredible meal, there was no way we could pass up the sweet offerings from pastry chef, Sara Magoon. If you know me, you know how much I love cheesecake, so of course the vanilla bean cheesecake caught my eye. Instead of a traditional crust, it sits on an oat and almond crumble, making it gluten-free. The cheesecake was light and airy, almost mousse-like, and the vanilla bean flavor was definitely there, waving hello right in your face. I can't say yum enough.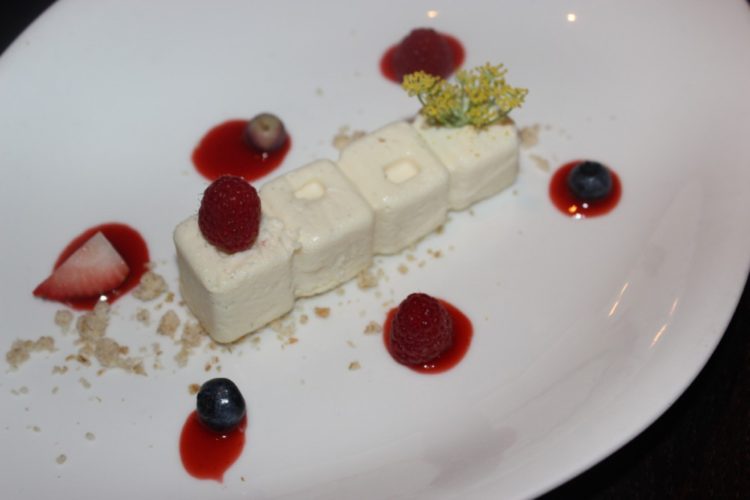 Jill's chocolate craving got the best of her, making the double caramelized chocolate custard completely irresistible. It's served with a bourbon sabayon and pecan streusel and presented beautifully with sliced strawberries and a spun sugar decoration. You know I didn't let that go untasted… This is one decadent dessert. So rich, so creamy, so delicious.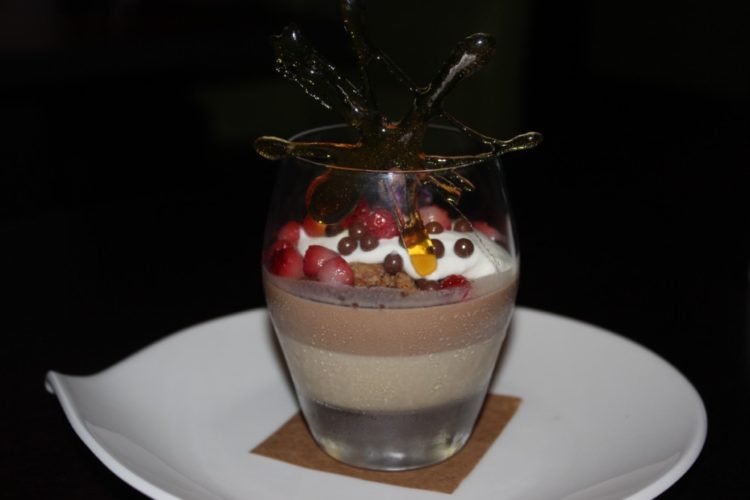 For those visiting the area, this is a total tourist destination. Gorgeous beachfront views, incredible food and drinks, and walking distance to plenty of other Fort Lauderdale attractions. For those who live here — well, if you haven't treated yourself lately, I suggest you get down to Steak 954 and do so. Soon.
Steak 954 is located inside The W Fort Lauderdale at 401 North Ft. Lauderdale Blvd.