You know those times when you're so hungry that you don't care what or where you eat, just as long as food is in your mouth within 30 seconds? Yeah, I had a night like that recently. My plans to go to American Social on Las Olas in Fort Lauderdale with McKenzie were completely ruined when we got there, totally unaware that the Heat game was on and there would be an "undetermined" amount of time for the wait because of it. Yep. A hostess at a popular sports bar can apparently tell you she has no idea what the wait is when the biggest Heat game of the season is on and you are in South Florida. So we walked around looking for somewhere else to go, and you know what? Las Olas is not as cool as I thought it was. There's not much there…
I already had it in my mind that we were eating at American Social. I reviewed the menu, I had an idea what I wanted to get, and it was a cool spot I wanted to check out. But the Heat had won (literally, yay!) over the entire bar and there wasn't even one empty spot! After roaming around, we still had no idea where we were going to go. By this point, I just wanted to eat…anywhere. We went back to the car and I was all just-take-me-somewhere-anywhere-please,and before I knew it, we were at a little restaurant called The Foxy Brown. Strip club? Yeah, that's the impression I got from the name so I was a little hesitant, but McKenzie had been there before and insisted it was good and I would like it.
As always, he knows my taste. I totally dug this spot. We grabbed two seats at the bar and the bartender was super friendly and really knowledgeable about all the menu items and specials. It was half-off all bottles of wine too. He sold us on a great bottle of Sauvignon Blanc called "Illumination" that neither of us have had before. It was as amazing as he made it sound. We ordered the fire-roasted artichokes for an appetizer, but the waitress also brought us their crispy battered green beans…on the house. The artichokes came with a garlic aioli and the beans came with a sriracha aioli — that was awesome with just the right amount of kick to it. The garlic aioli was okay, but it's a very commonthing. I'd have been happy with double on the sriracha instead! For dinner, I got one of the specials: the grilled shrimp and arugula salad with peaches and goat cheese. I was in love. It was such a light and refreshing salad, and duh…goat cheese makes everything better. McKenzie got the "Mabel's Chicken" with homemade spaetzle. Dessert was white bread pudding with a big dollop of vanilla ice cream and topped with toasted pecans. I seem to have a thing for bread pudding nowadays. I really need to make my own…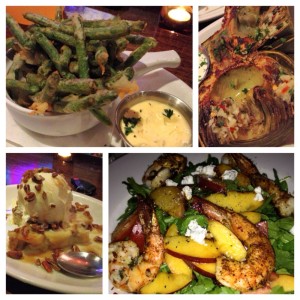 Don't let the name The Foxy Brown fool you — this place is a must-try for any South Florida foodie. With its small and quaint setting, you really will feel comfortable as soon as you walk through the door. The menu is good, but their specials are definitely what you want to listen for. And ask for an extra Sriracha Aioli when you get the green beans.

Posted with Blogsy