Never miss a bite! Sign up here to receive new recipes and reviews straight to your inbox.
Let me preface this post by telling you that I did not go to 15th Street Fisheries with the intention of writing about them on Take A Bite Out of Boca. I was not invited by the restaurant to come review the menu, but after the experience my family and I had, there was no way I couldn't give them a HUGE shout out.
I met Executive Chef Lenny last year during the Pompano Beach Gridiron-Grill Off. His restaurant's booth was my first stop that day, and the salmon tartare guacamole dip he served still resonates in my mind. I've been dying to get down to 15 Street Fisheries in Fort Lauderdale ever since tasting his food that day, but as you know — Boca and Delray constantly keep me occupied, so getting to Fort Lauderdale isn't always so easy. Fortunately, during my parent's visit last week, we had tickets to opening night of Pippin at the Broward Performing Arts Center — the perfect opportunity to stop into the 15th Street Fisheries for dinner! So Bubby, Dad, Mom and I made our way there, and were pleasantly surprised with one of the most incredible dining experiences any of us have ever had…
15th Street Fisheries is two restaurants in one. Downstairs is a fun, lively bar scene right on the intracoastal where you can relax and watch the boats drift by, feed the schools of fish that swim up at feeding time, and enjoy the outdoor atmosphere. Upstairs is a fine dining restaurant with an upscale seafood menu and a beautiful view of the city — this is where we sat, at a table overlooking the water where we could see water taxis and yachts and the gorgeous skyline. We had wonderful service from our servers Paige and Roberto, and a quiet dining room all to ourselves. What could be better?
The food, that's what.
You know it's going to be a memorable meal when you're impressed with the bread basket. We were served a beautiful basket of bread which included rum raisin, sunflower wheat, cheddar jalapeño biscuits and sourdough. All super soft and fresh, full of bright flavors, and a perfect start to the meal.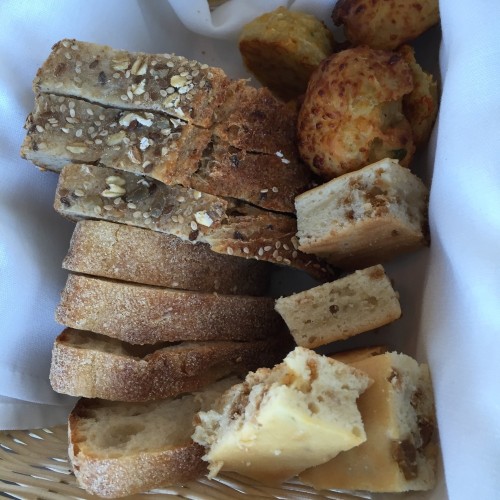 Then Chef Lenny surprised us with beautiful local Florida Stone Crab as soon as we sat down. The claws were served with a mustard mayo for dipping. Stone Crab may be common in-season down here in Florida, but not so much where my parents live up north. They were loving it. The crab meat was super fresh and flavorful and paired perfectly with the tangy, creamy dipping sauce. (Ahem, I may or may not have also used that mustard mayo on the freshly baked bread too.) I hate mayonnaise on its own, but when transformed into this rich and delicious aioli, I'm all in.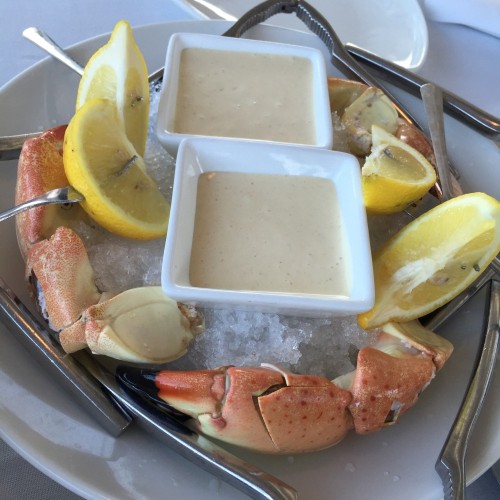 Another appetizer came out for each of us — this time Shrimp and Grits with Applewood smoked bacon (no bacon on mine), Trugole cheese and a maple gastrique, and a crab cake with a double mustard cream, tropical slaw and yuzu tobiko. Oh my gosh this was so delicious. Each of us practically licked our plates clean. The grits were smooth, creamy and cheesy and I especially loved mixing in the maple gastrique for a pop of sweetness. The crab cake was cooked perfectly, with just the right ratio of crab to filling. So far, we were insanely impressed…and also getting pretty full! We still wanted to order dinner, and decided that one salad and two entrees would be the perfect amount for us to share.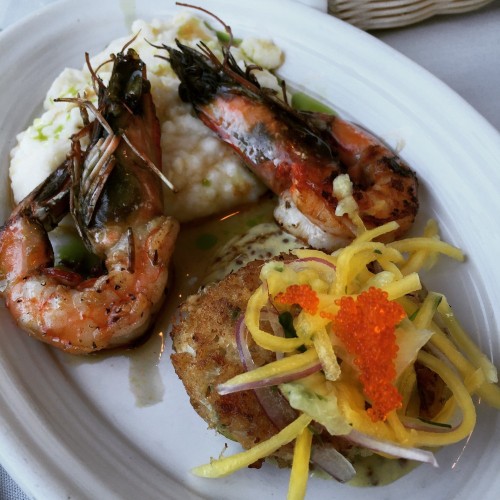 One of the first things our waitress, Paige, told us about was the Heirloom Tomato and Burrata Insalata with aged balsamic vinegar, basil, garlic infused olive oil and balsamic caviar. How did she know about my love of burrata?! There was no doubt in my mind that I'd be ordering this dish. It took some serious restraint not to devour the entire plate — I shared, I promise! Creamy chilled burrata and perfectly plump, juicy tomatoes are definitely one of my all-time favorite salad combos.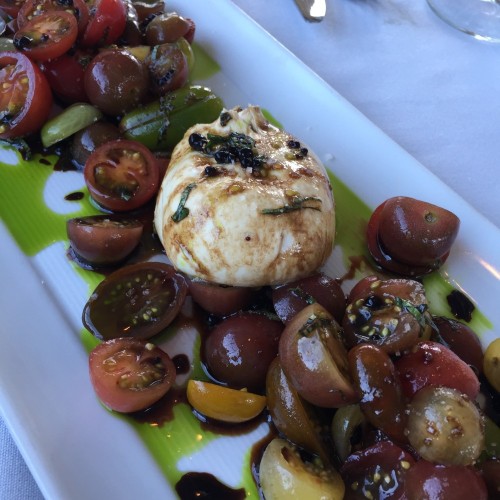 Dad ordered the Miso Glazed Chilean Sea Bass, his favorite kind of fish. It was served with mango fried rice and a Thai stir-fried vegetable medley that was very much like an Asian slaw. Dad doesn't eat mango, so I gladly picked out all the little orange cubes and tossed 'em on my plate. The slaw was a table-favorite, and that buttery-smooth sea bass certainly made an impression on our palates. Mom and Bub decided on the Provençal Diver Scallops with truffle and scallion mashed potatoes and grilled asparagus. My ears perked up immediately upon hearing the world truffle and despite the fact that I really do not like mashed potatoes, I had to have a bite. YUM! The scallops had a gorgeous sear with just the right amount of crispness. When your fork slides gently and easily right into the scallop, cutting it smoothly and evenly, you know it's good.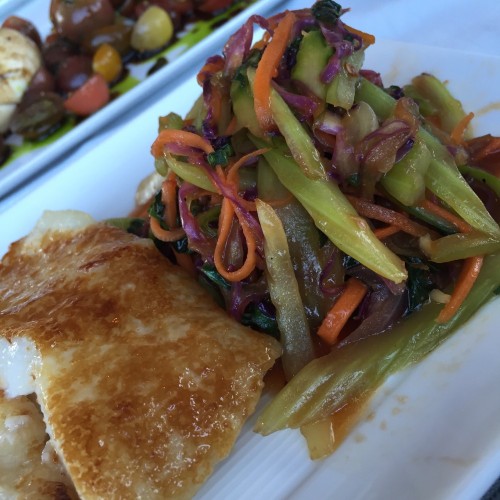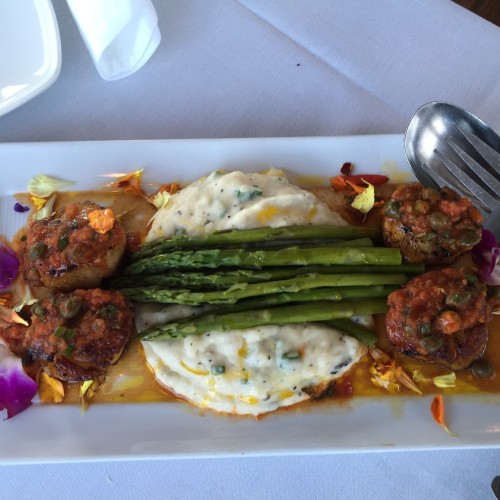 Chef Lenny couldn't let us leave without fattening us up with every dessert on his menu. We were presented with a dessert sampler complete with cheesecake, bread pudding, homemade vanilla ice cream and strawberry mojito sorbet, peanut brittle, and key lime pie. It's a good thing there were four of us! The chocolate cheesecake had an irresistible chocolate graham cracker crust and fresh raspberry compote that I could not stop going back for, bite after bite. The Key Lime Pie was accompanied by pineapple salsa and a berry coulis — sweet and tart in the best way possible. The bread pudding was gooey and creamy and oh-so-delicious. But my favorite out of everything? The strawberry mojito sorbet. It was so bright and refreshing. After tasting so much of the heavier desserts, a cooling scoop of sorbet made for a beautiful ending.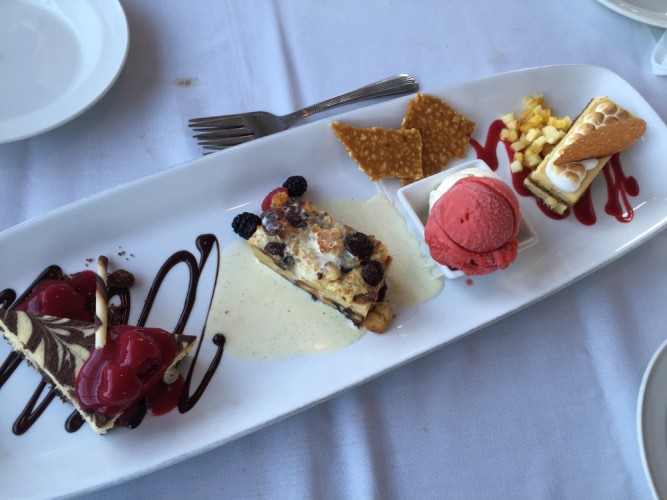 Chef Lenny made our dining experience completely unforgettable. I'm so glad that I could experience this with my parents and Bubby, and I can't wait to go back again soon! 15th Street Fisheries is located at 1900 SE 15th Street in Fort Lauderdale.