Never miss a bite! Sign up here to receive new recipes and reviews straight to your inbox.
Disclosure: I was invited to dine as a guest of the restaurant. No monetary compensation has been received for this post. As always, all opinions are 100% my own.
Big City Tavern was one of the very first restaurants I went to when I first moved to Florida. Twice, in fact, both for business-ish type meetings. My job-search had brought me down to Fort Lauderdale and this just happened to be the spot that all those suited-types liked to hang out.
After I decided that was not the life I wanted to live, I sort of vetoed Fort Lauderdale as a place to hang out. Until now. I think I've visited Fort Lauderdale more in the past couple months than I have in the entire time I've lived in Florida. The restaurant scene is picking up, so obviously I must check it out! My most recent venture landed me back on Las Olas Boulevard at Big City Tavern, but this time I was there for the kind of business I like — eating!
In celebration of its 14th anniversary, Big City Tavern Executive Chef Steven Zobel had created 16 new dishes to compliment the existing menu, which features a mix of house-cured charcuterie, seafood, steaks and salads along with pastas, pizzas, breads, pastries, and desserts made from scratch in-house daily. Some of those new dishes include Thai beef lettuce cups, a quinoa and arugula salad with cheddar, walnuts, broccoli and a mustard vinaigrette, prosciutto and avocado toast, bacon-marmalade grilled cheese, and Maine lobster mac and cheese. Big City has a huge menu with a lot of variety, making it a great location for families or large groups where people may have different preferences.
Aside from a wide selection of share plates and entrees, Big City's wine and cocktail list is pretty extensive too. They even have wine on tap! I started off the evening with a glass of their frozen melon ball sangria, a refreshing mix of two of my favorite things — Sauvignon Blanc and St. Germain. Little balls of frozen cantaloupe, honeydew, and watermelon stood in place of ice cubes and made for one really unique and tasty drink. It's the ultimate summer cocktail.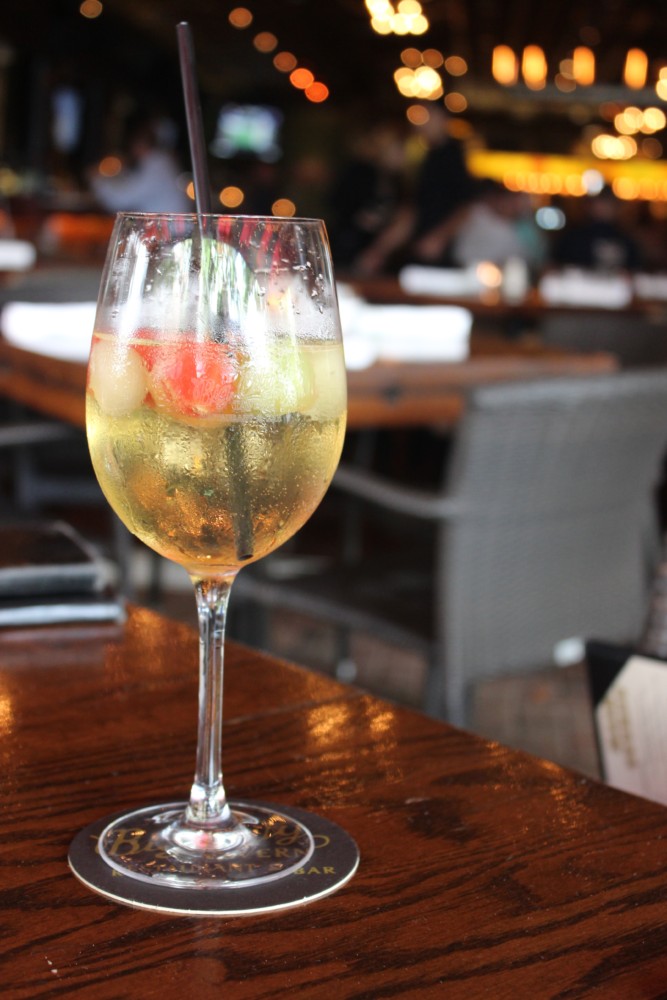 One of the new appetizers added to the menu is the P.E.I mussels in a spicy fra diavolo sauce. As a mussel lover, I definitely had to give these a try. The sauce was just right — not too spicy, but still had enough kick to give it good flavor.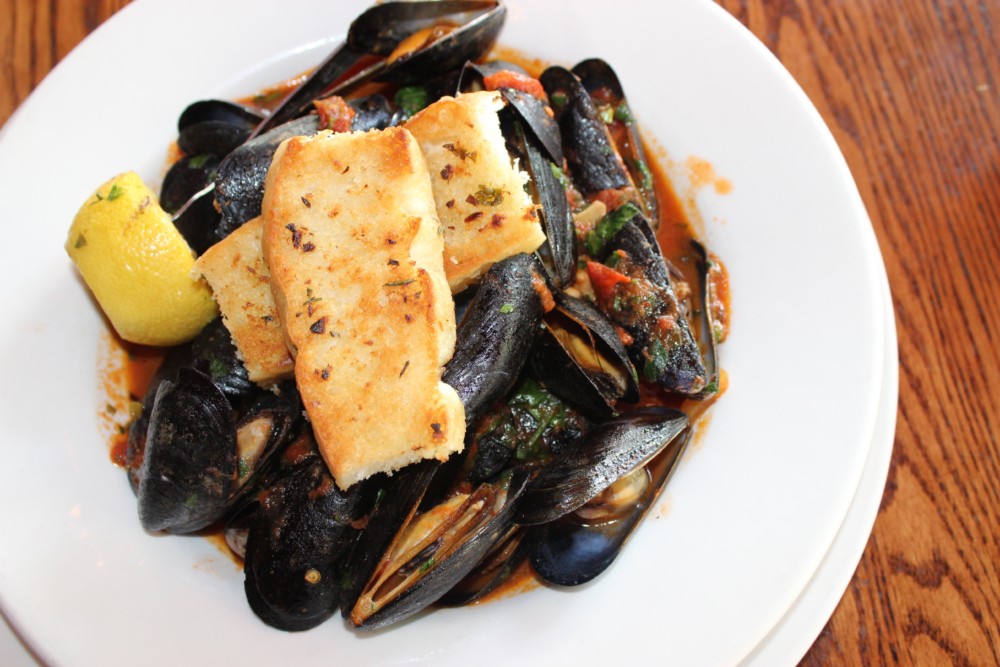 Our waiter insisted that my meat-eating guest try the new Asian chicken wings, slathered in a soy honey glaze and served with ginger ranch dressing. They smelled so good I was almost tempted to reach over and grab a wing just to lick off that glaze! She enjoyed them, especially the dressing.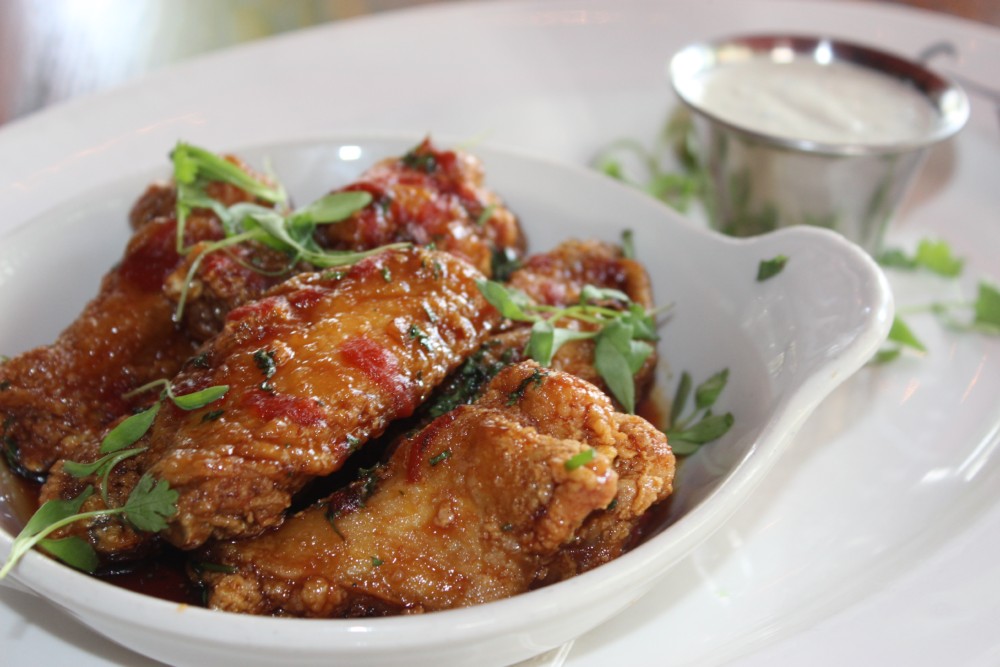 We also tried the burrata, because…well, duh. Although not a new item, burrata is always a must-try when I see it on a menu. Big City's burrata caprese salad is served with gorgeous, plump, red and yellow heirloom tomatoes, 12-year aged balsamic vinegar, and extra virgin olive oil, sprinkled with a little sea salt to really enhance the flavors.
Another dish that really stood out was the sliced seared rare tuna tataki with pineapple, pickled jalapeños, and sweet soy. This isn't a new dish either, but the flavors were so enticing that I couldn't resist it. I'm so glad I did, because it was easily my favorite dish of the night. A little heat, a little sweet — it was perfectly balanced and perfectly delicious.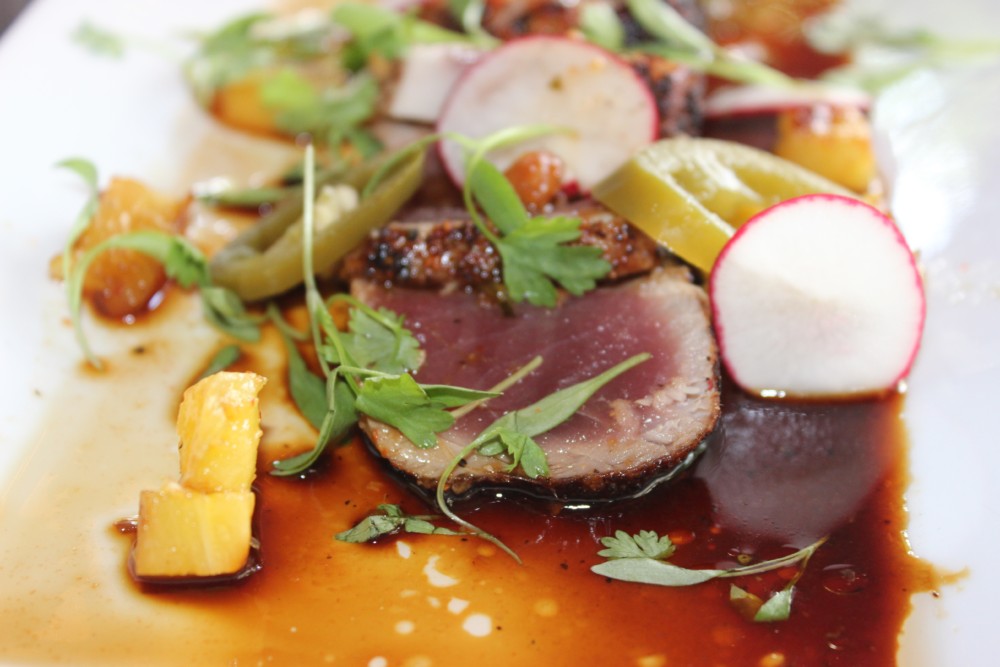 For dinner, I ordered one of the new seafood entrees — blackened mahi mahi served with a four-citrus sauce, four-herb salad, and sauteed green beans. The mahi was prepared exactly the way I like it. I'm a sucker for crispy skin, whether blackened, grilled, baked or pan-seared, if there's no texture on that skin, I'm out. The citrus and herbs played well with one another and lent great flavor to the fish, and the green beans, cooked just enough so that they still retained their crunch, were a nice complementing side.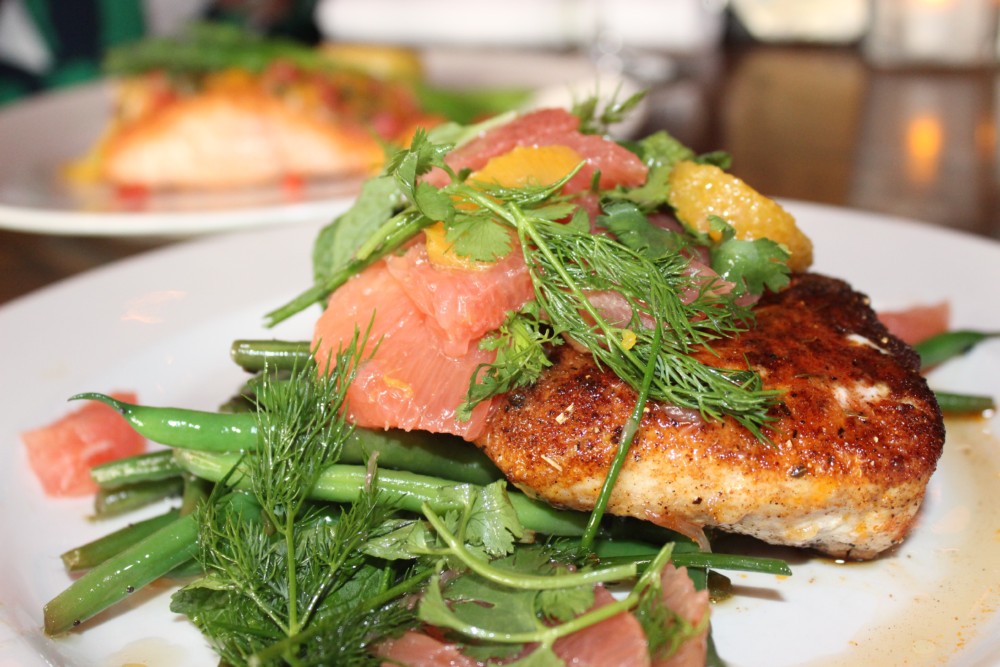 My guest had the pan-roasted salmon filet with tomato garlic extra virgin olive oil, grilled asparagus, and jasmine rice. Another beautifully crusted fish with bright, bold colors and flavors.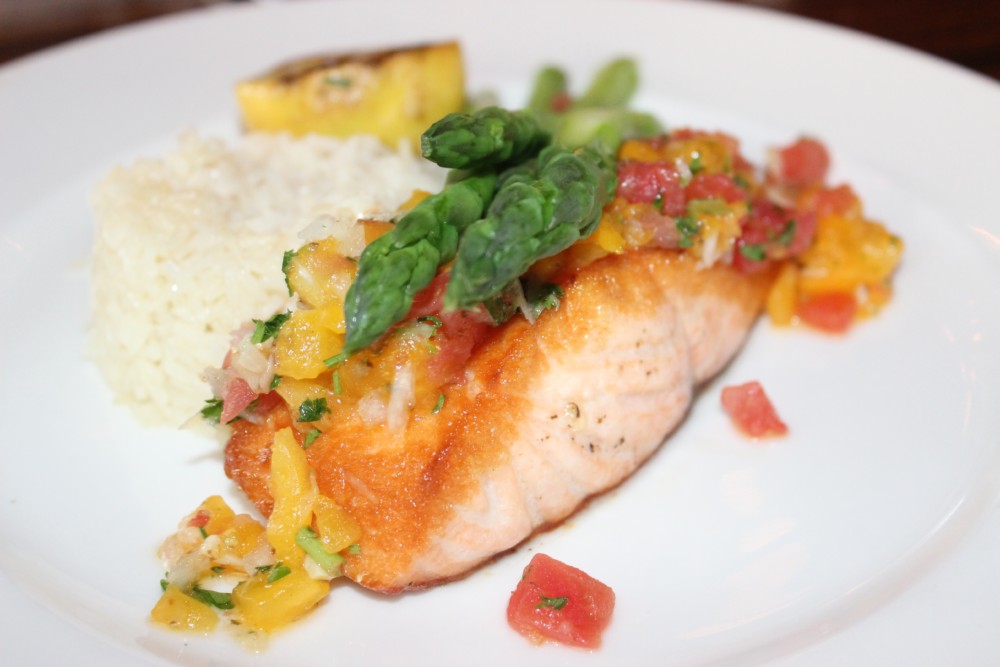 After a pretty stellar and satisfying meal, we unfortunately had no room for dessert. If I was going to order something sweet to cap off the night, it would have been the caramelized banana sundae, served in a mason jar with banana bread, walnuts, caramel sauce, banana ice cream and burnt marshmallow. Oh my God, I'm hungry just typing that out! All of Big City's desserts and ice creams are made in-house. From-scratch desserts are always the best! House-made anything just tastes better — and one great thing (of many) about Big City is that all of their breads and pastas are all made right there at the restaurant too!
Big City Tavern is located at 609 E. Las Olas Boulevard in Fort Lauderdale.