Never miss a bite! Sign up here to receive new recipes and reviews straight to your inbox.
Disclosure: I was invited to dine as a guest of the restaurant. No monetary compensation has been received for this post. As always, all opinions are 100% my own.
Grille 401 may a top choice of Fort Lauderdale locals to frequent for after-work happy hour, but it's about to become a haven for brunching too.
The restaurant, located on Las Olas Boulevard, has launched its new weekend brunch on Saturdays and Sundays from 11am-4pm. Brunch features includes an assortment of delicious appetizers, salads, sandwiches, desserts, and traditional breakfast dishes such as shrimp and grits, chicken and waffles and crab cake Benedicts. There's even a special kids menu with four entrees all priced at $7, making Grille 401 a great choice for family brunch outings. Of course there are brunch cocktail specials like a $15 bottomless Bloody Mary bar and two different options for bottomless mimosas — a $15 "Make Your Mark" special featuring La Marca Prosecco and a $30 Imperial special featuring Moet Imperial Brut champagne. 
Recently, I had the opportunity to try some of the yummy new brunch items along with some of my fabulous blogger friends. Grille 401, along with KIP Hunter Marketing, spoiled us with a fun "breakfast for dinner"-themed evening, complete with cocktails and a taste of some of the dinner menu items too.
On arrival, we were welcomed by a red cougar — the cocktail, not one of the older women at the bar looking for her next victim. 😉  This martini is made with Stolichnaya Vodka, strawberries, basil, simple syrup, and lemon juice. The color is just gorgeous, and when you lift the glass to take a sip, you're hit with the strong, refreshing scent of strawberry and basil. A nice way to kick off the evening…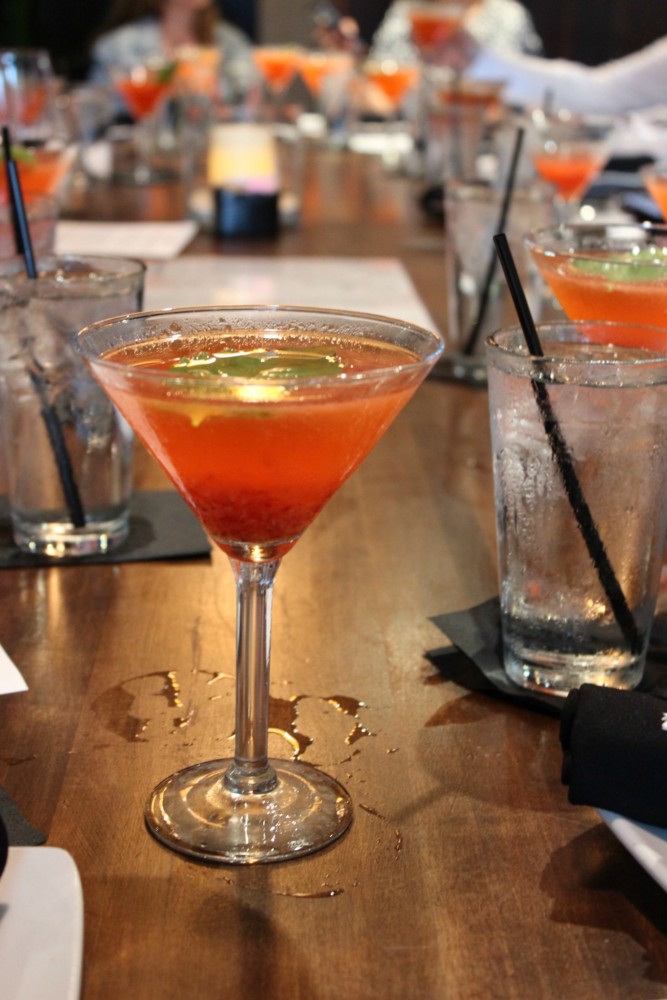 I love the concept of Brinner (breakfast for dinner) and was looking forward to tasting my very first Benedict. I'm not a huge fan of eggs and I don't like hollandaise sauce, so I've always been hesitant to order it just in case I didn't enjoy the poached egg. But alas, it was time to give it a go (sans hollandaise because…just, no.) Turns out, I don't mind the poached egg! Watching the yolk ooze out of the center as you slice into it is enough to make anyone's mouth water. We were served two kinds of Benedicts — the crab cake and the steak. Obviously, I didn't have the steak, but I really did enjoy the crab cake version. It's served on a house-made biscuit with grilled asparagus and crispy home fries. The biscuit had nice flakiness and flavor, and was a little dry, but the runny yolk and Maryland-style crab cake helped to moisten it up. One of my absolute favorite brunch-y items is always the home fries — but not the shredded ones! I want chunks of potatoes, slices even, that are super crispy, seasoned to perfection, and easy to just pop into your mouth one by one by one. These took the term crispy to a whole new level. In fact, a few of us speculated that they were twice-fried because of just how incredible they were. I'm not ashamed to say it — I could make a meal out of a big ol' plate of crispy breakfast potatoes.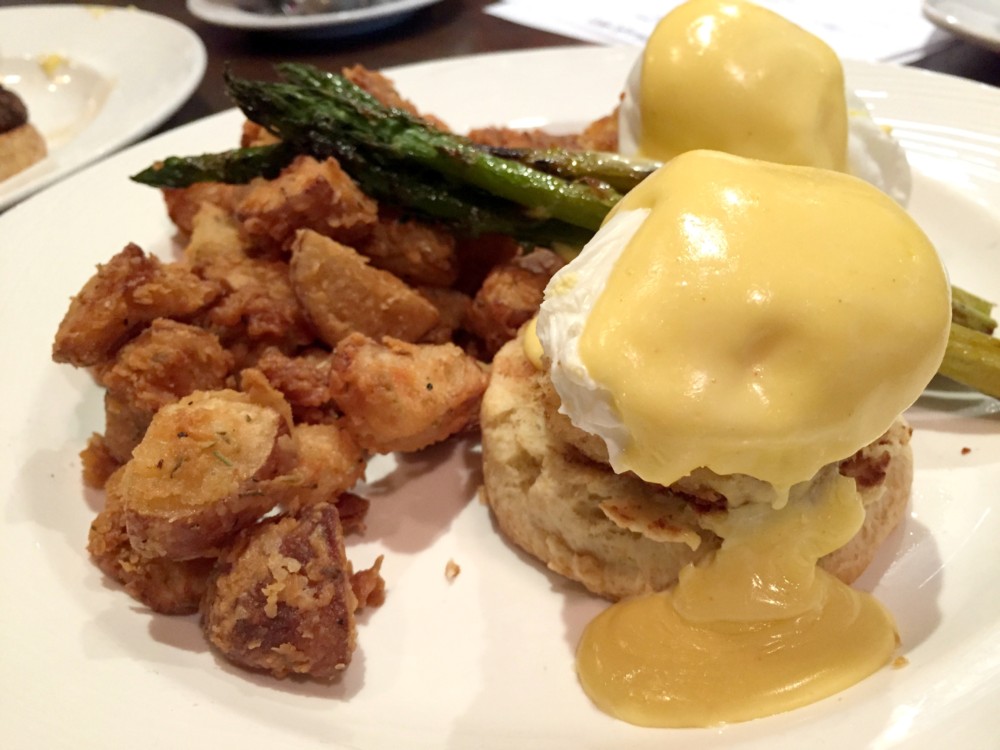 Another brunch classic, shrimp and grits, was served next. My first experience with this dish was in Chicago last year and it was heaven. I was excited to see how Grille 401's compared. The jumbo shrimp were cooked just right and sat on a bed of corn salsa and a light creole sauce, surrounding the stone-ground white cheddar grits. Talk about flavor — this plate was bursting with it! Smooth, spicy creole sauce, refreshingly sweet corn salsa, creamy, cheesy grits… It was a mouthful of excitement and I only wish I could have eaten more! But like all of these media dinners, it's best not to fill up too early on in the night. Especially when we have a killer dessert to look forward to at the end (white chocolate bread pudding, YES!)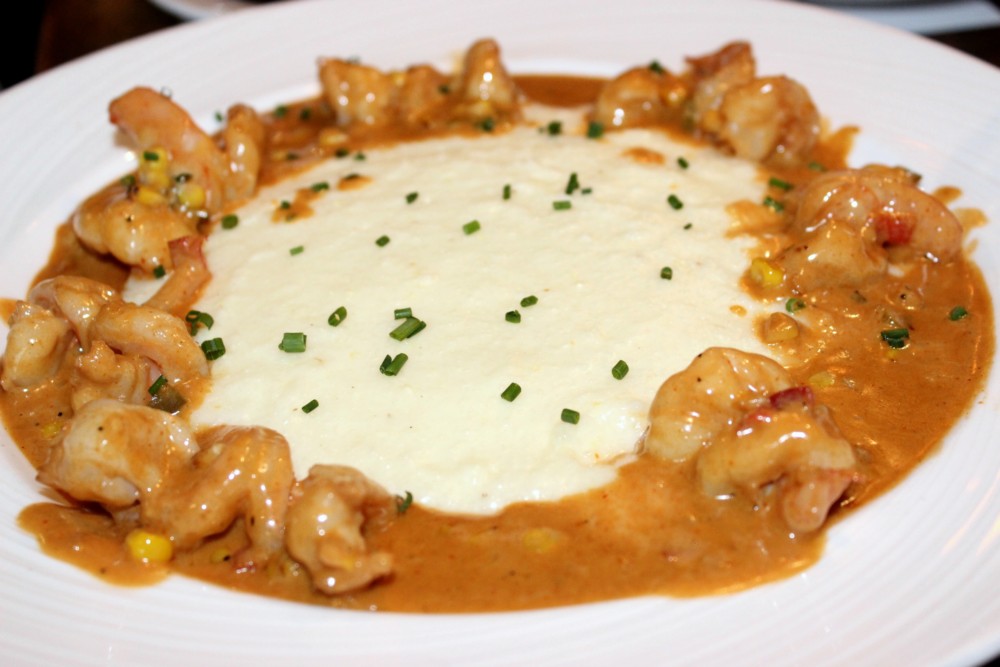 An array of flatbreads were up next, one of which is available for the brunch and the others are from the dinner menu. The steak and egg flatbread is made up of wood-fired filet mignon, scrambled eggs, white cheddar cheese, andouille sausage, and a red pepper drizzle. I like the idea of a "brunch pizza" and this flatbread was definitely well received by the others at the table. We were also served the classic Margherita flatbread, braised short rib flatbread with caramelized onions, roasted peppers, mushrooms, Gruyere cheese, and roasted pepper sauce, BBQ chicken flatbread with pulled roasted chicken, homemade BBQ sauce, chopped peanuts, cilantro, and red onion, and shrimp scampi flatbread with gulf shrimp, garlic, pesto oil, shallots, fresh basil, and Parmesan cheese. I was 2 for 5, but that's fine by me! The pesto on the shrimp flatbread was the star of the dish by far. I really enjoyed that, especially alongside the fresh basil and salty parmesan.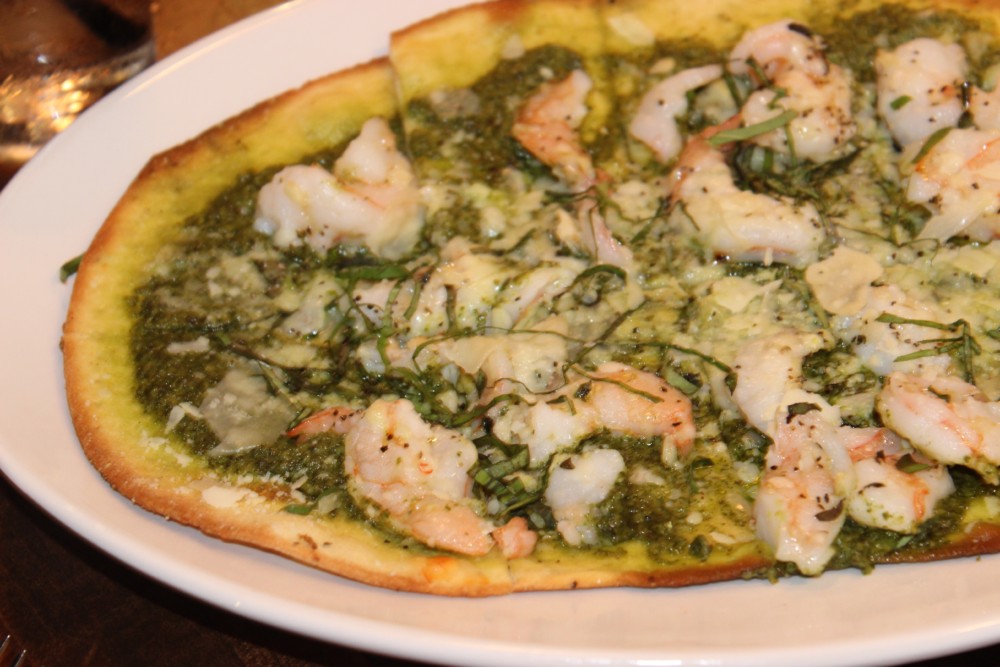 It was time to try more of the brunch selections — the stacked tomato salad with locally grown tomatoes, red onion, fresh Mozzarella, basil, sun-dried tomato oil and balsamic glaze, and the house-made veggie burger with brown rice, mushrooms and beets on a toasted challah bun with Havarti cheese. The tomato salad was beautiful — light, crisp, good flavors, but it's something you see on just about every menu. Nothing out of the ordinary. But that veggie burger? Easily my favorite dish of the night (well, that is, until we got to dessert. More on that later!) The beets add a subtle sweetness to the burger that really took it over the edge with intense flavor. I didn't even touch the bun and could see this delicious combination of ingredients being served as a side dish rather than in patty form. It's too good to be hidden underneath lettuce, tomato, and a huge bun. Remember my Veggie Burger Tour post from earlier this year? Grille 401 100% deserves a spot on that list!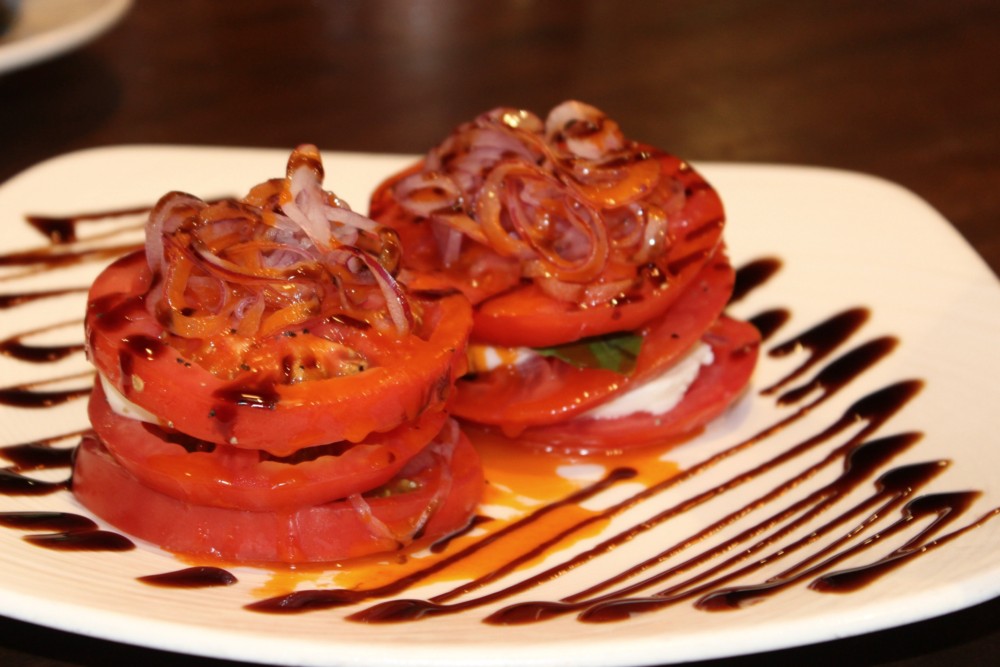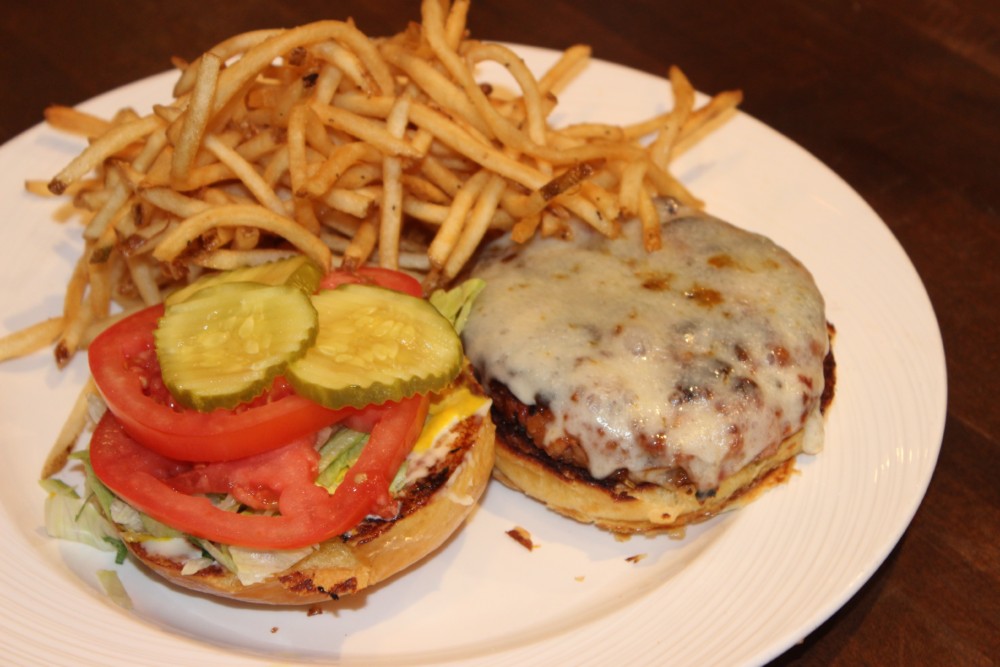 Grille 401 wanted to make sure we really got a taste for what they do in the restaurant. Aside from contemporary American dishes, the dinner menu has a small sushi selection as well with classics like the California roll and spicy tuna roll. They go a little out-of-the-box, however, with their Osaka-style pressed roll, which is more of a sushi stack rather than the traditional rolled sushi. The layers consist of tuna, avocado, sticky rice and spicy tuna. The presentation is beautiful and the spicy tuna was prominent. It was a nice representation of the additional creative dishes available at Grille 401.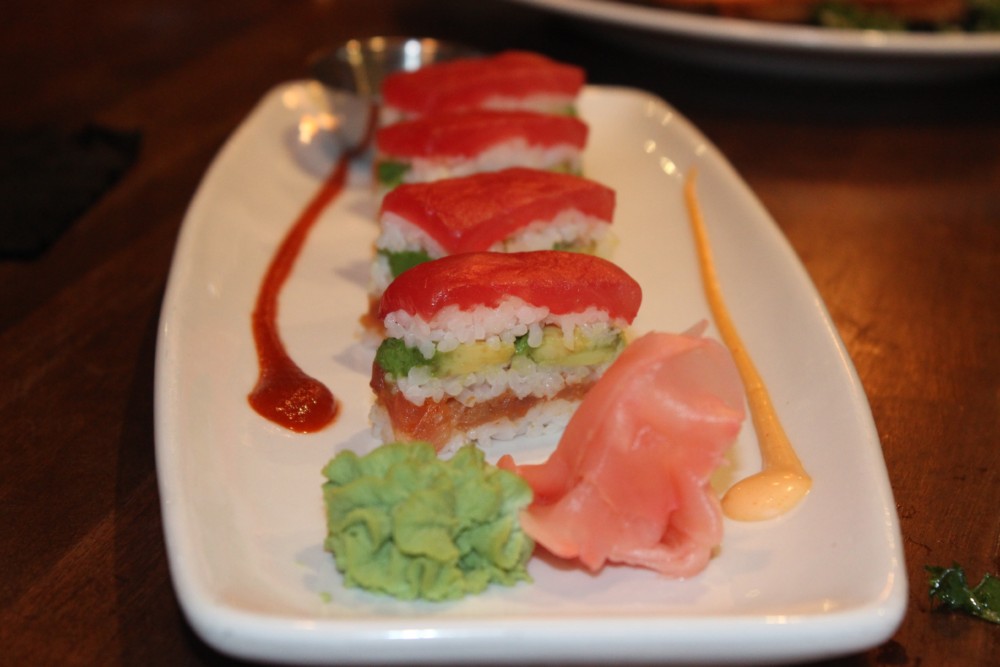 Now, the part I've been dying to tell you about since the beginning. Dessert! By this point in the night, I was stuffed. Like, unbutton-my-pants-and-roll-me-outta-there stuffed. But when I saw white chocolate bread pudding on the menu for dessert, my tummy did a happy dance and instantly made more room. As my 5-year-old self would say, my stomach's dinner section is full but dessert is empty! This bread pudding is a blend of brioche bread, white chocolate, and vanilla custard, baked and topped with a light brown sugar topping. It's served in a swimming pool of warm mixed berry compote that I just wanted to dive right into. I'm a sucker for bread pudding. It's been one of my top favorite desserts since my first taste of it in college. I'll never say no to bread pudding. Never, ever, ever. It was to die for and I had no problem leaving that plate as clean as it was before dessert even touched it.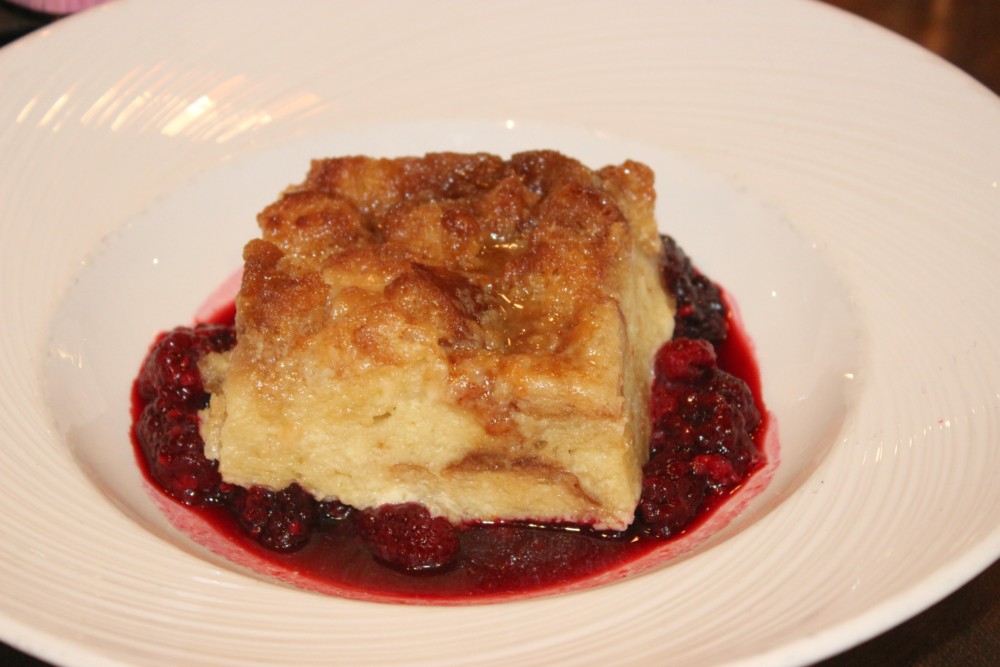 I hadn't planned for the other dessert, key lime pie, to even pass my lips as it's not one of my favorite desserts. But I do have a thing for pie crust, and this one looked (and smelled!) really interesting. Interesting as in, it smelled like an oatmeal raisin cookie — only one of my favorite soft and chewy cookies ever! I had to taste to confirm my suspicions and yes! It tasted like an oatmeal raisin cookie too! The crust is a simple graham cracker and pecan mixture, so there must have been something about adding pecans that gave it that cinnaminny (I'm making this a word now), brown sugary depth of flavor that you get in an oatmeal raisin cookie. Whatever it was, it was an amazing last bite to an already fantastic meal.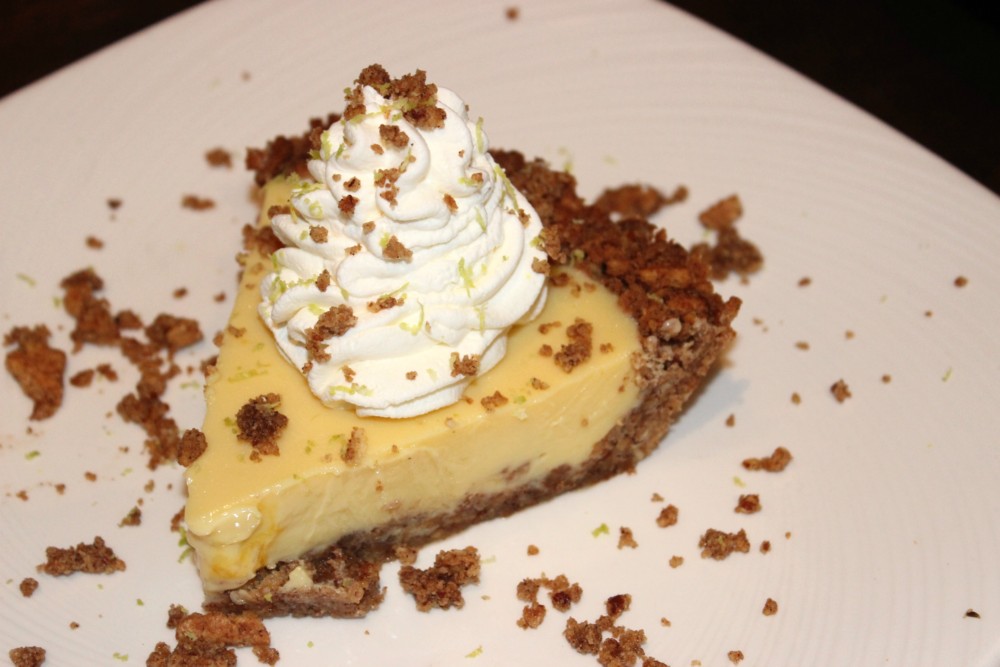 As a side note, Grille 401 just announced the launch of its new Power House, featuring buy-one-get-one-free drink specials and half off bar bites from 9-10pm Monday through Thursday. 
Grille 401 is located at 401 E. Las Olas Blvd. in Fort Lauderdale.