Never miss a bite! Sign up here to receive new recipes and reviews straight to your inbox.
Disclosure: I was invited to dine as a guest of the restaurant. No monetary compensation has been received for this post. As always, all opinions are 100% my own.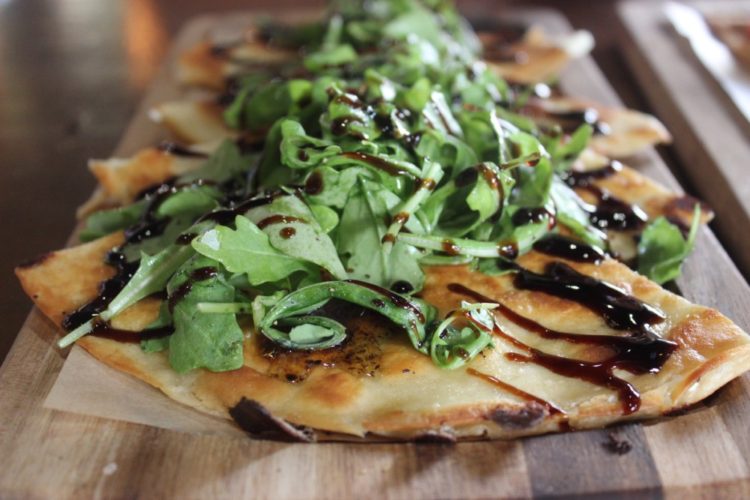 Himmarshee Public House, popular sports lounge in downtown Fort Lauderdale from JEY Hospitality Group, has recently unveiled over 20 new items on its menu. The new menu was a collaborative effort between JEY Hospitality Group co-founder Marc Falsetto, Corporate Chef Robbyns Martinez and Himmarshee Public House Chef de Cuisine Tara Abrams. The focus is on elevated comfort food with seasonal and innovative flavors. Not only has the menu been updated, but so has the decor with newly painted interior, redesigned uniforms, new indoor booths and upgraded patio furniture.
This was my first visit to Public House, so I can't compare the new vs. old looks. Regardless, I loved the atmosphere as soon as I walked through the door. It's super spacious with booths and high top tables and has an open-air section that allows guests people watch while they dine and enjoy the South Florida weather.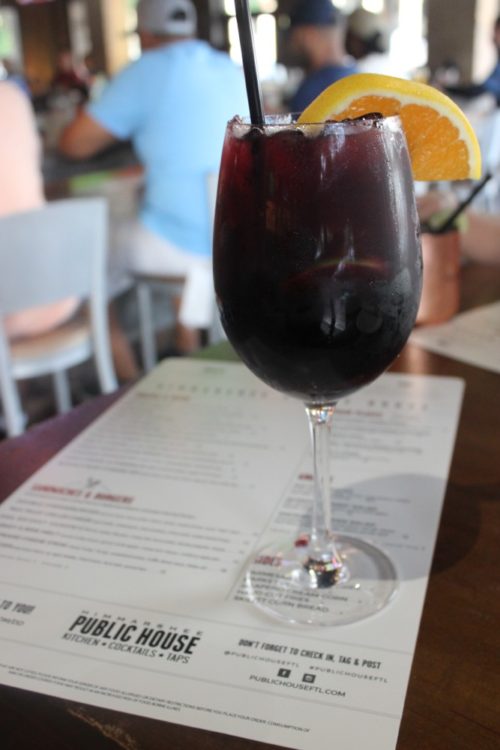 I kicked things off with a taste of their Sangria Mystique made with a red blend, acai liqueur and lots of fresh fruit. I'm not always a fan of red sangria, but this one went down easy. It was just the right balance of sweet and tart and perfect for the cooler weather we had that night (well, as cool as it can get in South Florida…). Public House has a great 2-4-1 Happy Hour deal, Monday through Friday from 4-7pm. Guests receive a wooden chip when they purchase their first drink, which can be used at ANY of JEY Hospitality restaurants, all located very close by (The Apocathary, PizzaCraft, TacoCraft and RokBurger).
When it comes to appetizers, Public House totally represents. I easily could have ordered 7 out of the 13 options, but instead Jill and I kept it to two (no surprise, Miss Fashionably French Fried was my eating partner). We opted for two of the new dishes to hit the menu since its launch — the goat cheese quesadillas and tuna poke wontons.
Goat cheese quesadillas may sound simple, but the addition of truffle oil, balsamic glaze and locally sourced honey took them to the next level. Seriously, you know I'll eat just about anything with truffle and these were no exception. I inhaled my share of the dish and totally could have taken down one or two more pieces. The quesadillas were picture perfect with a crispy exterior and super smooth interior, topped with fresh arugula. The arugula added a nice textural element as well as a bitter aspect to balance the sweetness from the goat cheese and balsamic.
The tuna poke wontons were just as delicious. Crispy wonton squares are topped with avocado, seaweed, sesame seeds and spicy mayo. I loved the contrast in textures from crunchy bottom to the creamy top. You can find a variation of tuna poke on a lot of menus lately, all somewhat similar, but I still like to order it every time. It's up there as one of my favorite appetizers, for sure. There are a few more appetizers on the menu I need to go back for — the smoked fish dip (another favorite, no matter where I go), hummus trio, and the crispy potatoes with parmesan, sea salt and herb aioli.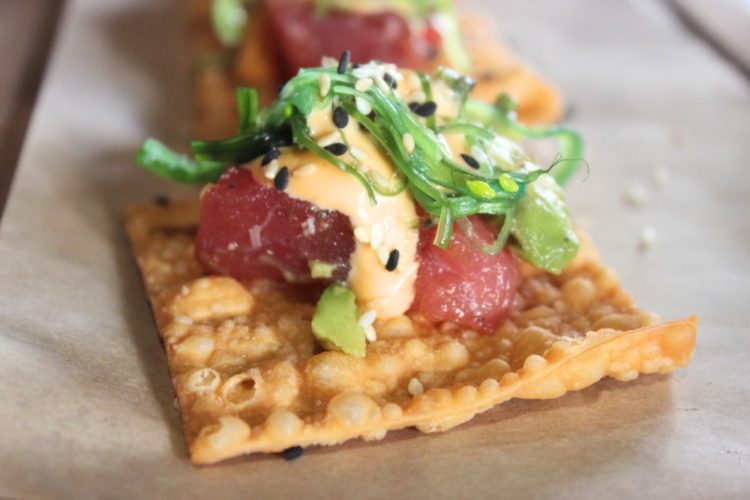 For dinner, Jill went all in with another new item, the honey truffle fried chicken. I just had to try a piece of that truffle-infused skin, and it was delicious! On the side was the new skillet corn bread, which of course I dug into. I can't pass up a warm piece of cornbread. It's served in the skillet it's cooked in, allowing for its edges to crisp up and stay that way as it reaches the table — the edges are the best part!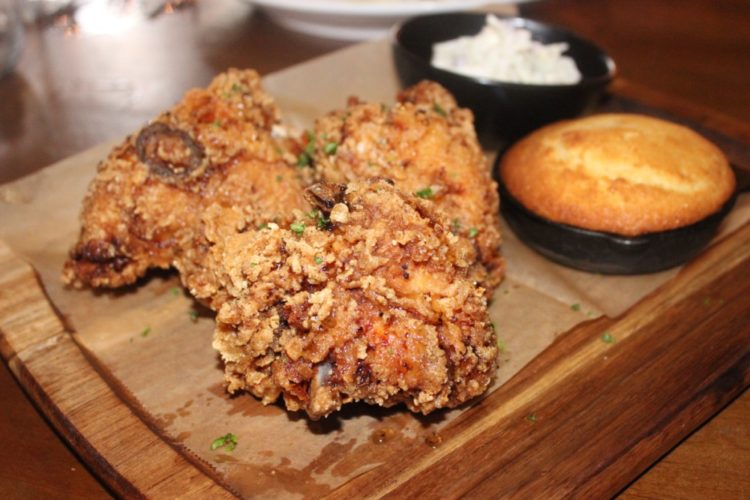 I ordered the market fish special, pan-seared mahi mahi in a lemon-butter sauce served with mashed potatoes and a side of sauteed mushrooms, green beans and sun dried tomatoes. Really creamy mashed potatoes aren't my thing, but as I dug through, I realized there were chunks of potato hidden within. Score! All thoughts of not-eating-my-potatoes were washed away and I pretty much licked my plate clean. The fish had a beautiful sear and the veggies were amazing. I loved the combination of mushrooms and sun-dried tomatoes, and the green beans added a nice pop of color and little bit of snap. I'm all about varying textures when it comes to my food. There's gotta be a mix!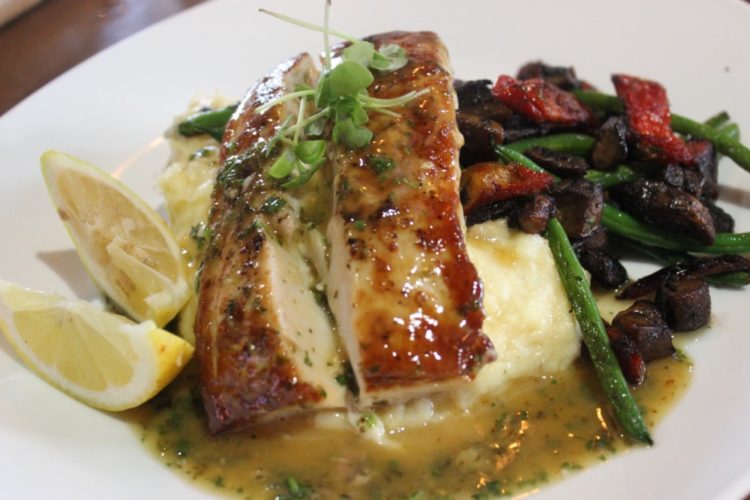 There was no argument or hesitation when it came to ordering dessert. When our server presented us with the option for a Nutella-filled chocolate chip cookie, both Jill's and my eyes lit right up. YES, PLEASE! It's served with a small glass of vanilla flavored milk, however neither of us detected much of a vanilla flavor. But that's fine — we were more concerned with stuffing our face with that warm, chewy, fresh-outta-the-oven cookie filled with gooey, melty, chocolatey, hazelnutty Nutella. The cookie is about the size of my hand, perfect for splitting between the two of us after a filling and satisfying dinner. There was no better way to end the evening.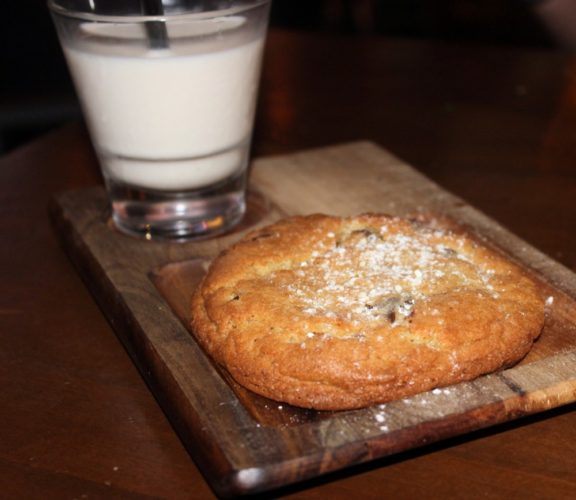 Aside from Happy Hour Monday through Friday 4-7pm, Public House also offers 50% off drafts on Wednesday from 7pm to close, Ladies Night on Thursday starting at 8pm, and they serve a bottomless brunch on Saturday and Sunday from 10am to 4pm,
Himmarshee Public House is located at 201 SW 2nd Street in Fort Lauderdale.