Never miss a bite! Sign up here to receive new recipes and reviews straight to your inbox.
Note: this restaurant has since closed.
Disclosure: I was invited to dine as a guest of the restaurant. No monetary compensation has been received for this post. As always, all opinions are 100% my own.
It's rare for me to venture outside of my Boca/Delray bubble, but when a potentially good meal is calling my name, how can I say no? There are a bazillion restaurants here in South Florida, and new ones are popping up here and there everyday. Sometimes it's hard to decide which ones are worth giving a shot — they need an it-factor, something that makes me feel like I can't miss out on this particular dining experience. New to Fort Lauderdale is Tony D's, an Italian eatery hailing from Rochester, New York. When it comes to Italian cuisine, New Yorkers are pretty much on point. That was the it-factor that drew me in — and so was THIS pizza picture on Instagram. I didn't know what else to expect from Tony D's, but I had a feeling it was going to be pretty good.
The restaurant itself has a great vibe. The huge open-air bar provides more than enough space for someone to host a party or event, and with a prime location not far from the beach, it's bound to be a hit spot with locals and visitors alike. A fresh basket of bread hit the table along with that classic olive oil-parmesan spread for dipping we all know and love. This one, however, was one of the most flavorful olive oil dips I've ever encountered. I wanted to completely submerge my piece of bread in it until it was thoroughly soaked through — but that would have looked completely gluttonous, and although it was hard, I refrained. The meatball appetizer was served first, a Tony D's signature item with baked ricotta and marinara sauce.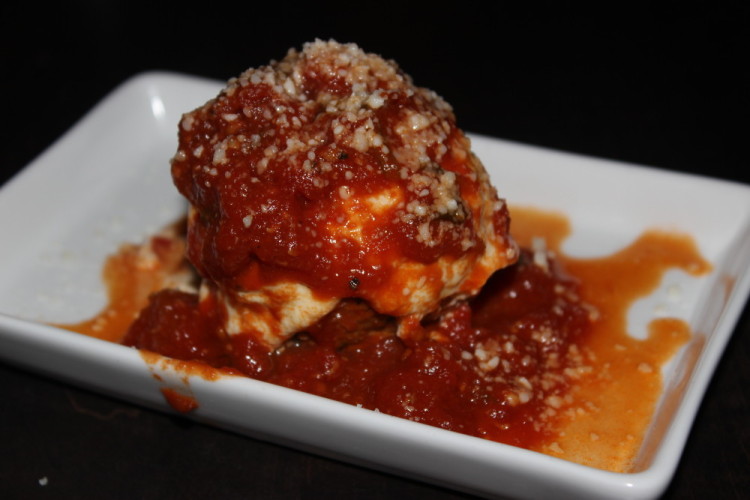 The Chef graciously offered to make me something in lieu of the meatball, and pretty soon there was a tasting portion of eggplant parmesan placed in front of me. It was full of all the classic components — crispy eggplant, creamy ricotta cheese, and a generous helping of marinara sauce. In general, I am not a fan of eggplant parmesan. I find it to be very heavy, especially as a starter, but for those who do like this particular dish…give it a try. Tony D's version was spot on and delivers everything you would expect from this classic Italian dish.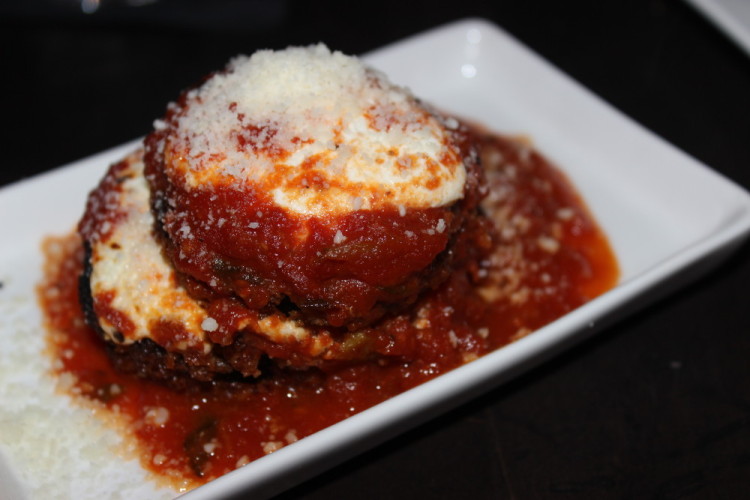 I was especially excited for the next dish — the Sicilian Style Calamari Salad. I love calamari. No, not the fried, greasy calamari you find on every sports bar menu, but calamari in its real, true form. Grill it, sauté it — just don't cover it in so much friedness that I can't taste the star ingredient anymore. That's what I loved about this salad. It was FULL of beautifully prepared calamari, as well as a bright and colorful mixture of celery, fennel, capers, parsley, lemon, sweet peppers, pepperoncini, and a touch of olive oil to bring all of those gorgeous flavors together.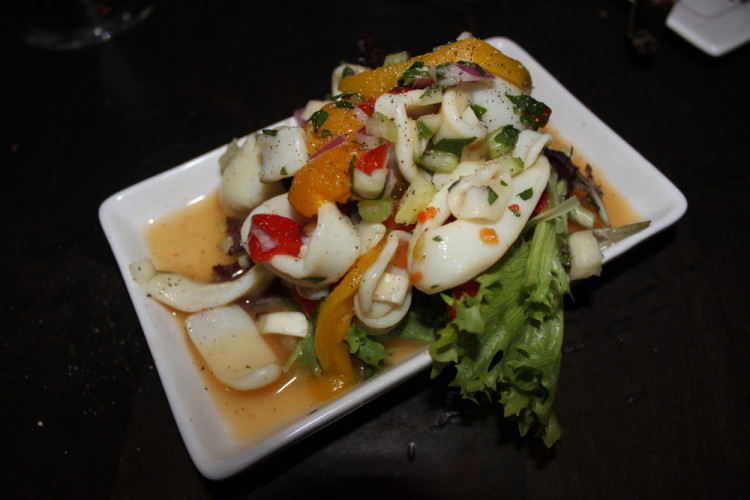 A true test of an Italian restaurant lies in how they prepare the simplest of dishes. Take Spaghetti Cacio e Pepe — thin spaghetti with pecorino romano and black pepper. Does it get any simpler than this? I think not. It may be simple, but when done well, it is certainly not lacking in the flavor department. With perfectly cooked al dente pasta and a balanced amount of that salty pecorino and black pepper, this was easily my favorite dish of the night. Tony D's did it right and got two thumbs up from me, and everyone at my table as well.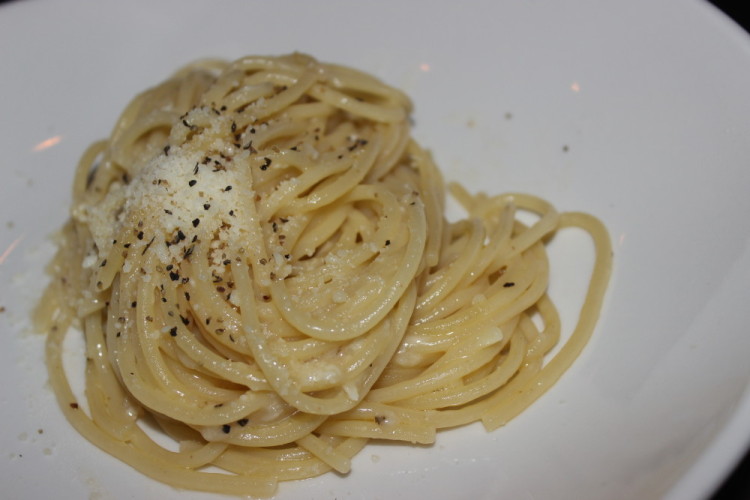 It was time for more seafood! My palate was ready for the Zuppa di Pesce with jumbo shrimp, Littleneck Clams, and Brazilian lobster tail in a tomato, herb, and white wine broth. As with any broth-based dish, it's always nice to have a little extra bread to sop it up — and that's just what I did. While the broth excited my tastebuds, the seafood fell a little flat for me. As someone who adores a big bowl filled with any kind of seafood, I had high expectations. I had trouble getting the meat out of the lobster tail, and when I did, there wasn't much. The clams and shrimp was good, but lacked a certain wow-factor to make me want more.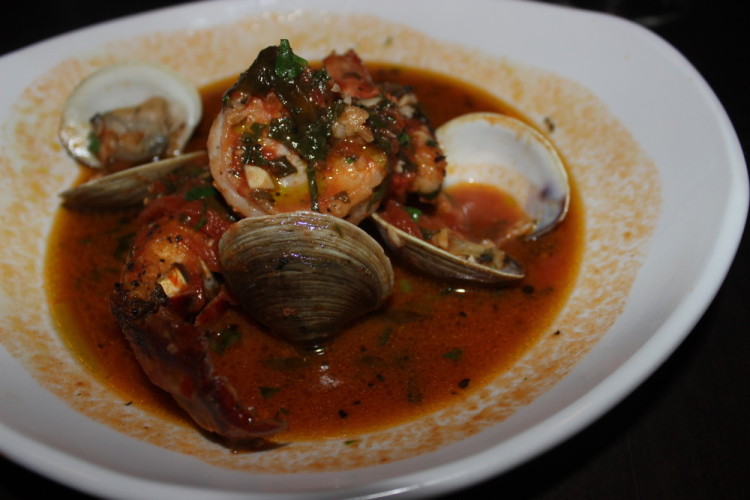 Lucky for Tony D's, and for me, the next dish totally saved the day. While the rest of the diners were served a Grilled Bavette Steak alla Tagliata with arugula, marinated tomatoes and balsamic, the Chef brought me out one of my all-time favorite Italian dishes without even knowing it — risotto! It was rich; it was creamy; it felt so decadant diving into that bowl of risotto filled to the brim with mushrooms, asparagus tips, and broccoli. Every vegetable was cooked with such perfection, I completely forgot about being less than impressed with the previous dish.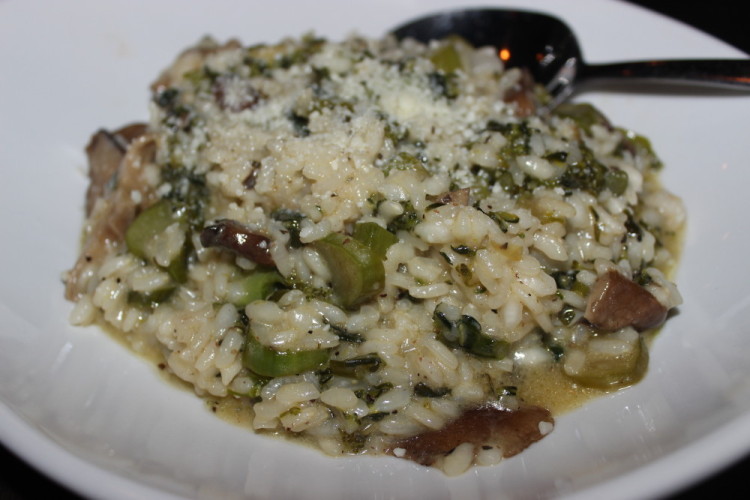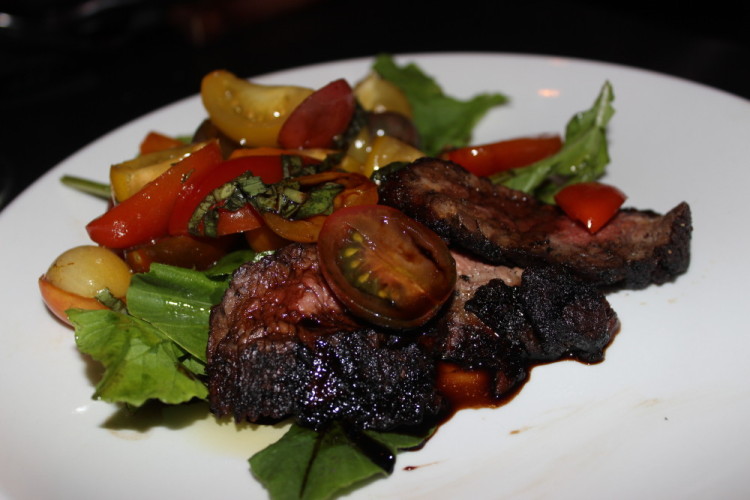 Tony D's won me over with their simple Spaghetti Cacio e Pepe, but they stole my heart with their risotto.
But wait! There was still dessert… Mixed Berry Golden Raisin Bread Pudding. I remember the first day I ever tried bread pudding in college. I had no idea what it was supposed to taste like, and quite frankly, I only tried it because it was made by a friend at a work holiday party. When that spoonful hit my mouth, I was shocked. The flavor, the texture… It was completely new to me, and I freaking LOVED it. I've loved any and all kinds of bread pudding since that day — sweet or savory. This version was full of fresh berries and sweet golden raisins, and drenched in chocolate ganache. I loved the combination of ingredients, and the chocolate was the perfect touch.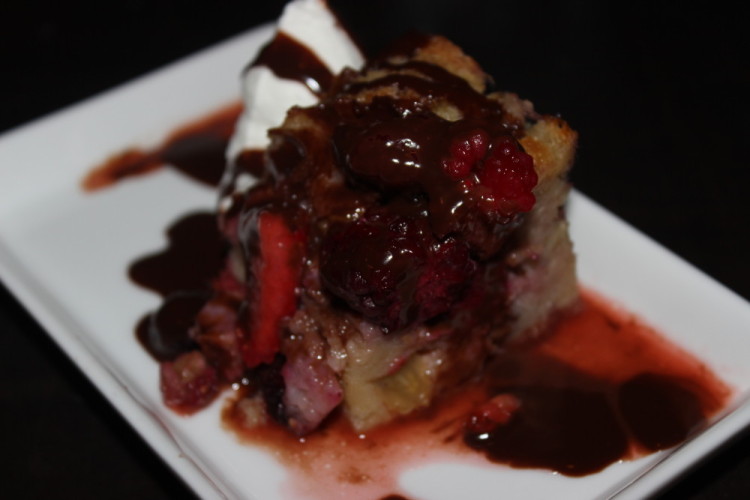 No meal is ever complete without a sweet treat to end the night. As much as I enjoyed the meal, I was a little sad I didn't get to try the pizza that originally interested me in the restaurant. Looks like I'll have to head back…
Tony D's is located at 3300 NE 32nd St. in Fort Lauderdale. They offer a "$7 until 7" Happy Hour menu from 5-7pm Monday through Friday. All wines by the glass are 50% off, wines by the bottle are 25% off, and cocktails of the day and flavored Bellinis are $7.