Never miss a bite! Sign up here to receive new recipes and reviews straight to your inbox.
Disclosure: I was invited to dine as a guest of the restaurant. No monetary compensation has been received for this post. As always, all opinions are 100% my own.
Nestled inside the 75-year-old Riverside Hotel on Las Olas Boulevard is a beautifully decorated, progressive American seafood restaurant by the name of Wild Sea Oyster Bar & Grille. They've recently updated their food and drink menu to include new fare featuring fresh, seasonal ingredients.
I discovered the deliciousness that is Wild Sea Oyster Bar & Grille while at the Las Olas Wine and Food Festival and have been dreaming about dining at the restaurant ever since. Lucky for me, I had an opportunity to go check out the menu and am happy to report that my exceedingly high expectations were 100% met — and then some.
The restaurant is gorgeous. If I were staying at the Riverside, I would be sure to visit for lunch or dinner, and would definitely sit at the very spacious and comfortable bar for happy hour. Executive Chef Toby Joseph was not there the night I went, but I did have the chance to meet sous chef, Alia, who frequently came out to check on us throughout the night and was as sweet as her food was delicious. Everything was perfectly presented with so much finesse. We really do eat with our eyes — and at Wild Sea, my eyes were getting quite the feast. Chef Alia created a unique little amuse bouche for us to get the night started. It was her take on "bacon and eggs." An actual eggshell lay atop a bed of straw inside of a small cast-iron skillet. Inside the egg was a white truffle custard with sherry vinegar reduction and crispy pancetta. The pancetta was definitely needed for the aesthetic of the dish, but I obviously had mine without.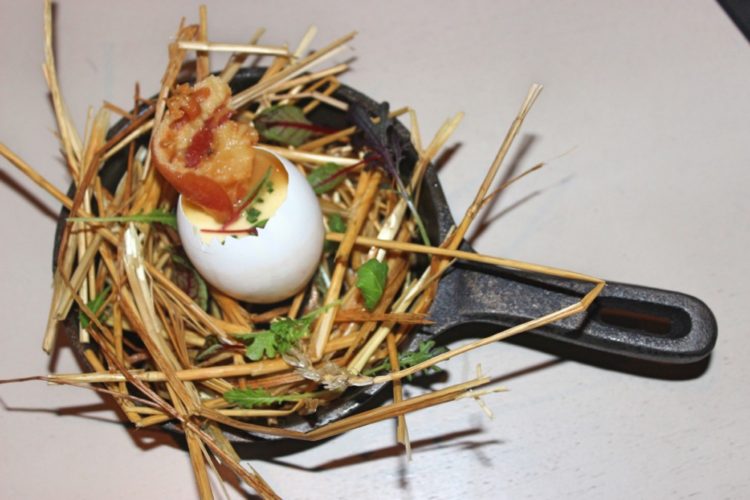 Moments after we enjoyed that first bite, the intense aroma of rosemary hit me hard — it was fresh focaccia bread spiked with a generous amount of rosemary, so soft and warm, it was obvious it had just come out of the oven. We got down to business and ordered the Maine mussels. These were the biggest mussels I have ever seen. The shells were the size of my iPhone 6. No joke. They were piled high in a broth made of Brooklyn lager, lemon and herbs. The size alone of these things was incredible, but I promise you the flavor was spot on as well. It took all of my energy not to knock back that bowl of broth after inhaling every last mussel. That wouldn't be very ladylike, now would it?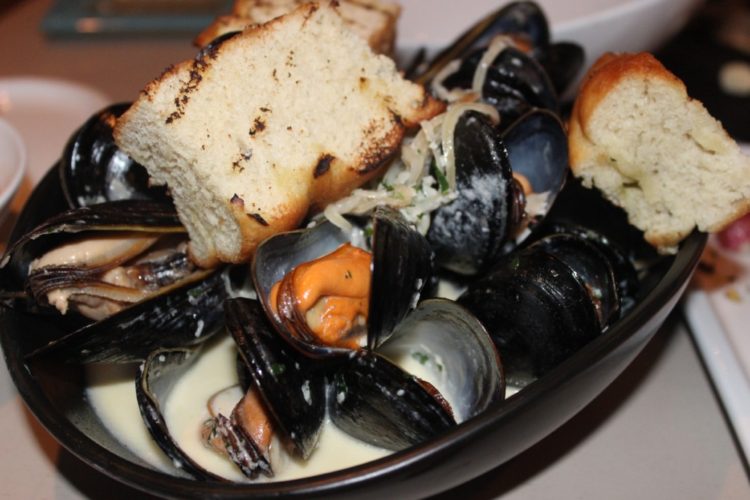 One of the new starter items is grilled octopus. In most cases, you know this would be the first thing I order, but it's braised in bacon fat so I had to refrain. It still does sound delicious though. It comes with a garlic aioli, blueberry coulis and slab bacon. So, bacon lovers, I recommend you give it a try! Aside from the mussels, there was one other dish that really caught my eye — the heirloom carrot salad with roasted radishes, honey caramelized oranges, pistachios, goat cheese dressing and gremolata (a topping made with a variety of herbs). This salad is everything I could ever want in a salad and more. It was one of the most beautiful combinations of flavors and textures on a plate, and I could not put my fork down.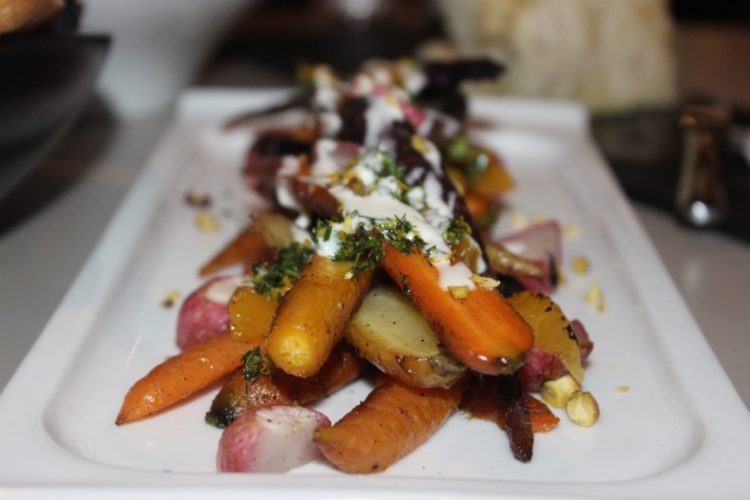 My friend ordered the lobster bisque, which is poured tableside. Chef Alia told us their house-made lobster stock reduces for 12-15 hours, giving it an insanely rich depth of flavor that almost tastes like the soup was roux-based. My friend, being very accustomed to New Orleans cooking, picked up on this right away and was really impressed with the amount of flavor they were able to get into that bowl of soup.
Wild Sea is definitely known for its incredible seafood, so choosing an entree was hard work. I do like to eat local fish whenever possible, so the West Florida grouper was calling my name. Our server assured me that this was a very good choice — and she was so right. The fish was seared to crispy perfection, and came with a gorgeous arrangement of heirloom tomatoes and mango on top of a blackberry coulis. Tomato, mango, and blackberry may sound like an unusual mix, but they all played really well together. I can't get over how amazing the fish was, though. It was a simple preparation, but that's all a good, fresh piece of fish needs. Keep the ingredient in its purest form and it will really shine.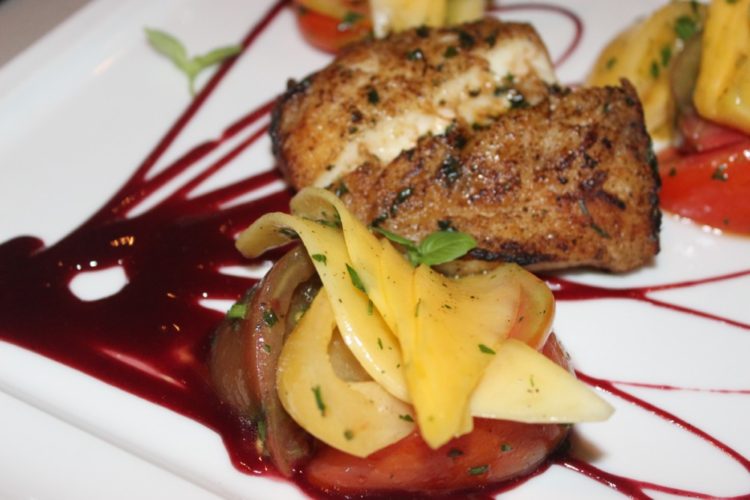 My friend ordered the new center cut beef tenderloin — although it was the side of cauliflower mac and cheese that really solidified her decision. Using cauliflower in place of rice or pasta is a growing trend, and one that fares pretty well. I had to have a taste, and it was just what you look for in mac and cheese — creamy and cheesy, with a crispy breadcrumb coating.It also comes with more of those heirloom carrots I so enjoyed in that salad, and a charred onion pesto. The cook on the meat was done exactly how my friend requested and she was very satisfied with the dish overall. The side dishes are definitely the stars of this plate, which makes the perfectly cooked piece of meat even more appealing.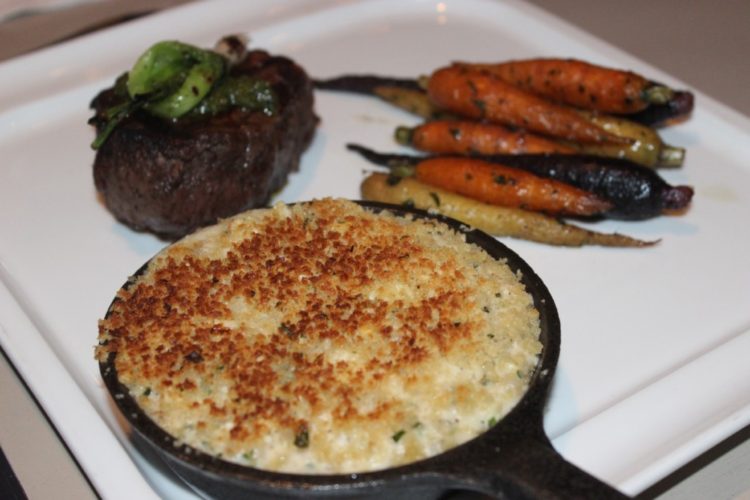 We were full, but not too full for dessert, as our server was quick to let us know that Chef Alia had something special coming out. Wild Sea's signature dessert is the chocolate sphere, which changes flavors weekly. Our experience that night was chocolate hazelnut espresso. The sphere was filled with espresso mouse and chocolate hazelnut crisp and served with a warm hazelnut ganache that, when poured over the sphere, melts the chocolately goodness and reveals its deeeelicious contents.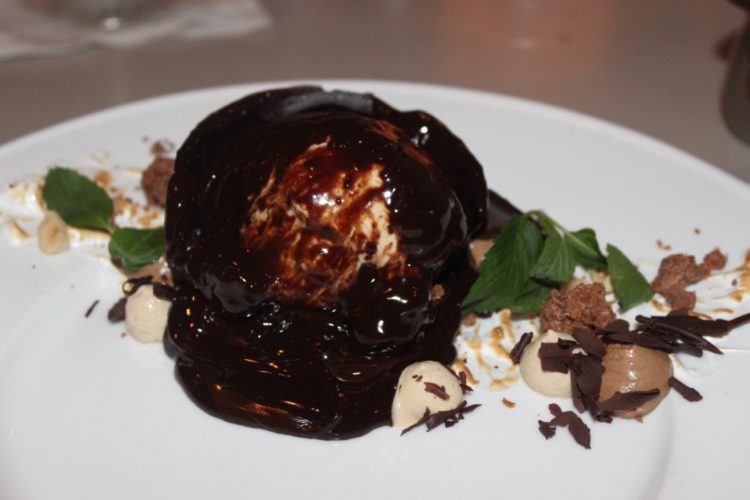 My heart melted for Wild Sea right along with that chocolate sphere. I'm definitely in love.
Wild Sea Oyster Bar & Grille is located at 620 East Las Olas Boulevard in Fort Lauderdale, inside the Riverside Hotel.