Never miss a bite! Sign up here to receive new recipes and reviews straight to your inbox.
This post was sponsored by Fresh From Florida as part of an Influencer Activation for Influence Central, however, all opinions expressed are my own. 
Forget fried calamari, this Tropical Pan-Asian Calamari Salad is where it's at! Fresh From Florida ingredients and a flavorful Asian-inspired marinade make this a show-stopping dish sure to impress.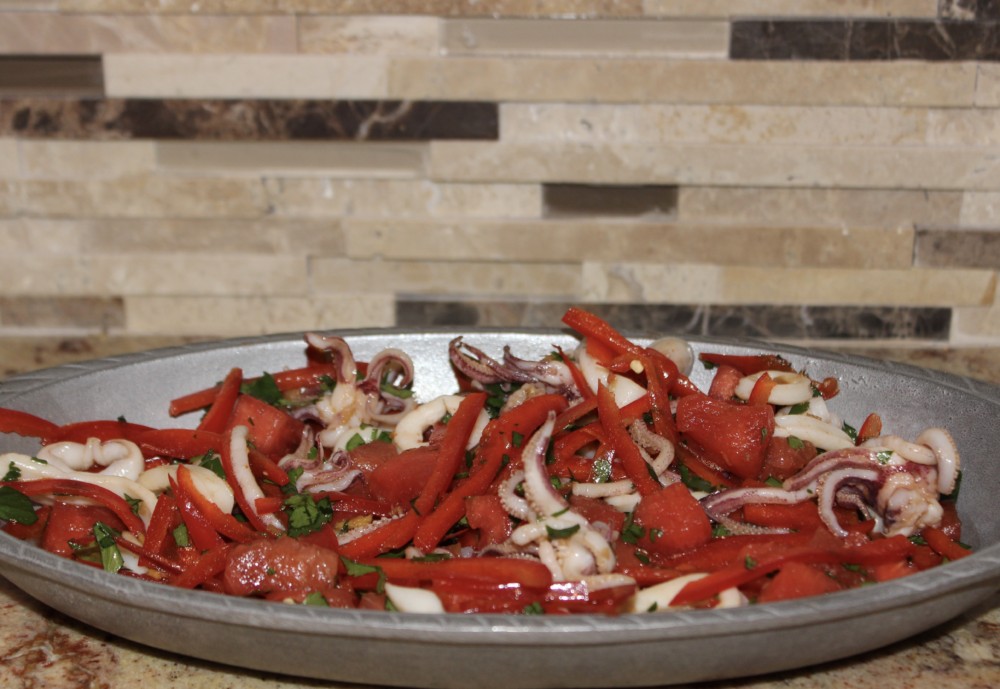 You all know how much I like to keep things local, so partnering with Fresh From Florida to highlight one of its featured recipes was only fitting. Florida farmers make it easy for us to eat fresh produce all year-round, and lucky for me, I have my choice of local farmers markets to browse through, or even big time grocery chains like Publix, where I picked up the ingredients for this Tropical Pan-Asian Calamari Salad. I like knowing that my produce hasn't traveled lightyears before making its way to my kitchen and into my meals.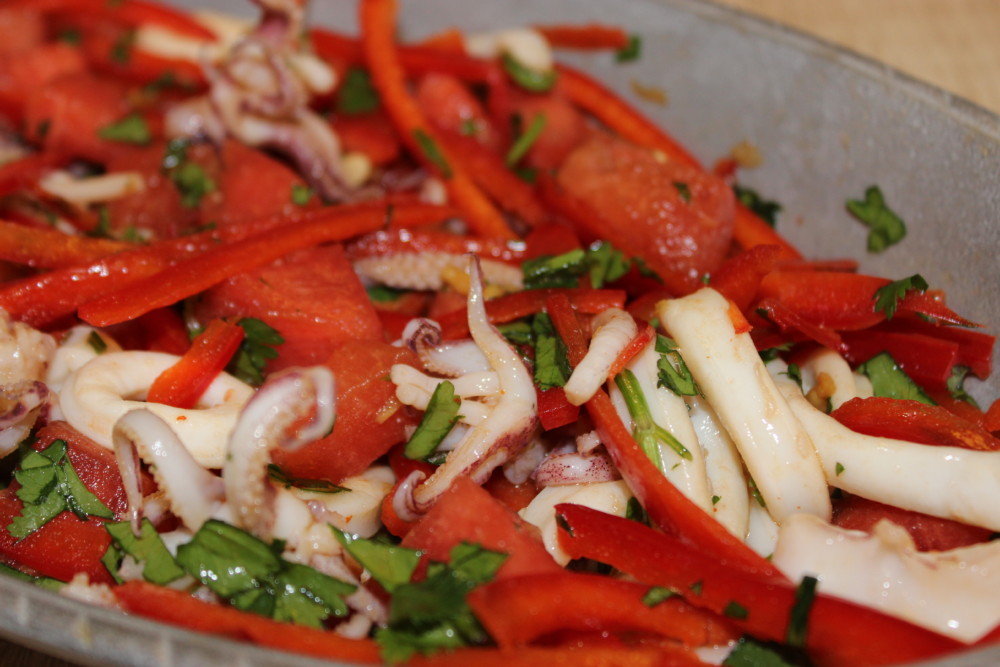 When it comes to Florida produce, two of my favorites are red bell peppers and watermelon. And it just so happens that both of these are featured in Fresh From Florida's Tropical Pan-Asian Calamari Salad.
I never would have thought to combine peppers and watermelon with calamari, but it all, surprisingly, worked very well together. This was my first experience cooking calamari, and it couldn't have been more simple. In fact, the entire recipe was super easy. It took roughly 30 seconds to blanch the tubes and tentacles, then all that's left to do is toss them with the marinade and combine with the rest of the ingredients. Be very careful not to keep the calamari in the boiling water too long — this will cause them to become rubbery and virtually inedible. It's crucial to watch them like a hawk. As soon as the calamari turns opaque, quickly move them to an ice bath to stop the cooking process.
This Tropical Pan-Asian Calamari Salad is best enjoyed after letting it sit for at least a couple hours, to allow the marinade to really sink deeply into each of the ingredients. Sesame oil, rice wine vinegar, soy sauce (use liquid aminos or Tamari to make it gluten-free), ginger and garlic is an unbeatable combination, and one of my favorite flavor profiles. This marinade makes a great salad dressing, and would be amazing with fish. I'm sure it'd work well with chicken or beef too!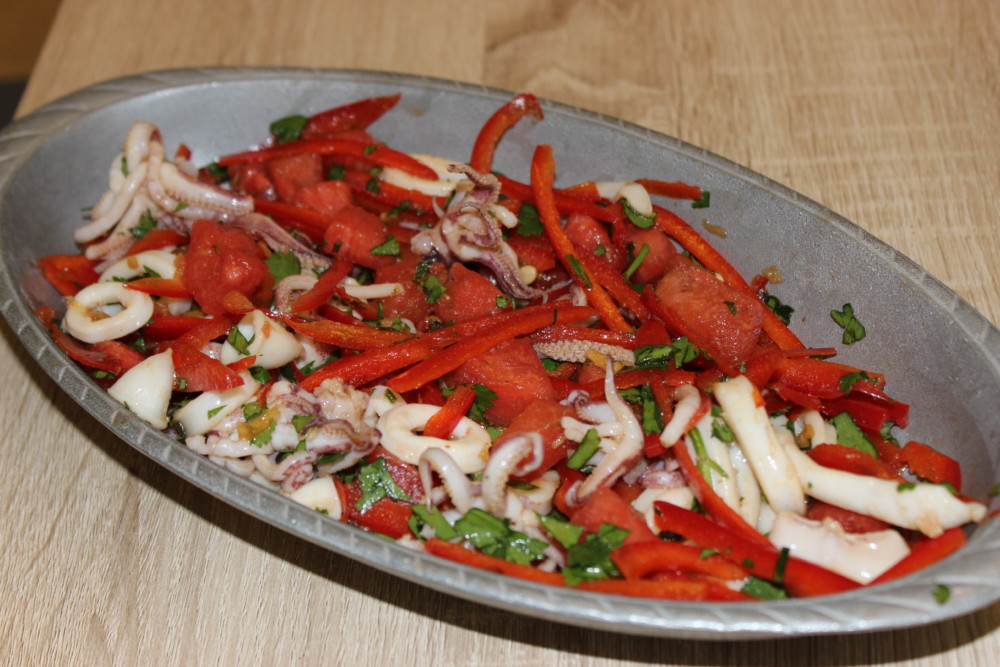 The Fresh From Florida website has tons of recipes using local ingredients with quick, easy preparation and delicious results. Make sure to "Follow The Fresh" and click here to check out the recipes and how-to videos, or follow on Pinterest, Twitter and Instagram.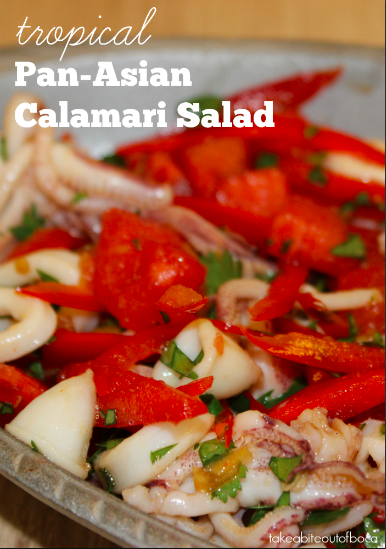 Tropical Pan-Asian Calamari Salad
Author:
Forget fried calamari, this Tropical Pan-Asian Calamari Salad is where it's at! Fresh From Florida ingredients and a flavorful Asian-inspired marinade make this a show-stopping dish sure to impress.
Ingredients
1 ½ pounds calamari (squid), cleaned
2 tablespoons light or low-sodium soy sauce
1 tablespoon rice wine vinegar
2 tablespoons sesame oil
1 large Florida garlic clove, minced
1 teaspoon Florida ginger root, fresh, minced
1 small Florida red onion, halved lengthwise, then thinly sliced across (about 1 cup)
1 Florida red bell pepper sliced paper thin
1/4 cup Florida cilantro, fresh, chopped
1 teaspoon crushed red pepper flakes (if you like it spicy)
2 cups seedless Florida watermelon, cut into small pieces
Salt and fresh ground pepper to taste
Instructions
Clean and rinse squid under cold running water, lightly pat dry with clean paper towels, cut tentacles and bodies into the same size, about 1/3 inch wide.
Quickly cook squid in a 5- to 6-quart pot of rapidly boiling salted water, until opaque (this only takes 30 to 40 seconds).
Drain and immediately immerse in a bath of ice water to stop cooking.
In a mixing bowl, whisk together soy sauce, rice wine vinegar, garlic, ginger, sesame oil and pepper (red and black).
Let stand at room temperature for 5 minutes.
Meanwhile, combine squid, bell pepper, watermelon and cilantro in a large bowl.
Toss with dressing, and allow to marinate at least 15 minutes.
Garnish with pepper curls and fresh cilantro.
Notes
Recipe from Fresh From Florida: https://www.freshfromflorida.com/Recipes/Sides/Tropical-Pan-Asian-Calamari-Salad