Never miss a bite! Sign up here to receive new recipes and reviews straight to your inbox.
Disclosure: I was invited to sample various offerings as a guest of the juice bar. No monetary compensation has been received for this post. As always, all opinions are 100% my own. 
I know, I know — another juice bar in Boca? We may have an overabundance of juice and smoothie spots in Boca, but each one has something unique about it. Case in point: Juice Bar team members crack open coconuts right in front of their customers to use in smoothies or just serve straight up. You can order coconut water and drink it straight from the coconut! I haven't seen that at any other local juice bars, have you?
We'll get back to the coconuts a little later, but right now there's more to tell you about Juice Bar. First, it's a franchise with locations all over the country — but only ONE in Florida, and we've got it right here in Boca Raton. Most of the menu items are vegetarian, gluten-free, organic when possible, and always use 100% whole fruits and vegetables. They also stock yummy snacks, like Mamie's Kitchen Almond Butter Raw Energy Bites and Living Raw Truffles in coconut and dark cacao.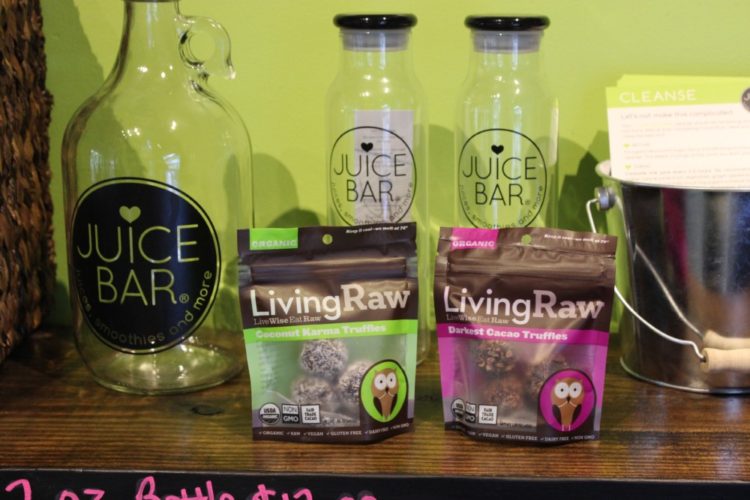 The menu features ten made-to-order juices, a variety of smoothies, tons of different kinds of shots, açaí bowls and prepared foods. When I walked in, I didn't know where to start — thankfully the team put me at ease and did the choosing for me. I started with a tasting of four of their main juices — Sweet Greens, Fresh Greens, Orange You Glad™ and We Got The Beet™. These are also part of the juice cleanses they offer. My favorite was the Sweet Greens with apple, kale, spinach, cucumber, parsley and lemon. It was green without being too green, if you know what I mean. The apple lends a sweet touch to offset all of the veggies. If you're a newbie to the whole juice trend, this is a good one to start with. Fresh Greens is for the ultimate green-juice lover. It's the same combination as Sweet Greens, without the apple. So no sweetness. Orange You Glad™ was another yummy one — carrot, apple, pineapple, mint, ginger and lemon. You get a kick from the ginger, but the mint and lemon mellow it out. I also really enjoyed the We Got The Beet™ with beet, carrot, apple, ginger and lemon.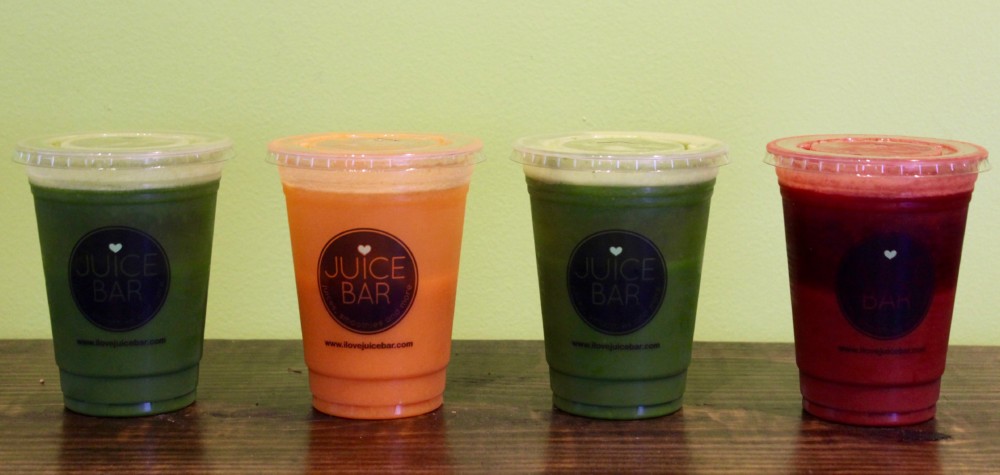 Juice Bar has great grab-and-go prepared food options, like the kale quinoa bowl with kale, spinach, quinoa, tomatoes, cucumbers, black beans, sunflower seeds, dried cranberries, parsley, cilantro and garlic, tossed in lemon dressing; overnight oats with oats, chia seeds, cinnamon and almond milk, topped with strawberries, blueberries, almond butter, local honey, hemp seeds, chia seeds, cacao nibs, coconut flakes and bee pollen; and one that immediately caught my eye — pad Thai noodle bowl! It's made with sweet potato noodles, which made me very happy because I could eat it! The noodles are mixed with carrots, cucumbers, spinach, cilantro, garlic, sesame seeds and cashews, and tossed in gluten-free Thai peanut sauce. I happily tossed the package into my purse to bring home to enjoy for dinner that night. It was definitely a winner! The flavors were delicious and I really liked the texture of the sweet potato noodles.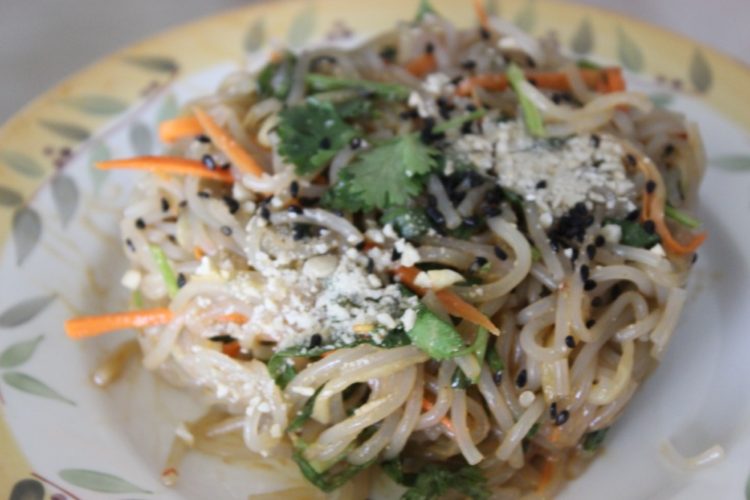 Now, let's get back to the coconut, shall we? Moving on to the smoothies, I really wanted to see the coconut in action, so I went with the Coco Pro. You have to be a fan of coconut to enjoy a smoothie made of fresh young coconut meat and water, hemp seeds and probiotics. It's very coconutty, which I loved. It's extremely refreshing and I felt nice and healthy getting in my probiotics! I watched as the Juice Bar team member cracked open the coconut, poured out its water and sliced out the meat to use for the smoothie. It's quite the process, but very cool to see it all firsthand. No store-bought coconut water here! There are lot of great-sounding smoothies on the menu, like the Matcha Green made with matcha green tea, maca powder, cashews, spinach, banana, mango, lemon, Himalayan pink salt and almond milk; the Coffee Janet™ with raw cacao powder, coffee, hemp seeds, almond butter, banana, plant-based protein powder, Himalayan pink salt and almond milk; and the Mint To Be with mint, mango, pineapple, coconut milk and apple juice.
You can find all of the nutritional information for Juice Bar's menu right on the website.
Juice Bar is located in Boca Center at 5250 Town Center Circle in Boca Raton.