Have you ever heard of the PBS show "Check, Please!"? It brings together regular people (that is, not chefs or anyone in the food business) to talk about and review their favorite restaurant in a specific city. The show first started in Chicago and now airs in a few different regions all over the country, one of which happens to be here in South Florida. Chef Michelle Bernstein is the host, who I happen to have had the pleasure of meeting last month when she came to Publix Aprons for our Celebrity Chef Demo. She was awesome. As a fan of the show, it was pretty cool to meet her in person. I love watching "Check, Please!" for restaurant recommendations. Every so often, one of the places reviewed will immediately jump to the top of my list. A few weeks ago, I watched an episode that featured a Fort Lauderdale spot called Canyon. After hearing all about their famous prickly pear margaritas and unique dishes at this local favorite that's been in the area for quite a while, I had to go. You can only imagine how excited I was when I was asked out to dinner and this was the destination. Jumping up and down, immediately memorizing the menu, and prepping myself for what I was going to order…that doesn't even begin to describe it.
First of all, the place is much more discreet that I imagined. I drove right past it and didn't see it at all. The atmosphere is small and intimate, but still very comfortable. Of course we started with a prickly pear margarita, duh. I actually had no idea what it was going to taste like, or look like, either. I was expecting green or yellow, like a pear…but it was bright pink. It was sour, and seriously delicious. Those things could definitely be dangerous if you have more than one.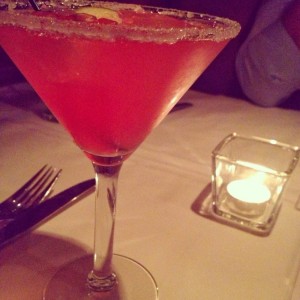 Our waitress told us the specials and one of them immediately made my eyes light up. Portobello mushroom with poblano pesto brie cheese and crispy leeks.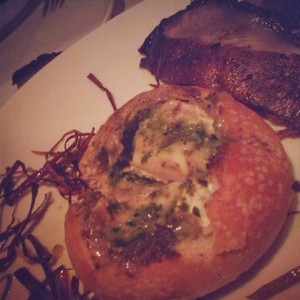 The picture doesn't do this dish justice. It was our favorite of the night, by far. Every bite of brie cheese with the portobello and the leeks sprinkled on top was better than the last. Earthy mushroom, creamy sweet brie, heat from the poblano, and lots of crunch from the leeks… Perfect medley of flavor and texture.

We ordered three more dishes after the portobello. The sweet and spicy calamari with peppers and garlic tossed in a Thai chili honey dressing. The calamari were very good; I liked that the breading wasn't too heavy. Sometimes if calamari are too heavily fried, you lose the flavor of the actual squid itself. That wasn't the case here at all. I also loved the peppers, which were perfectly charred. I would have liked for this dish to come with a side of the dressing for dipping. We asked for some, and they did bring it, but I think it should automatically come with it.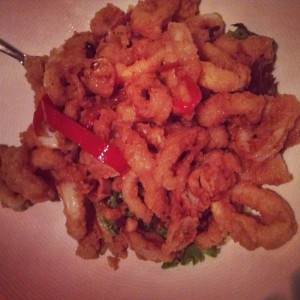 We also got the seared jumbo scallops with poblano-lime plantain hash. That hash…oh my… I have never had plantains in that form and it was probably one of the best preparations I've ever tasted. We loved that just as much as the portobello dish. The scallops were good, but whoa…that hash was just on an entirely different level.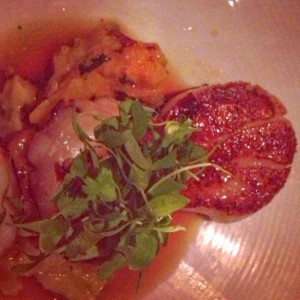 Last dish of the night was the pan-seared octopus salad with cherry tomatoes, toasted corn, red onion, and red peppers. I love octopus; I'll almost always order it if I see it on a menu. It's a pretty rare dish. This salad was light and refreshing and had a lot of really great flavors.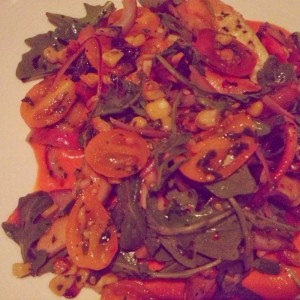 We were ready to look over the dessert menu when our waiter told us the chef was sending out their signature bread pudding on the house. My roommate specifically told me to make sure I left room for this particular dessert because it is unlike any other bread pudding you've ever tasted. She was absolutely correct and I am so glad we were pleasantly surprised with this dessert. It was a totally ideal end to our dinner. Sinfully delicious white chocolate bread pudding sat on top of macerated blackberries, blueberries and raspberries. The best part of the entire dish had to be the bruleed white chocolate on top. It was a flavor explosion of creamy, rich white chocolate that I really never wanted to stop experiencing. I'd go back there for that dessert in a heartbeat.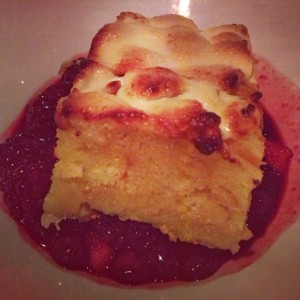 I'd go back for that portobello, too. And the prickly pear margarita. And the plantain hash. Oh, whatever, I'd go back again just to go back again.
Disclaimer: I was not compensated by Canyon or Check, Please! to write anything about the restaurant or TV show. We did receive a complimentary dessert from the restaurant, but I was under no obligation to write this review. I just wanted to share my great dining experience with you. All opinions, as always, are my own.

Posted with Blogsy