There aren't many foods that I get serious cravings for. Obviously I love to eat, but it's very rare that I'm all "Omg I need to eat this right now or I'm going to die!" However, there are two specific cuisines that every so often…the craving hits…and I won't be satisfied until I've quelled it.
Thai and Sushi.
I don't know what it is about these two types of food, but they are undeniably delicious in my eyes. I can't say no to a steaming bowl of Pad Thai or a boat load of little sushi rolls filled with things like eel and tuna and avocado and salmon and crispy little tempura flakes. Ah, just typing this makes me hungry.
Lucky for me, I had a delicious Thai/Sushi dinner to look forward to last week after being invited to dine at Coco Asian Bistro, an authentic Thai restaurant with a chef who hails right from the motherland and brings those aromatic and distinct flavors of Thai right to Ft. Lauderdale. The restaurant was loud and boisterous with a crowded bar, a live pianist and singer, and a pretty full dining area. It was, after all, a Friday night.
I invited Denise to come with me that night. After sitting in annoying rush hour I-95 traffic, we were more than ready to get our grub on once we got there. Our waiter, Joey, was incredibly sweet and told us all about their specials for the night. Our mouths were practically on the floor drooling after he described the Pineapple Fried Rice entree complete with a 6 oz. Maine lobster tail, 4 jumbo shrimp, cashews, pineapple chunks and raisins served in the half-shell of a pineapple. We knew we'd be ordering that for sure.
But first? Cocktails!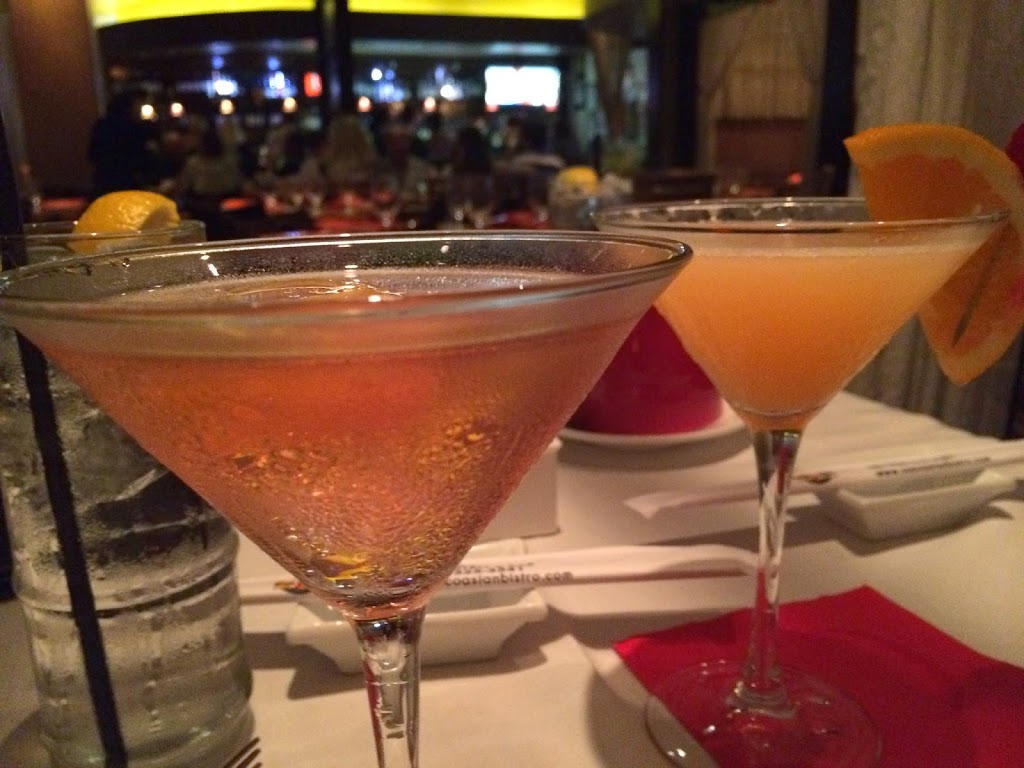 I got a Ginger Martini with Grand Marnier and white cranberry juice (left); Denise got the Canteloupe-Tini with watermelon and orange juice (right). They tasted just as pretty as they looked.
We started out with one of their new dishes, the Octopus Ceviche because, well, octopus. Duh. It had ginger, shallot, and sesame seeds and was tossed in a spicy Thai sauce. There was definitely a major heat factor in this dish, but we were disappointed with the amount of octopus. There were only 4 pieces of thinly sliced octopus. If "Octopus" is the star ingredient on a dish, it should shine. I felt this was more of a salad — there was iceberg lettuce in it too — than it was a ceviche.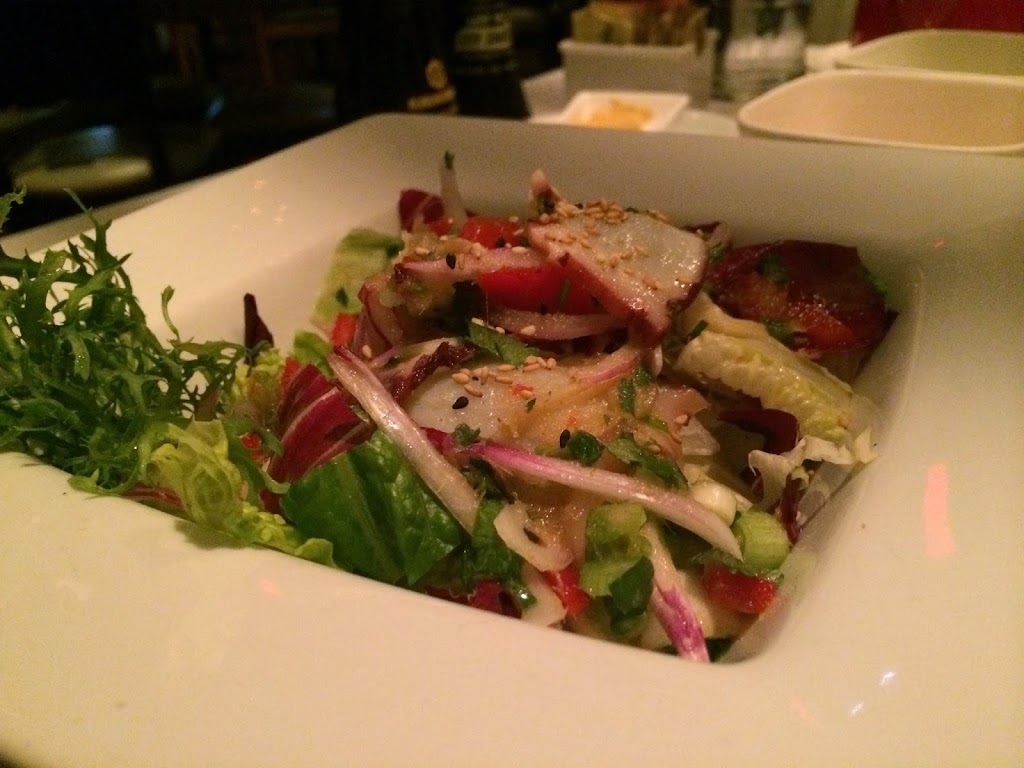 Denise and I are both eel lovers when it comes to sushi, so we couldn't pass up ordering the "Eel Lover's Roll." We were considering the Sex and The City Roll which also has eel, along with a myriad of other ingredients. But when push comes to shove, all we really wanted to taste was that delicious eel. We didn't need it to be overpowered by anything else. Our Eel Lover's Roll was simple and perfect — eel, cucumber, avocado, topped with even more eel, sesame seed, masago, tempura flakes, and my favorite: eel sauce. It was definitely one of the best rolls I've had in a long time.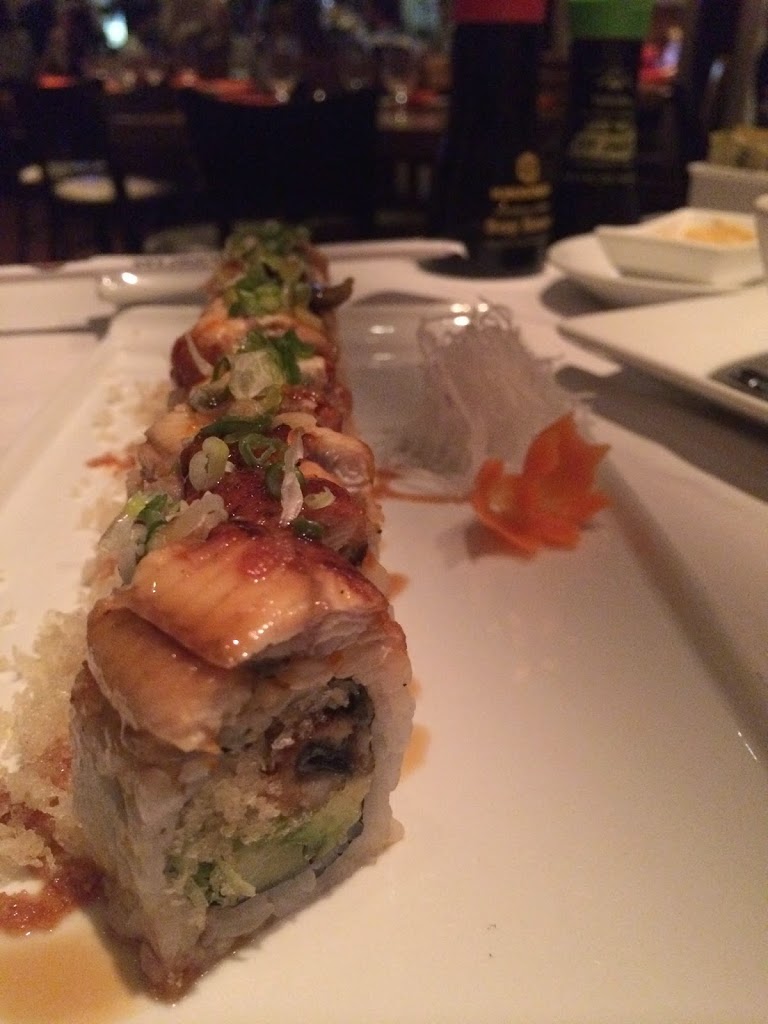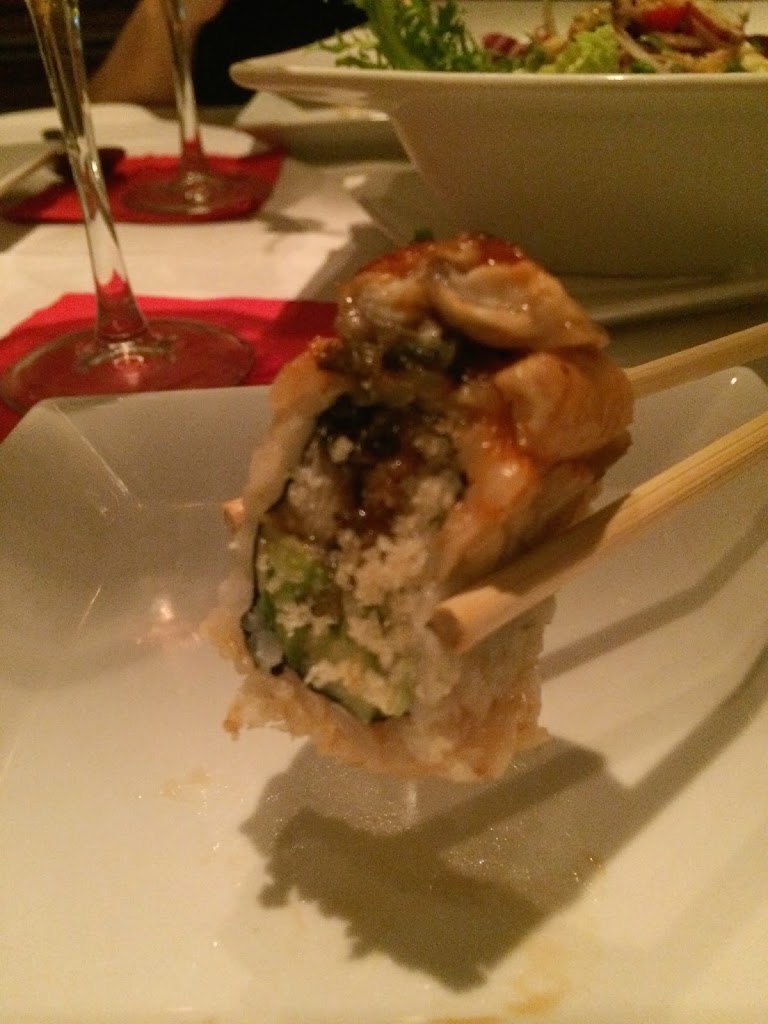 We already knew we wanted the Pineapple Fried Rice for one of our entrees, but we were intrigued by all the different kinds of curry on the menu too. Red curry, Green curry, Panang curry… We had no idea what the difference was and weren't quite sure which one we wanted to try. The general manager, Keddy, was nice enough to prepare a small bowl of each curry sauce for us to sample. How awesome!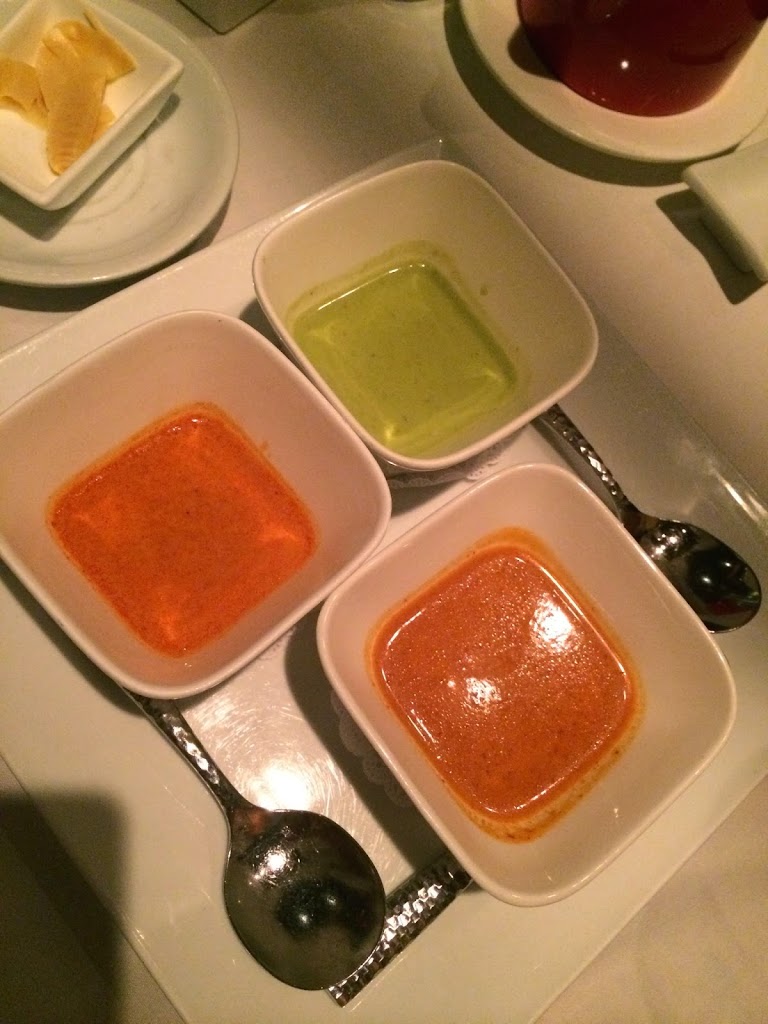 The Panang curry had a little bit of heat, but was also very peanutty. It reminded me of something maybe you'd toss in a Pad Thai type of dish. The red curry was also a little spicy with great layers of flavors. The green ended up being our favorite. It's made with coconut milk so it had a smooth, creamy, sweet texture and flavor that we both really enjoyed. The dish came with asian eggplant, red pepper and Thai basil. You have the option to have the curry with your choice of protein or mixed veggies. Since we already had a ton of seafood coming with the fried rice, we opted for the veggies. Zucchini, mushrooms, carrots, green peppers, snow peas… this dish had it all! On a scale of 1-10 in spice, I'd give this a 7. It was mild, but every so often you'd get a little zing. I absolutely loved it and would recommend the green curry dish to anyone who dines here.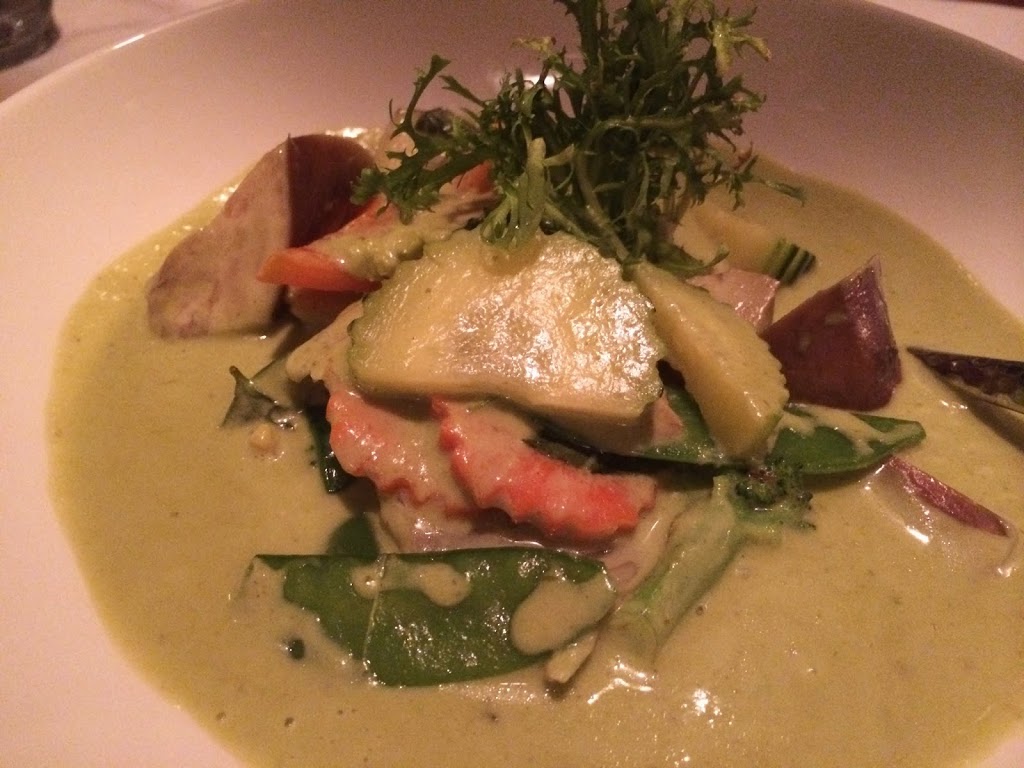 Now, the special fried rice of the night. That was some dish. Not only was it absolutely gorgeous, but the flavors were so bright and cheerful. I know, how can a dish be cheerful? Well, for one, we had sweet and juicy pineapple chunks, then we had fresh, plump lobster and crab, and chewy tart raisins to round everything out — not to mention the wonderful flavor that fried rice already has! I could not stop eating this. Forkful after forkful, it just kept getting better and better.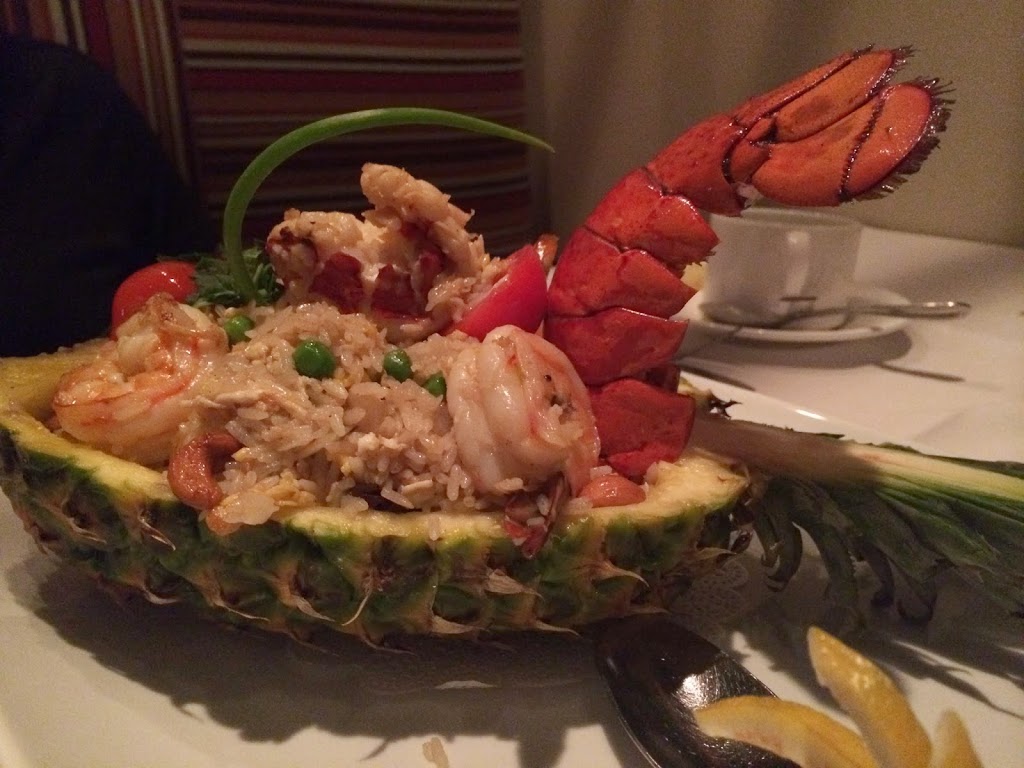 We literally could not take in another bite when Joey came back and asked if we wanted dessert. He read off their delicious sweets that all sounded amazing, but we were so full! Not five minutes later, Keddy rushes out with their speciality dessert insisting that the Chef wanted to make sure we were served dessert. It looked beautiful, but the concept of this "dessert" was very strange to us. Red beans and sticky rice…topped with coconut ice cream (that part I can understand), but beans and rice in a dessert? Eh, I tried a tiny bite and didn't love it… However the coconut ice cream was worth stuffing into my already-too-full-to-move belly.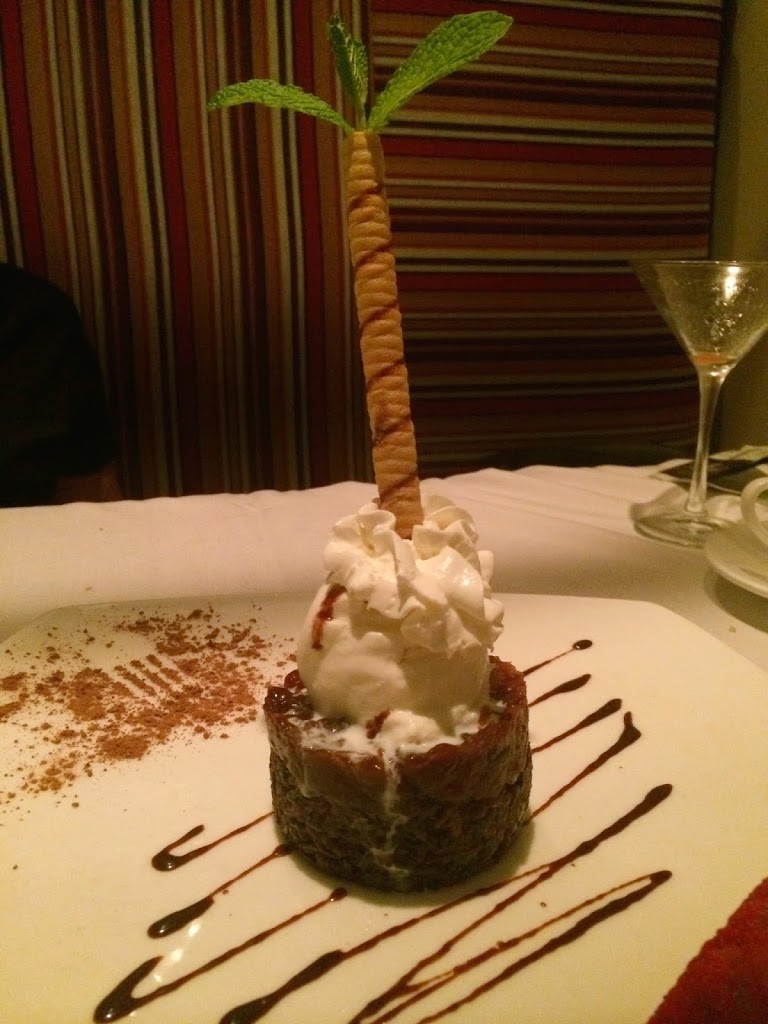 I thoroughly enjoyed everything about Coco Asian Bistro and I really can't wait to go back again — as soon as that craving strikes!
Disclaimer: I was provided with a complimentary meal for myself and a guest courtesy of Coco Asian Bistro. No other compensation was received. As always, all opinions are my own.