Never miss a bite! Sign up here to receive new recipes and reviews straight to your inbox.
Disclosure: I was invited to dine as a guest of the restaurants as a guest of the resort. No monetary compensation has been received for this post. As always, all opinions are 100% my own.
The Diplomat Resort is home to three very different restaurants, each with its own distinct vibe, giving guests a variety of dining options without having to leave the hotel — Bristol's Burgers, Portico Beer and Wine Garden and Diplomat Prime
As a member of the South Florida Bloggers Union, I was invited to take a little food tour throughout all three restaurants and try just about every single item on their menus (minus the meat, of course). They sure didn't skimp when it came to preparing the menu for our group of twelve. Over the course of almost four hours, we ate and drank our way through the resort, and we certainly didn't leave hungry. We also got some insider information that there are two more restaurants currently being built inside this gorgeous beachfront property, both of which are helmed by two very well-known restaurateurs, and are sure to cause quite the stir once they open. I won't divulge all the details here just yet, but stay tuned because I will definitely be checking them out…
We started off at Bristol's Burgers, a timeless burger joint with old school decor and an arcade, known for its signature ingredient-driven burgers on freshly baked rolls, along with milkshakes, beers, cocktails and a whole lotta delicious bites. We kicked things off with a pilsner from Hollywood Brewing Company, which is actually just down the road. Gotta keep things local!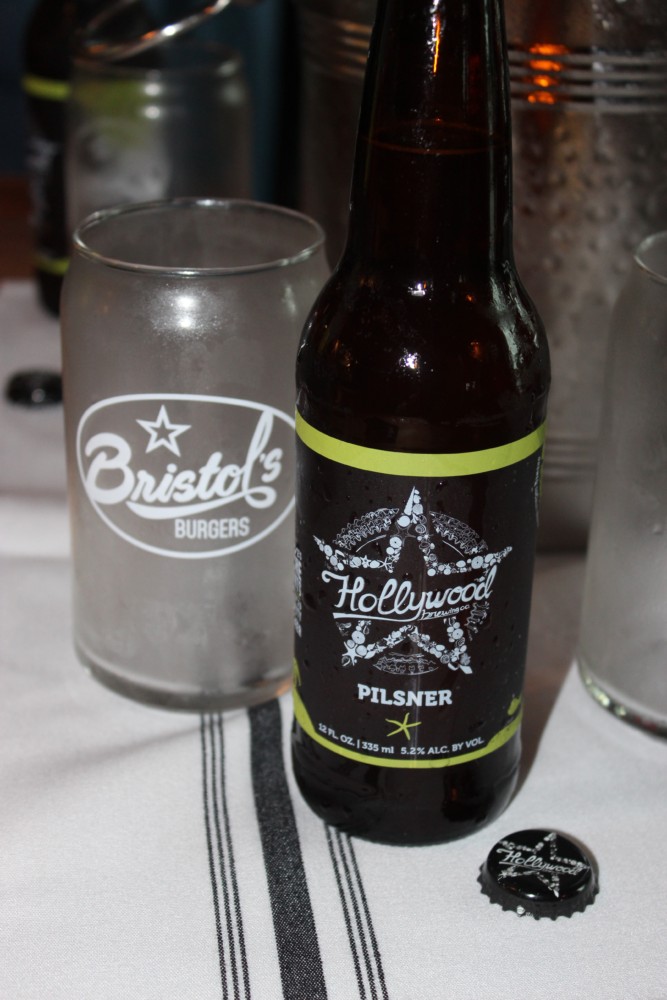 I'd describe the menu at Bristol's as a more sophisticated take on bar food. You've got the quintessential calamari, onion rings, and wings — but they have a distinctive twist and creative flavors. For example, the onion rings are called the Beer Battered Onion Brick. "Brick," because of an accident with the onions in the fryer coming out all stuck together in the shape of a brick. Sometimes a mistake in the kitchen turns into something great! The brick comes with a grilled lemon horseradish dip that is seriously addicting. The crispy coating was perfect, and the onions were cooked very well done inside. Add the sauce and this is definitely an appetizer worth splurging on.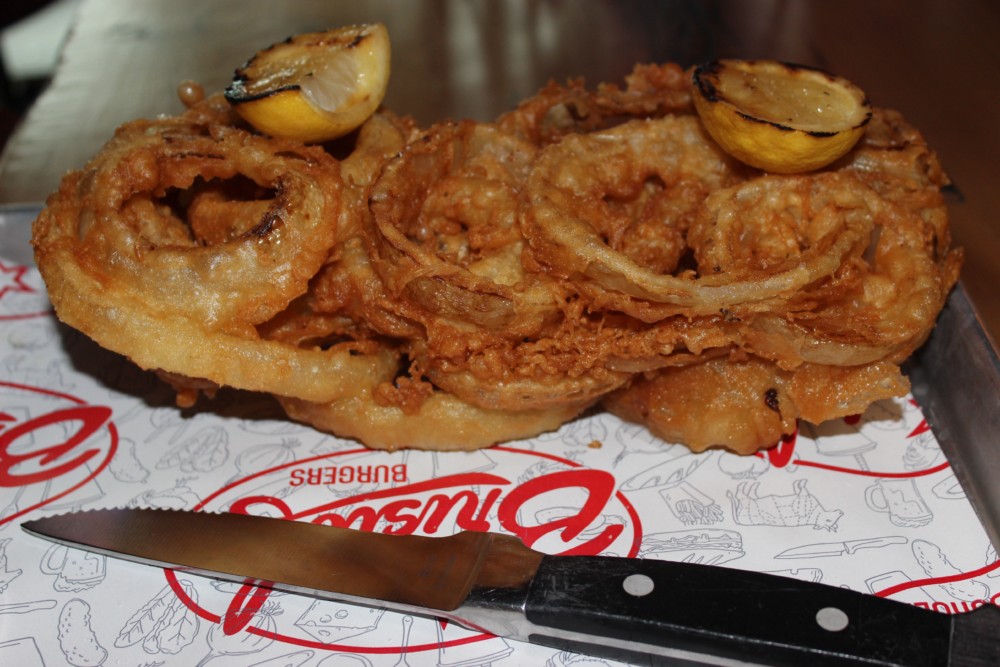 Onward with the unique take on classic bar food… The calamari is served with anchovy-tomato and vodka-horseradish sauces, a little different than your traditional marinara sauce, the buffalo wings are smoked, the "Florida Fries" come with beef chili, bacon, ranch and pepper jack cheese and they've got Chicago-style mini hot dogs with tomato relish, pickles and mustard.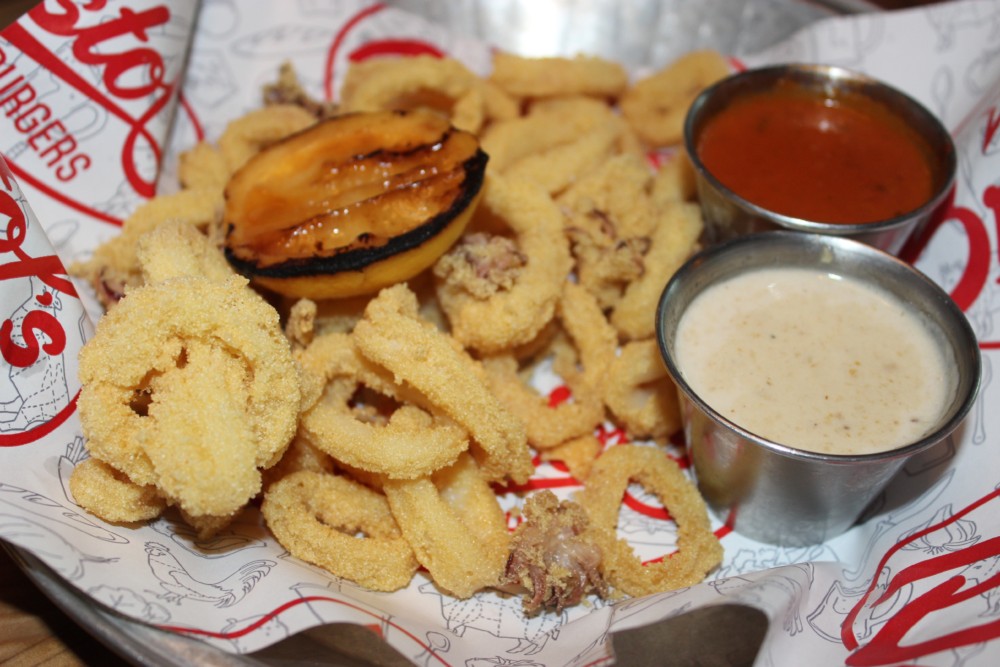 While the others got their meat on with the smoked boneless rib sandwich, I tried the toasted quinoa burger — a vegan burger made up of over 20 ingredients including chickpea flour, chickpeas, quinoa, black beans, spinach and way more. It's on house-made gluten-free bread with a smear of hummus and a shiitake mushroom salad. The burger itself is packed with flavor and I loved addition of the creamy hummus. I was impressed that the restaurant makes gluten-free bread in-house, and it was pretty good, but still a tad dry and crumbly. If I were to order this again, I'd probably ask for one of their other house made breads.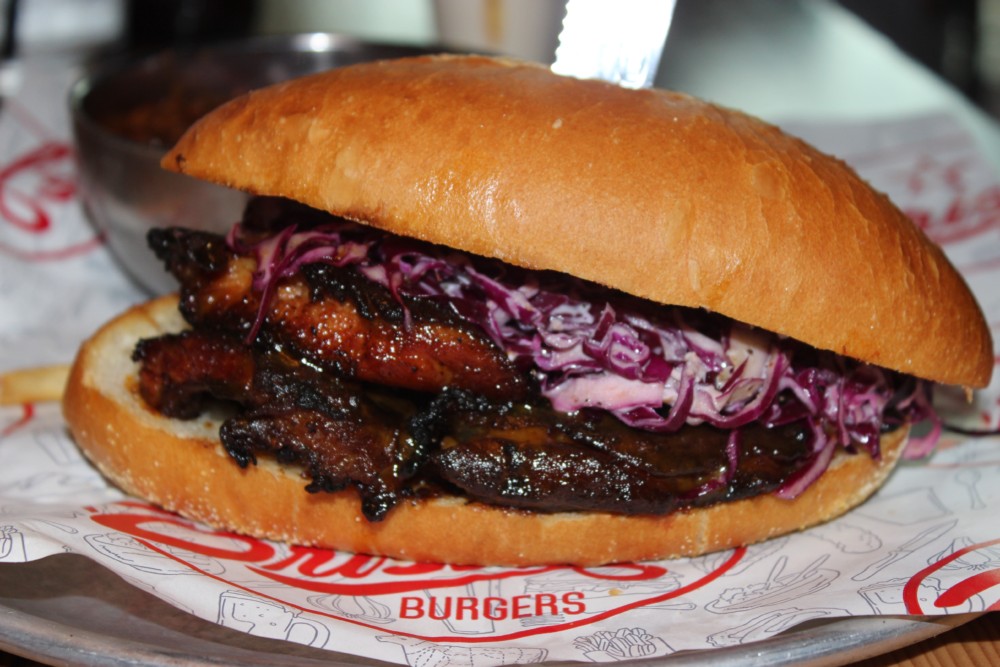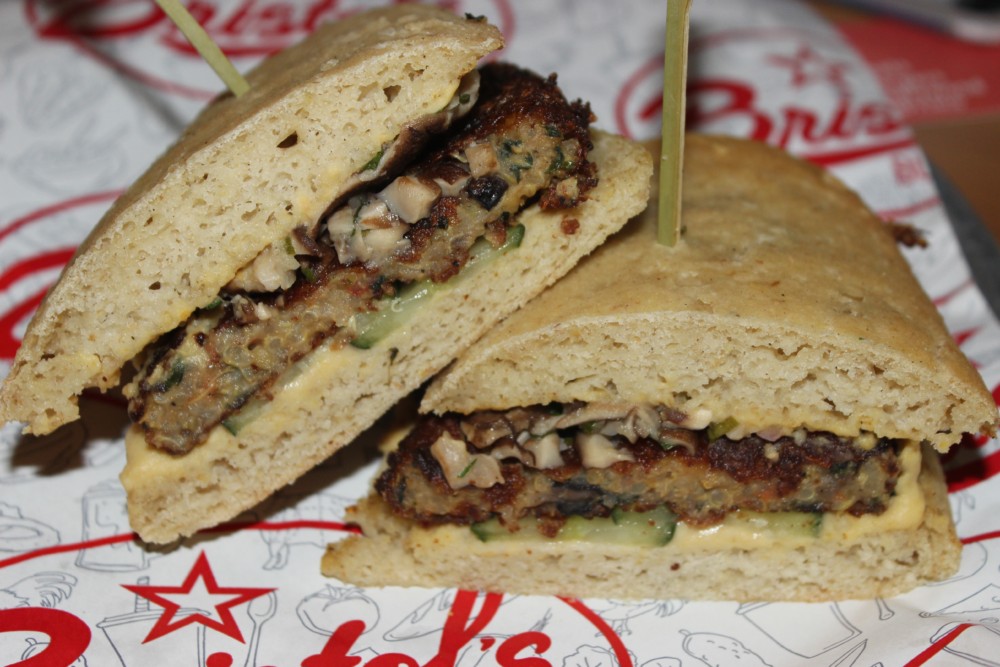 Since it was a pretty gloomy day in South Florida, we weren't able to spend any time sitting outside at the open-air, waterfront Portico Beer and Wine Garden, which serves sharable, light Italian favorites with an exclusively on-tap beer and wine program. Instead, we stayed inside Bristol's, moving over to the open kitchen to watch the chef make the Philly Roast Pork Bruschetta. Inspired by his time in Philadelphia, he tops grilled baguette with Calabrian chili sauce, grilled broccolini, roast pork and a sharp provolone. I had a piece without the pork, of course, and it was delicious! But when it comes to Portico's bruschetta, it's the vegetarian eggplant milanese that won me over. Another delicious grilled baguette is topped with ricotta salata, arugula and basil. This was definitely my favorite bite from Portico. It's light, fresh, and would pair perfectly with a crisp beer or glass of wine.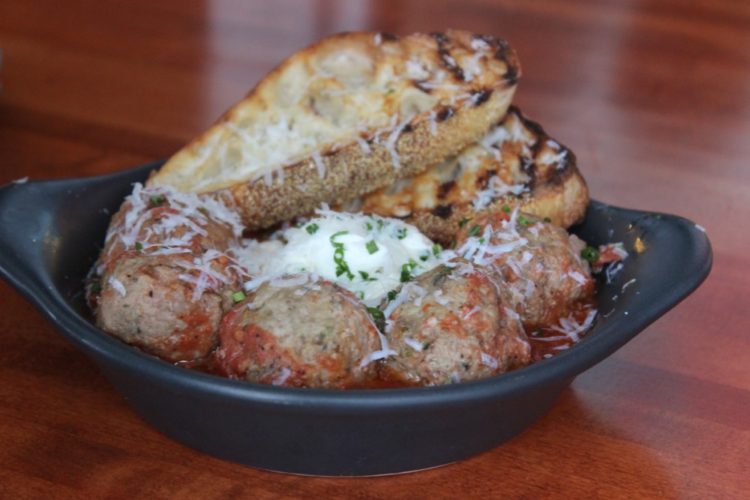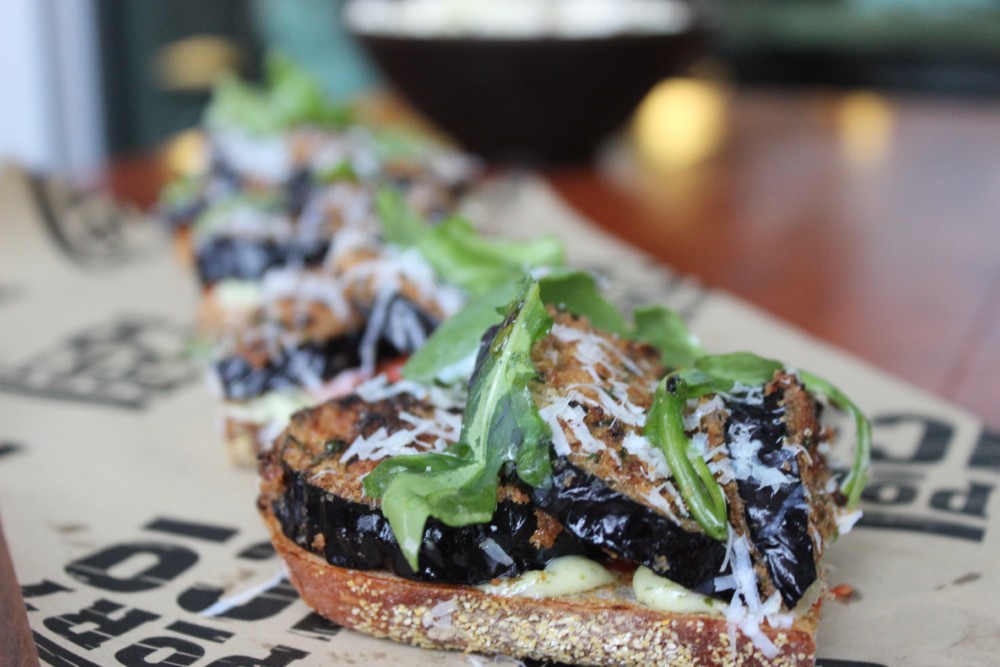 When I tell you we pretty much had the entire menu at Portico, I'm not lying. Plates of meatballs, fried local mozzarella, rosemary and garlic parmesan chicken wings, and truffled popcorn (YEP, you heard right) took over the table. Not to mention four different pizzas — Margherita, smoked proscuitto, roasted mushroom and salumeria with pepperoni and fennel salami. My personal favorite was the roasted mushroom with black truffle white sauce, parmesan and scallions. The crust soft and crispy, just how I like it, and the ingredients really shone through. It's another dish that really shows what Portico is all about.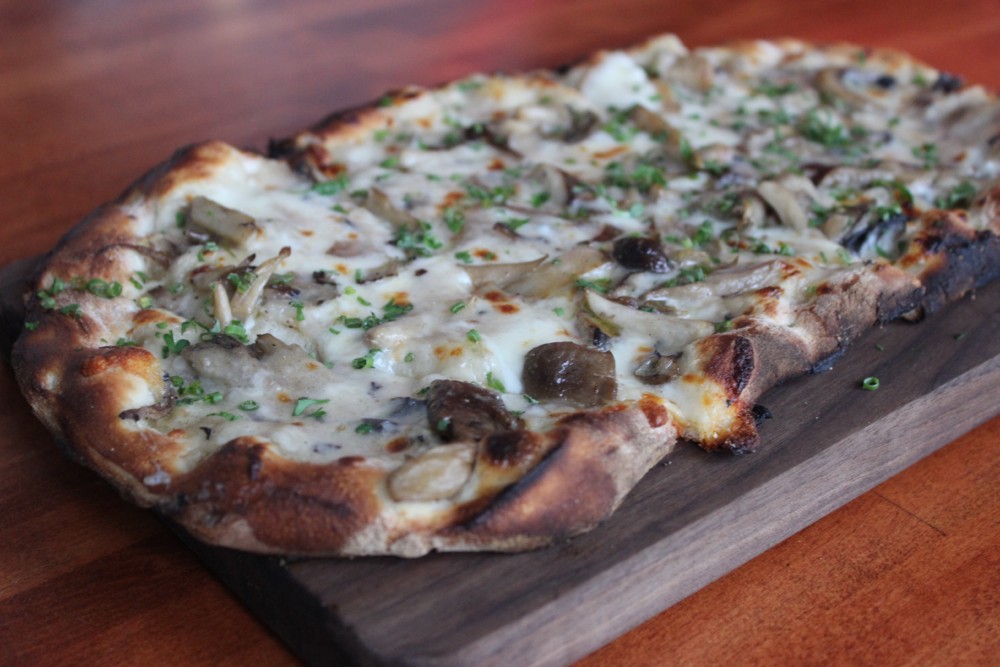 Full, yet still ready for more, we made our way over to Diplomat Prime — the luxury boutique steakhouse led by Executive Chef Nicolay Adinaguev with a reimagined menu of prime beef aged in-house, seasonally driven seafood dishes, and select delicate fare. Inspired by the hotel's iconic period through the 1950s, the restaurant's decor is absolutely gorgeous. One by one, a bevy of dishes were served to the table, starting with the seafood tower of Stone Crab claws, jumbo shrimp and oysters. I snatched up one of those claws as quickly as possible — they aren't available for too long, and you gotta take advantage of it while they are!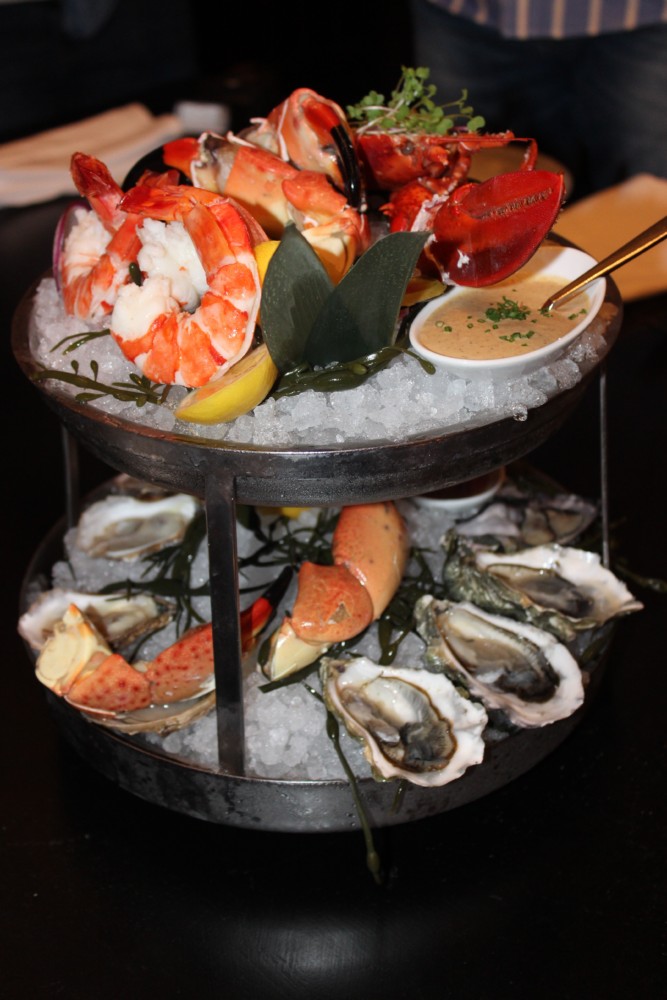 Steakhouse side dishes are often times better than the entrees, and we got to try some of the best. Peruvian-style tater tots, local heirloom zucchini with korean chili, duck fat fries with lemon aioli and tarragon, and Maine lobster mac and cheese — all of which were delicious (minus the fries because duck fat kept me from trying them). I especially loved the elevated take on tater tots with the spicy cheese sauce. Since I couldn't eat the fries, I happily dug into those tots.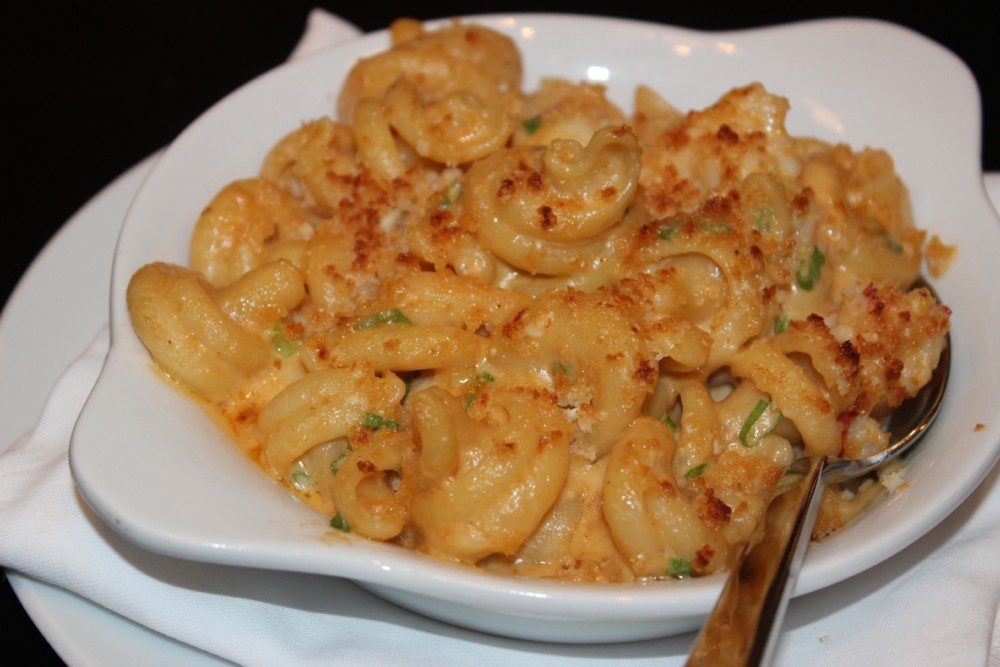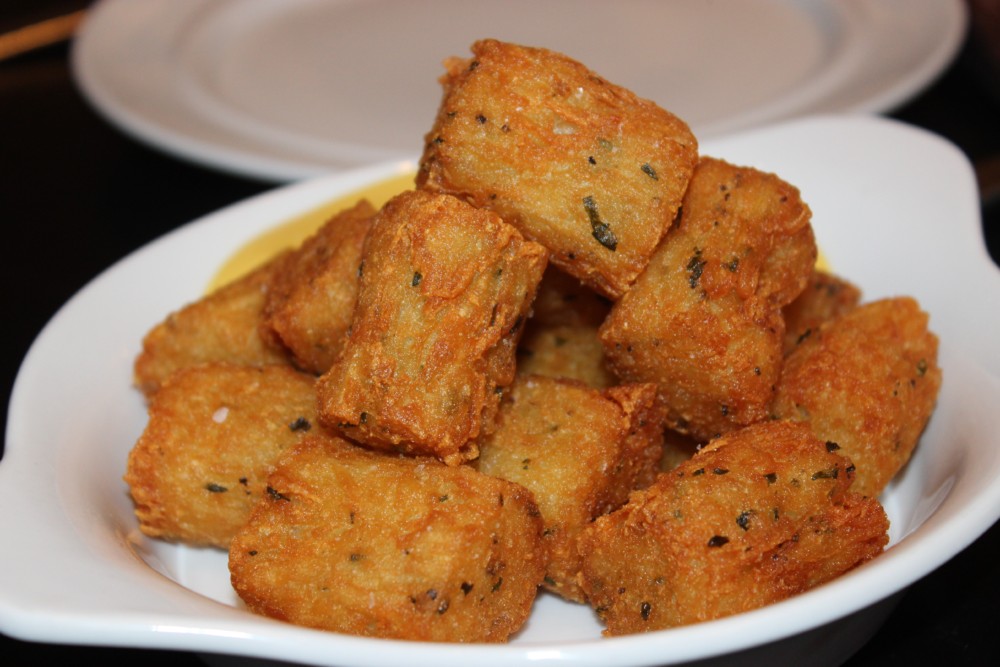 Diplomat Prime's octopus was very good. There was only one dish to somehow figure out how to split between a table of twelve. That confused me — sharing octopus with one person is hard for me to do, let alone twelve! It's grilled and served on a bed of edamame hummus with french feta, daikon radish, and black olives — which I hate, but was thankfully able to pick around them.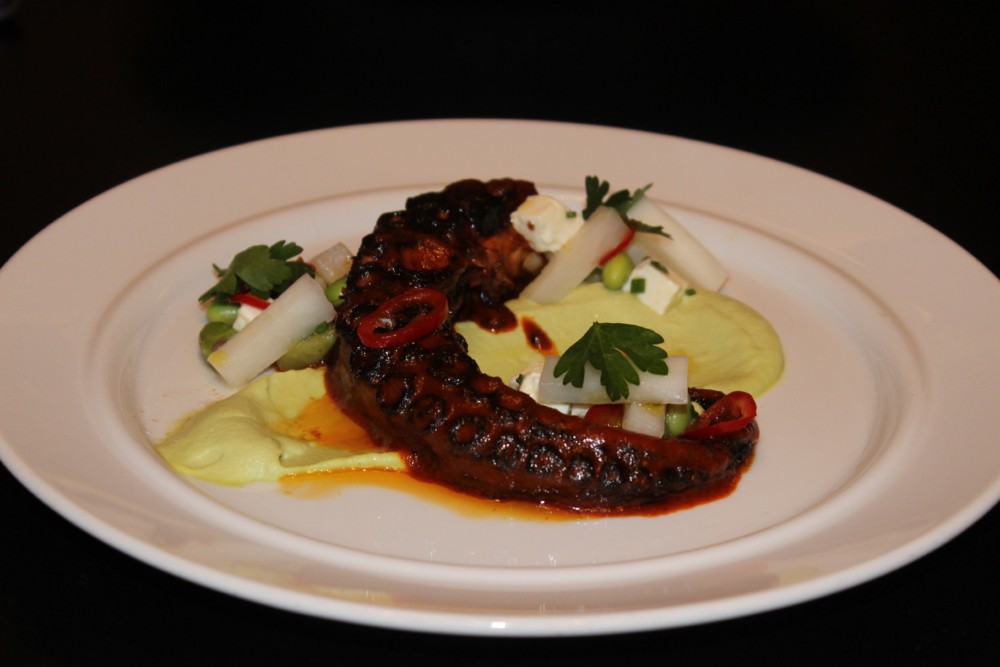 One thing I really love about steakhouses is that as much as they are known for their steaks, their seafood is usually just as good. They already had proven themselves to me with the shellfish tower and octopus, but I was even more blown away by the butter poached lobster with parmesan risotto. Again, sharing this dish among twelve food-obsessed individuals was difficult, but I managed to get a good taste of the creamy, flavorful risotto and a generous piece of insanely delicious, perfectly cooked lobster. I'd go back to Diplomat Prime for this dish, for sure.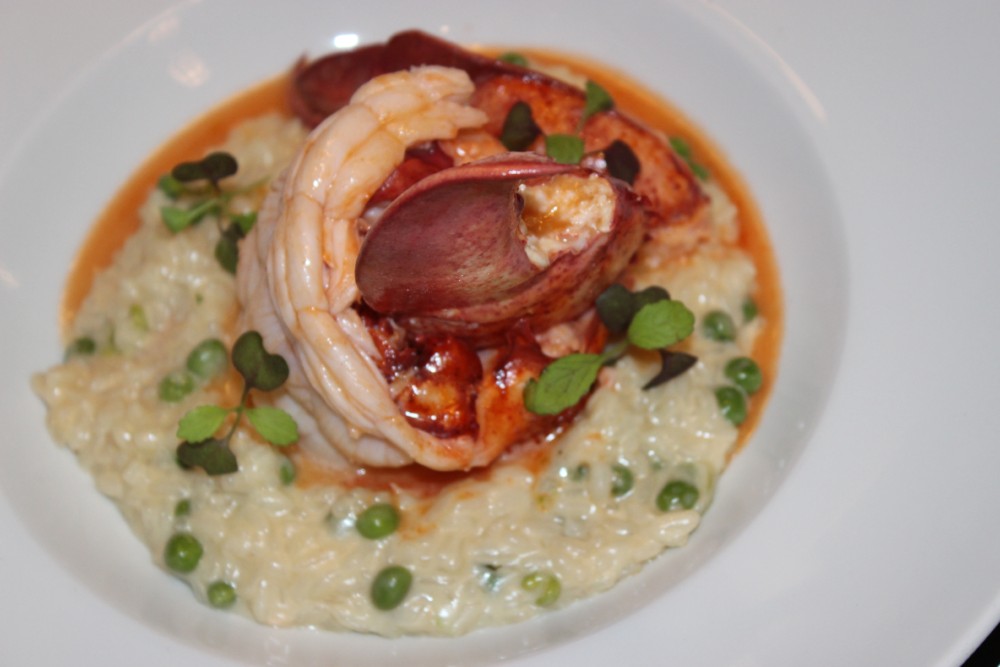 We also got to try a vegetarian entree — zucchini cannelloni with smoked shiitake & quinoa "Bolognese" — that isn't on the menu, but is always available. While it was tasty, I was more impressed by the seafood dishes. However, I do like the fact that they offer an entirely vegetarian option for guests.
Between Bristol's Burgers, Portico Beer and Wine Garden and Diplomat Prime, one thing's for sure when you stay at The Diplomat Resort — you will never go hungry.