Never miss a bite! 
Sign up here 
to receive new recipes and reviews straight to your inbox.
What could be better than cheesecake loaded with fun and colorful sprinkles?! How about cheesecake loaded with fun, colorful sprinkles AND a vanilla cookie crust? Yep — you heard right! Cookie crust, cheesecake filling, and sprinkles everywhere. These Funfetti Cheesecake Bars may almost be too sweet, almost to the point where your teeth hurt after one small bite, but that isn't stopping everyone from scarfing them down in seconds.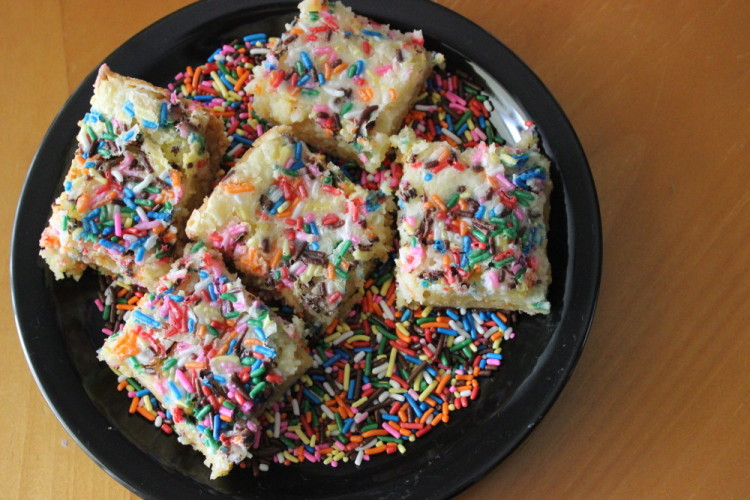 Funfetti Cheesecake Bars are the perfect treat to make for birthday parties or celebrations of any kind. All those rainbow colored sprinkles scattered about the top of the bars, and of course all those that have seeped their way inside, give a little extra sweetness and silliness to an otherwise plain and simple dessert. Plain and simple doesn't mean tasteless though — even if you just make the cheesecake bars without the color, the flavor is still there and still amazing.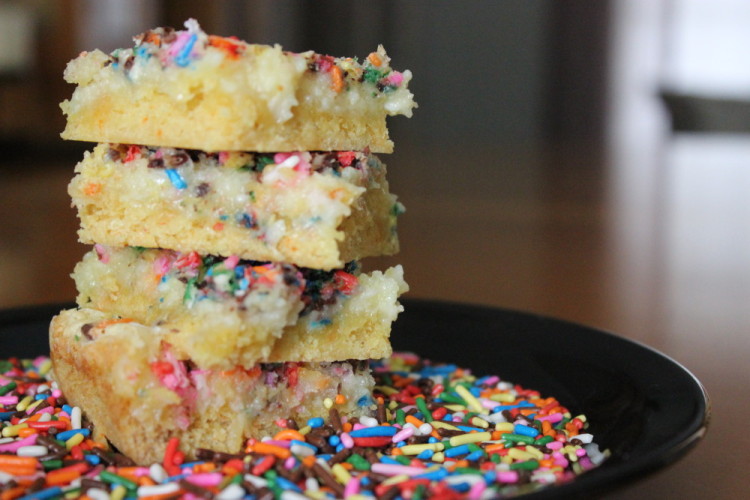 Let's stop for a moment and discuss the one thing going on in everyone's mind right now… Are they called sprinkles or jimmies? It's an ongoing battle depending on what part of the country you'   re from. I guess I always called them jimmies growing up in South Jersey, and I got a bit of flak on Facebook when I called them sprinkles in a post. I may have called them jimmies as a kid, but sprinkles just sounds so much more fun! Whatever you call them, they're colorful, sweet, and add so much flare to any dessert they're part of. Everything is better with sprinkles… Or jimmies, ugh.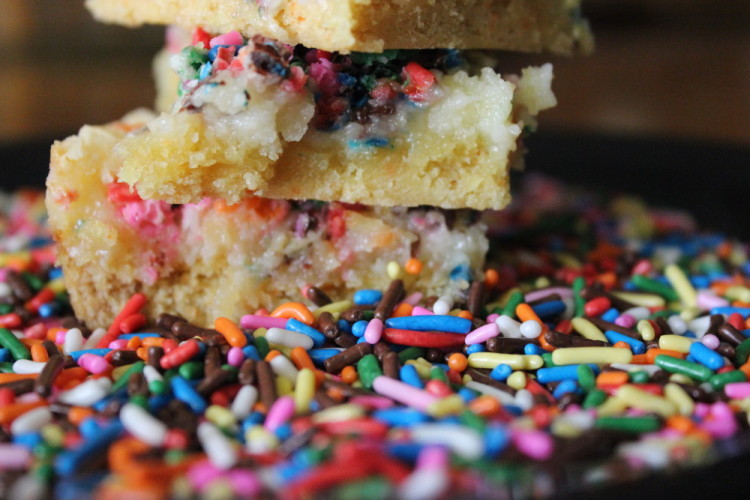 No more arguing — let's dig into these Funfetti Cheesecake Bars!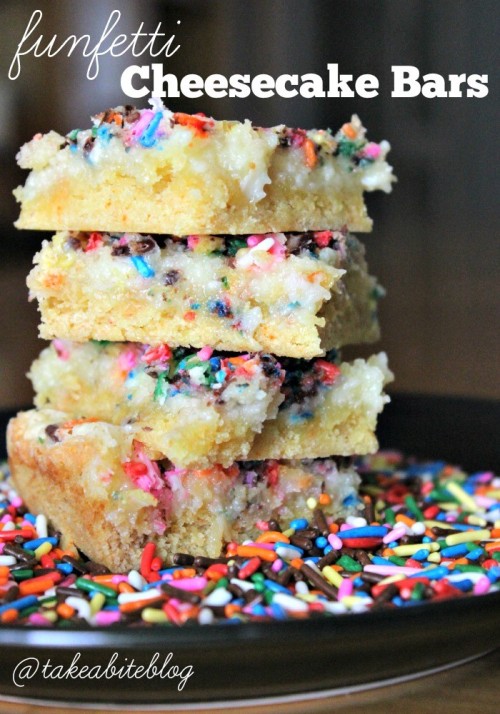 Funfetti Cheesecake Bars
Author:
Ingredients
18 oz. package vanilla cake mix
1 stick butter, softened
1 large egg
1lb box powdered sugar
3 large eggs
8 oz. cream cheese, softened
Rainbow sprinkles
Instructions
Preheat the oven to 350 degrees. Grease a 9×13 inch cake pan and set aside.
Combine cake mix, butter and 1 egg and mix until forms into a thick cookie dough-type batter.
Press down into the prepared cake pan.
Mix together the sugar, 3 eggs, and cream cheese until well combined and pour over the cookie crust mixture.
Completely cover the top with sprinkles.
Bake 40 minutes, or until light browned around the edges.