New York City Steakhouse, Gallaghers, opens in Boca Raton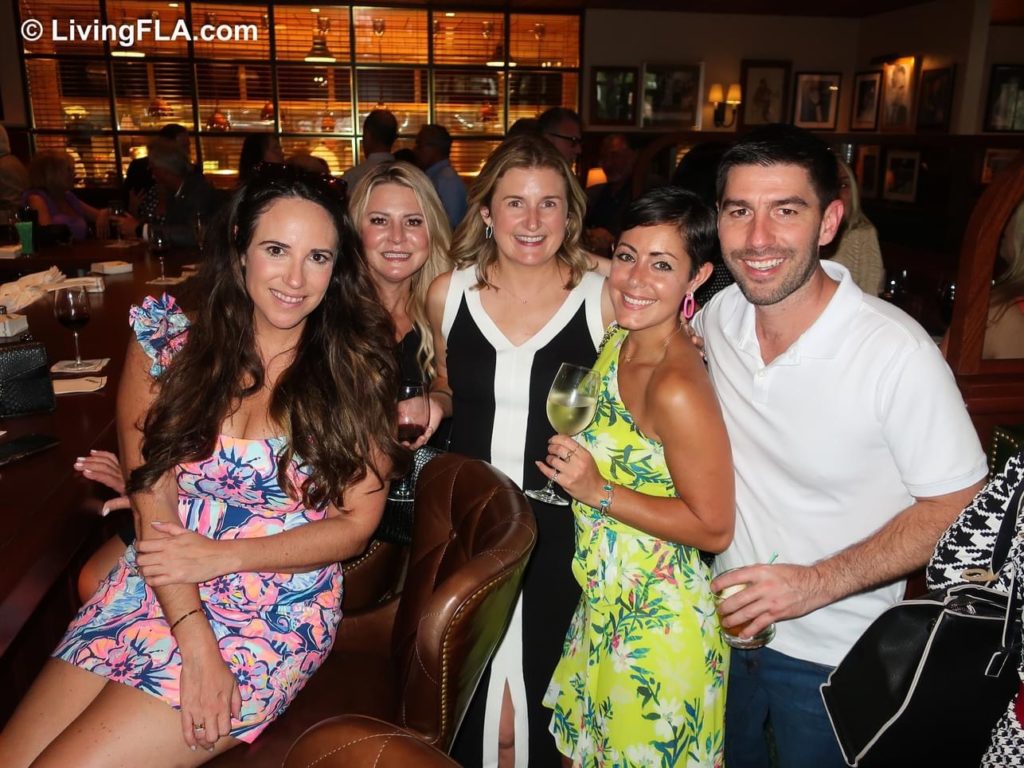 Iconic New York City restaurant, Gallaghers Steakhouse, opened in Boca Raton this summer. Now it's official; Boca truly is New York's sixth Burough.
The NYC location of Gallaghers has been around for over 90 years. It has an impressive clientele and is known for its white tablecloth service and USDA prime dry-aged beef fired over hickory coals. Gallaghers has brought all of its authenticity and charm to Boca Raton, where — let's be real — at least 75% of the people living or vacationing here are from New York.
I was invited to a VIP preview party before Gallaghers officially opened to the public and got a sneak peek of this much-anticipated restaurant before most. As soon as I walked through the door, I felt like I was transported back in time. Gallaghers has that old-school steakhouse vibe, with servers dressed in white coats and tableside service, and a menu of classic dishes that will never go out of style.
The party was heavy on the passed appetizers, cocktails and mingling with locals, but that is not the same as an actual sit-down dinner experience. So, of course, Roger and I had to go back.
Authentic Steakhouse Experience at Gallaghers Boca
Let this be your warning: you need a reservation to dine at Gallaghers, even now in the summer. We walked in at 6:30pm on a Monday and the place was packed. There wasn't even one empty seat at the bar — and it's a pretty big wrap-around bar. If it's this busy now, they are in for a treat come season!
The dining room was filled with people of all ages: couples out for a date night like us, families with children and grandparents, twenty-somethings out for a girls night, businessmen, etc. Despite there being so many people, it wasn't loud or uncomfortable in any way — which can often be the case at some restaurants.
Our service was great. I love how the servers wheel around food-filled carts to each table, portion out the side dishes for each guest, and present a fine dining experience without being pretentious.
What to Order at Gallaghers Boca
Start off with one of their classic craft cocktails (I hear the Old Fashioned is a must), or a glass of wine from the expansive list. Pair those drinks with a few appetizers and you're off to a great start.
You can never go wrong with a good raw bar selection: oysters, jumbo shrimp or lump crab cocktail, or my personal choice: spicy tuna poke. It has a chili aioli, but it really isn't all that spicy. It's served with wonton chips, which are not gluten-free, but that's ok. The only vehicle you need for this is a fork!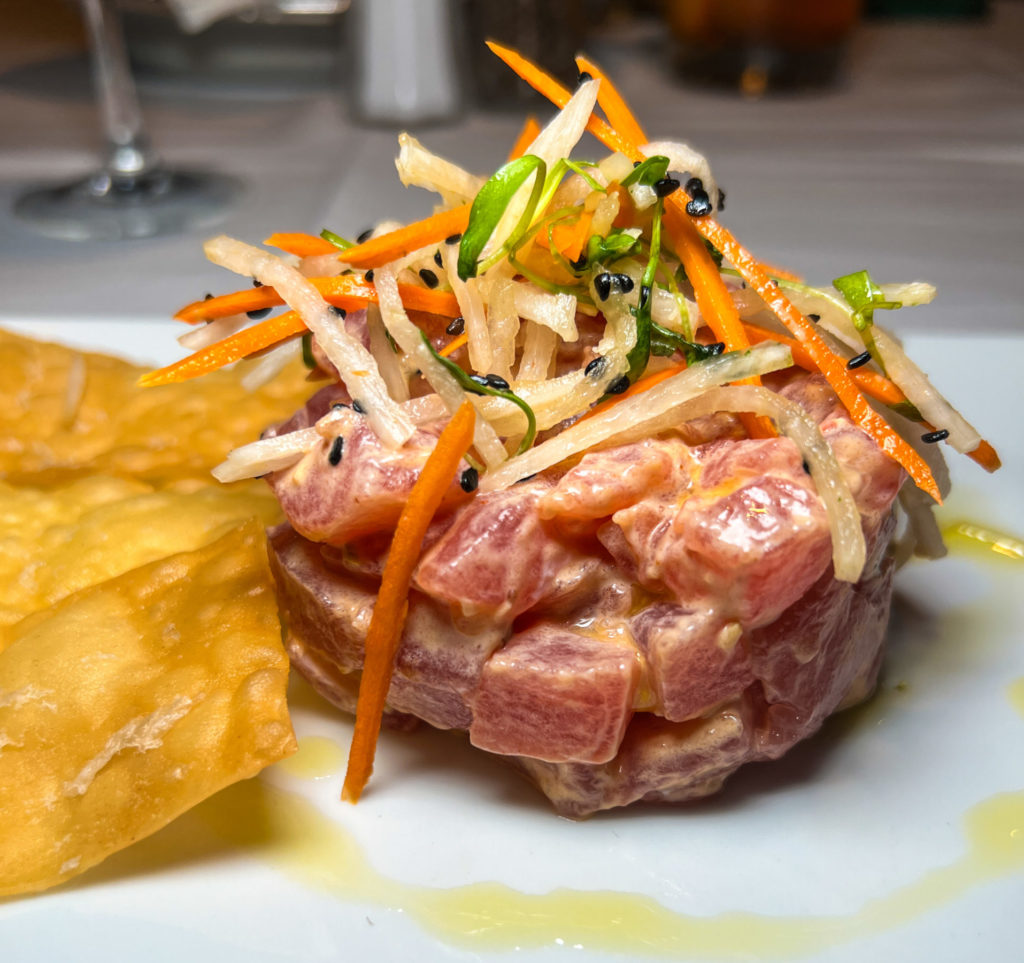 Roger ordered the lobster and shrimp dumplings that come with a soy-ginger dipping sauce. Beautifully presented, and he enjoyed the flavors, but the dumplings fell apart in the sauce very easily. I heard from a reliable foodie source (my bestie @manifeast_destiny) that the jumbo lump crab cake is absolutely incredible — one of the best she's ever had.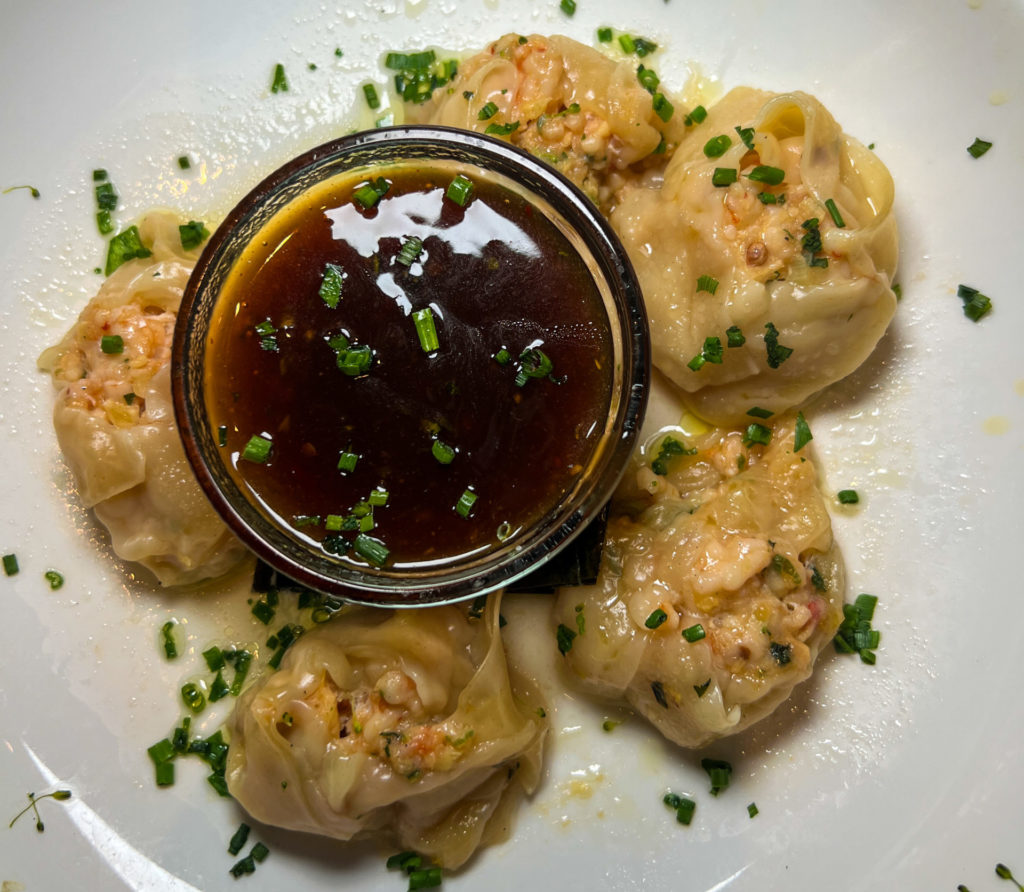 For the mains, there is a variety of steaks, chops and seafood to choose from, as well as a few specialty items. Although I was tempted to go with the fresh dover sole, I felt like it would be wrong not to order a steak. I chose the filet, and Roger ordered one of the specialities: the veal chop parmigiana.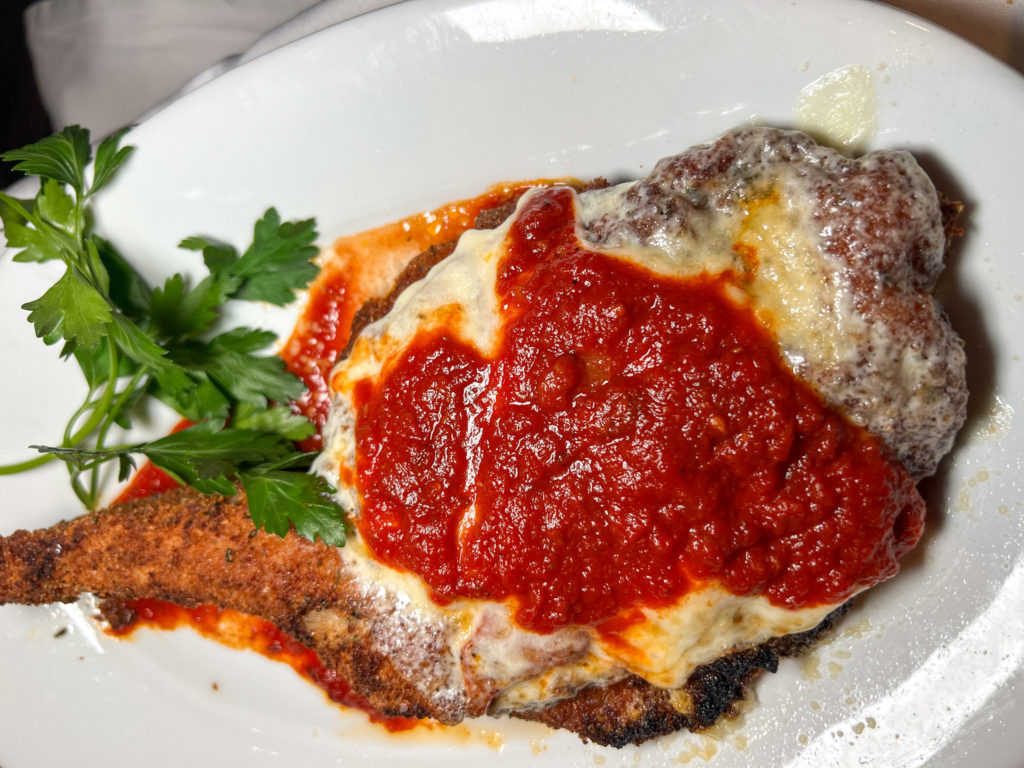 If you're dining with a few steak lovers, you can opt for the porterhouse. It can be ordered for two, three or four at $69/person. There are also a few different toppings you can get for your steaks. These include a blue cheese crust, bone marrow, pepper crust with makers mark, au poivre sauce, mushroom garlic butter, and cajun spice. My filet was cooked to a perfect medium and seasoned well. Even though I could not add any of the toppings, it was still delicious all on its own.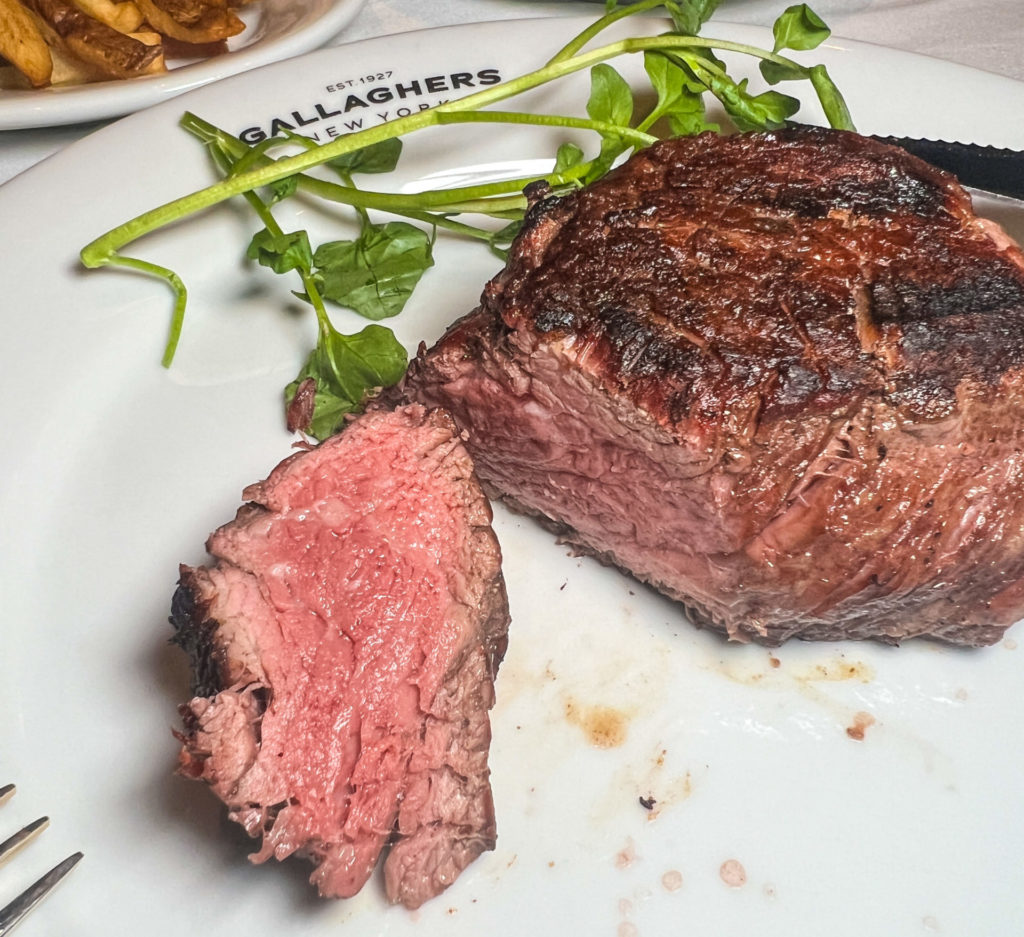 Everyone knows that the sides are the best part about any steakhouse! These are typically large enough to share among 3-4 people. Creamed spinach, onion rings, roasted corn off the cob, sautéed mushrooms, etc. There are sixteen side options!
Some form of potatoes are always a must. Roger got the lyonnaise, which is a dish of fried slices of potato and onion. It's has butter though, so I couldn't have it. I got the French fries instead — hand cut, perfectly crisp and just the right amount of saltiness. Other potato options include hash browns, a baked potato and mashed potatoes. We also shared the sautéed spinach, and there was plenty of everything to take home.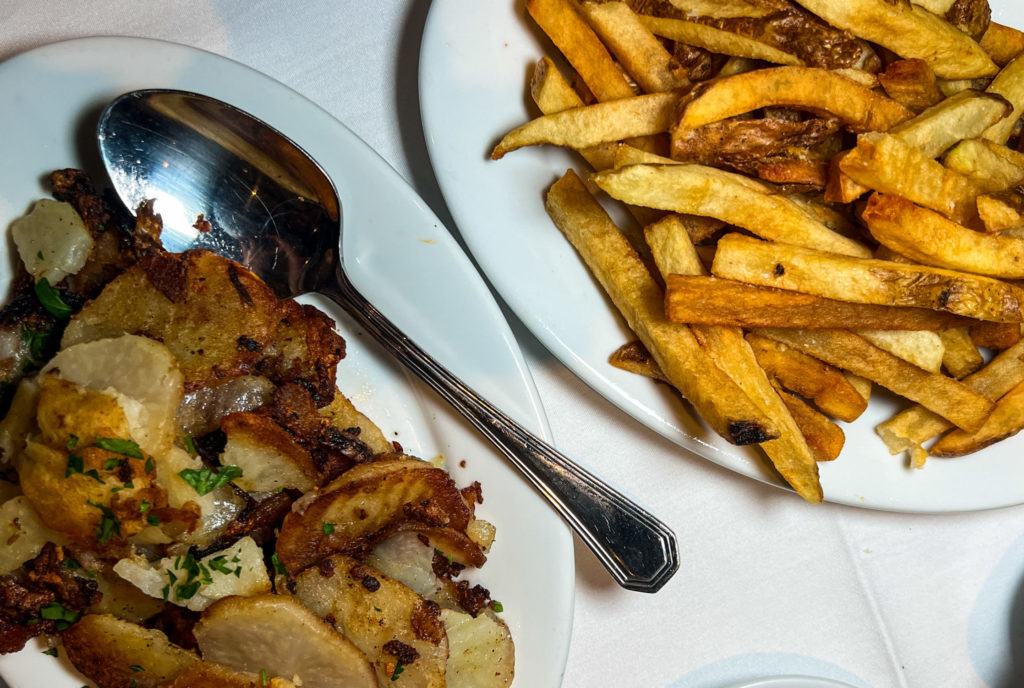 End on a Sweet Note at Gallaghers
Make sure to save room for dessert. Gallaghers menu of sweets is just as enticing as the savory. None of the baked goods are Shaina-friendly, but that doesn't mean I can't ogle at how delicious they all look. Even better, all of the baked desserts are made in-house!
Those baked desserts include Key Lime pie, orange vanilla creme brûlée, New York cheesecake, pecan pie with vanilla ice cream, and chocolate layer cake. There is also a seasonal fruit plate and selections of ice cream or sorbet. No matter what you choose, ending your Gallaghers experience is the perfect way to sweeten the night.
Reserve Your Table Now at Gallaghers Boca
Gallaghers Steakhouse is located at 2006 NW Executive Center Circle in Boca Raton. The restaurant is open daily for dinner from 5-10pm. Reservations are available through OpenTable.
Instagram: @gallaghersboca
Website: https://www.gallaghersnysteakhouse.com
Disclosure: I was invited for a complimentary dine at Gallaghers Steakhouse Boca. As always, all opinions are 100% my own.