Never miss a bite! Sign up here to receive new recipes and reviews straight to your inbox.
Disclosure: This shop has been compensated by Collective Bias, Inc. and its advertiser. All opinions are mine alone. #MVCheezIt #CollectiveBias
Salty, cheesy and perfect for your game-day gatherings, this Game Day Cheez-It Snack Mix is a winner!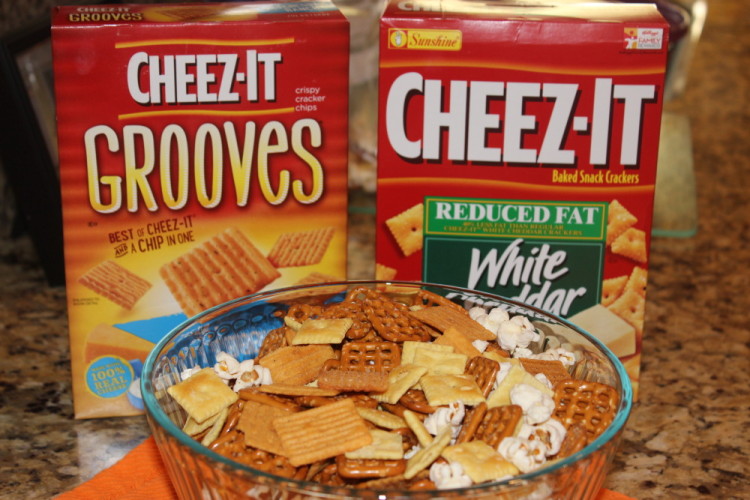 It's basketball season, and we know what that means! Game day get-togethers are going to happen pretty regularly, and you're going to want snacks. Because when do you not want snacks while you're watching any kind of sporting event?! When I was in college, basketball was a big deal. I worked for our campus TV network and frequently found myself sitting right there on the court videoing the players as they sprinted back and forth, dribbling and shooting, and totally towering over my 5'2″ self. It was fun to be right there in the action, but sometimes I liked being back at my apartment, watching the games on TV with friends, noshing on some yummy snacks. Enter this salty, cheesy, finger-licking good Game Day Cheez-It Snack Mix — a mix of your favorite Cheez-It snacks, pretzels, and popcorn. All the best game day snacks in one delicious mix!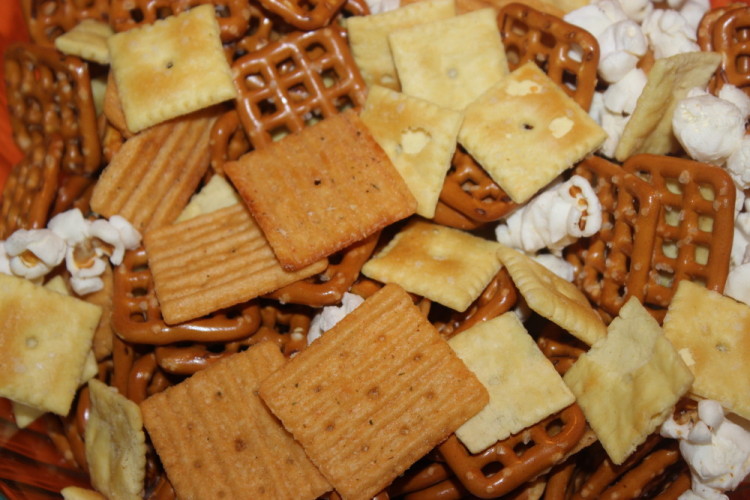 Have you seen the new Cheez-It products yet? Every so often I'll go over to Target to check out their snacks and baking ingredients — sometimes they have better options than other grocery stores! — and I found Cheez-It Grooves and Cheez-It Crunch'd in the snack aisle.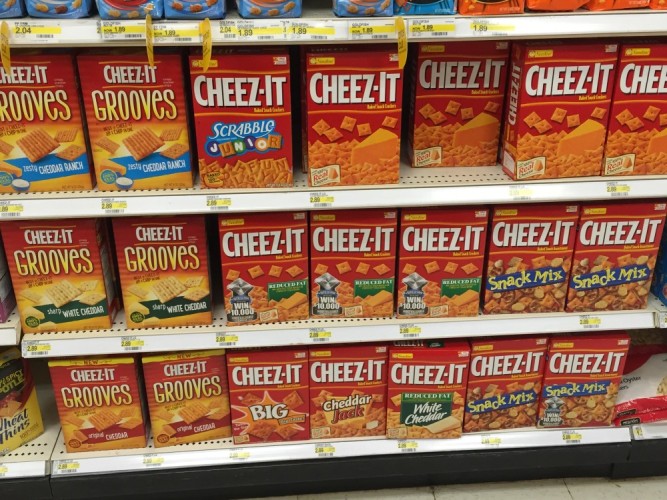 The Crunch'd snacks is a completely new product and comes in two flavors: Cheddar Cheese and Hot and Spicy. These little crunchy puffs are made with 100% real cheese and give you a "Puffed Up Crunch" of flavor! The Grooves really stood out to me, especially since I'm already a fan of original Cheez-Its. This variety comes in Zesty Cheddar Ranch, Original Cheddar, and Sharp White Cheddar. Do you use the Cartwheel app to get great savings at Target? If not, you totally should — especially because you can save on these Cheez-It snacks! Check out the deal here.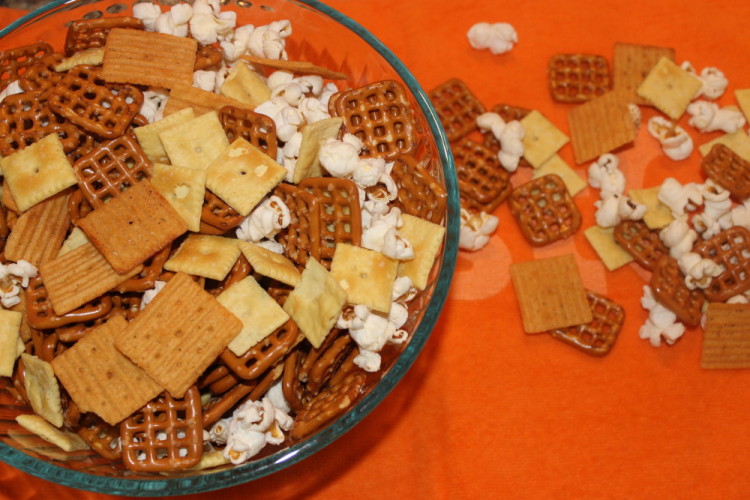 Cheez-It is hosting a Most Valuable Cheese Contest! It started back in February and continues through April — users can vote on your favorite flavors/varieties from six popular Cheez-It produces and play games for a chance to win $10,000. Let's get cheesy — enter the contest here!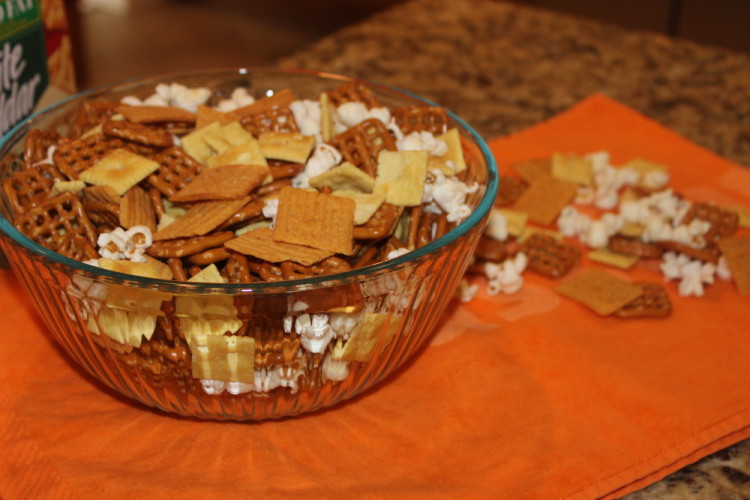 I love any excuse to get together with friends. It gives me a reason to get out my party recipes and get creative. This Game Day Cheez-It Snack Mix is a fun way to incorporate all the best salty snacks you crave during the game into one big bowl of deliciousness. What could be better than the new Cheez-It Grooves in Zesty Cheddar Ranch paired with original White Cheddar Cheez-Its, pretzels and freshly popped popcorn sprinkled with a little extra cheddar cheesy goodness. You might want to make two bowls, one to share with friends and one to hide away for yourself later on!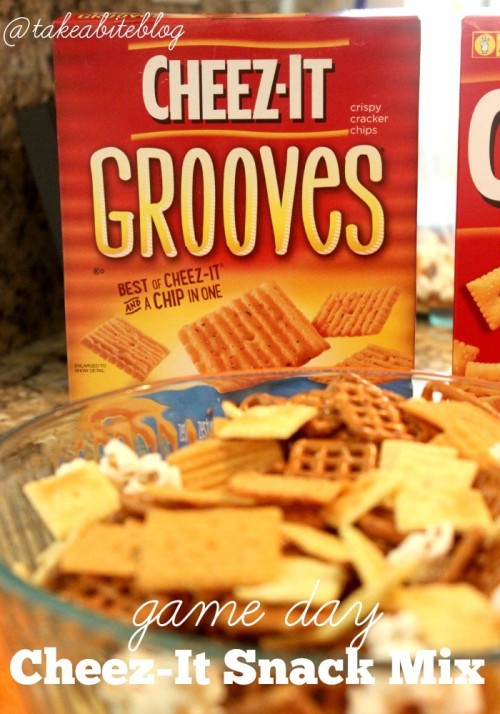 Game Day Cheez-It Snack Mix
Author:
Salty, cheesy and perfect for your game-day gatherings, this Game Day Cheez-It Snack Mix is a winner!
Ingredients
Cheez-It White Cheddar
Cheez-It Grooves Zesty Cheddar Ranch
Pretzels
Popcorn
Parmesan cheese
Instructions
Add Cheez-Its, pretzels and popcorn into a large bowl and sprinkle generously with parmesan cheese.
Use your hands or two large spoons to mix everything up.
Serve and enjoy!
What's your favorite kind of Cheez-It snack? See all of them here and tell me your favorite, or which one you would like to try, in a comment below!