Never miss a bite! Sign up here to receive new recipes and reviews straight to your inbox.
Disclosure: I was invited to dine as a guest of the restaurant. No monetary compensation has been received for this post. As always, all opinions are 100% my own.
After The Diplomat Beach Resort's recent renovation, two new restaurants have opened within this gorgeous Hollywood destination — one of which is owned by celebrity chef and restaurateur, Geoffrey Zakarian. Point Royal is every seafood lover's dream, and with this familiar face behind it, it's bound to be a winner.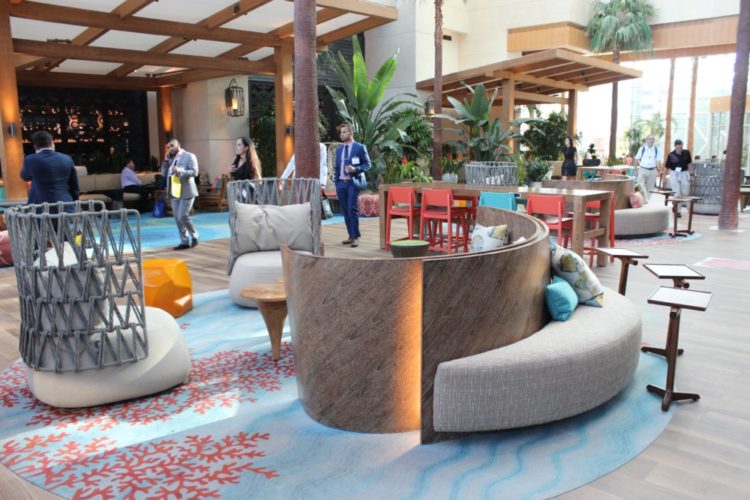 Show me a menu featuring a raw bar, fresh fish selections and fab Pescatarian-friendly appetizers and I'll show you one very happy girl. Even better when that menu can be found at a restaurant in a beautiful resort overlooking the ocean. I've visited The Diplomat Beach Resort for a tasting tour through three of its restaurants, Portico, Bristol's Burgers and Diplomat Prime, and again for it's Grand ReOpening celebration a few months back. At that celebration, I did have a chance to briefly meet Geoffrey Zakarian during the ribbon cutting ceremony. Not long after that, Point Royal opened to the public and quickly shot up to the top of my list of restaurants I need to visit. Zakarian has appointed Jorge Negron as his Executive Chef at the restaurant, and he comes with a pretty extensive and impressive background. His father, also a chef, taught him to cook and instilled in him a drive to find local ingredients and treat them well. He attended culinary school at the Universidad Interamericana de Puerto Rico and has held culinary positions at many notable hotels including the St. Regis Bahia Beach Rio Grande, the Ritz-Carlton South Beach and the Viceroy Miami. Just prior to joining Point Royal, Negron worked at 1 Hotel South Beach.
Joining me for this seafood feast was two of my favorite dining companions, Jill of Fashionably French Fried, and our good friend Destiny. Just as the name suggests, we were treated like ROYALty during our visit to Point Royal — and truthfully, we wouldn't have it any other way!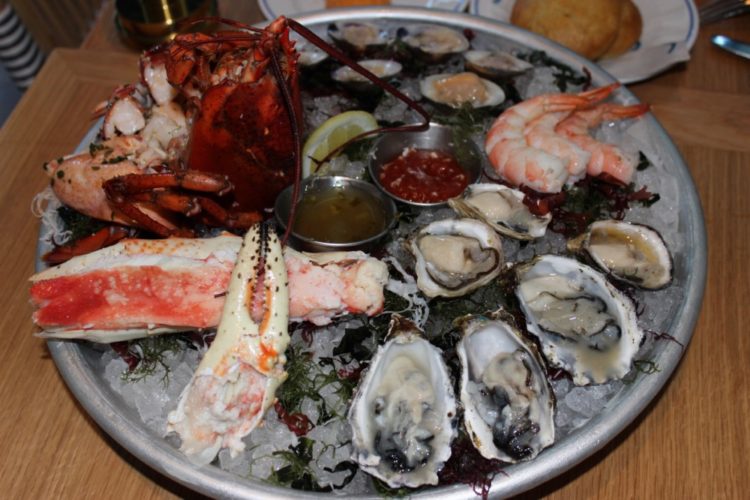 We kicked things off with a cocktail and cheers'ed to our Girls Night Out. I chose the Rosé Sangria made with Listel Rosé, elderflower liqueur and fresh fruit. This had the perfect amount of sweetness. Destiny mentioned that the first time she tried it, it was a bit on the sweet side, but now it was much more balanced. See what a little trial and error can do? I could easily drink this by the pool or at the beach.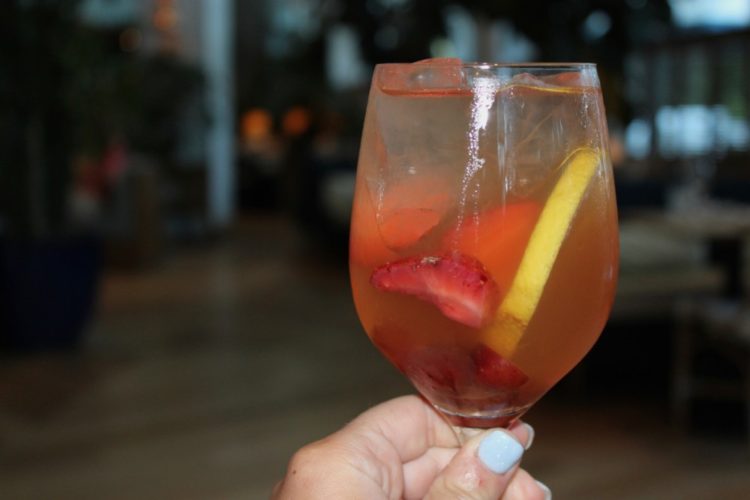 There is only one true way to start a meal at a seafood restaurant, and that's with a bountiful raw bar platter. We indulged in The Diplomat, a platter consisting of 1/2 Maine lobster, 8 oz. King crab, 6 Littleneck clams, 6 Oysters (east and west coast) and 3 pink shrimp. Everything was incredibly fresh and delicious. Succulent lobster meat such as this doesn't need butter to mask its flavor, and I couldn't get over just how tasty the crab meat was. This was a perfect choice for the three of us, but could have easily fed a fourth.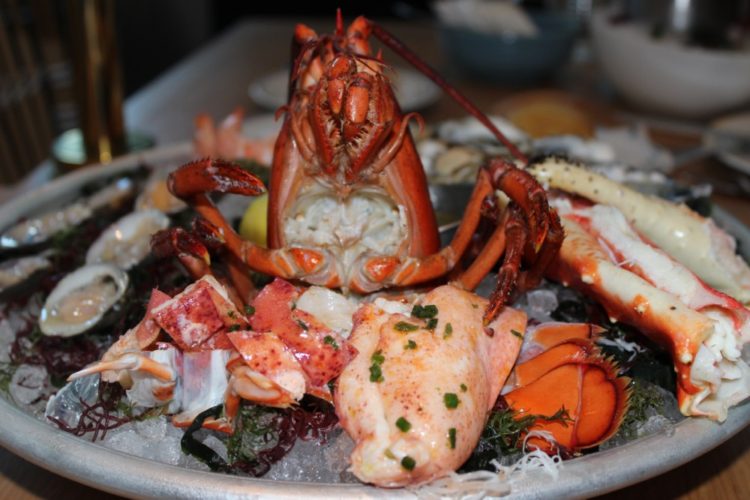 Served alongside that amazing plate of seafood was another stunning dish — the Yellowfin tuna tartar with avocado, and a chili-sesame seed vinaigrette. Sesame has such a distinct, bold flavor and can really bring a dish to an entirely new level. That vinaigrette is what made this tartar stand out from all the others on every single menu in South Florida. I also appreciated the fact that there wasn't a bunch of stuff in the tartar. Just finely diced fresh tuna mixed with avocado and this insanely delicious vinaigrette. Simplicity at its finest. It's safe to say I probably had more than my fair share of this.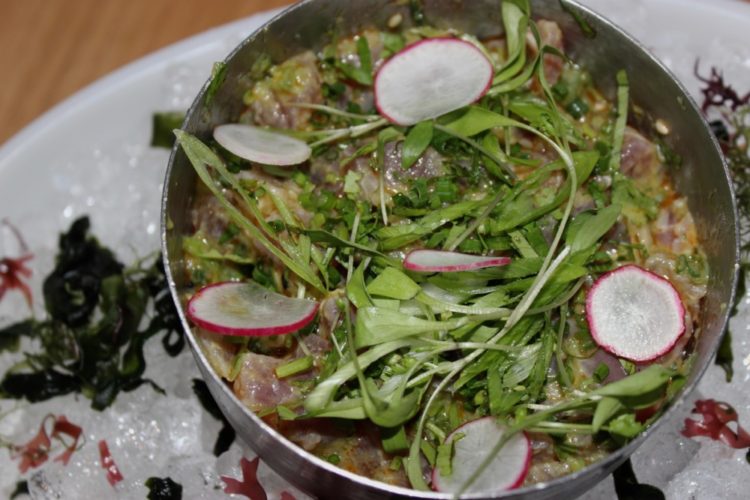 You won't be surprised by what came next — octopus. We all know that if octopus is on the menu, Shaina is getting it. This grilled Spanish octopus had the most perfect cook on it, and was served with pickled fresno chili, celery, fennel, mint, basil and roasted garlic yogurt. My tastebuds were totally happy-dancing all over this. Even the fennel had me giddy with delight, and that's saying something. Raw fennel can be quite overpowering, but this mixture of ingredients kept the flavor very well balanced.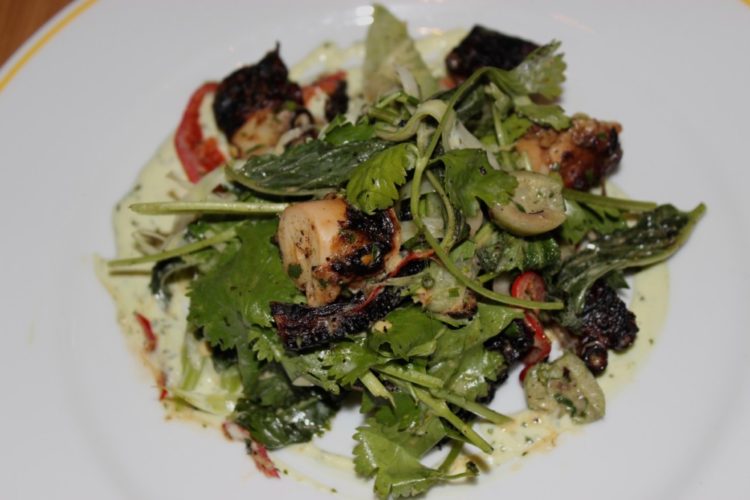 A few other plates were brought out — the ricotta dumplings with Alaskan King crab and a velvetty smooth lemon butter sauce; the crawfish mac and cheese with smoked gouda, scallions and breadcrumbs; and house-made shrimp sausage corndogs with shrimp remoulade that was very much reminiscent of a New Orleans classic, shrimp etouffee. These prefaced the star entree of the night, the grilled whole snapper. Talk about presentation! The fish, cooked to perfection, was served on a bed of salmoriglio sauce (garlic, oregano, parsley, olive oil) and watercress, and seasoned with a house-made rub of peppercorns, Aleppo and coconut sugar. This was one crazy flavorful fish, and its flakey white flesh practically melted in your mouth. The idea of a whole fish might creep some people out — I used to be guilty of this — but I'm pretty impressed by it now. There's something very regal about it and makes me feel fancy. And of course, I always like to feel fancy.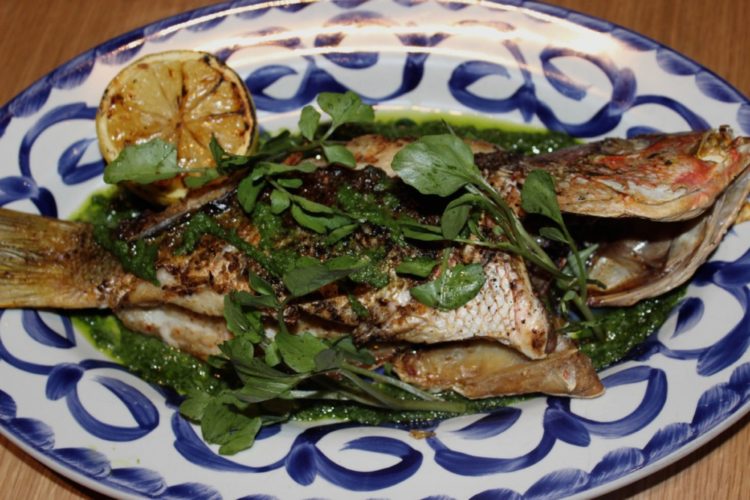 Let's take a break from seafood for one moment and talk sides — particularly crispy Brussels sprouts with mustard crème fraÎche, candied pecans and green apple, and parmesan-crusted potatoes with sea salt and rosemary. More standards in my book that must always be ordered if on a menu. The potatoes were super crispy and perfectly seasoned. They reminded me of the kind of potatoes you'd get at brunch, which (aside from really good french fries) are my favorite way to eat potatoes. The Brussels sprouts also get major points. Thin-sliced green apple added a tartness and crunch that I've never experienced in a Brussels sprout dish before. I absolutely loved these and easily could have inhaled the entire serving by myself had I not had friends to share with.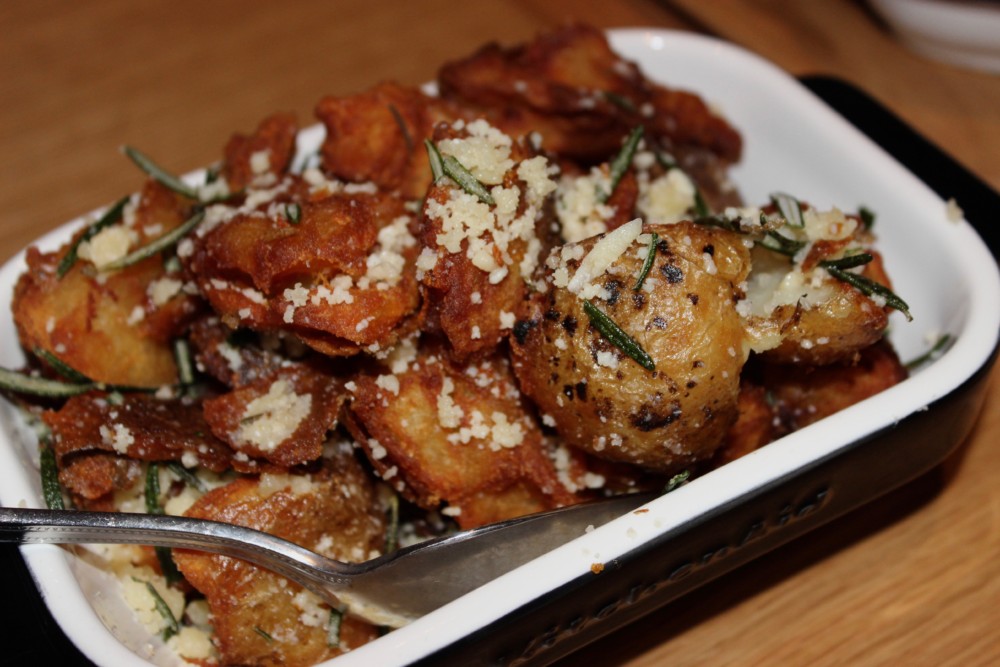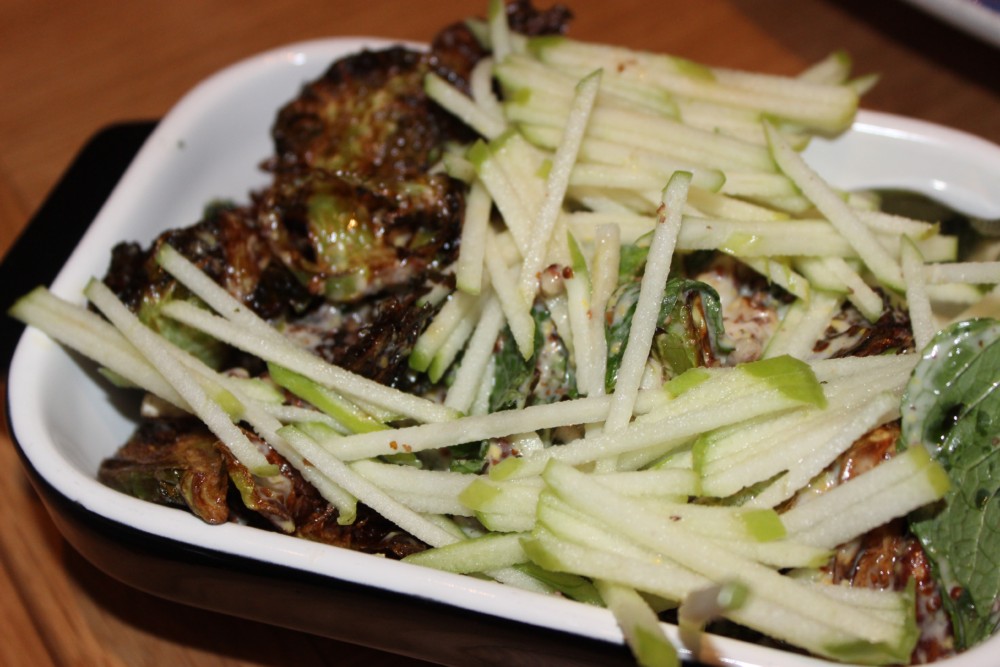 Now back to our regularly programmed seafood talk… Aside from treating yourself to a raw bar platter while at Point Royal, you also must try the signature GZ butter-poached lobster roll. Huge chunks of fresh lobster slathered in melted butter is drizzled with Coleman's mustard sauce and served in a toasted bun. I mean, what's not to love?!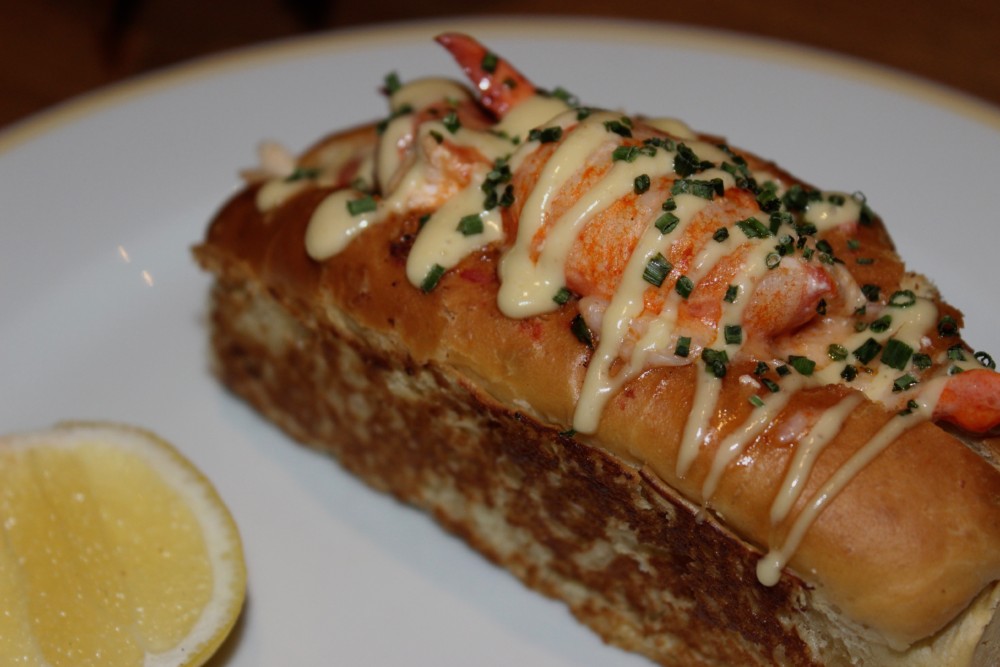 You must be full just reading this…but we weren't finished yet! We struggled to find room, but when the desserts came out, there was no way we could refuse a taste. Dark chocolate pudding with hazelnut praline, coco nibs and cinnamon ice cream and sticky toffee cake with candied pecans and orange-rum glaze. If we weren't stuffed to the brim already, we certainly were now. The chocolate pudding was thick and dense with a delicate taste and texture, and the crunchy elements just took it over the top. The cake had a moist, tender crumb and that sweet, citrusy glaze was the perfect complement. Suffice to say, I had more than a taste…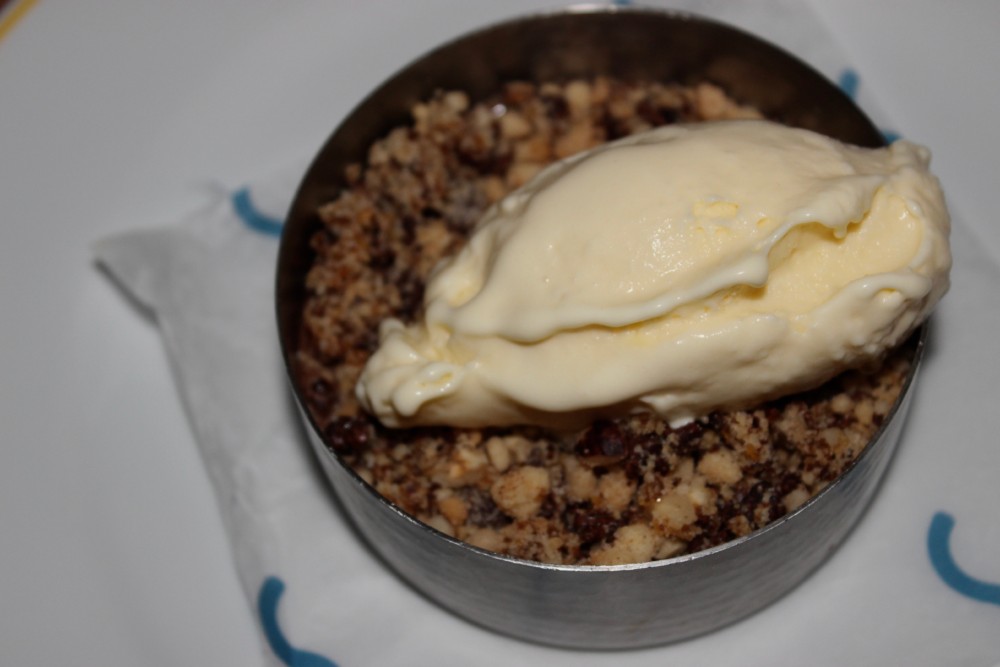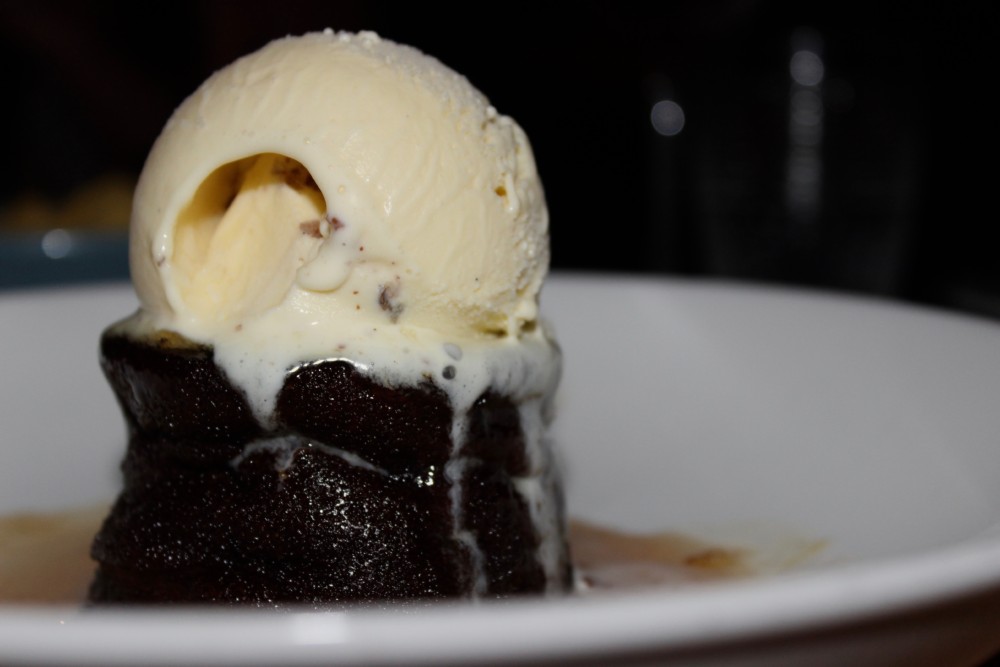 Dinner at Point Royal was definitely a treat, but I can't wait to get back for their Oyster Hour Happy Hour, available at the bar daily from 5:30-7:30pm and features a special raw bar menu and other favorites from the kitchen, $7 select specialty cocktails and wine, and $4 select beer.
Point Royal is located at 3555 South Ocean Drive in Hollywood, FL.