I have another Christmas-y cookie recipe for you. Gingerbread White Chocolate Chip Cookies! I've actually never made a gingerbread cookie before. I love my Gingerbread Lattes from Starbucks, and you all know how big a fan I am of the spice in general, so why haven't I made any gingerbread baked goods before?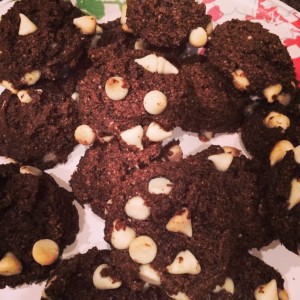 To tell you the truth, I have no idea. I guess with all the other flavors floating around during the holidays, gingerbread got pushed to the side. But when Hodgson Mill sent me a package and included their Whole Wheat Gingerbread Mix, I was thrilled to finally get some ging-spiration! Ba-da-bum!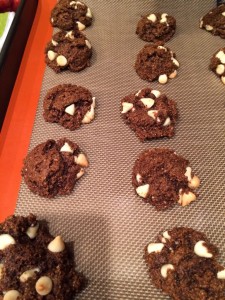 These cookies are definitely filled with lots of gingery spice, so if that's not your style, you may not be a fan. However, I balanced out all that spiciness by adding white chocolate chips — a lot of them, so you're sure to get a mouthful of sweet in every bite.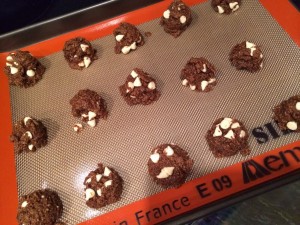 I really liked how these Gingerbread White Chocolate Chip Cookies came out. They were very chewy with no crispiness at all. That is totally fine by me, I like my cookies soft and chewy! The center was moist and the cookies had the same kind of texture you find in oatmeal cookies. Not really sure why, because there are no oats in the recipe, but that's exactly what it reminded me of. Actually,now that I think about it, an oatmeal gingerbread cookie would be delicious…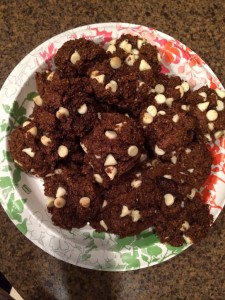 Gingerbread White Chocolate Chip Cookies
1 15 oz. box Hodgson Mill Whole Wheat Gingerbread Mix
1 large egg, beaten
1/4 cup melted butter
1/2 cup milk or water (I used low fat milk; I felt it would give the cookies more flavor and moisture)
1 cup white chocolate chips
Preheat the oven to 350 degrees. Line 2 baking sheets with parchment paper or a silicone baking mat.
Pour the gingerbread mix into a medium bowl and set aside. In a small bowl, add the beaten egg, melted butter and milk/water. Whisk together until combined. Add the wet ingredients to the gingerbread mix and stir until you get a thick, dough consistency. Stir in the white chocolate chips.
Use a cookie scoop to portion out the dough balls onto the prepared baking sheets. Bake for 10-12 minutes.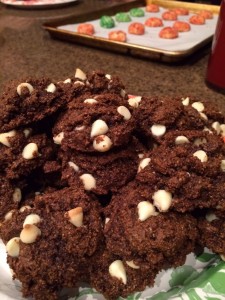 PRODUCTS USED: