What better way to unwind than with good food and good company? Sounds like the perfect night to me. My best friend in Boca, Kristy, who is also from South Jersey (we worked together and moved here a year apart) and I decided to have a girls night. But, instead of going out to eat, we thought we'd do the cooking ourselves. After choosing scallops as the main course, I went to work looking for the perfect recipe. Browsing through countless foodie sites, I finally came across the winner: Scallops with mango & blood orange vinaigrette.  Now, we didn't serve it in spoons as shown so our version isn't as cute as the dish pictured there, but it still tasted absolutely amazing. We also couldn't find blood oranges, so we used a Florida navel orange instead (very appropriate). The heat from the cayenne pepper and the citrus from the orange and mango are the perfect complement to the delicious sautéed scallops. We used about a pound of large scallops and it was just enough for the two of us. As for the vinaigrette, I based the measurements according to our flavor preferences. Simple ingredients — raspberry vinegar, cayenne, salt, pepper, chives, chopped mango & orange, juice from the orange and a little bit of lemon juice —make for one seriously flavorful dish. 
Kristy turned to our current obsession, Pinterest, for a side-dish idea and found a great recipe for asparagus. It's another quick and easy recipe packed with a big punch coming from parmesan bread crumbs and parmesan cheese. Simply line your baking sheet with tin foil and place the asparagus spears on the foil. Drizzle with olive oil and bread crumbs (we used Progresso Parmesan Breadcrumbs). Bake in the oven for 10 minutes at 450 degrees, then sprinkle parmesan cheese on top and continue baking for another 4-5 minutes. The result is a beautifully crusted asparagus side dish.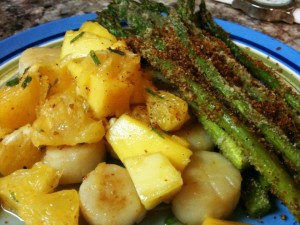 Last, but certainly not least, was the champagne we paired with our dinner: Verdi Sparkletini. We tried the Green Apple & Raspberry flavors. Both were delicious, but raspberry won our hearts. This champagne is a new favorite and at only about $5 per bottle, it's a completely reasonable choice. It was a complete kitchen success. Every bite we took was followed by audible satisfaction. We never wanted the it to end. We both ate slooowly just to make it last as long as possible. The scallops recipe is a keeper, and this will now be my "go-to" way to cook asparagus. Champagne, a delicious meal, a good movie and quality time with a great girlfriend… Cheers to the perfect girls night!