Never miss a bite! Sign up here to receive new recipes and reviews straight to your inbox.
Disclosure: This is a sponsored post on behalf of J.M Smucker's Company. As always, all opinions are 100% my own.
What's there to say about a plain bowl of ice cream? It's sitting all alone in a bowl or on a cone, with no friends to play with, no colors to help it stand out, and certainly no fun textures or flavors to make it the star of the show. Sure, there are those who like their plain ice cream — but then there are those who like their ice cream full of pizazz. Where shall we find that pizazz, you ask? With Smucker's® Ice Cream Toppings!
I promised you guys I'd share all my fun sundae ideas and I never go back on my promises. Gather friends or family for dinner and make the night end with a little sundae-making. For those of you with kids, have them invite over a friend or two to join in on the fun. Who wouldn't want to spend their evening making ice cream sundaes?!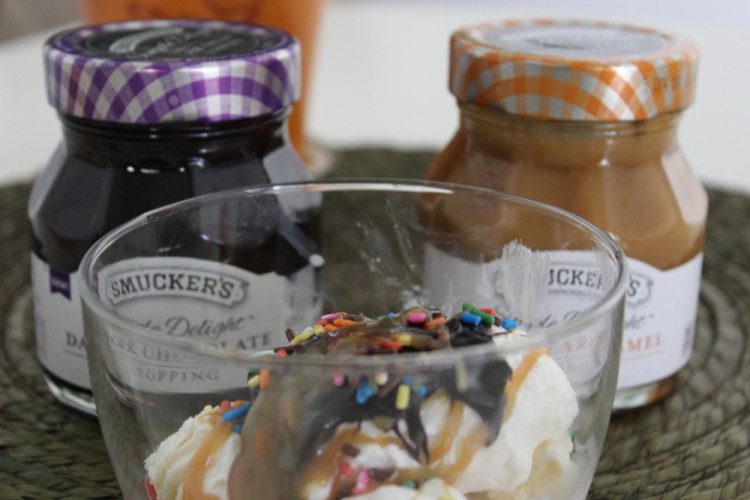 Give your ice cream sundae a makeover by adding toppings that mimic classic desserts right to your ice cream bowl. Here are three combinations that can't be beat!
S'mores
Smucker's® Marshmallow Topping
Smucker's® Hot Dark Chocolate or Special Recipe Milk Chocolate Topping
Crushed graham crackers
Banana's Fosters
Smucker's® Hot Caramel Topping
Sliced bananas
Cinnamon
Whipped cream
Hummingbird Cake
Smucker's® Pineapple Topping
Smucker's® Pecans in Syrup Topping
Sliced bananas
Cinnamon
OR take a simple approach with Smucker's® Simple Delight Ice Cream Toppings in two unbeatable flavors — Salted Caramel and Dark Chocolate. Add a little extra sea salt on top for the ultimate in salty-sweet combinations. Why not dollop on a bit of whipped cream while you're at it? And one can never say no to sprinkles!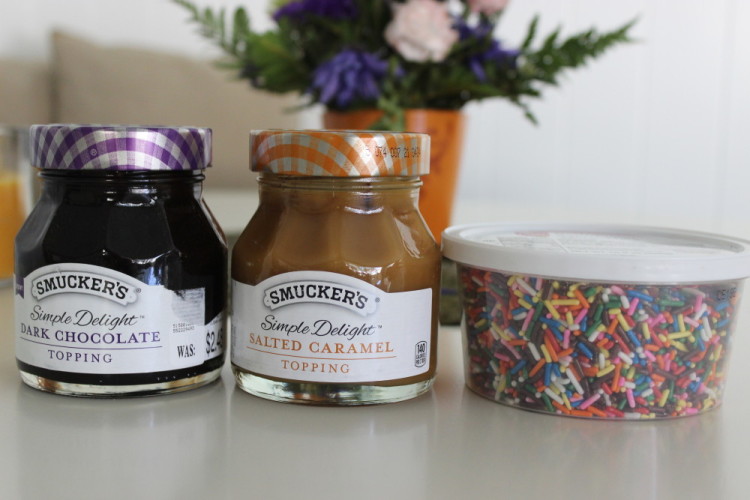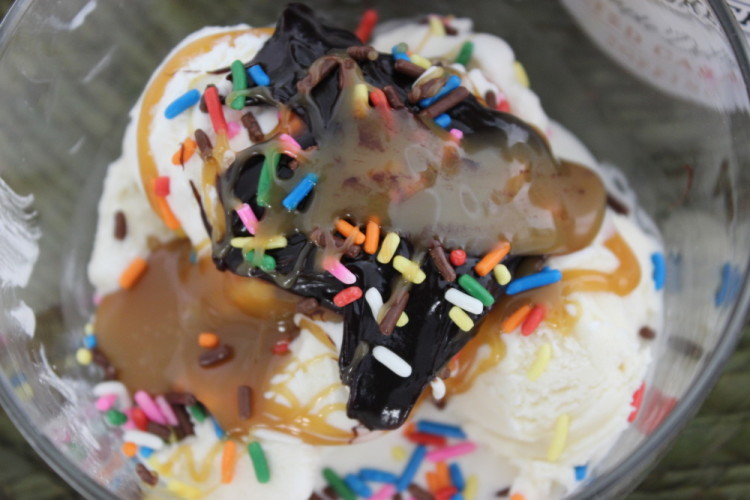 Make over your ice cream sundae with any of these topping combinations, or make up one of your own. I'd love to hear what you come up with! Leave me a comment with your favorite Smucker's® Ice Cream Toppings and what kind of ice cream sundae you would make.