Can You Eat Gluten Free in Italy?
Yes, you can!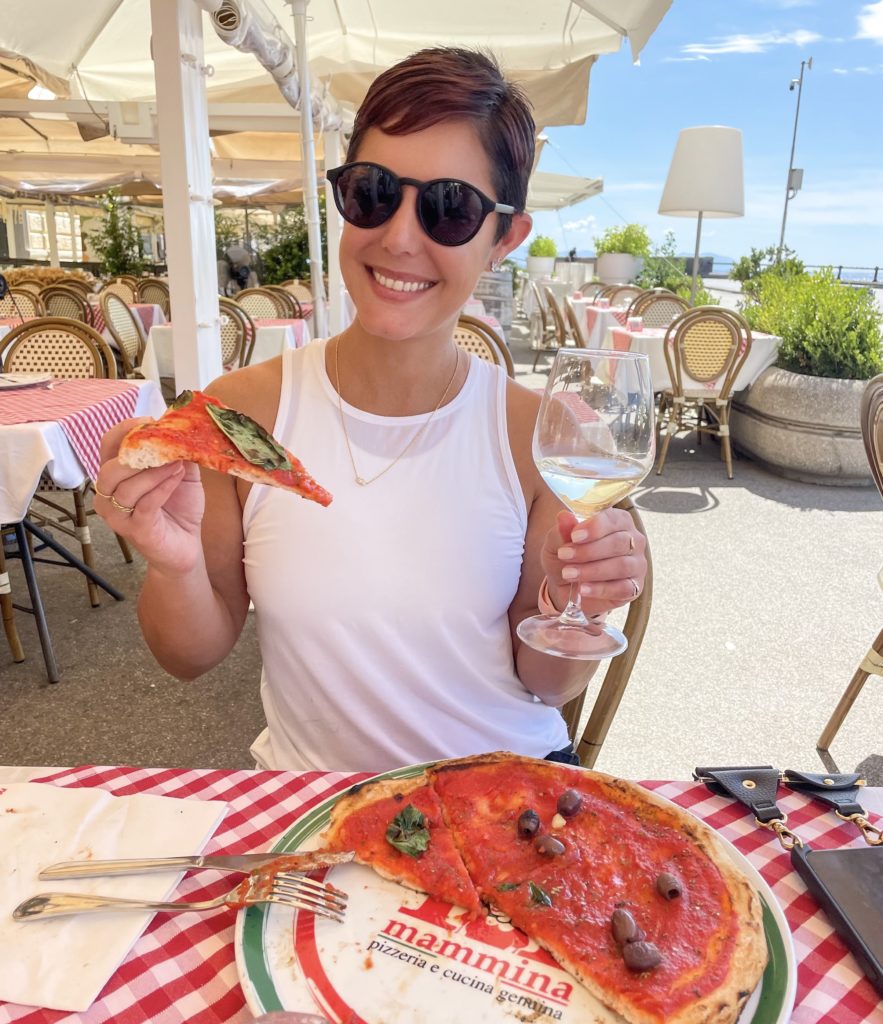 If you are gluten intolerant and planning a trip to Italy, you don't have to worry. Eating gluten free in Italy is possible!
You will find plenty of meat and seafood options everywhere you go, but let's be real. When in Italy, you want to indulge in pasta and bread!
Trip Advisor proved to be a trusted resource for finding places to eat gluten free in Italy. Open the app and filter the search for 'Gluten Free Options' and 'Best Nearby.' As you look through each of the restaurants that interest you, click on the reviews. In the search bar, type 'gluten free.' Any reviews that mention gluten-free dishes will pop up! Reading the reviews will point you in the right direction. I learned that many restaurants do not always list the gluten-free options on the menu, so those reviews prepared me. Don't ever be afraid to ask your server about gluten-free options too!
Side note: I am gluten intolerant, but I do not have Celiac Disease. For those with Celiac, please always make sure to talk with your servers to ensure there is no risk for cross contamination!
These are some of the top restaurants in Italy I found for gluten-free pasta, bread and pizza during my recent travels.
Where to Eat Gluten Free in Florence
Sgrano
Sgrano has a 100% gluten-free kitchen. It specializes in gluten-free paninis made with Schiacciata, a Tuscan style of bread similar to focaccia. Sgrano is located on the same street as Florence's most famous panini spot, All'Antico Vinaio, which has a line down the street and around the corner at all hours of the day — but Sgrano has its own large following too.
The menu has a lot to choose from, but all I wanted was one of their signature paninis! I got one made with Tuscan ham, pecorino cheese (sheep's milk) and grilled zucchini. The schiacciata was light and fluffy on the inside with a crisp exterior, and tasted absolutely delicious. Roger shared the panini with me and liked it too!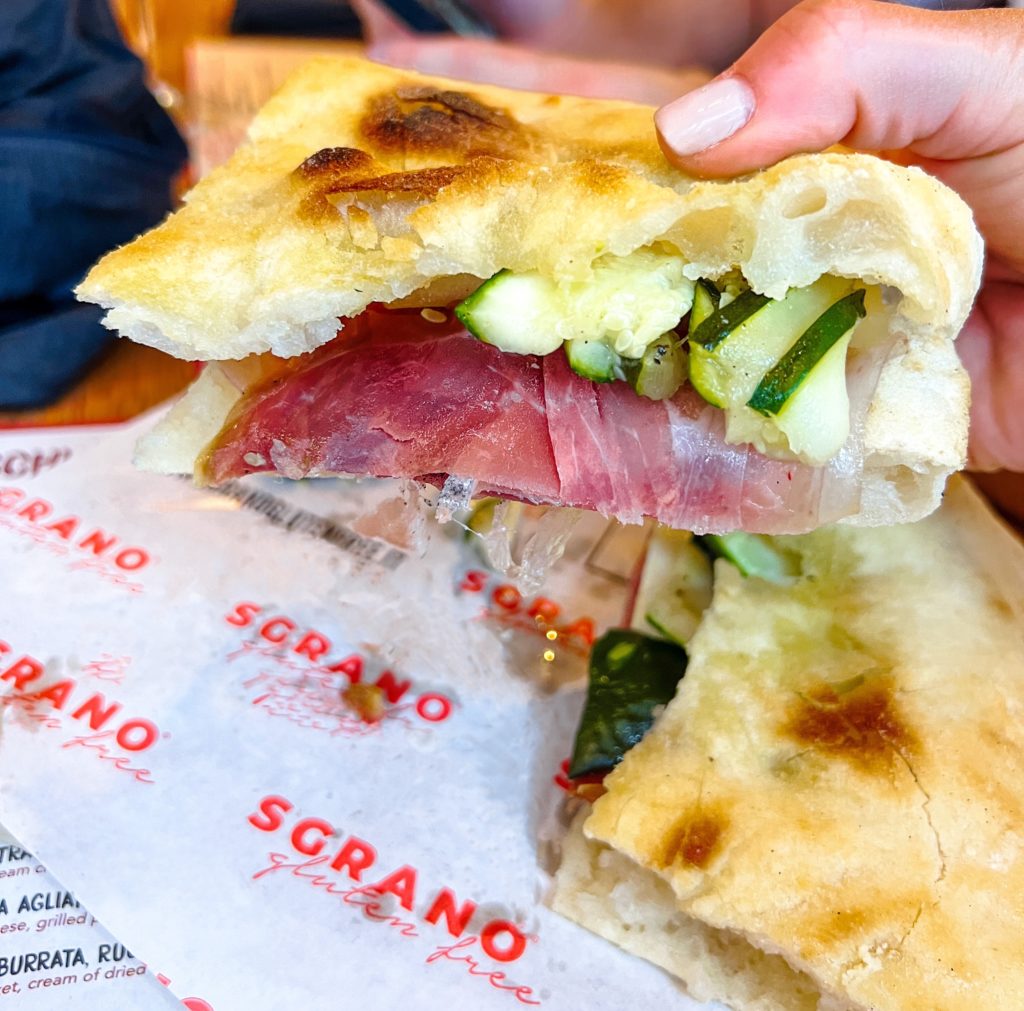 Sgrano also offers lactose-free cheeses, as well as options for dessert. It recently opened a sister-restaurant nearby, Osteria dello Sgrano, that serves gluten-free pasta.
Ristorante Lorenzo de'Medici
Just about everything on the menu at Ristorante Lorenzo de'Medici can be made gluten free, including pizza, pasta and desserts, and gluten-free bread is available as well.
I started off with a classic bruschetta for an appetizer, which is simply just toasted bread topped with diced tomatoes. Those tomatoes were so fresh and flavorful, and the gluten-free bread was soft yet crusty, exactly how it should be. A drizzle of extra virgin olive oil over top was all it needed for a little extra oomph. With ingredients this fresh, you don't need much else.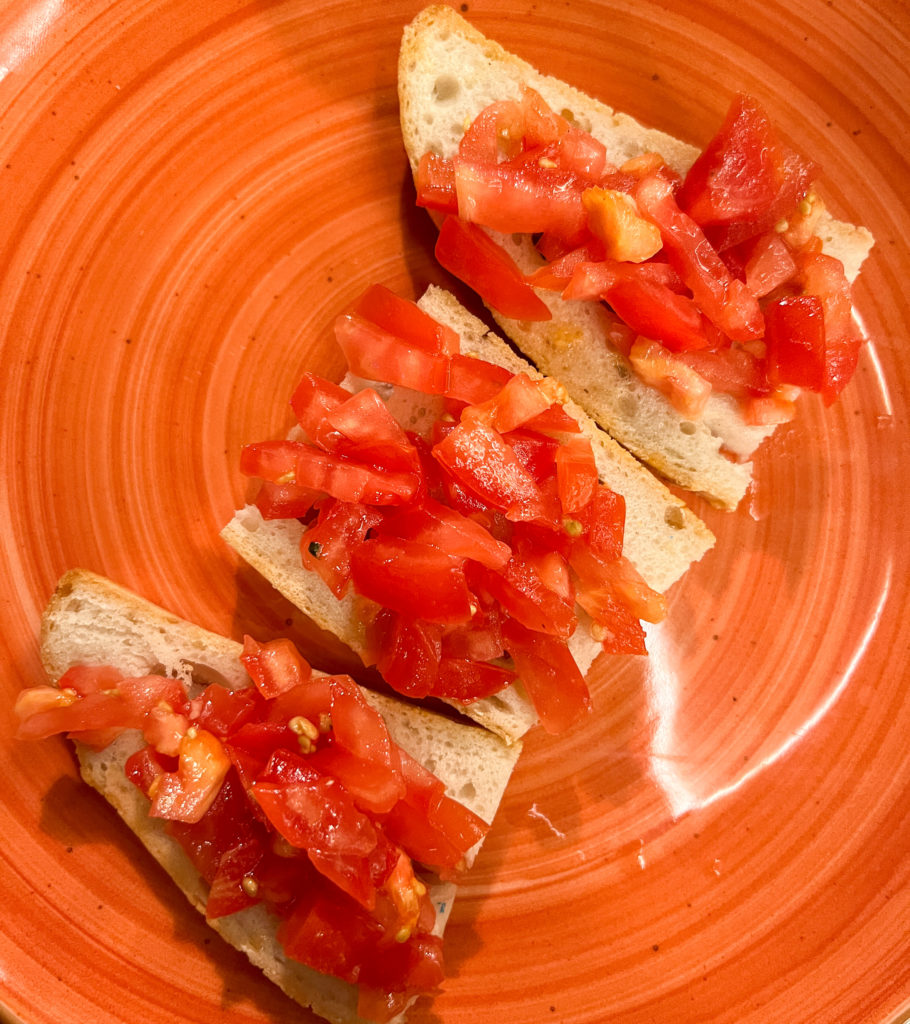 For my main course, I chose the spaghetti allo scoglio (spaghetti with clams, mussels and mixed seafood). Note: spaghetti is available gluten free here, but there is dairy used in that particular pasta recipe, so they served me penne instead — which was fine with me. I appreciated our server's attentiveness and accommodation!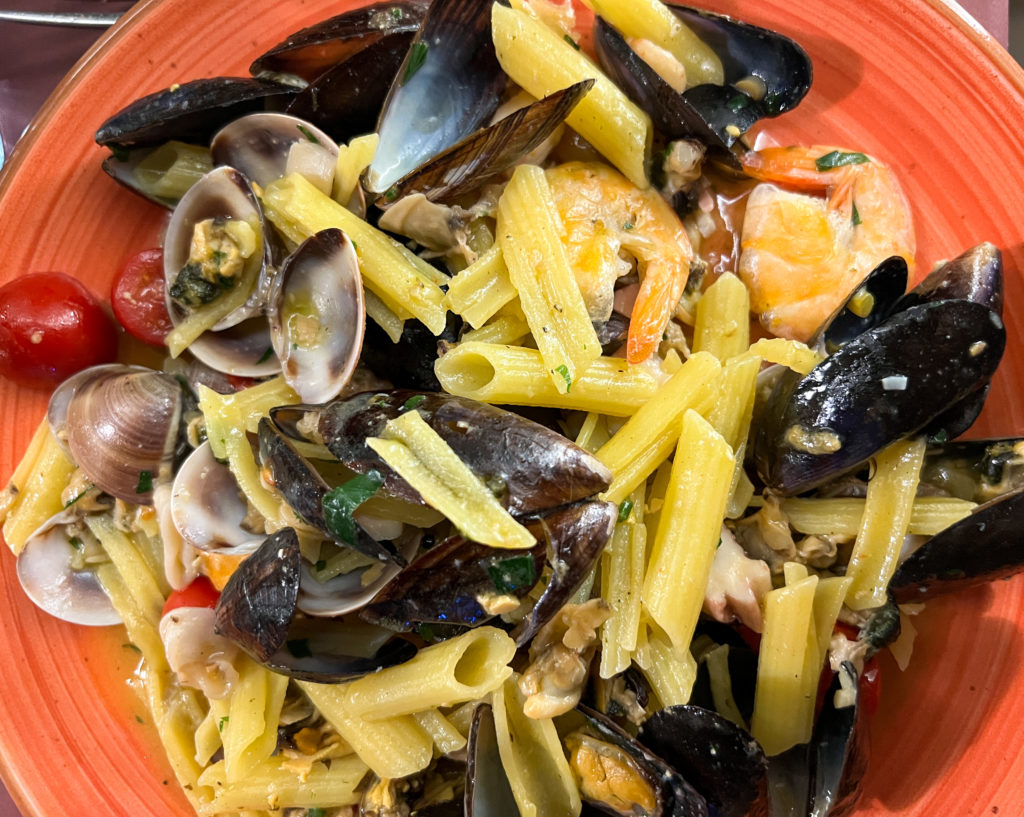 Where to Eat Gluten Free in Naples
Mammina Pizzeria e Cucina Genuina
My main concern in Naples was, of course, finding gluten-free pizza. History tells us that pizza originated in Naples, Italy, so obviously this is the one thing you must get while visiting. Mammina Pizzeria e Cucina Genuina is located at the seaport, and has a separate menu for gluten-free dining that not only includes pizza, but also bruschetta and a few other fried appetizers, pasta and desserts.
I got the Marinara with local heirloom tomatoes, garlic, oregano, basil and extra virgin olive oil. I have never been more excited to eat pizza than I was at that moment when the server brought out my own personal pie. Yes, pizza in Italy is not served by the slice like we are used to in America. It's served as a whole small pie, and there are not even slices cut into it — the size of your slice is up to you!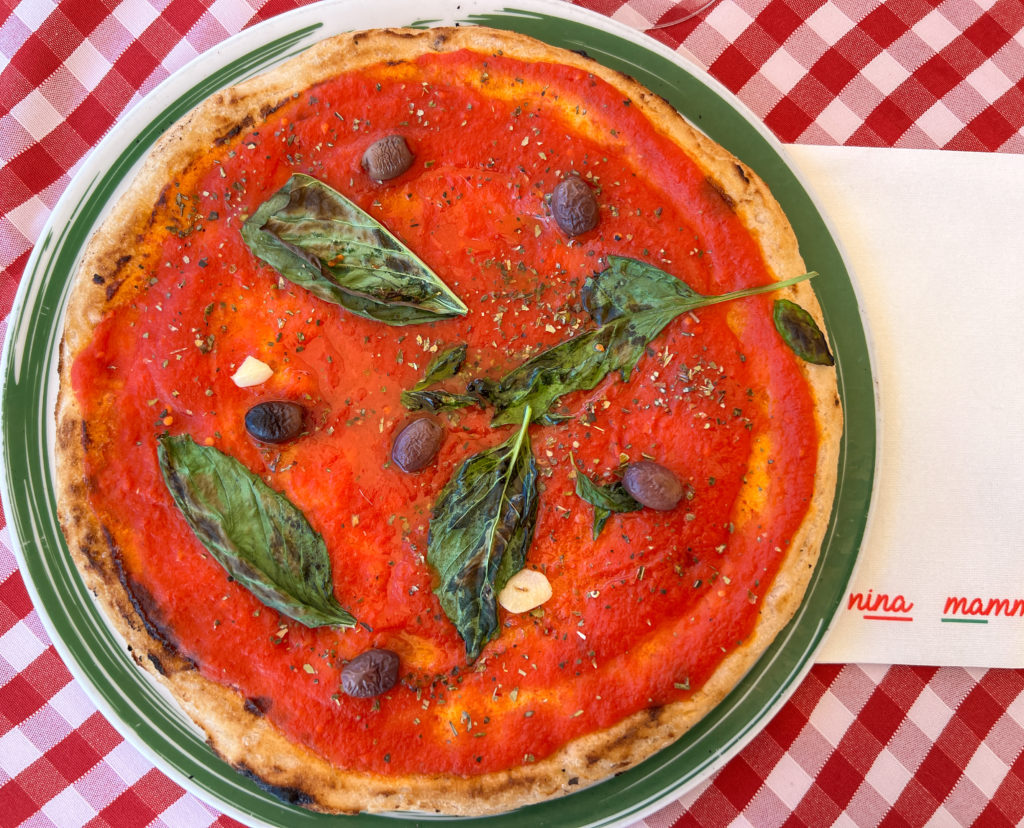 I ate every last bite, no regrets. The ingredients tasted so fresh, the crust was light and airy with a good amount of crispiness.
Transatlantico
This beautiful restaurant and hotel is situated right on the Borgo Marinari, overlooking the boats and Gulf of Naples. Transatlantico is the perfect spot for lunch or dinner with a view!
Things were off to a great start as soon as they brought me gluten-free bread that was fluffy, soft, warm and very tasty — not to mention, an octopus salad that was out of this world delicious. For my main course, I had gluten-free penne with clams, a simple presentation with tomatoes and olive oil that was so good.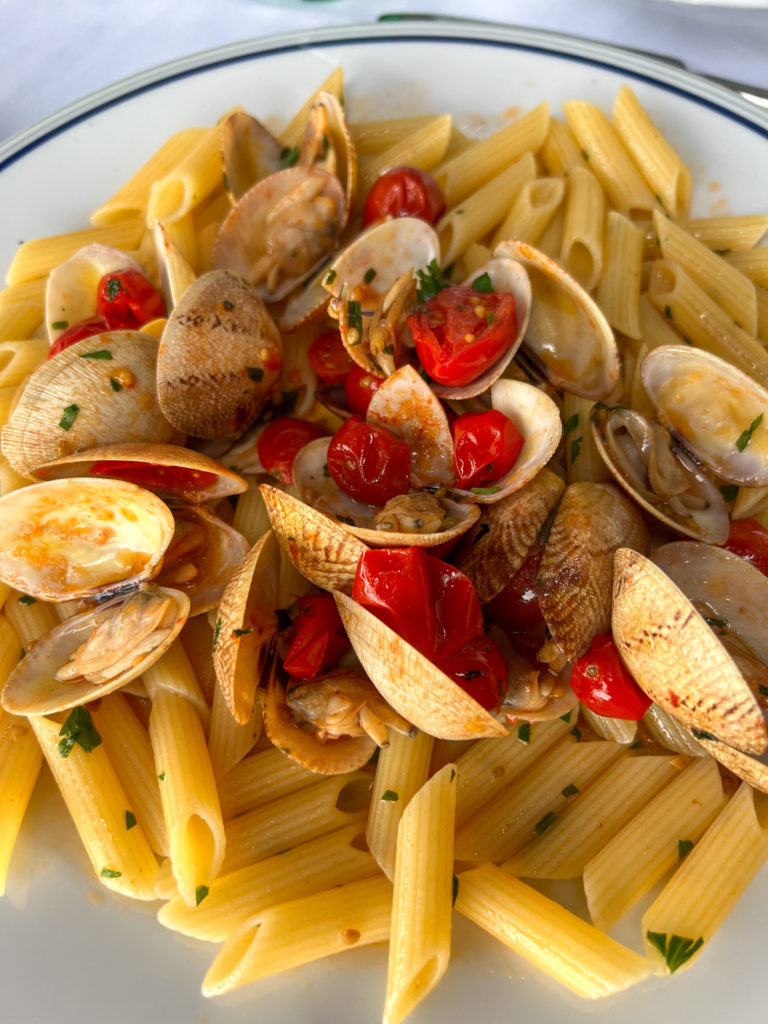 Where to Eat Gluten Free in Capri
Villa Margherita
Our first meal in Capri was dinner at Villa Margherita, where we dined under olive trees with a beautiful view of the sea. The service was exceptional, and gluten-free bread and pasta were available! Our server brought me my own basket with focaccia-style gluten-free bread. It was everything focaccia should be: crisp on the top and bottom, and fluffy in the center with all the squishy air pockets. IMO I think focaccia is the MVP of all kinds of bread, and this one — even in its gluten-free state — was just as good as any traditional focaccia I've had in my pre-GF days.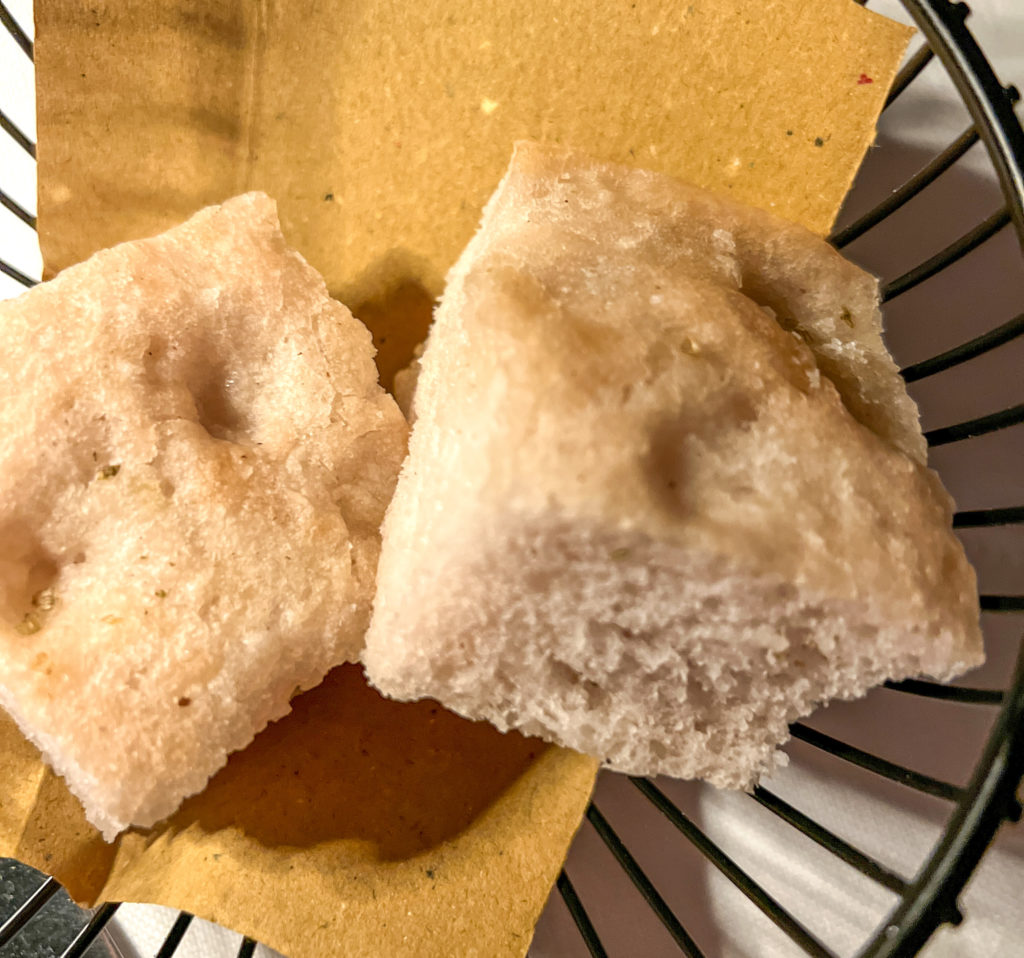 The bread was good, but my gluten-free pasta dish stole the show. It was as delicious as it was unique, featuring a combination of ingredients and a pasta shape I've never had together before. In Italian, Candele alla Genovese di polpo alle tre cipolle, nocciola tostata e scaglie di GranSardo. Candele is a traditional pasta from Southern Italy meaning "candle." These hollow tubes of pasta were served "Genovese style," topped with three varieties of onions, octopus, toasted hazelnuts and Sardinian Pecorino flakes.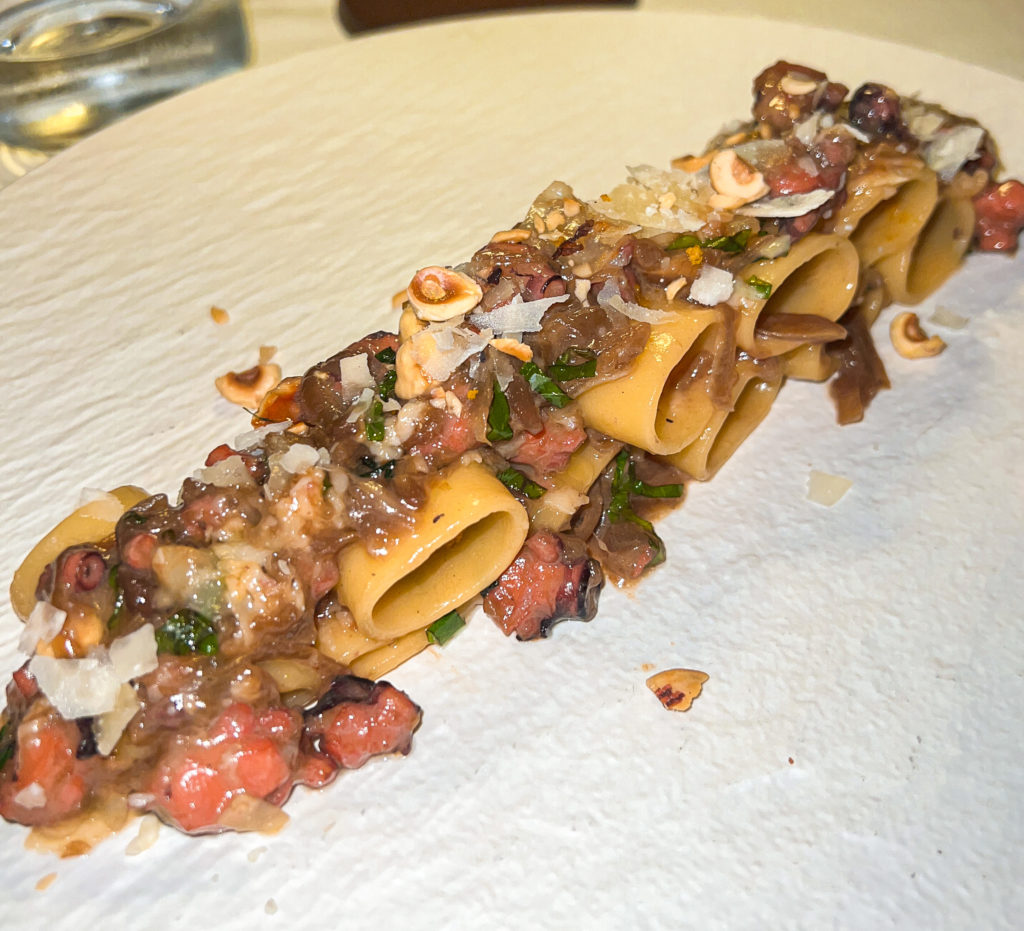 Everything on the menu sounded so good, but ultimately my love of octopus made this the winner for me. I definitely made the right choice!
Ristorante La Capannina
This family-owned restaurant has been around since 1931 and is known to regularly host celebrities. Most recently, there were pictures on Instagram of the owner with Michael Kors, Denise Richards and Vanessa Hudgens. We were seated at the same table where Jackie O once dined, and there was a photo on the wall behind that showed the scene!
But La Capannina's rapport with celebrities isn't all it's known for. The food was fantastic. The gluten-free bread served was interesting, almost like a flat pancake — but super tasty. Gluten-free spaghetti was also available, so I got a dish with shrimp, tomatoes, arugula, toasted pine nuts and olive oil. Another winning pasta dish!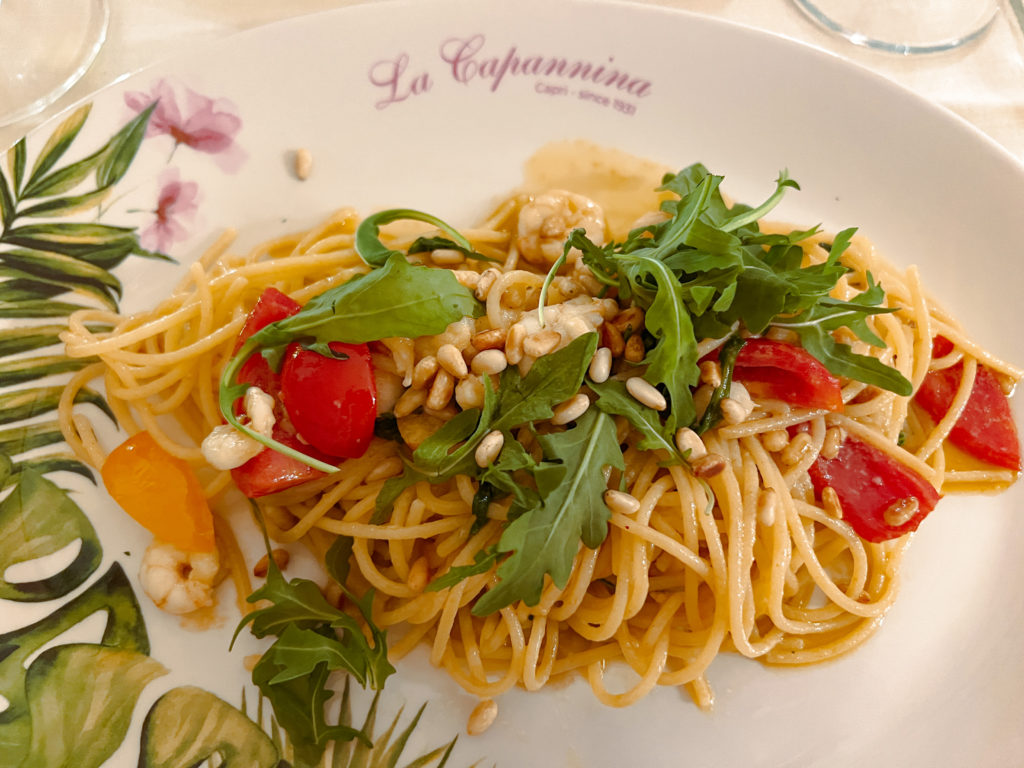 Where to Eat Gluten Free in Positano
Next2
We were able to grab a last-minute reservation at one of Positano's MICHELIN Guide restaurants, Next2. The manager went through the menu with me and pointed out options that were/could be made gluten free. He brought out deliciously fluffy and golden brown gluten-free bread, served me a gluten-free amuse bouche of a light and simple tomato and arugula salad, and even brought out a platter of gluten-free desserts after our meal.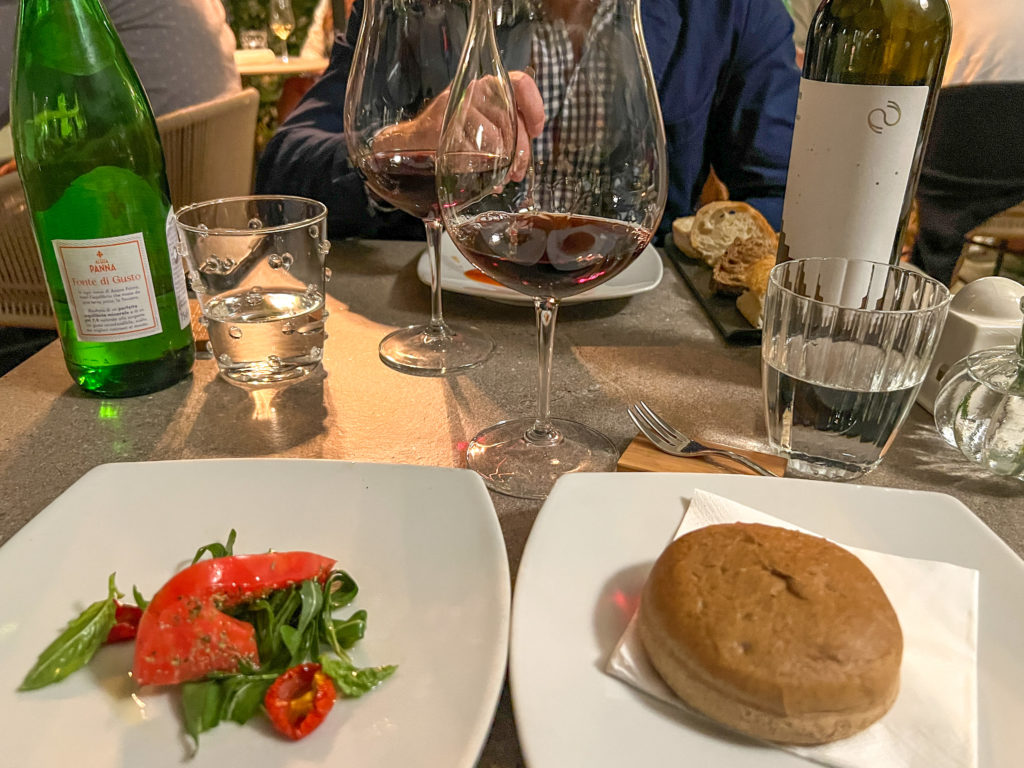 Gluten-free rigatoni was available, so I ordered the pasta dish that came with monkfish and broccoli tossed in a thick, herbaceous sauce. Roger and I treated ourselves to a full three-course meal, and this pasta was my favorite!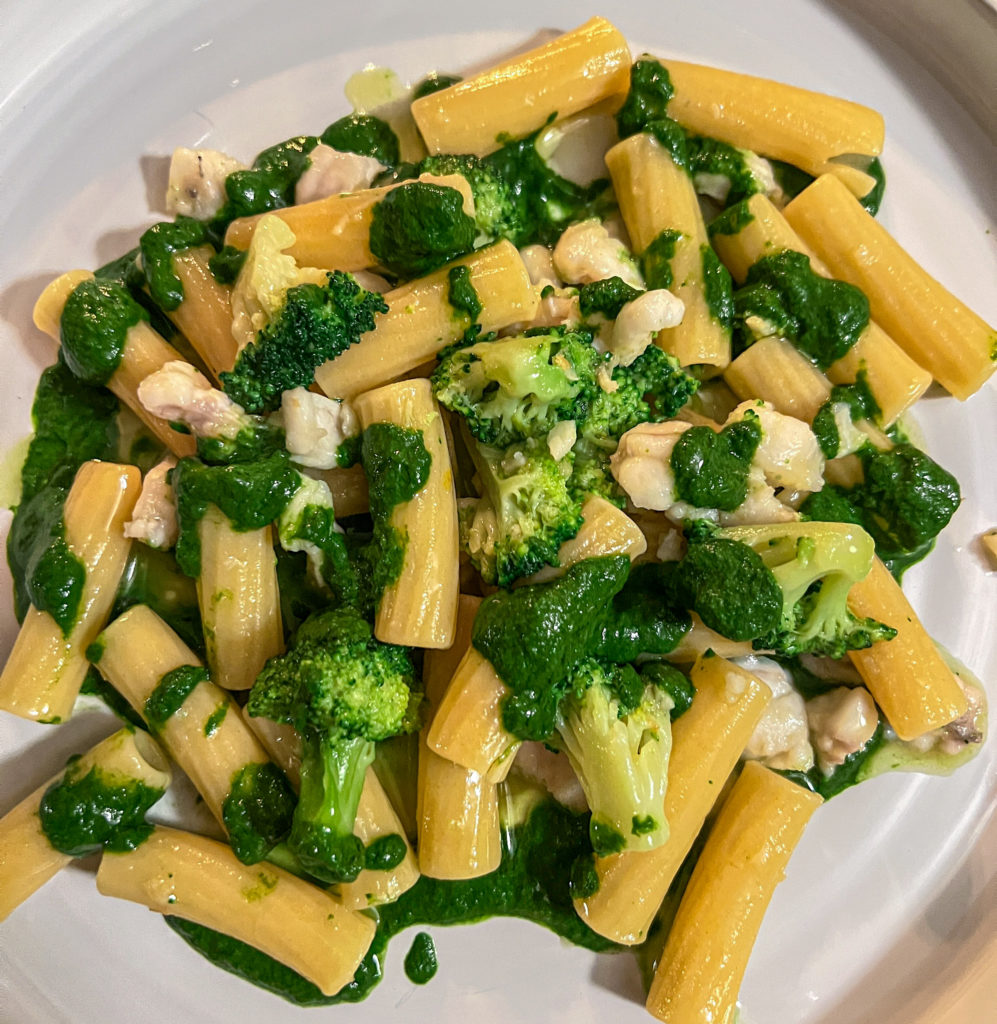 Buca di Bacco
Buca di Bacco is both a hotel and restaurant, located on Positano's famous Spiaggia Grande (big beach). Its menu was very clearly labeled for allergens, and had plenty of options. Although they did have gluten-free pasta, I decided to switch things up and get risotto. In the US, risotto is sometimes made with butter and/or cheese, but the labels showed there was no dairy used in the risotto with mixed seafood — and our server assured me this was true.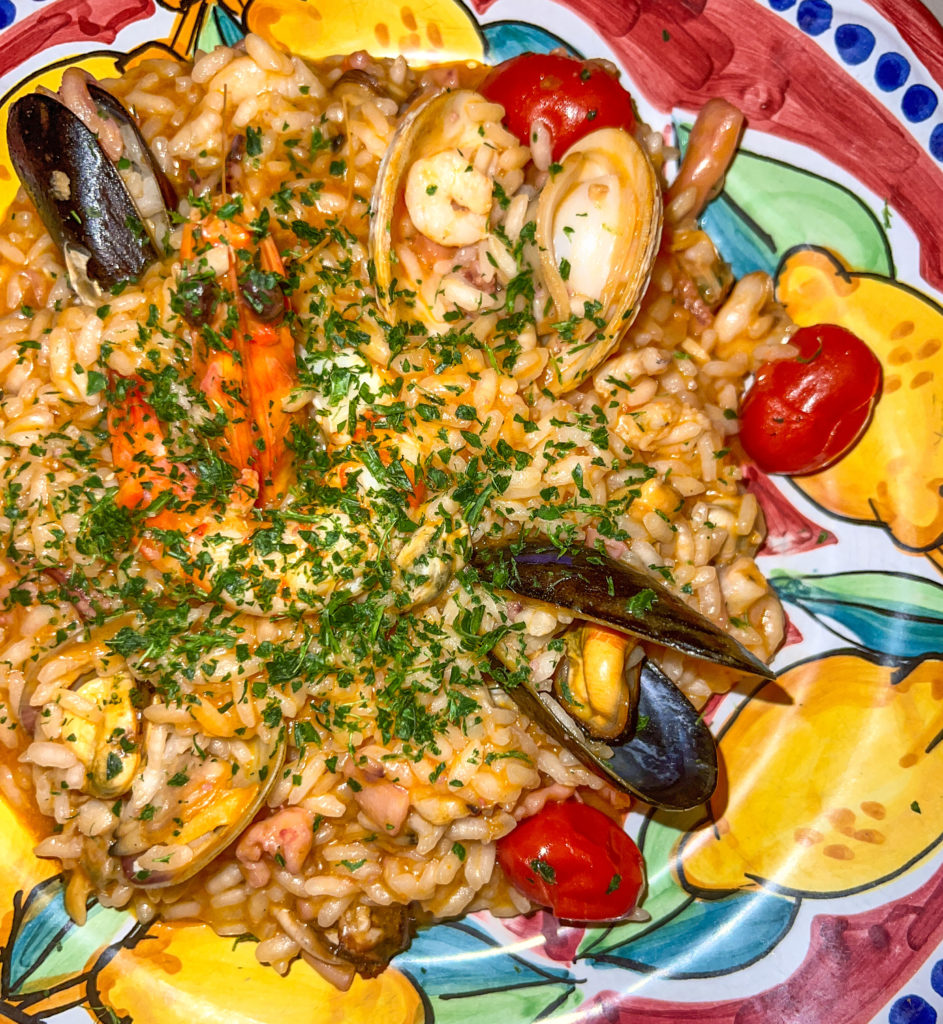 Delicious, fresh seafood on the Almafi Coast. You can't beat that!
Where to Eat Gluten Free in Rome
Poldo e Gianna Osteria
We got lucky again with another MICHELIN Guide restaurant. Despite there being no available reservations online, we walked into Poldo e Gianna Osteria and were able to get on the list for a table. Roger and I shared the veggie tempura to start. Yes, gluten-free tempura! The restaurant uses rice flour for this fried eggplant and Romanian zucchini appetizer, which makes for a super light, crisp and flavorful coating. The photo does not do it justice!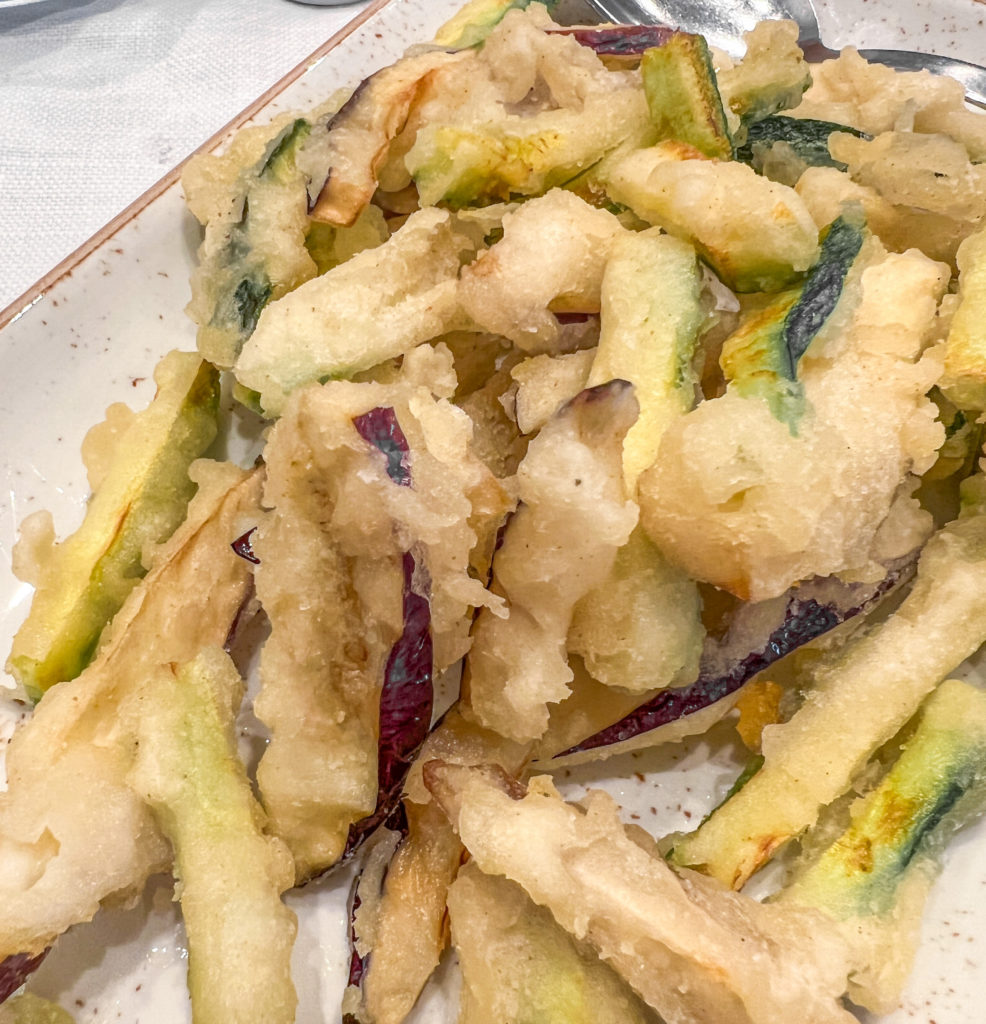 The gluten-free pasta I got was tonnarelli, a traditional pasta from Rome that is basically spaghetti, but a little thicker and more square shaped. The dish was tonnarelli pasta with cod, sautéed in a homemade Datterino tomato sauce. Datterino tomatoes are known for their sweetness, and gave a rich and beautiful flavor to the dish.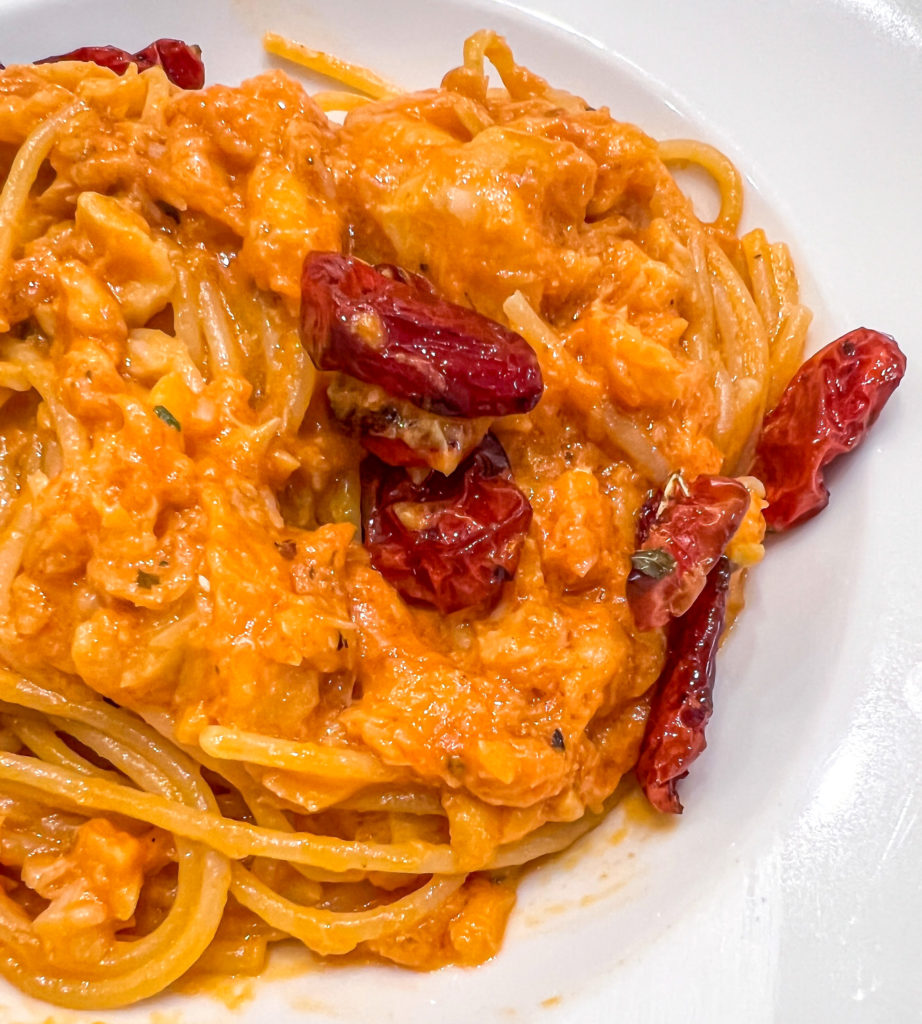 L'Osteria Delgi Avvocati
There are four traditional Roman pasta dishes: Carbonara, Cacio e Pepe, Amatriciana, and alla Gricia. At L'Osteria Delgi Avvocati, Roger and I knocked out two of the four. I had the Rigatoni (gluten free) all'Amatriciana, which is made with peeled tomatoes, dry-cured pork cheek from San Rocco and Pecorino Romano PDO cheese. Roger had the Rigatoni alla Carbonara with Pecorino Romano PDO cheese, free-range egg and aged, cured pork cheek from San Rocco.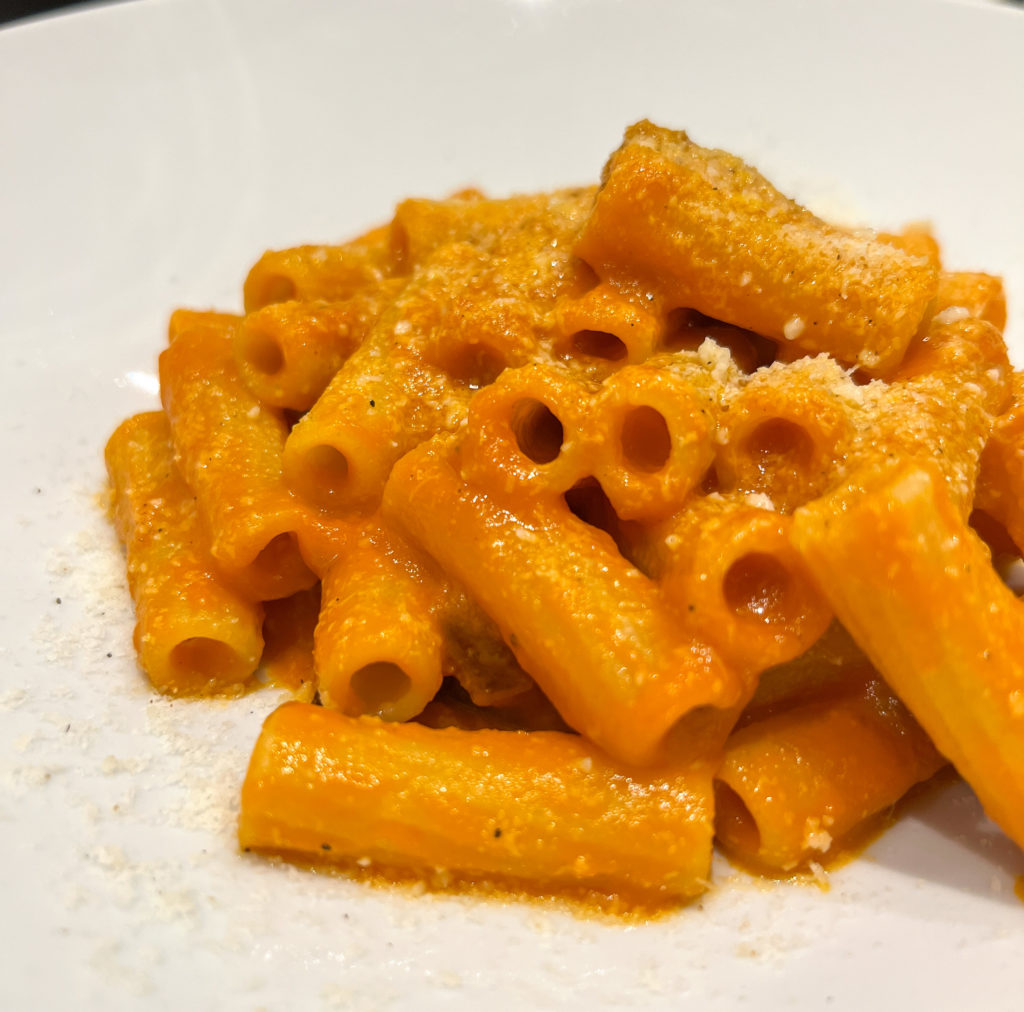 Since we both had the same style of pasta this time, we decided to experiment and compare the gluten-free and the gluten-filled versions. I tasted a bite of his, and he tasted a bite of mine. The texture was exactly the same — you could not tell the difference! The Amatriciana was significantly lighter than the Carbonara (the egg made it so thick and creamy), but both were equally delicious.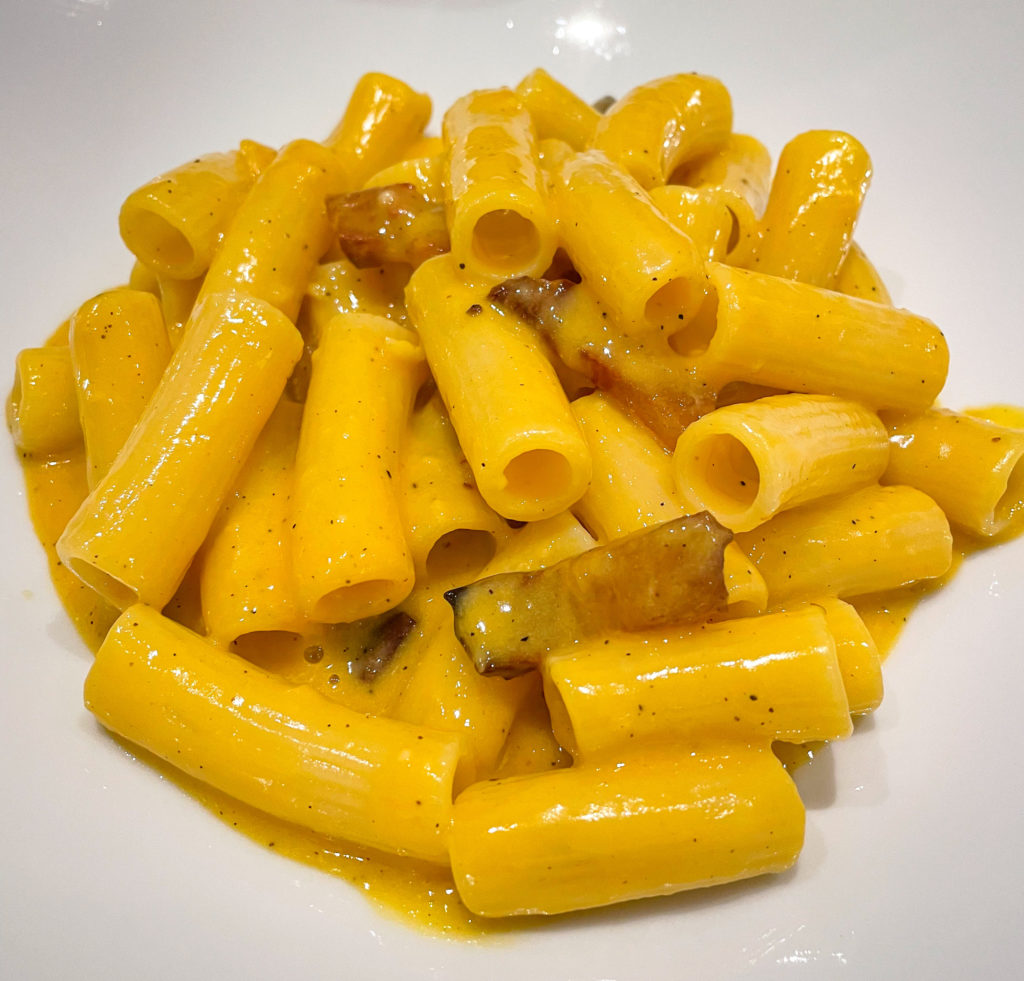 (Side note: If you are Celiac, I do not recommend tasting anything with gluten. As I mentioned, I do not have Celiac, but a sensitivity. I did taste small bites of some of Roger's food throughout the trip and had ZERO stomach issues, which I hear is usually the case for a lot of people who typically react to gluten in the US. This is said to be because the ingredients used in Italy are much more pure and natural.)
Claps Restaurant
Claps Restaurant was the first place we came across after leaving the Vatican Museum. It had a been a very long morning tour and we were absolutely starving. Thankfully, this place had a great menu, including gluten-free pasta — tonnarelli, to be exact. I crossed off another traditional Roman pasta from the list and got the Cacio e Pepe, which is made with pecorino cheese and black pepper. This totally hit the spot, and is one pasta dish I am dying to recreate at home.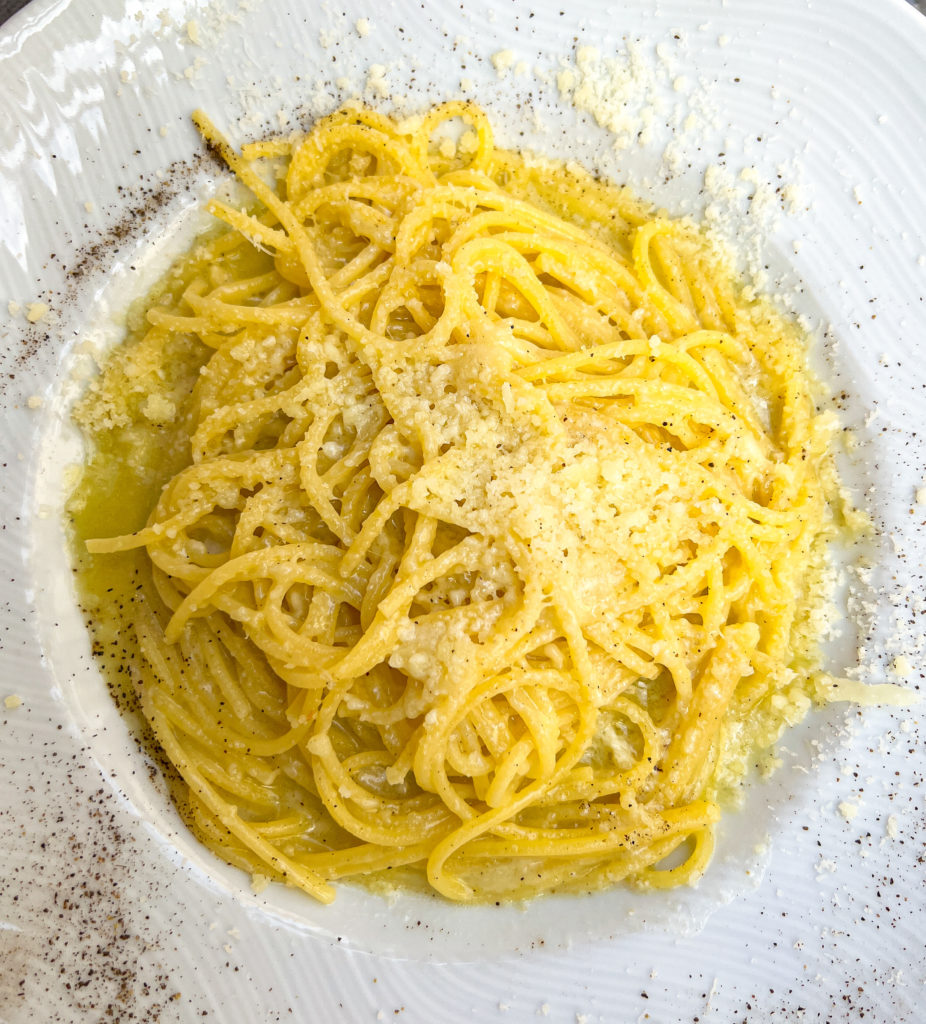 Costanza Hostaria
If you are looking for old world, authentic Roman tradition, Costanza Hostaria is it. The restaurant is located in an ancient Roman theater, said to be where Julius Caesar was killed. We ate in a dining area that looked like an old cave, and the whole vibe just felt so traditional, menu included. The gluten-free pasta option was short rigatoni, and I went with a classic ragu sauce. Gluten-free crackers are also available in place of bread. While I loved the pasta, the crackers were, unfortunately, awful. Save your appetite for the pasta!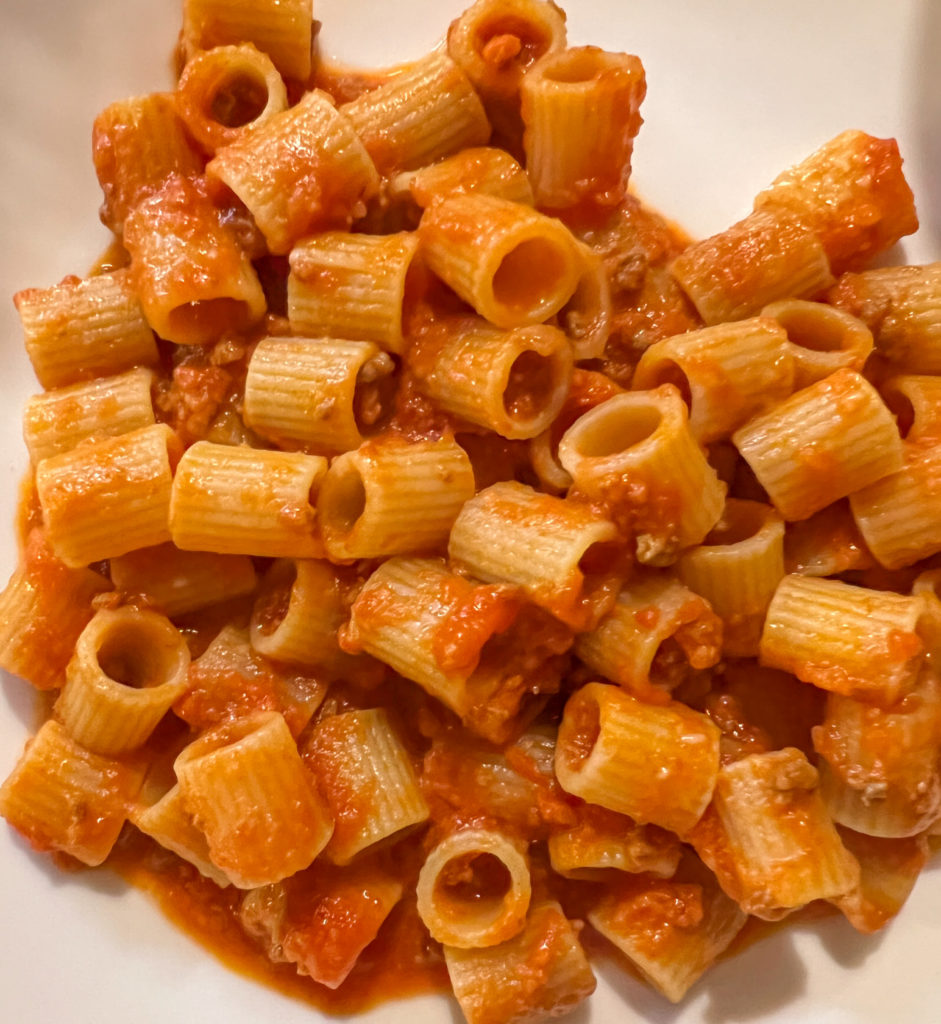 Ready to Travel to Italy?
To my gluten-free friends, Italy awaits! Don't let food restrictions keep you from traveling the world and indulging in all the best food. As you plan your trip, I hope you will be able to use this as a guide to eating gluten free in Italy. Mangia!