One of my favorite things about Passover is my dad's chocolate chip Matzobrei or "fried matzo." He makes it every year. Eggs, matzo, chocolate chips and grape jelly — it's our most loved Passover breakfast food. The recipe is super simple and takes no time at all to make, so anyone can do it. Since I wasn't there to devour my dad's fried matzo during the holiday this year, I had to make it myself. I've always thought about other variations of this dish. Everyone loves chocolate chips, but there are lots of other ingredients you could mix into the batter. I'm always reminded of french toast. Inspired by a pretty popular option on restaurant breakfast menus — cinnamon raisin french toast — I piled on the cinnamon and golden raisins and made some fried matzo of my own.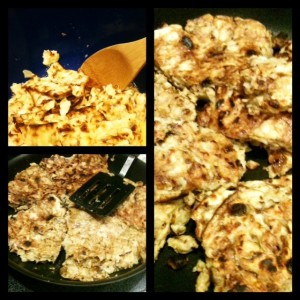 In a large bowl, break the pieces of matzo into fours and cover completely with water. Let soak for a few minutes or until soft. Drain the bowl of water and squeeze any excess water from the matzo. Beat the eggs with the matzo. Add in the raisins and cinnamon (amount depends on your own preference) and mix the batter until well combined. 
Pour about a tsp of vegetable oil onto a medium pan. Pour the batter into the pan and heat on a medium flame. When you start to see bubbles around the edge, cut the matzo into pieces and flip each piece over. Cook until both sides have browned. This shouldn't take longer than about 10 minutes. 
The outcome was great. I ate it plain, but I'm sure it would be good with any type of jelly, preserves, or syrup. Each bite was bursting with cinnamon and the sweet taste of golden raisins, which I like a lot more than I do regular raisins. I brought the fried matzo to work and my co-workers, Jewish and non-Jewish, all LOVED it. As unappetizing as matzo is on its own, there are definitely ways to make it appealing; this is one of the best.
As a side note, this recipe is different than the one my dad uses. He tried mine out and said he liked it better! After years of rave reviews of his fried matzo from anyone who has tried it, I was very flattered and proud to hear him say mine came out better. Thanks, Dad!