Never miss a bite! Sign up here to receive new recipes and reviews straight to your inbox.
Thanksgiving may be over, but I'm back with more pumpkin! And #sorrynotsorry, I'm not done with it yet. There are still pumpkin and cinnamon-filled morsels in my cabinet to use in cookies, and pumpkin ale in my fridge to make beer bread. But first — Gooey Pumpkin Pie Fudge.
This stuff is GOOOOOOD. And healthy! It's filled with vitamins, protein and lots of fiber. These tasty little treats were my gift to my fellow workout-a-holics who all gathered together for a 2-hour spin class on the morning of Thanksgiving. Work out hard so you can eat that gluttonous Thanksgiving Day feast, right?! The instructor, Michelle, is a good friend of mine — she loves to go all out for the holiday workouts, even putting together little goodie bags of treats to keep up your glycemic index during the intense workout she's about to give you.
I offered to make something yummy and nutritious to include in these bags — that's how this Gooey Pumpkin Pie Fudge was born. I intended for my contribution to be kind of a granola or energy bar, but this was a bit of an experiment, so who knew what it would out to be? The result at first was more of a pie filling — too loose to even lift out of the pan, even after refrigerating for over 2 hours! Then I put the pan in the freezer to see if it would harden up a little more. It did, but it wasn't bar texture. It wasn't something I'd pick up with my hands and eat, but it wasn't as wet as it was in the beginning.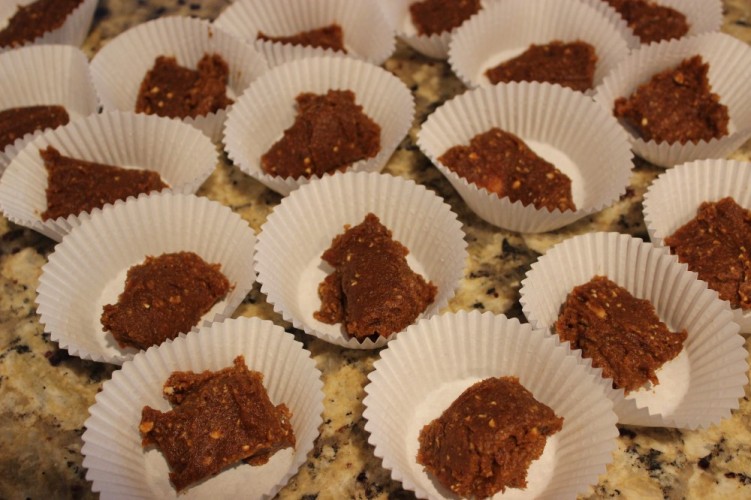 Fudge, it is! These little bites are filled with fall, with all the inviting smells and tastes of your typical pumpkin pie — even the graham cracker crust is there! I crushed up graham crackers and included it in the mixture to make sure I wasn't leaving out any part of this iconic Thanksgiving dessert. It was only fitting to gift everyone with something appropriate for the holiday, and I couldn't skimp on any part. Although there's no whipped cream on top, this Gooey Pumpkin Pie Fudge was the perfect bite-size treat to help us all get through a grueling 120 minutes of jumping up and down from the saddle, sprinting as fast as we can, and climbing until we can't feel our legs.
Pumpkin pie is one of my favorite parts of Thanksgiving. I know I went on a bit of a bender last week, going on about how pumpkin by itself has no flavor, and I still think that, but pumpkin pie is so much more than just pumpkin! It's the cinnamon, the nutmeg… all that pumpkin pie spice to make us feel warm and cozy. It's the crisp, sweet graham cracker crust. It's the way the knife slides effortlessly into the pie, creating a perfect slice for you to enjoy. So many things about pumpkin pie make us feel good, and after a good workout, that's exactly what you want to eat — something that makes you feel good. Gooey Pumpkin Pie Fudge does just that!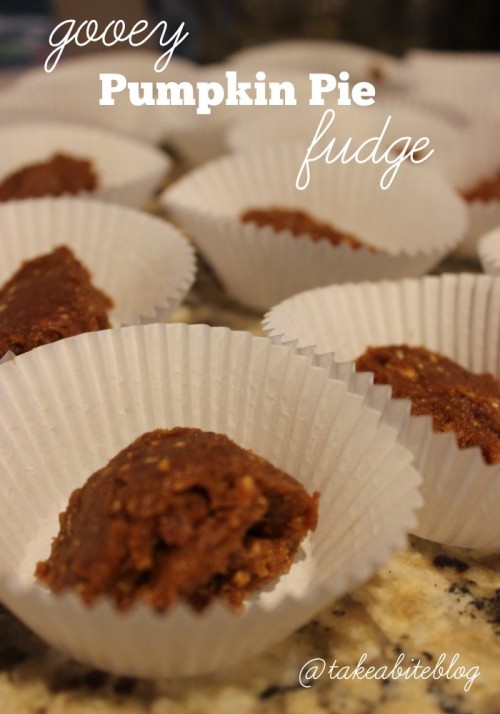 Gooey Pumpkin Pie Fudge
Author:
These little bites are filled with fall, with all the inviting smells and tastes of your typical pumpkin pie — even the graham cracker crust is there
Ingredients
18-20 pitted Medjool dates
1 15 oz. can pumpkin puree (not pumpkin pie filling)
6 graham crackers sheets, crushed
1 cup instant oats
1/2 cup vanilla protein powder
2 tbsp pumpkin pie spice
1 tbsp cinnamon
Instructions
Put all ingredients in a food processor and pulse on high until completely combined.
Pour mixture into a 9×13 nonstick or metal baking dish and use a spatula to spread evenly covering the entire pan. Place in the freezer to set for at least 2 hours.
Remove and cut when ready to serve.