Never miss a bite! Sign up here to receive new recipes and reviews straight to your inbox.
Disclosure: I was invited to dine as a guest of Grandview Public Market and District Farmers Market in exchange for this post. As always, all opinions are 100% my own.
We are quite spoiled living in South Florida — locally grown produce is available all year long, and various farmers, chefs and purveyors are creating yummy products for us to enjoy using organic and sustainable ingredients. While some of the local farmers markets are seasonal, there is now one that you can visit every Saturday, year round!
District Farmers Market is located at Grandview Public Market, the West Palm Beach "food hall" that recently opened and took Palm Beach County by storm. Seriously — this place is incredible. At the current time, there are 12 vendors on the premises, offering guests breakfast, lunch, dinner, drinks and even gifts and home goods! Grandview's mission is to introduce unique culinary and cultural experiences to its visitors and grow a community where everyone is included — and they are certainly doing a good job.
One of its newest epicurean experiences is this year-round farmers market, open every Saturday from 9am-2pm. There you'll find a mix of organically grown produce, clean meats, artisan cheeses, sustainable seafood, prepared foods, local art and handmade goods. It's the perfect opportunity to support local, which I try my best to do as much as possible. 
On a rainy Saturday morning, a group of local influencers braved the storm and got together for a unique opportunity to taste a variety of dishes prepared from some of District Farmers Market's vendors. It was a brunch that none of us will soon forget!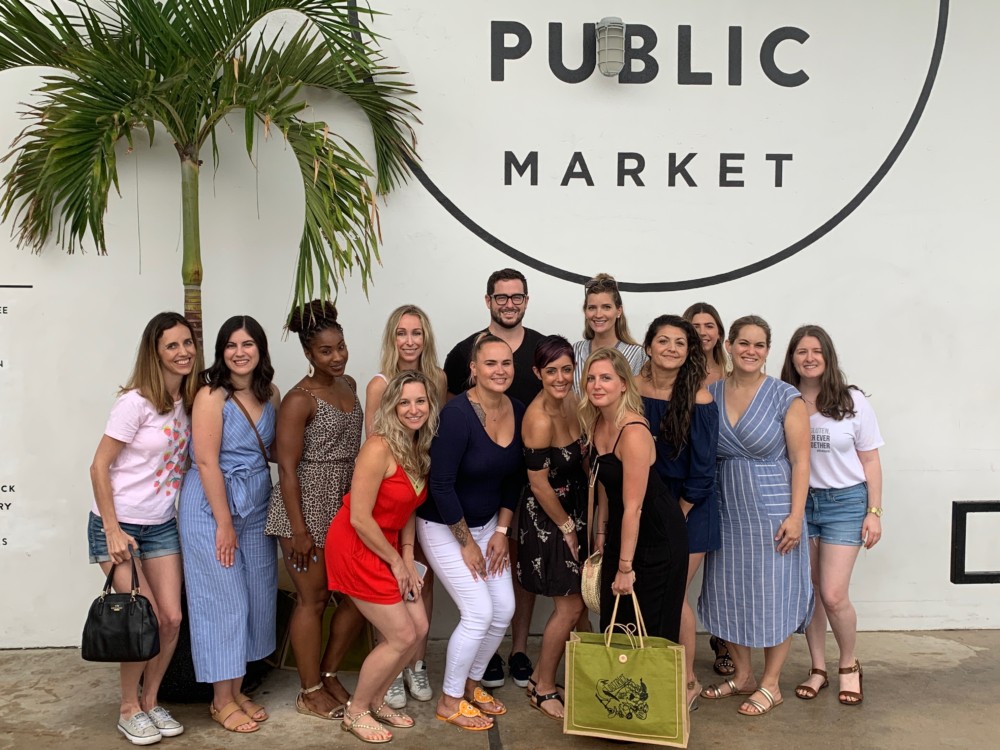 The gloomy weather definitely had me feeling a little blah, so I was happy that brunch started with our choice of hot or cold brewed Pumphouse Coffee — the perfect pick-me-up! Once we all got situated at our adorably decorated table, it was time to eat!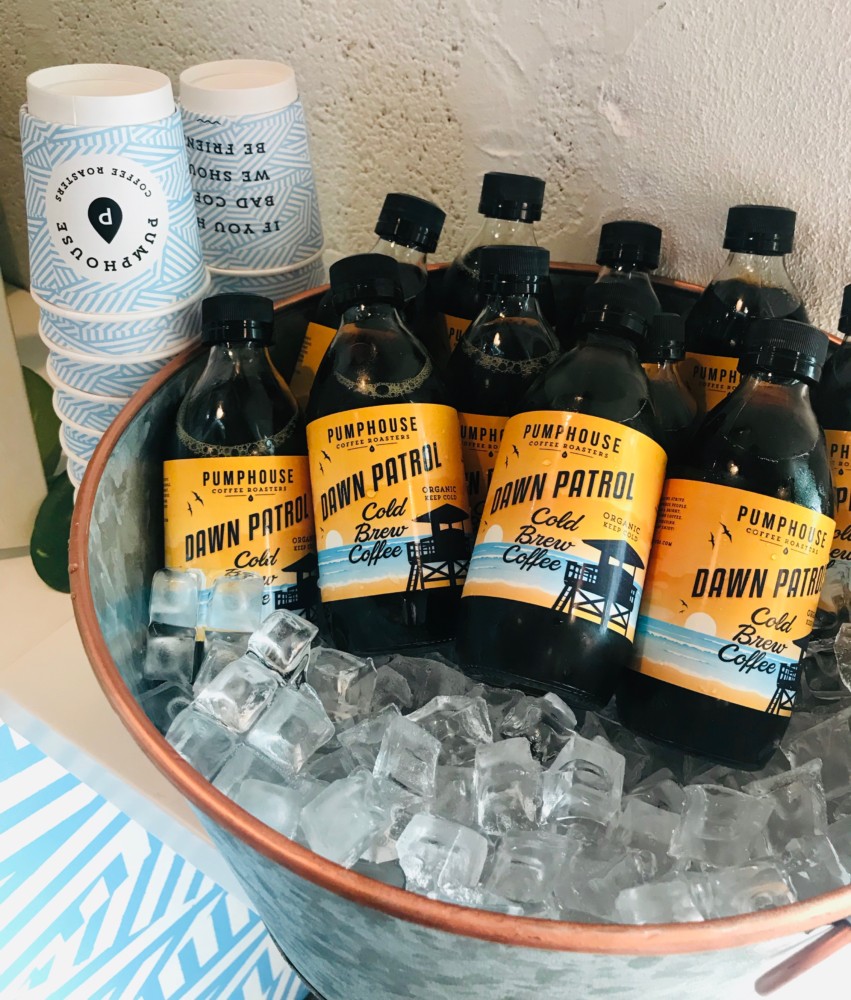 First up was fresh "morning mango," grown by Incredible Edible Landscapes, located in West Palm Beach, and picked that morning. Slices of perfectly ripe mango were topped with white alyssum edible flowers grown by Lush Green Farms in Boynton Beach. Mango is for sure one of my favorite fruits. I love mango season in Florida, especially when you get lucky and have friends with mango trees — they always have an abundance of mangos to give away!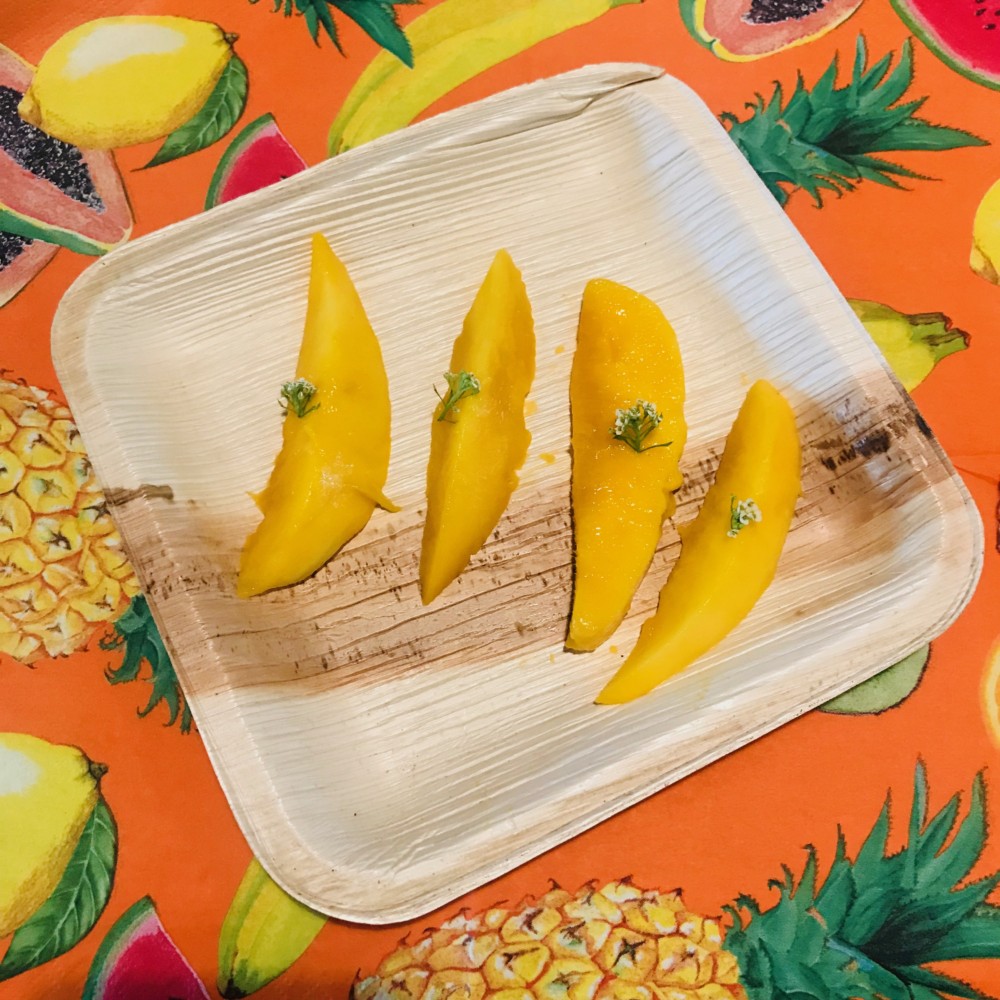 The second course is where things got super breakfast-y. Farriss Farm and Red Splendor, two West Palm Beach vendors, teamed up to create the ultimate breakfast sandwich with pork sausage, organic eggs and colby cheese on a fresh baked biscuit, made using kefir milk. While I wasn't able to eat the actual sandwich itself, I did try the pork sausage and it was more than enough to convince me than Farriss Farm and Red Splendor know what they're doing.  It was flavorful and well balanced, and had a good texture and meatiness.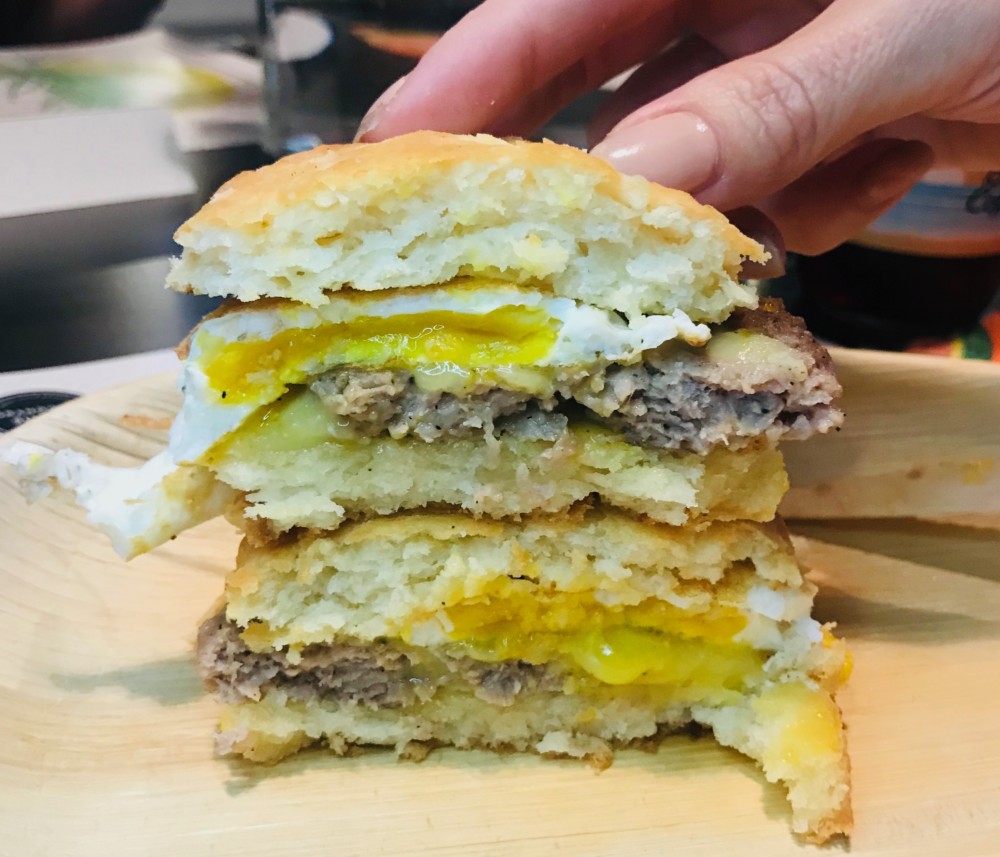 It was time for a lemonade break — a Lush Greens Lemonade break, that is, and this was no ordinary lemonade. Lush Greens Farm specializes in microgreens and edible flowers, so they used their own butterfly pea flowers to create a vibrant purple simple syrup perfect for enhancing drinks like lemonade, or mixing into a cocktail. The flavor was subtle and sweet, which balanced out the tartness of the lemonade and made it much more pleasing to drink, at least for me, someone who doesn't like that tart lemon flavor. The color is absolutely beautiful too!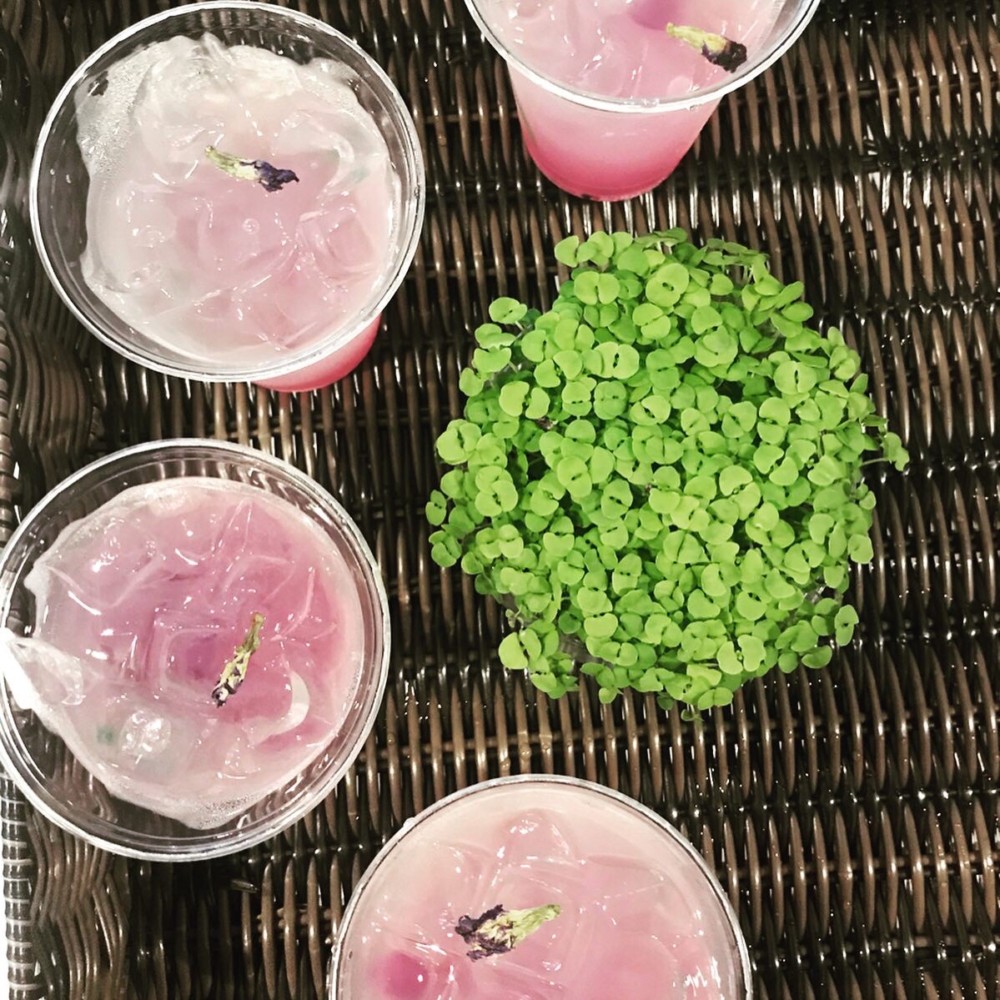 Back to the food! This course didn't come from District Farmers Market, but instead, was served by two of Grandview's most popular vendors and sister restaurants, Ramen Lab Eatery and Poke Lab Eatery. Breakfast bao buns and poke avocado toast — and for me, gluten- and mayo-free tuna tartar with taro chips. The tuna was so good and I'm pretty sure these were probably those Terra brand chips, which I always eat, so I was totally and completely in love with this Shaina-friendly alternative. I honestly could have eaten a second helping, but…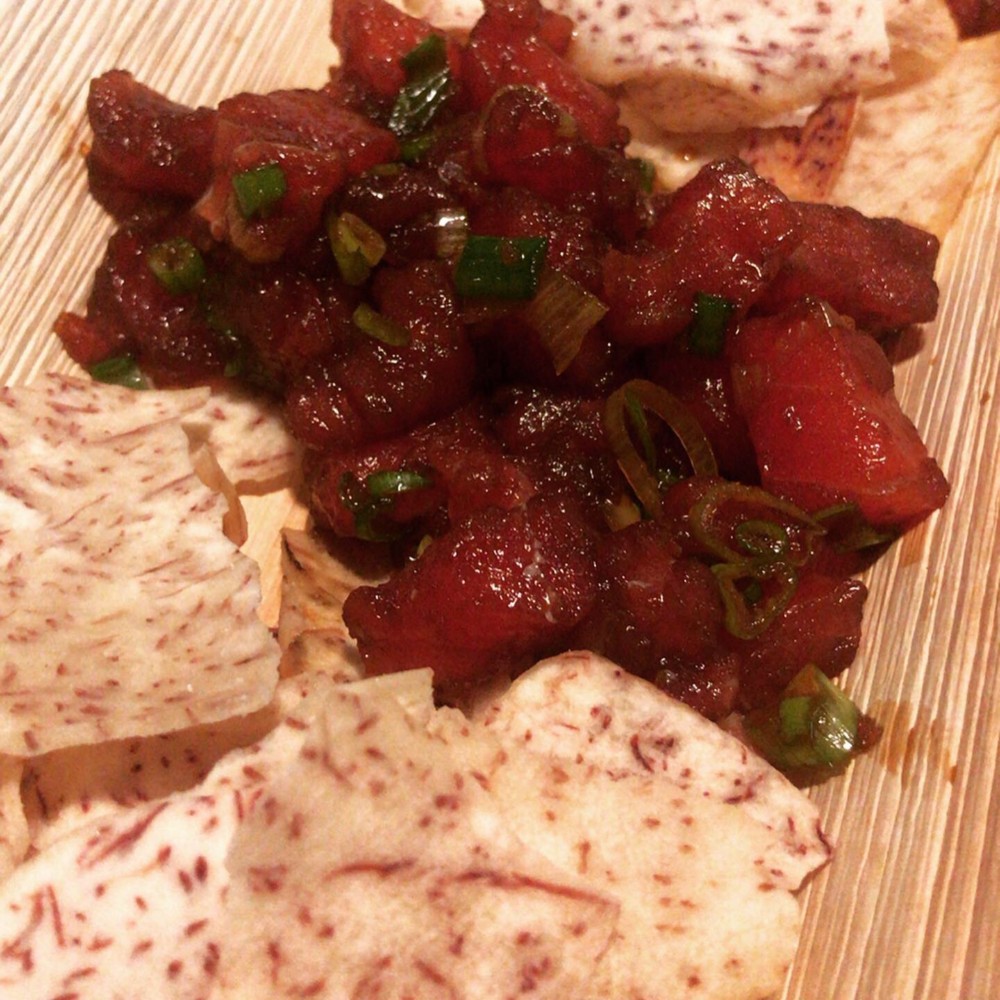 Dessert was coming.
West Palm Beach's totally plant-based restaurant, Stash House Market, was responsible for satisfying all of our sweet tooths with their vegan and gluten-free pie-style cookie, dubbed the Pookie, topped with triple chocolate ganache and chocolate chips.
Hi, my name is Shaina and I am addicted to Pookies.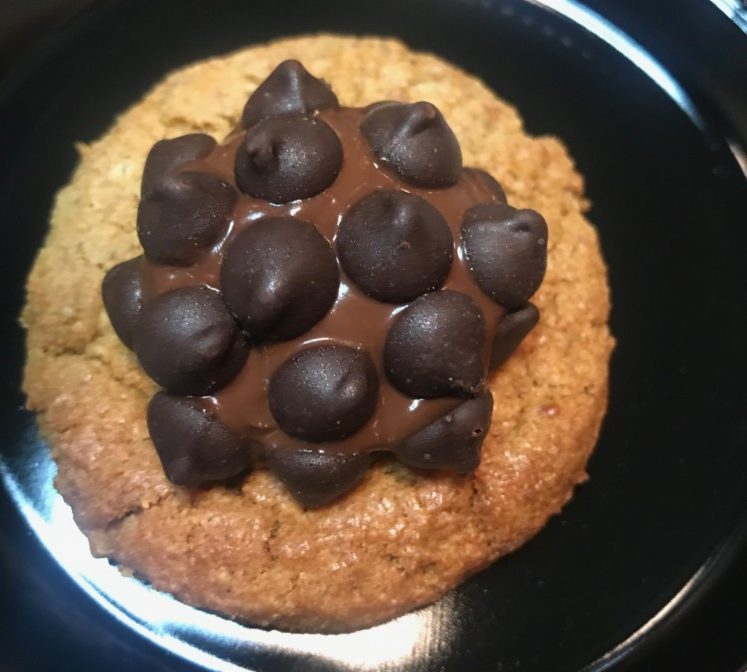 The texture of this pie-cookie combination was out of this world. Soft and chewy, tender and moist, with all the chocolaty deliciousness one could wish for. I am dying to visit Stash House just so I can indulge in one of these desserts again. I hear they make a dulce de leche flavor too…
District Farmers Market has some pretty talented vendors serving up all the goodies every Saturday at Grandview Public Market. While many come back each week, some vendors could be subject to change, so you never really know what you'll find! Next time you have a free Saturday morning or afternoon, I think a trip up to Grandview is in order!
Grandview Public Market is located at 1401 Clare Avenue in West Palm Beach. It's open Monday through Saturday from 7am-10:30pm, with District Farmers Market open in the parking lot from 9am-2pm. Grandview is also open on Sunday from 7am-8pm.