One of my absolute favorite kinds of food is Mexican. Mostly because I really love guacamole, salsa and crispy baked tortilla chips…and margaritas. Mexican cheeses are also divine — Cojita and Manchego…yum! I almost always order the same type of meal though, whatever kind of veggie enchilada is on the menu or sometimes a good salad with tons of Mexican throw-ins. And sometimes I just fill up on the chips and various dips and can't even bare to order real food. Yeah, that happens… You know it does to you, too.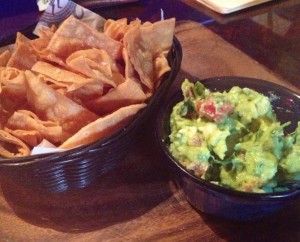 I rarely get tacos because I try to stay away from fried foods. Fish tacos, shrimp tacos, whatever you get…the seafood inside is usually coated in a thick, fried batter that takes away from all the flavor you get from the actual fresh ingredient when it's on its own. I also really dislike those crunchy, hard tacos. And the soft ones are sometimes super bland. I am very hard to please, I know. BUT…I have been introduced to a little restaurant in Lauderdale By The Sea that serves up pretty authentic Tex-Mex style cuisine and really impressed me with their tacos. JoJo's Tacos is an interesting place. The waiters and waitresses come to your table to explain the menu, tell you about the specials and deliver your meal, but they don't take your order. You have to order at the counter, get your own plates and silverware and *gasp* they don't have margaritas! Just beer, wine and homemade sangria. But despite these quirks, the food is insanely delicious. McKenzie originally wanted us to go there on Cinco de Mayo, but we ended up staying local. Ever since, I've been dying to go because he talks so highly about it. He totally wasn't exaggerating. We started with the guacamole because, well, duh. It was prepared just the way I like it with big chunks of guacamole and tomato generously portioned throughout the otherwise creamy dip. Guess what I ordered? Tacos! Not only do they have some of the most unique tacos I have ever heard of, but the soft corn tortillas are grilled until they have nice char marks and a good smokey taste. The tacos are $5 each, but believe me when I tell you, you really do not need more than 2. They are stuffed to the brim with fresh ingredients that will leave you feelingperfectly full and satisfied. I got the 'Shrooms and Asp' taco with crimini mushrooms, asparagus, corn, red onions, chipotle aioli, sprouts and Manchego cheese; and the 'Peachy Pollo' with peach-smoked chicken, corn and peach habanero aioli, romaine lettuce and Queso Blanco. That habanero aioli was SO good. I thought it might be too hot at first, but it was exactly the amount of heat I can handle before it gets uncomfortable. McKenzie got two of their new tacos on the Specials board: the ginger oxtail and blue cow. Obviously I didn't try either, but from the way he licked his plate clean, I have a feeling they were pretty good. The presentation of the tacos was right on par, too. Just look at this photo..beautiful!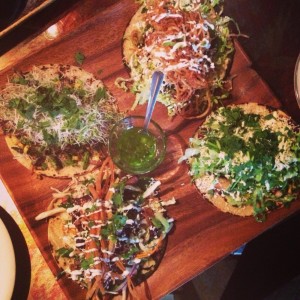 I have to go back there. There was a Mahi stew on the Specials board that sounded awesome and of course I want to try their ceviche. I had been toying between the tacos and the chicken and shrooms tostado so I've gotta try that sometime, too.
I was a little upset that I didn't have a margarita to enjoy with my Mexican fare, but the food was good enough to overcome my disappointment by a long shot. At least there was sangria. 🙂

Posted with Blogsy