NOTE: This restaurant has since closed.
For my family's last night here I had to take them to my favorite Greek place in Delray Beach. Greek Bistro is a family-owned restaurant that always leaves me feeling completely satisfied with my meal. I get something different every time I go and I have never been disappointed. First and foremost, I have to comment on the amazing hummus and pita they bring out to table. It's better than any hummus you could get in Publix or any grocery store, and truthfully it's better than I've gotten in other restaurants. Hummus can be made so many different ways, and everywhere you go it's going to have a different flavor and texture; finding your favorite is important when you love Greek food! We asked for some of the restaurant's tzatziki sauce, as well, and that was equally as delicious. The baked pita bread is best when served right out of the oven, with just enough crispiness and you can see the steam rising from the surface. 


Each entrée comes with a Greek salad or my family's personal favorite, the chicken egg-lemon soup. My Bubby, Aunt Patty, Uncle  Gary and I go to Greek Bistro a lot and every time they order the soup they rave about it as if it's the first time they're trying it; that's how delicious it is. Although I am partial to the Greek salad and always get that as my starter, the soup really is as good as they say it is. 
As always, I was the only one to order the salad while everyone else at the table got the soup. I just can't say no to the fresh taste of feta cheese, cucumbers, tomato, peppers, onions & Kalamata olives tossed in their house dressing. Maybe one day I'll switch it up…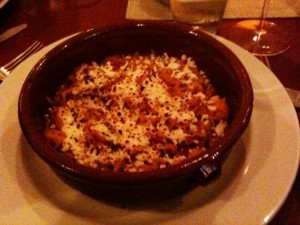 There is a lot to choose from when it comes to entrées. If you're feeling very Greek, you can order "From The Old Country," or if you aren't feeling too adventurous there are a few Italian options available, as well. There are also selections "From the Grill & Kebobs" and "Fresh From the Sea." I ordered the
Seafood Yuvetsi, a mix of shrimp, scallops & mussels with garlic, tomatoes, scallions, olives 
and feta cheese tossed with orzo. I liked the combination of seafood in this dish, and the flavors from the tomato and feta really paired well together. My Bubby got the Parmesan Crusted Tilapia with oven roasted potatoes, rice and vegetables, which is a blend of sautéed green beans and tomatoes. I tasted the tilapia and it was baked perfectly. The parmesan crust added such a distinct and flavorful taste to this otherwise bland fish. It also gave it a nice crunch with each bite. My aunt got the Stuffed Sole with oven roasted potatoes, rice and vegetables. This was the very first dish I ever had at Greek Bistro and the very reason I keep coming back for more. You can get the fish stuffed with a spinach and feta mixture or a crabmeat stuffing. I've tasted it both ways and love either one, but I'm partial to the spinach and feta mix because, as you can tell, I am a huge fan of this particular cheese.  My uncle got the Gyro Platter that comes with roasted lamb and beef, pita bread, tzatziki sauce and french fries.  My mom got the dinner portion of a Greek salad and added grilled shrimp. My dad and sister were on the same page with their order and both got the Chicken Kebob with bell peppers, onions, tomatoes and served with oven roasted potatoes, rice and vegetables.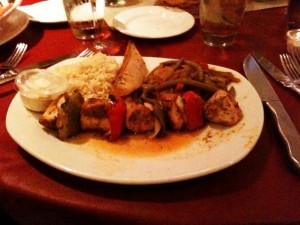 We don't usually get dessert when we eat here, but tonight was a special occasion so we ordered a few that sounded appealing. Right off the bat my sister and I were drawn to the Mouzo, chocolate mousse flavored with their ethnic drink, Ouzo. We got a piece of Baklava, which if you aren't familiar with the traditional Greek dessert, is made up of layers of phyllo dough filled with honey and ground nuts. One last dessert for the table was the Galaktoboureko, another classic Greek dessert with phyllo dough soaked in a lemon semolina custard. Although this pastry was a little too lemony for my taste, the rest of the table really enjoyed it. 
I would tell anyone who likes Greek food to try out Greek Bistro. It really has been a staple in my South Florida dining experiences and even inspired my sister to try her very first taste of hummus, and like it! She isn't very open-minded when it comes to trying new, ethnic food so this is a big deal. Everything from the warm and friendly staff to the quaint decor of the restaurant's interior makes Greek Bistro one of my favorite places to go for a good, quality meal.