This Greek Quinoa Salad is the perfect summer dish — you should always have good outdoor-friendly recipes for beach picnics, poolside parties, boat excursions, and any other sun-induced activities. Last month, I experienced my first Boca Bash — a huge party out on Lake Boca, where you will find just about anyone who has a boat or knows someone with a boat. You'll see everything from huge yachts to small sailboats to jet skis. Everyone swims from boat to boat, eating and drinking along the way and just enjoying themselves all day long. I was invited out on a family friend's boat. Everyone brought something to share with the group — fruit, sandwiches, veggies and hummus, chips and salsa, cocktail shrimp, cookies, beer, beer, and more beer. I wanted to make something refreshing and healthy to add to the mix. Greek Quinoa Salad seemed like the perfect addition to our spread.
This Greek Quinoa Salad is filled with all of my favorite things — quinoa, chickpeas, artichokes, cherry tomatoes, cucumbers, and feta cheese. One thing I like about summer salads are the colors. You have access to lots of beautiful bright food. I leave the skin on the cucumber to showcase the bright green (and I love the added crunch), and I made sure to grab a container of tomatoes that really popped with color.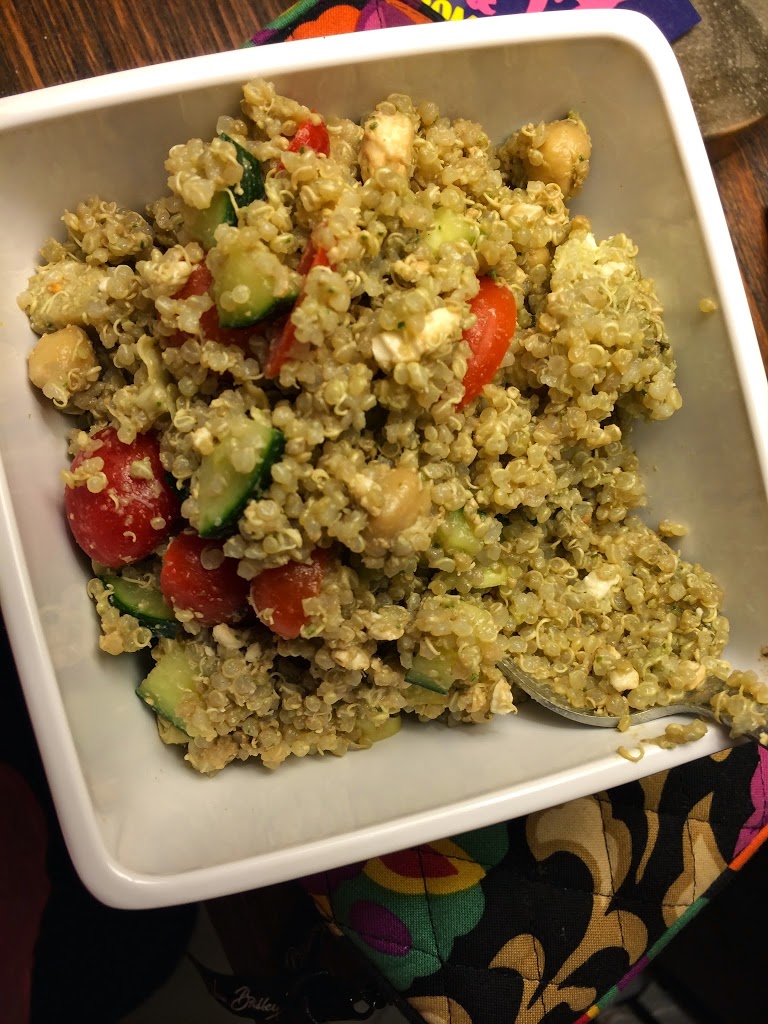 Once I assembled the salad, I knew I needed some kind of dressing but wanted to do something different than the usual balsamic and red wine vinegar mixture I normally use. I looked around the kitchen and found arugula, garlic, shallots, and pine nuts… Pesto! But there was no parmesan. I've never tried making a pesto without cheese before, but I had a feeling it would still work just fine. So I toasted up the pine nuts, threw everything together in my food processor, added a little olive oil and lemon juice, and voila! A spicy Garlic-Arugula Pesto was made. It added just the right amount of kick that this Greek Quinoa Salad needed.
My Greek Quinoa Salad with Garlic-Arugula Pesto debuted at Boca Bash and was met with rave reviews. Yay! I made a ton, so there was lots leftover for me to bring home. While I would have loved to hoard all this yumminess to myself, I had to share the love! I brought containers of it to two of my quinoa-loving friends Lauren and Shari. It was just as good the second day as quinoa salads usually are. As we enter the summer months, keep this Greek Quinoa Salad in mind for a side dish or a great vegetarian entree.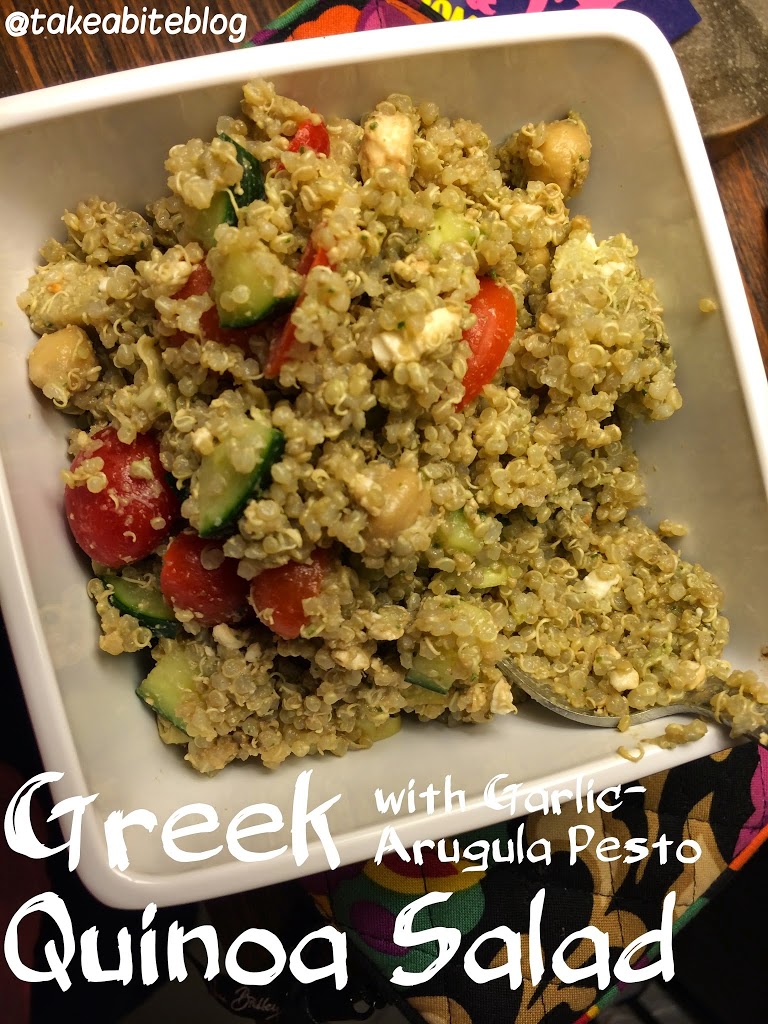 Green Quinoa Salad with Garlic-Arugula Pesto

For the salad
2 cups quinoa, cooked
1 12 oz. can chickpeas, rinsed and drained
1 12 oz. jar quartered artichokes in water, drained
2 cups cherry tomatoes, halved
1 medium English cucumber, small diced
1/2 cup Garlic-Arugula Pesto, recipe to follow
1 8 oz. container crumbled feta cheese

For the pesto
1/2 cup arugula, packed
4-5 garlic cloves
1 small shallot
1/4 cup pine nuts, toasted
1 tbsp olive oil
2 tsp lemon juice

In a large bowl, combine cooked quinoa, chickpeas, artichokes, cherry tomatoes, and cucumber. Store in an airtight container in the refrigerator.

Combine pesto ingredients in a food processor and pulse until a smooth, creamy consistency. You may need to add water gradually to thin it out.

Add prepared pesto and feta to the chilled quinoa salad and mix well.