I am still pretty new at this whole cooking thing, so every now and then things don't go as planned. I recently cooked a dinner of grilled chicken and a squash and zucchini casserole. The casserole came out great, but the chicken was a little overcooked. I have a fear of not cooking chicken well enough, so I overcompensate, and leave it on the grill too long. This is something I will continue to work on and eventually (hopefully) perfect. The chicken was saved by the pesto sauce in the casserole, so it still ended up being a very good dinner.


I seasoned the chicken breast with an Italian seasoning mix before putting it on the grill pan to cook. I also poured a little bit of lemon juice over top the chicken, as well. The casserole recipe was given to me by my friend, Ava. It's a delicious mix of yellow squash, zucchini, and sun-dried tomato pesto topped with parmesan cheese and breadcrumbs. I used her recipe as a guide, changing things here and there. I added mushrooms to the mix for added taste and the result was great. Not only did it taste good, but the colors mix beautifully together for a really pretty dish.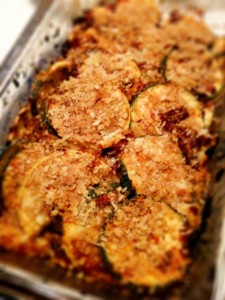 For my version of this squash & zucchini casserole you will need:
~1 cup baby bella mushrooms
Preheat the oven to 400 degrees. Slice your squash and zucchini into thin wheels and place in a bowl, along with the mushrooms, off to the side. To make the pesto, put about a handful of sun-dried tomatoes into a food processor, along with a tbsp of parmesan cheese and olive oil. I started out with a few tablespoons of olive oil and continued to add in more until the pesto reached the consistency I liked. Add the pesto to the bowl of squash, zucchini and mushrooms and mix well. After you've covered all the vegetables with the pesto, pour it into a shallow baking dish and put in the oven for 20 minutes. Take it out and sprinkle with parmesan cheese and breadcrumbs and place back in the oven for another 20 minutes.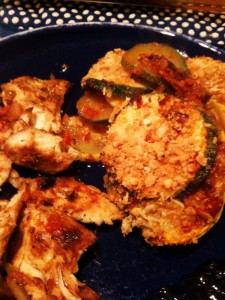 This is a really tasty dish that was easy to prepare. The pesto could be used for a variety of other foods such as chicken, meat, pasta, etc…


The best part about the casserole dish is that it's light and healthy. An Italian-inspired dish like this one has potential to be loaded with cheese, making it pretty heavy. I opted to only use a small amount of parmesan in the pesto, and a sprinkling on top of the veggies and left out the other cheeses mentioned in the original recipe. Despite the chicken being a little on the tough side, it was still good with the pesto from the casserole poured over top. The pesto worked to tenderize the chicken and give it more flavor. Dinner was paired with my absolute favorite wine, Riesling. I love a good, sweet white wine, as I have mentioned before, and Riesling never fails to give me just that.