Never miss a bite! Sign up here to receive new recipes and reviews straight to your inbox.
Welcome to Wine Pairing Weekend! I'm sharing sweet and spicy Grilled Mango-Sriracha Shrimp, Pineapple and Peppers with a glass of my favorite white wine, Burg Layer Schlosskapelle Spatlese Kerner. David from Cooking Chat invited me to participate in this week's Wine Pairing Weekend — a group of bloggers sharing suggestions for wine to pair with their recipe. I've picked up a few things about wine pairing this past year because of all the events I've attended — I've learned that sweet white wine is best paired with spicy, and that's exactly what I'm bringing to the table today. My favorite wines are light and refreshing, with flavors that linger on your tongue long after you've taken your last sip. I love a bubbly Moscato di'Asti, a citrusy Sauvignon Blanc, and a dangerously sweet Riesling. Rieslings are my top choice, especially when they are from Germany. Germany does sweet white wine like no other. I discovered my favorite German white wine at my roommate's wine tasting party last year right before I moved in. The Burg Layer Schlosskapelle Spatlese Kerner — aromas of apple and pear, subtle flowery notes, and a delicate sweetness make this $30 bottle of wine totally worth every single penny. I don't buy expensive bottles of wine (my budget stays under $12). Luckily, when you go to a wine tasting and everyone likes a particular wine, you usually end up buying a case and splitting up the bottles, making it a few bucks cheaper.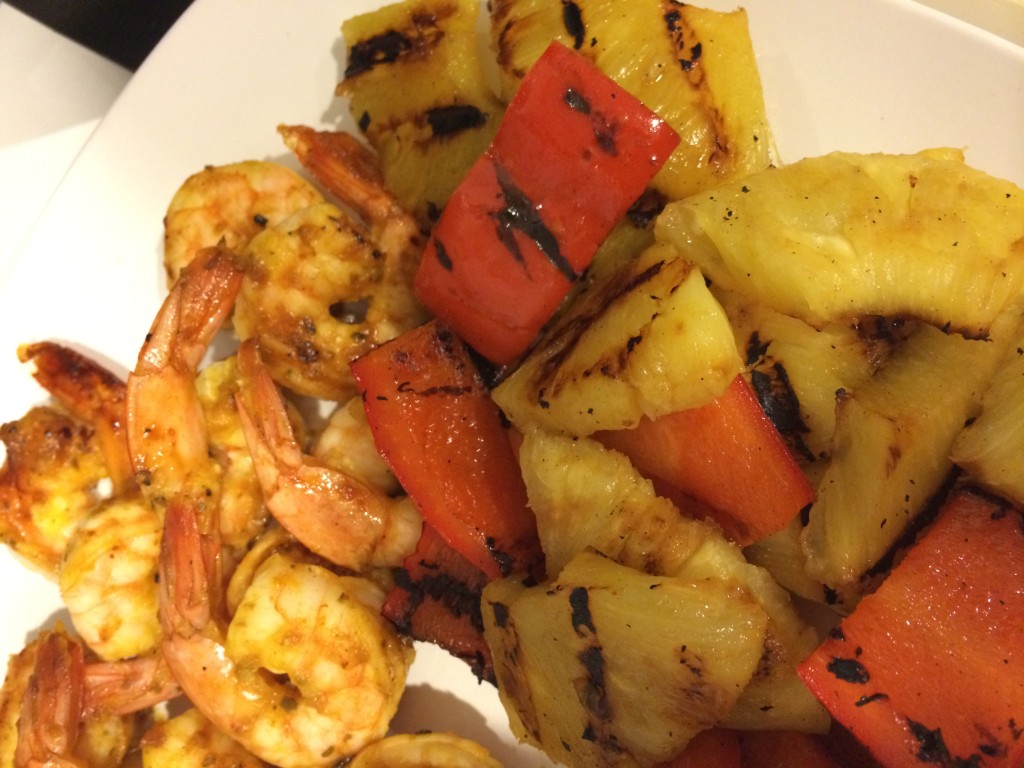 Regardless, this wine is a must-try for anyone who shares my love for sweet whites (Riesling especially). And because I know sweet wines go well with spicy foods, I knew this would be perfect with my Grilled Mango-Sriracha Shrimp, Pineapple and Peppers. With all the mangos I've been getting lately from my friend, I'm enjoying coming up with different ways to use them. While I do love eating this juicy fruit by itself, I couldn't resist making it into a marinade for grilled shrimp. It could be used as a dipping sauce too! Ohh the possibilities…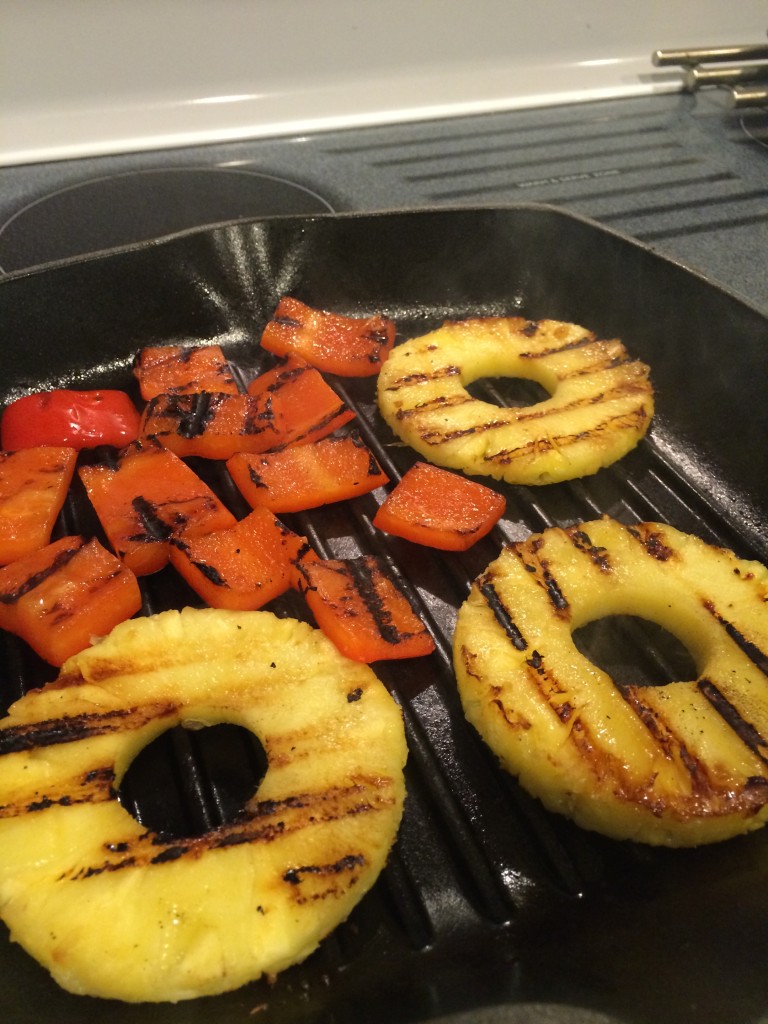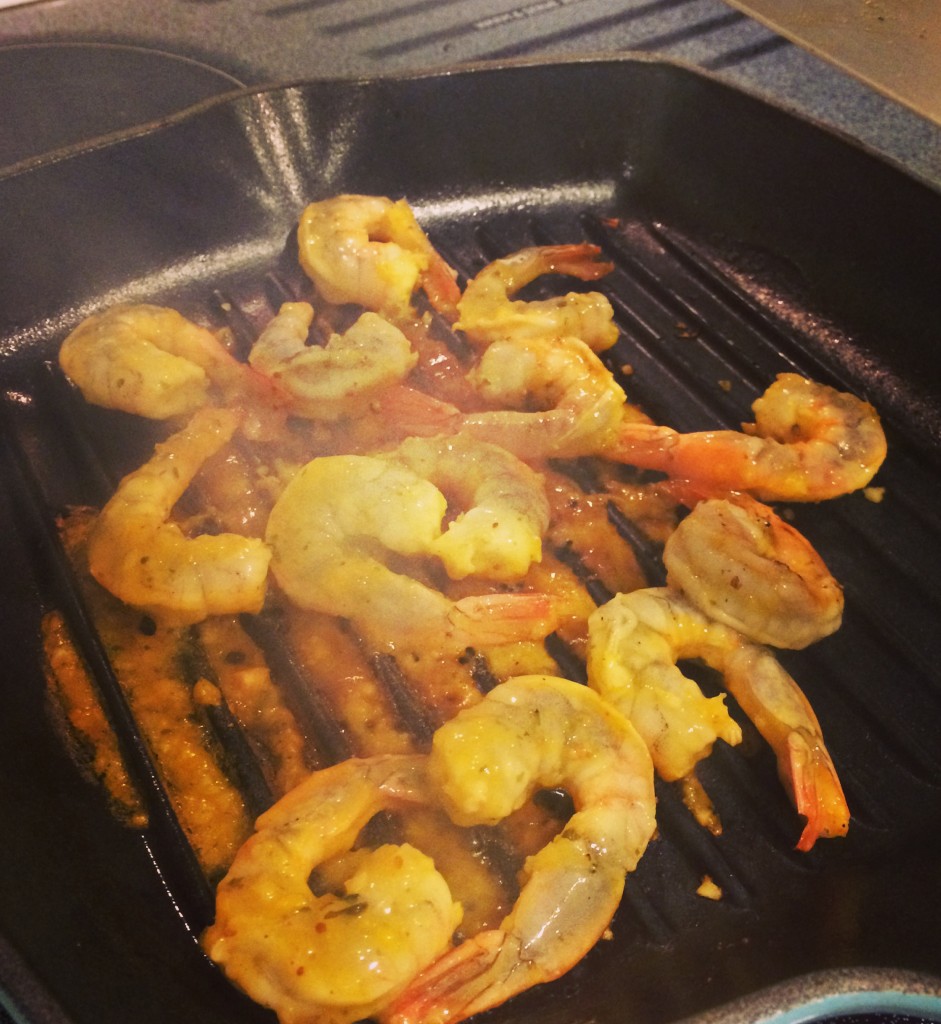 Mango goes great with pineapple, and pineapple is amazing on the grill. To keep things nice and colorful, I threw in some red and yellow bell peppers too. The Mango-Sriracha sauce is a burnt orange color with little green specks of cilantro laced throughout. Spicy sriracha, zesty lime, sweet honey, and a little hint of garlic impart some serious flavor onto these shrimp. I let them marinate for a few hours so the flavors really sunk in. I was a very happy camper when it came time for dinner. Spatlese in my wine glass and Grilled Mango-Sriracha Shrimp, Pineapple and Peppers on my plate.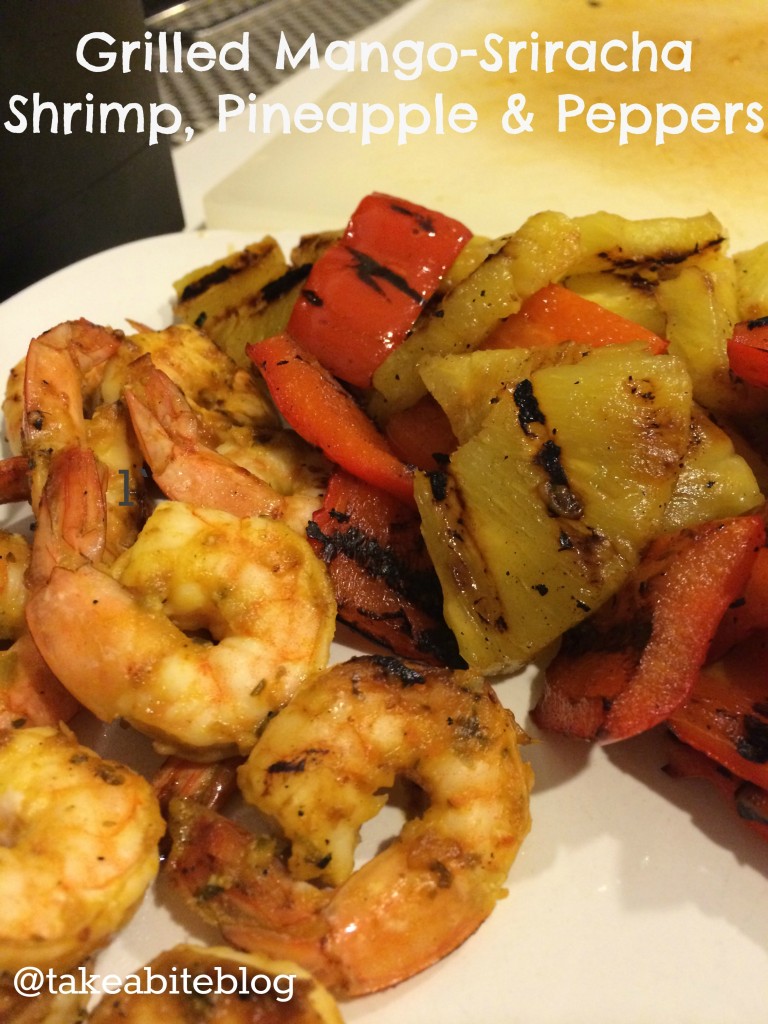 [yumprint-recipe id='7′]It looks like I wasn't the only one in a seafood-state of mind. Be sure to check out the great pairings my fellow bloggers have come up with for the July Wine Pairing Weekend!
Culinary Adventures with Camilla posted "Green Fig Ice Cream + Cambiata Albariño"
Vino Travels — An Italian Wine Blog shared "Orzo salad and Trebbiano d'Abruzzo"
Curious Cuisiniere posted "Grilled Trout paired with a Tropical Fruit Viognier"
ENOFYLZ Wine Blog paired "Ceviche and Tablas Creek Picpoul Blanc"
Take a Bite Out of Boca shared "Grilled Mango-Sriracha Shrimp, Pineapple and Peppers paired with Burg Layer Schlosskapelle Spatlese Kerner"
foodwineclick shared "Steamers and Cava on the Porch"
Confessions of a Culinary Diva blogged about "Aperol Spritz"
Cooking Chat paired "Grilled Salmon with Mango Salsa and a White Burgundy"
Join the #winePW conversation: Follow the #winePW conversation on Twitter throughout the weekend and beyond. If you're reading this early enough, you can join us for a live Twitter chat on our theme "Refreshing Summer Wine Pairings" on Saturday, July 12, from 11 a.m. to noon Eastern Time. You can also visit our group Pinterest board to pin some great pairing ideas for later! Stay tuned for the August Wine Pairing Weekend, which will focus on "Wine for Summer's Bounty" on Saturday, August 9.