Never miss a bite! Sign up here to receive new recipes and reviews straight to your inbox.
Disclosure: This post is sponsored by Florida Peaches. Product information has been provided by the sponsor. As always, all opinions are 100% my own. Follow Florida Peaches on Facebook and Instagram for more information.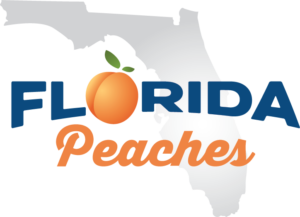 BBQ season is upon us! That means you're going to need some tried-and-true recipes for the grill. This Grilled Peach Salsa, featuring a short-and-sweet ingredient list of fresh Florida peaches, jalapeño, tomatoes, lime and cilantro, will become your new favorite party chip dip!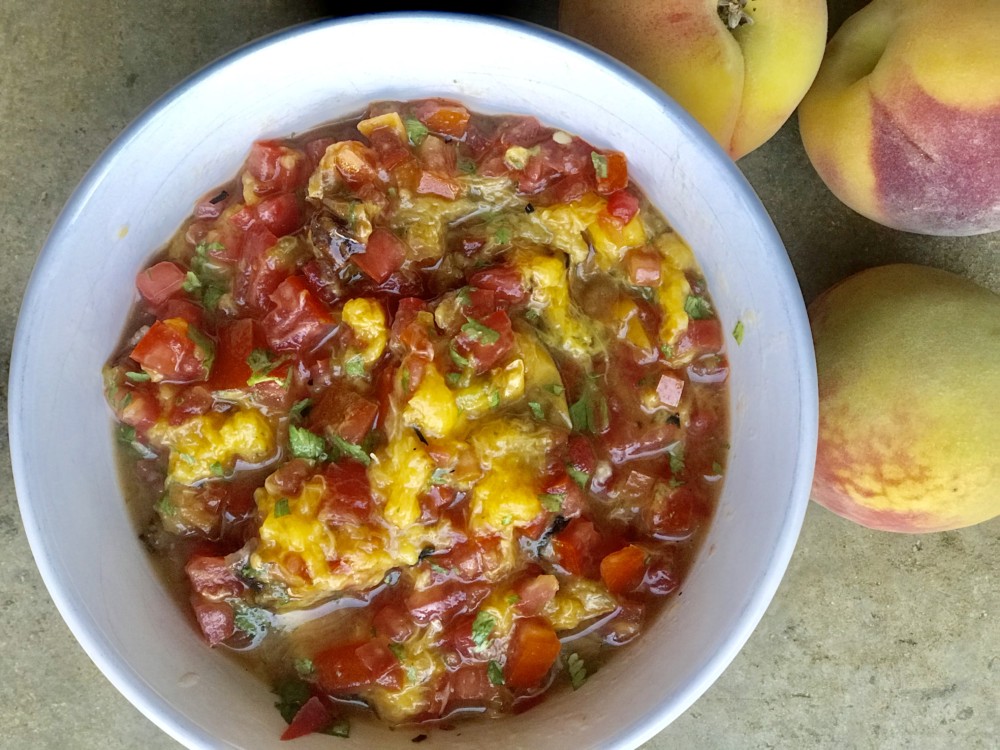 Florida peach season is extremely short, this year only lasting from the last week of March to mid-May. There's still a couple weeks left of season, so head to your local grocery store and stock up — you're going to want to make a big batch of this Grilled Peach Salsa! If you're having trouble finding fresh Florida peaches, you can always check with the produce manager to see if they have any shipments coming in.
Florida peaches are a bit smaller in size than the peaches you may see from other states, but that's what makes them ideal for an afternoon snack, or your kids' school lunches. Pro tip for these smaller-sized peaches on the grill: watch carefully as you flip them over to make sure they don't slip through the cracks!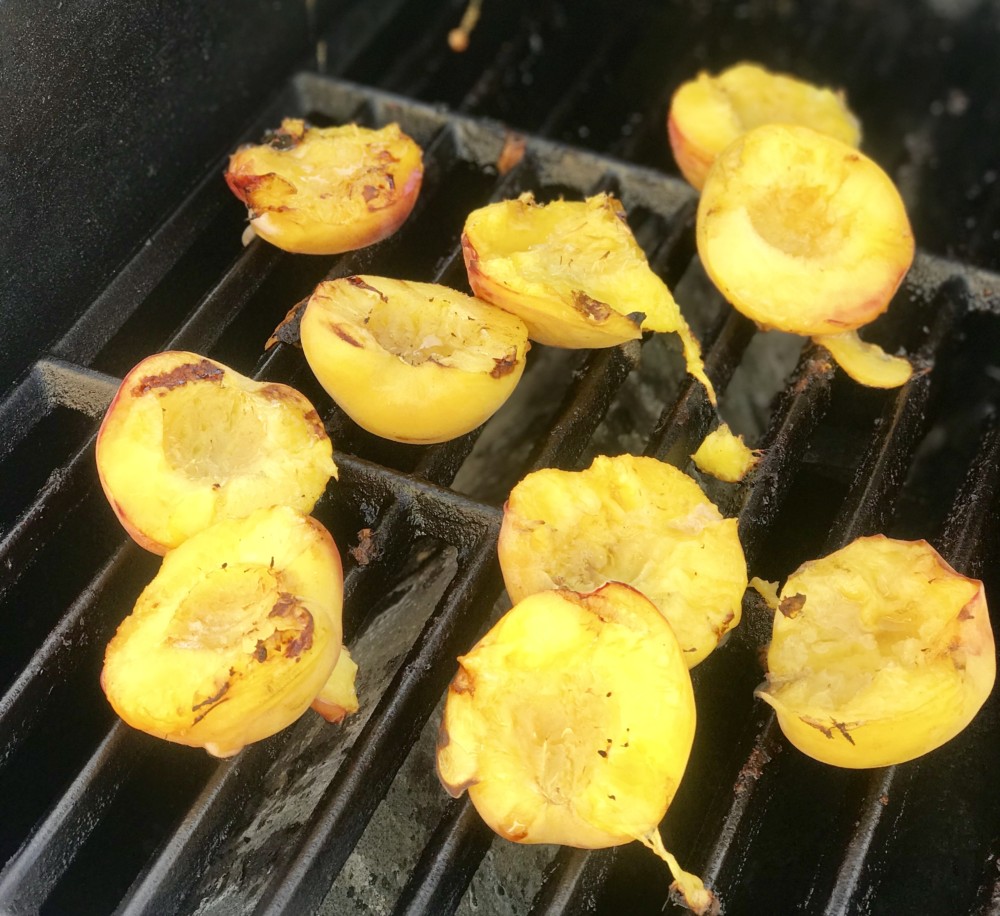 Did you know that peaches have a ton of health benefits? They are rich in beta-carotene, which helps lower cholesterol, antioxidants that fight off free radicals, vitamins A and C to improve skin and vision, and they are a great source of fiber, which assists in lowering the risk of colorectal cancer.
Now that I've given you the low-down on all things peaches, it's time to add fresh Florida peaches to your grocery list, and get grilling!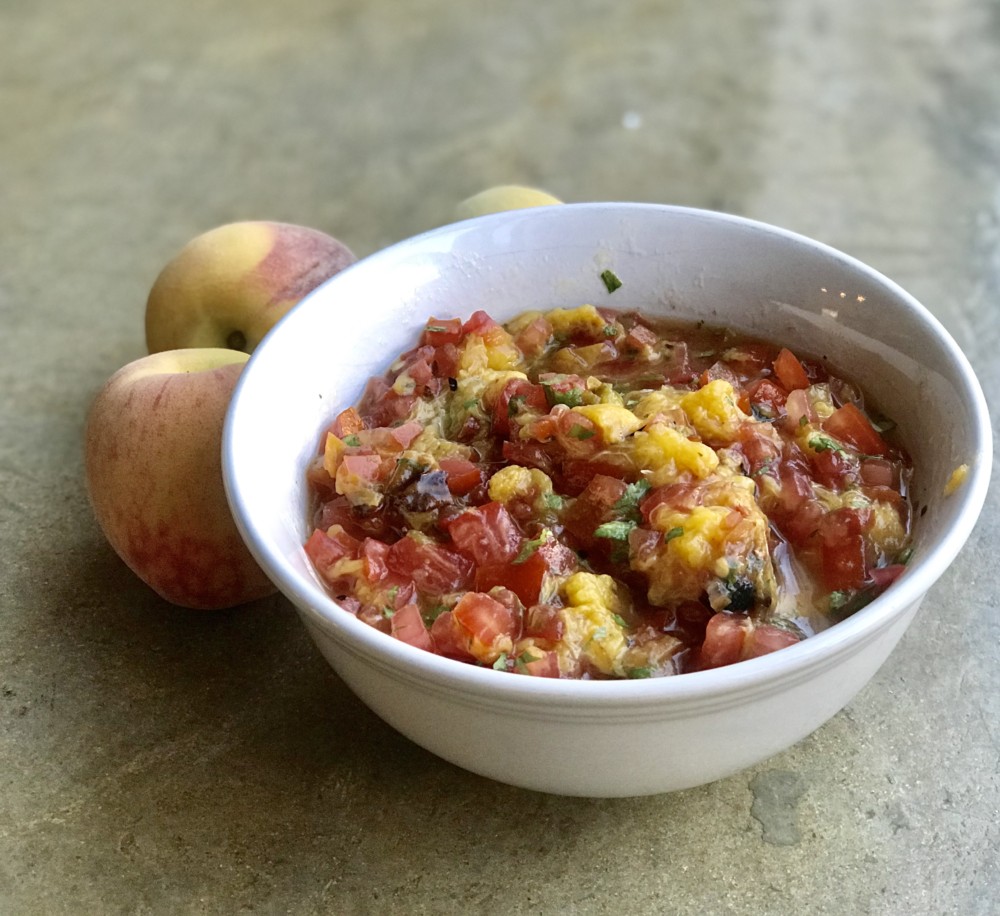 You're going to want to throw your jalapeño on the grill along with the peaches. Grilled jalapeño has a much sweeter, more subtle flavor than when used raw. If you like things spicy, then go right ahead and leave 'em as is! I prefer the depth of flavor that the cooked jalapeño adds to this salsa, but that's the beauty of home-cooking — you can easily adapt a recipe to make it your own!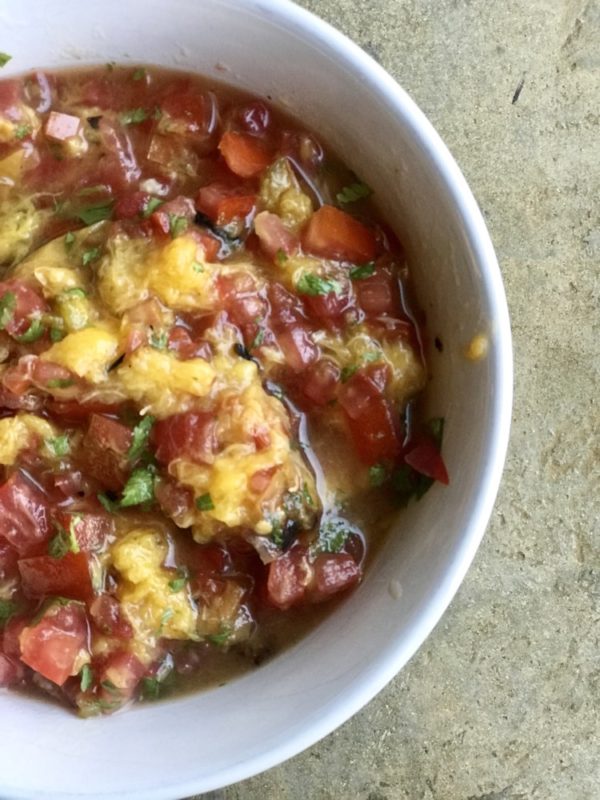 I left the ingredient list simple so the fresh Florida peaches were the star of the show — and that they were. All you need to do after grilling the peaches and jalapeño, is dice up a couple tomatoes, chop up some cilantro, and add a little fresh lime juice and salt to the mix, and you've got yourself the perfect BBQ recipe to share with family and friends.
Not only is it a great topping for your favorite kind of chips or crackers, but it makes an awesome burger or hot dog condiment and would taste delicious with a piece of grilled salmon or shrimp skewers.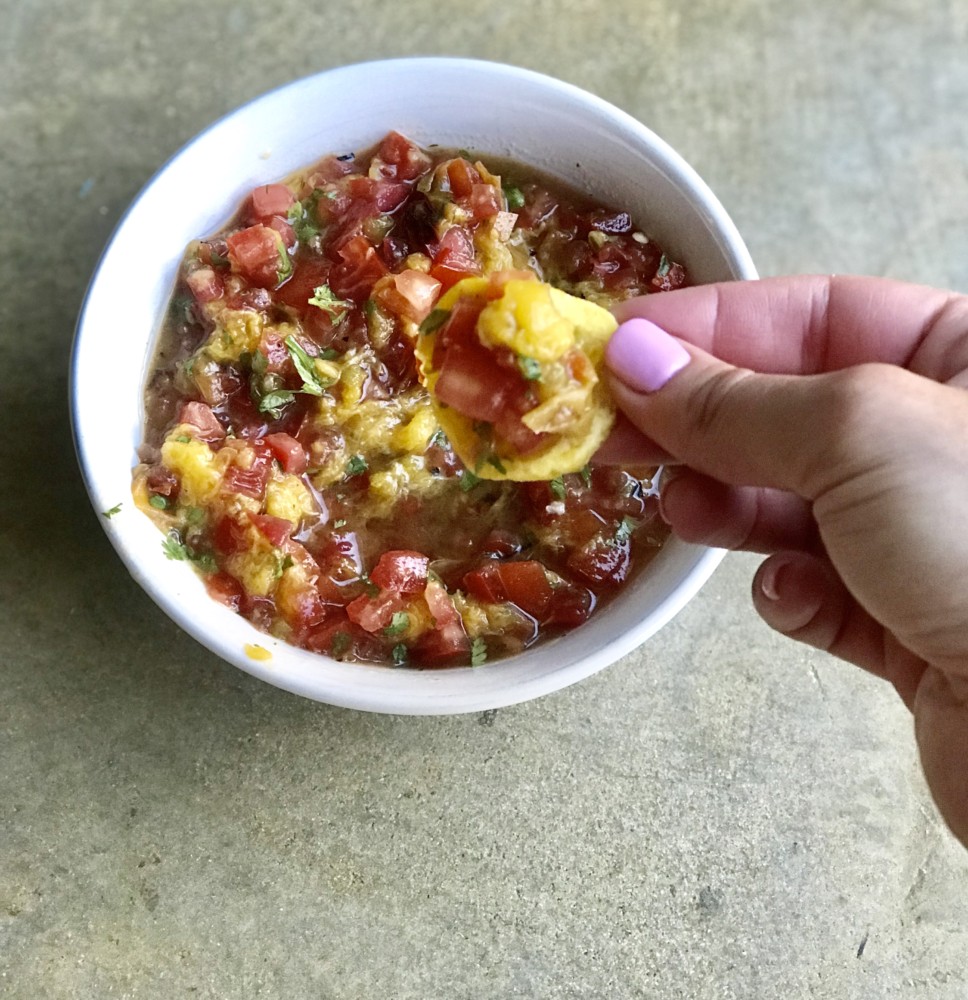 Grilled Peach Salsa is bound to become one of your go-to party recipes. Make sure to head out ASAP to pick up those fresh Florida peaches before season comes to a close!
Grilled Peach Salsa
Author:
This Grilled Peach Salsa, featuring a short-and-sweet ingredient list of fresh Florida peaches, jalapeño, tomatoes, lime and cilantro, will become your new favorite party chip dip!
Ingredients
5 Florida peaches, sliced in half, pit removed
1 small jalapeño
2 large beefsteak tomatoes, seeded and diced
1-2 teaspoons fresh lime juice
1 tablespoon chopped cilantro
Sea salt to taste
Instructions
Heat up the grill to desired temperature.
Place peaches, face down, and jalapeño on the grill.
Close the lid and allow the grill to do its work, checking every so often.
While the peaches and jalapeño are grilling, add diced tomatoes, lime juice, cilantro and salt to a large bowl and mix well.
Once the peaches and jalapeño have visible grill marks and the flesh has softened, remove immediately and let cool for 1-2 minutes.
Carefully slice open the jalapeño and discard of any seeds.
Chop into very small pieces.
Cut the peaches into small pieces (the peaches will be mushy, which is the right kind of consistency you want for the salsa).
Add the jalapeño and peaches to the bowl, and combine all ingredients until mixed well.
Serve warm right away, or refridgerate until ready to use.