Who's ready for a little Pepper Partyin'? I am so excited to be joining Christine and a bunch of our blogger friends for a #PepperParty with our wonderful sponsor, Divemex! The growers of Divemex specialize in greenhouse grown peppers in state of the art facilities anywhere. But most importantly, as a Fair Trade Ceritified company, they have an unwavering commitment to social responsibility that puts workers first. Give them some #PepperParty love on Facebook!


I would suggest going out right now and stocking up on some beautiful red, yellow and orange peppers because you are about to get bombarded with pepper recipes! Everyone will be sharing three pepper-ific recipes throughout the week. Tonight launches the big #PepperWeek party! Join us for our tweet chat tonight from 8-9pm Eastern Time. There will be some great prizes given away during the chat. Use the hashtag #PepperParty to enter to win one of 10 Divemex Pepper Corers and 2 Veggie Grill Racks.




Speaking of prizes, we'll be giving away an extra special prize during each of our posts this week. Today we are giving away a Le Creuset 3 1/2 quart Signature Braiser, worth $240! Make sure you scroll down to the bottom of the post and fill out the rafflecoptor below to be eligible to win today's prize!
Now onto today's pepper recipe! I hate green peppers. When Christine told us our sponsor uses mainly red, yellow and orange peppers I was extremely happy and relieved. I just don't think green peppers have much flavor. I find yellow and orange to be the sweetest; they are my favorite to eat raw. I adore red peppers for roasting and grilling; roasted red peppers are insanely delicious. Eek! This is making me hungry for peppers. For my first #PepperParty recipe, I wanted to share a light, healthy salad packed with all different kinds of flavors. The shining stars, of course, are grilled red, yellow and orange peppers.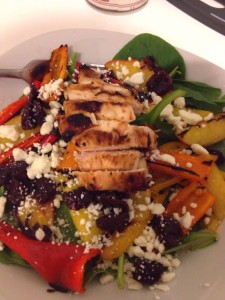 Grilled Pepper and Peach Salad with Honey Balsamic Vinaigrette
½ red bell pepper, seeds and stems removed, sliced
½ yellow bell pepper, seeds and stems removed, sliced
½ orange bell pepper, seeds and stems removed, sliced
½ chicken breast
1 medium peach, sliced
1-2 handfuls of fresh spinach leaves
¼ cup dried cherries
¼ cup feta cheese
1 tbsp balsamic vinegar
1 tbsp honey
2 tsp Dijon mustard
2 tsp extra virgin olive oil
Heat up your grill. Spray a vegetable grilling-pan with cooking spray and place the peppers and peaches in the pan, then place on the grill. Put the chicken directly on the grill. Cook until done.
Once the chicken, peppers, and peaches are grilled to your liking, start to build your salad. Place the spinach in a bowl and layer in the peppers and peaches. Add in the cherries and feta. Slice your grilled chicken and place right on top.
To make the vinaigrette, whisk together the last four ingredients listed. Adjust quantities of each as needed.
Drizzle the vinaigrette over top of the salad and marvel at its beauty before you toss together and devour!


a Rafflecopter giveaway