My dad paid me a visit this past week. While we did have a couple nice dinners out, which I will be sure to blog about soon, he ventured out on his own for lunch during the day while I was working. Much to his surprise, he found a little place in Deerfield Beach that specialized in his hometown favorite: the Philly Cheesesteak. He wrote a post on the place, and asked if he could be a "guest blogger" to which of course I agreed. So here you go; meet Barry, my awesome father and first guest blogger!
Having been born and raised in South Philly, I grew up on steak sandwiches, and have never missed an opportunity to have one. If I'm in a restaurant that has them on the menu, I'm all over it. And I can say that I've never met a steak sandwich I didn't like. 
While in Boca Raton, visiting my daughter, Shaina, the food blogger, I heard a radio commercial extolling the virtues of genuine "Philly cheesesteaks" at a sandwich shop called Direct From Philly in Deerfield Beach. I went to their website

www.DirectFromPhilly.com

to get their address,  popped it into the GPS, and made my way out to their S. Military Trail location. As I approached my "final destination," according to the voice of my GPS, I noticed an ad for the shop on a roadside bench that said it was located in the Chevron station coming up on my right. I pulled into the driveway next to the station and looked, but didn't see it. I looped around and made another pass by the station, and this time saw a small sign that pointed me to the food mart next to the gas pumps. The sign on the window told me I'd found it. 
When I opened the door, the aroma was overwhelmingly familiar, and there it was, over in a corner of the store – the grill! Standing over it was the cook, Matt,  from Norristown, just northwest of Philly (close enough).  I introduced myself and was greeted by the owner, Steve, who isn't from anywhere near Philly. He's a Florida guy. He told me the story of how the shop came to be, and showed me the Amoroso rolls and the meat, which came directly from Philly. I couldn't wait to try one. I ordered a "Whiz wit," which to those of you unfamiliar with the terminology, means a cheesesteak with onions. The usual cheese on a cheesesteak is called "Wiz" or Cheez Whiz, a thick, processed cheese spread marketed by Kraft Foods. I prefer regular Swiss cheese instead, which Matt gladly provided. I added a basket of fries and told him it was "to go," to be eaten after I picked up my daughter from work. She would pick up her dinner from a nearby deli, then we'd go home to eat.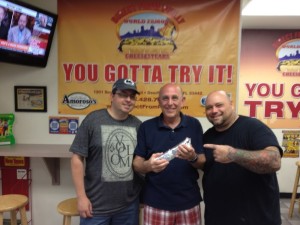 After having our picture snapped (I'm in the middle, flanked by Steve in the hat, and Matt, with a hairline like mine), Steve asked me to let him know how I liked the sandwich, and we said our goodbyes. The drive back to Boca was agony. The smell of the cheesesteak and fries was so good, it drove me crazy till we made it home, where I popped them in the oven. 
I wasn't disappointed. The steak and the fries were great – a real taste of South Philly right here in Florida. I sent off an email to Steve giving him a big "thumbs up." I wished him luck with the business, promised I would spread the word, and told him I'd be back next time I'm here. 
-Barry