Today I'd like you all to welcome Julie from The Texan New Yorker! Julie's a transplant from one big city (Dallas) to the next (NYC). She, like me, started out as a pretty picky eater and has transformed into a foodie with an appreciation for every morsel we put in our mouths. From someone who couldn't even have her fork touch two different kinds of food, I totally understand what it's like to be a finicky eater. Julie and I both made the change in our twenties, using Food Network as our guide. It's funny how a lot of us start out in such similar ways. It's no wonder our passions coincide!

Julie loves New Orleans, so it was only fitting that she guest post for me whiel I'm there! She is paying homage to my trip with a very NOLA-inspired recipe, Creole Meatball Po'Boys!

Make sure to follow Julie on Facebook, Twitter, and Pinterest!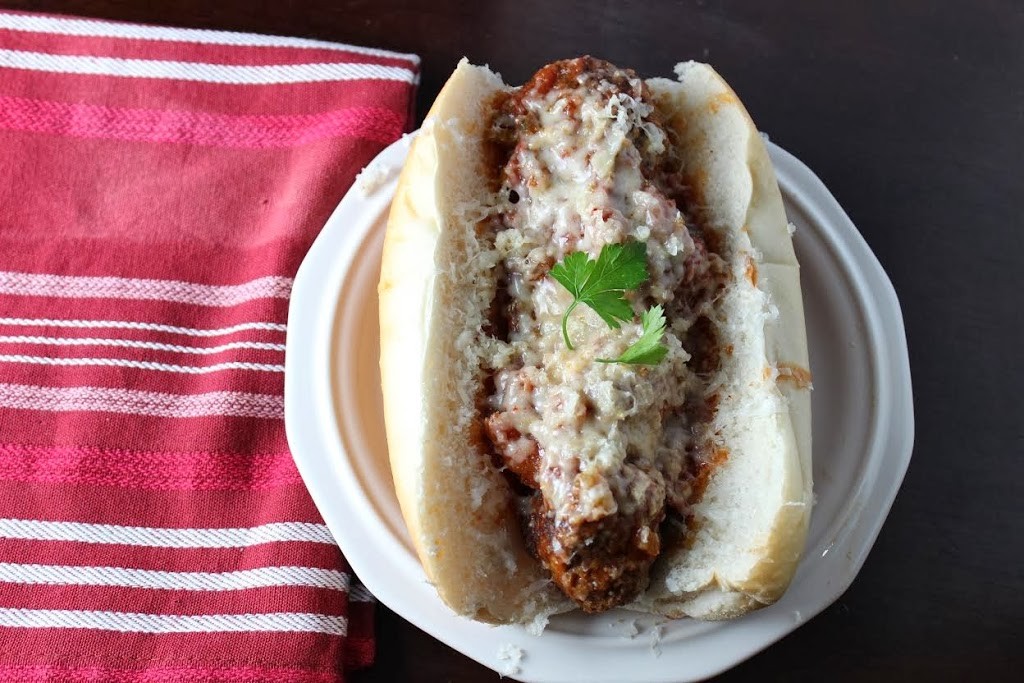 Hello to all of Shaina's lovely readers! I'm very honored to be guest posting for her today while she's off enjoying one of the greatest cities in the US. Yep, New Orleans. Oh, words cannot describe how much I love that city… I have such a history with that place, and I try to get back there once every couple of years. I know this is a very tall thing to say, but I really do think that New Orleans is the best culinary city in the United States. Every time I'm there I stuff myself silly.
Since Shaina is in the heart of Cajun country, it seemed only appropriate to make some NOLA cuisine for her blog today! Nothing says New Orleans like a po'boy, and when Shaina requested meat, a Creole meatball po'boy *easily* became the order of the day.
These are unbelievably delicious; meaty, saucy, messy, flavorful, moist and tender… so amazing. If you're looking for a hearty sandwich to warm up your winter, please look no further. They are distinctly Creole, but not terribly spicy. If you cannot find proper po'boy bread, I'd recommend buying some nice soft hoagie rolls. You want something substantial enough to hold the meatballs, but soft enough to capture the po'boy spirit.
Thanks so much to Shaina for letting me post for her while she's away! I hope y'all have enjoyed it as much as I have, and I hope y'all enjoy this delicious recipe!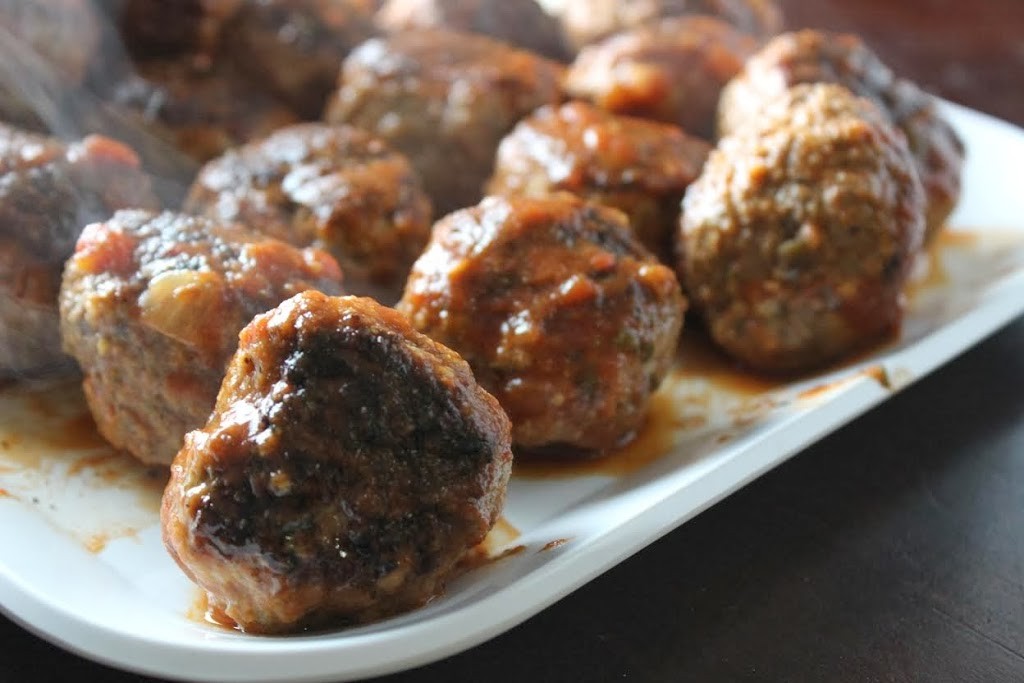 Creole Meatball Po'Boys
Source: adapted from The Southern Po'Boy Cookbook by Todd-Michael St. Pierre
Ingredients:
1 green bell pepper
1 medium yellow onion
2 stalks celery
1 jalapeno pepper
8 cloves garlic
1 lb. ground beef
1 lb. hot Italian sausage, casings removed
1 tbs Creole seasoning
1 tbs plus 2 tsp dried Italian seasoning blend, divided
1 tbs plus 1 tsp garlic powder, divided
1 tbs plus 1 tsp onion powder, divided
Kosher salt and black pepper
1 tsp sweet paprika
2 large eggs, beaten
1 cup fresh bread crumbs
1 cup grated Parmesan cheese
¼ cup heavy cream
1 tbs olive oil
2 tbs Louisiana style hot sauce
½ cup chopped fresh Italian parsley
1 (6 oz.) can tomato paste
1 (28 oz.) can crushed tomatoes
2-3 cups beef stock
3 bay leaves
4 po'boy sandwich loaves, or other hoagie rolls
Pepper jack or Monterey jack cheese
Directions:
Cut the bell pepper and onion in half. Chop half of each vegetable and set aside. Cut the remaining half into chunks and toss in a mini food processor. Chop one celery stalk, and set it aside with the reserved pepper and onion. Cut the other into chunks and throw it into the food processor. Cut the jalapeno in half. Remove the seeds if desired. Mince half of it, and add it to the reserved veggies. Chunk up the remaining half and toss it into the food processor. Smash and peel all the garlic cloves. Mince 4 of them and set aside. Toss the remaining 4 into the food processor. Process the veggies until very finely minced, but they don't have to be pureed.
To a large mixing bowl, add the beef and sausage. Now add the processed veggies, the Creole seasoning, the 1 tbs Italian seasoning, 1 tbs garlic powder, 1 tbs onion powder, salt and pepper to taste, the paprika, eggs, bread crumbs, parmesan, and heavy cream. Using your clean hands, blend the mixture together until it's uniform, but be careful not to overmix, as this will produce tough meatballs. Set the mixture in the refrigerator for 10-15 minutes.
Heat the olive oil over medium-high in the largest skillet you have, or you can use a Dutch oven. Wet your clean hands, shake off the excess water, and start forming meatballs. You want your meatballs to be on the large side, but not insane. Mine were about 2 inches; picture forming a meatball around a golf ball and that's about the size you're aiming for. As you form the meatballs, place them in the hot skillet to sear them. You may need to work in batches, which is fine – don't overcrowd them or they'll steam.
Sear the meatballs on one side, then carefully flip and sear the other side. Remove the meatballs to a plate and set aside.
Lower the skillet heat to medium. Assess the amount of fat in the pan and add a little more olive oil if necessary. Now add in the chopped bell pepper, onion, celery, and jalapeno. Sauté until the onion is softened and translucent. Add the reserved minced garlic and cook 1 minute more. Add the hot sauce, remaining teaspoons of Italian seasoning, garlic and onion powders, plus the parsley and tomato paste. Stir to combine and cook about 3 minutes. Now add the crushed tomatoes, beef stock and bay leaves. I'd recommend starting with 2 cups of stock and then adding more if needed. Carefully slide the meatballs into the sauce, in as much of a single layer as possible.
Bring the sauce to a gentle simmer and let it go about 20-30 minutes, until it has thickened somewhat and the meatballs are cooked through.
Assemble the sandwiches. Split open your sandwich breads, but do not toast them – po'boys are never on toasted bread. Place 4 meatballs in a neat little row on the bread, then spoon some sauce over (being careful of the bay leaves, of course). Using the smaller, finer holes of a box or handheld cheese grater, quickly grate some pepper jack cheese over each sandwich. The heat from the meatballs and sauce will melt the cheese. Serve immediately.