While I am seriously sad to say today is the last day of my trip to New Orleans, I'm happy that I have one last guest post for you! Tara from Noshing With The Nolands
is here sharing a slow cooker recipe unlike any post you've ever seen on Take A Bite Out of Boca: CHILI. As someone who doesn't eat meat, I have never posted an authentic chili recipe (although a vegetarian chili recipe is totally happening soon). Tara is one of my Sunday Supper friends, and is actually the first person for whom I have ever written a guest post! Thank you, Tara, for returning the favor and helping me out today while I'm traveling. Without further ado, here is Tara and her Slow Cooker Chili…
I am so thrilled to be posting over here at Take a Bite out of Boca. I am Tara from Noshing With The Nolands. Shaina asked for a few guest posts as she is off to wonderful New Orleans (okay I am a bit pea green with envy as I have never been). Shaina has helped me out just recently with these delicious Rum and Eggnog Spiced Cookies and I am very happy to return the favor. I know her from our many posts together at #SundaySupper and I love all of her wonderful recipes that she shares with you.
Today I thought I would share with you a very easy and delicious slow cooker chili recipe. This is one I have made many times on the stove top but I decided to make it even easier and put it in the slow cooker. I love letting it bubble away all day filling my home with all of it's aromas. Such a hearty and fulfilling bowl of goodness waits you at the end of the day.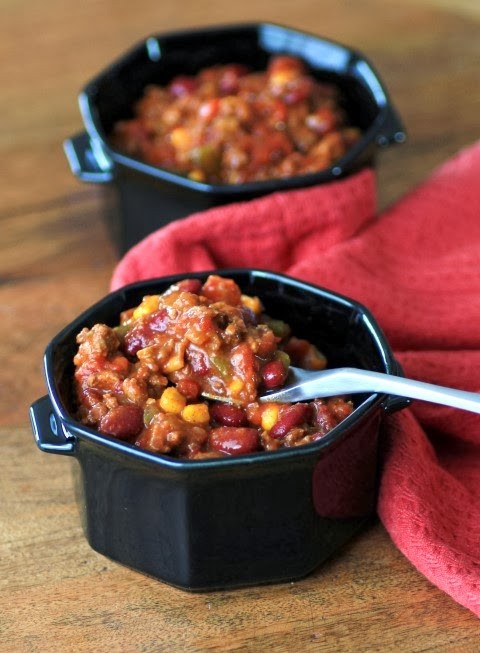 I do not like the beans cooked in the with the chili all day, I find they get mushy and undesirable, so I put them in, in the last 40 min. along with the corn so they still hold there shape. This is a really flavorful chili with a little heat or should I say warming. You can always amp that up if you like it hot, hot, hot. I hope you try this chili and love it as much as we do. ENJOY!!!
Slow Cooker Chili

Ingredients
1 1/2 lbs. extra lean ground beef
2 Chorizo or Hot Italian sausage, removed from casings
1 Tbsp. chili pepper paste
1 tsp. smoked sweet paprika
3 cans (540 ml. or 19 oz.) diced stewed tomatoes with chili seasonings
2 cans (415 ml or 14 oz.) kidney beans, rinsed and drained
1 cup frozen corn, thawed
In a large skillet brown ground beef and chorizo sausage until cooked through. Place the meat into a large slow cooker. Brown the onion and garlic until the onion is translucent. Place it in the slow cooker. Add the remaining ingredients, except the kidney beans and the corn and stir well. Simmer on low for 6-8 hours. In the last 40 min. add the beans and corn and stir. Make sure it comes up to a simmer for 30 min. then serve with fresh bread or tortilla chips.
I bet all my meat-eating readers are in heaven right now! Thanks, Tara, for the meaty recipe 🙂 Make sure you guys follow Tara on her blog, Facebook, Twitter, Pinterest and Google+!
I hope you guys have enjoyed the guests on Take A Bite Out of Boca and are now following their blogs, too! I'll be back on Monday with a review of a great new restaurant in Delray that I visited while my sister was in town last week…