Never miss a bite! Sign up here to receive new recipes and reviews straight to your inbox.
Disclosure: I received complimentary tickets to attend Halloween at The Addison. As always, all opinions are 100% my own. 
Halloween at The Addison is back for its fourth year, this time bringing you a Neon Nights theme with glow-in-the-dark event production, Five-Star-Diamond award-winning food, open bar and specialty craft cocktails, live music and entertainment and more!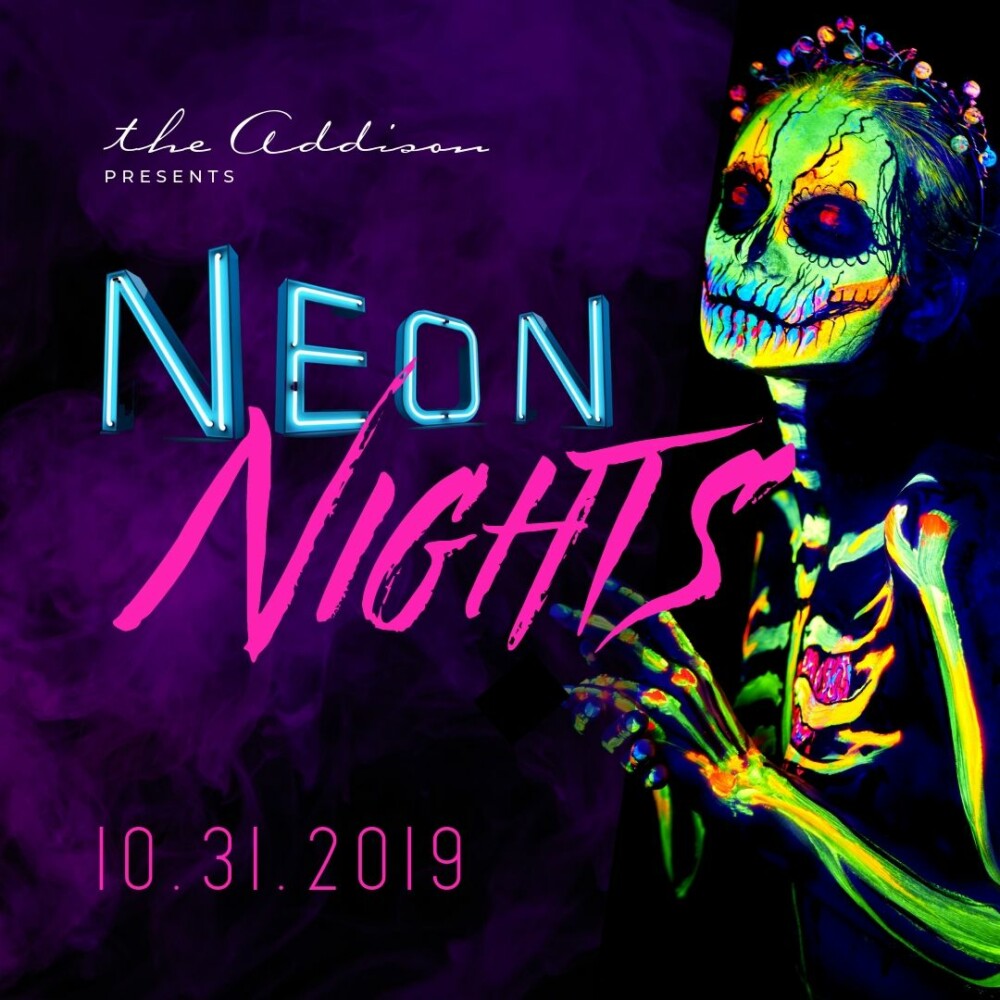 The event takes place on Halloween night from 7:30pm-midnight, and has been voted "Event of the Year" by Boca Magazine — and it truly does live up to the hype. The costumes and decor are over-the-top, the food is outrageous and the entertainment is always wild and exciting.
Tickets are still available, but they always sell out, so get 'em now while you still can! General admission is $125 and includes all food, drinks and entertainment. Food stations and bars are located throughout the venue. This year the menu includes:
Taco, nacho and guacamole bar: carne asada, grilled chicken, soft flour and crunchy corn taco shells, tortilla chips, pico de gallo, salsa verde, a variety of fresh toppings and made-to-order guacamole.
Jambalaya station: chicken, shrimp and smoked Andouille sausage sauteed with the Holy Trinity, cajun spices, tomatoes, okra and white rice.
Empanada station: chicken, beef and vegetarian with avocado aioli, chimichurri and pico de gallo.
Candy and dessert station.
VIP tickets are also available for $250. VIP access includes a three-course, tableside dinner, champagne bottle service and complimentary valet parking. Contact The Addison directly to inquire about reserving a group table for up to 10. Dinner will be served promptly at 8:30pm. The VIP dinner menu includes:
Appetizer: tapas station with shrimp ceviche cups, fresh-to-order guacamole, pico de gallo, tortilla chips and tequila shooters.
First course: butternut squash risotto served with lemon grilled asparagus and drizzled with chermoula sauce, served with potato gratin dauphinois and haricot vert.
Second course: filet mignon with tequila-poblano chili sauce and broiled lobster tail with clarified butter.
Third course: mini champurrado (a traditional Mexican chocolate drink that is thickened with ground maize flour and spiced with cinnamon, clove and whole anise) and tres leches.
This event wouldn't be possible if it weren't for the awesome sponsors who help make the magic happen — Daniel Events, Costume World, Boca Raton Magazine, Munoz Photography, Timeline Video Productions, Mr. Greens, and Cheney Brothers.
I've been attending Halloween at The Addison since it began four years ago, and I plan to continue the tradition for as long as possible. Go get your tickets now!
The Addison is located at 2 East Camino Real in Boca Raton. Halloween at The Addison takes place on Thursday, October 31st from 7:30pm-midnight. More information and tickets are available at addisonhalloween.com.