It's officially Halloween at our house. The decorations have finally gone up.Cobwebs are all over every mirror, candelabra and front door. We've got a jar full of skeleton heads, scarecrows and witches galore, and an enormous spider web taking over the entire wall of our foyer, complete with a giant spider right in the center. Yep, you can bet I have a heart attack every time I walk out of my bedroom. Halloween not only calls for scary and fun decorations, but it also means an abundance of CANDY. Every food blogger's dream! We finally have an excuse to stock up on candy and chocolate, not to mention access to seasonal flavors we'll never find any other time of the year. Like the newest M&M'S flavor to hit the shelves — pumpkin pie spice! M&M'S maker, Mars, Inc., never fails to wow us with new flavors for just about every occasion. What will they come up with next?

I miss Trick or Treating. My neighborhood was always one of the best places for trick or treaters in my town. There was one guy who transformed his whole backyard into a big haunted house and gave out the huge family size candy bars. I remember coming home with my pillow case full of candy and dumping everything out on the dining room table. I'd separate the Paydays and pretty much everything with nuts for my dad (I was a weirdo back then and didn't like nuts!). Everything else would go in a big bowl for me and my mom and to pick through. It only got better once Rebecca was old enough to start Trick or Treating. Now we'd have TWO bowls! Yay for sugar overloads!
One of my all-time favorites has always been 100 Grand bars, but they are sometimes hard to find. I usually only find them in fun size variety packs. Of course I'll always love Reese's Peanut Butter Cups, especially when they're shaped like a pumpkin. Reese's shapes always taste better. They have more peanut butter, I swear!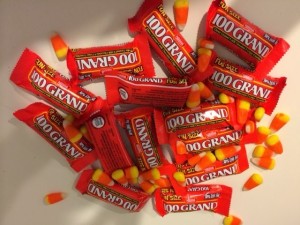 All this candy talk is making me hungry… I can feel my pants getting tighter as I type…

In honor of this chocolate- and candy-obsessed holiday, I'm making you some Halloween Fudge! I got the idea from Aimee at Shugary Sweets. She made a Halloween Fudge Ring with all kinds of goodies: candy corn, Oreo cookies, chocolate chips, butterscotch chips, and another one of M&M'S crazy flavors: white chocolate candy corn. My recent trip to Target left me with some Halloween candy fixings. You'll never guess what I found. A whole bag of JUST 100 Grand bars!!!! Let's celebrate my favorite Halloween candy by putting it to good use in Halloween Fudge!




I love Aimee's recipes; Shugary Sweets is always one of my go-to blogs when I'm looking for desserts to make. If you have even the slightest sweet tooth, you'll definitely want to check out her site.
I'm also bringing this Halloween Fudge to the #ChocolateParty. I recently joined Roxanna and a bunch of other bloggers all equally in love with chocolate as I am. Every month has a new theme for our chocolate concoctions. October's theme is, very fittingly, Candy.



What's your favorite Halloween candy?
Halloween Candy Fudge
12 oz. semi-sweet chocolate chips
1 14 oz. can sweetened condensed milk
6 mini 100 Grand bars, chopped into small pieces
1 cup candy corn
Line mini loaf pans with foil. Grease the foil with cooking spray.
Microwave the chocolate chips and sweetened condensed milk, 30 seconds at a time. Stir after every 30 second period. Do this until the chocolate chips are melted. Stir until smooth. Fold in the chopped 100 Grand bars and pour into the prepared mini loaf pans. Top with candy corn.
Cover with foil and refrigerate for at least 3 hours.