Purim has come and gone, but that doesn't mean I can't share these cookies with you. Hamantaschen are a Purim tradition: triangular-shaped cream cheese dough cookies filled with prunes, various kinds of fruit preserves, or poppy seeds, or if you're me, you also stuff them with things like chocolate, peanut butter and Nutella. (Raspberry preserves shown below)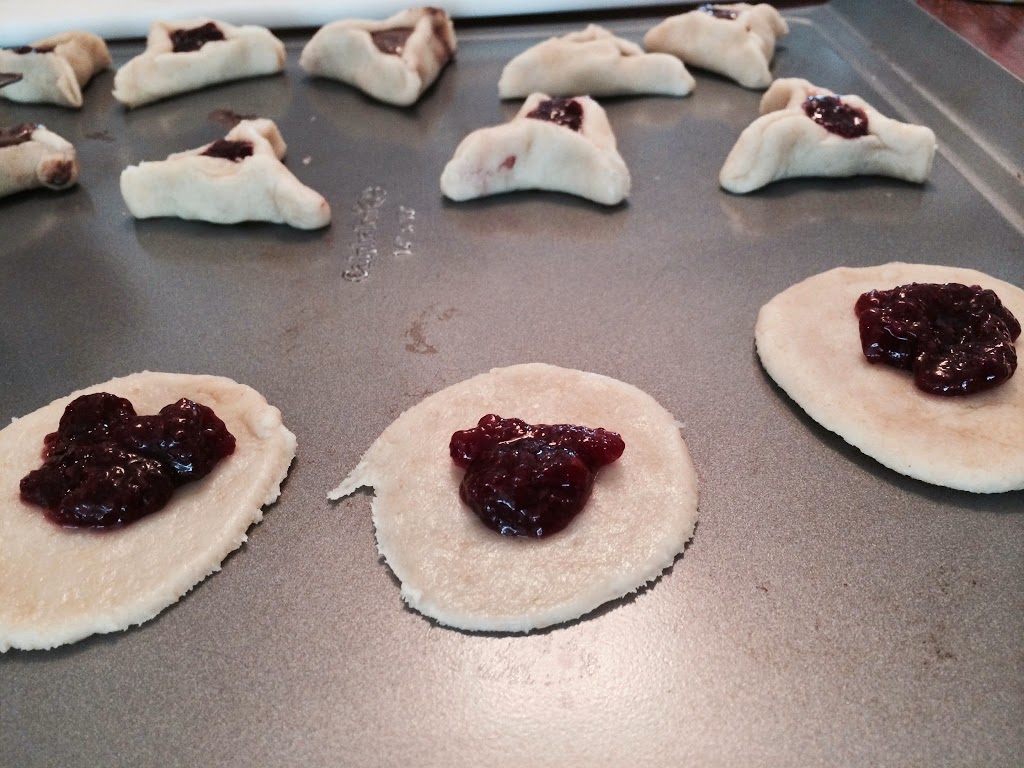 Purim was this past weekend; it commemorates the Jews escaping the awful plans of bad-guy Haman, a Persian king and total anti-semite. The triangle shape of these Hamantaschen are said to represent the three-cornered hat worn he wore; or, in a more biblical explanation, the three founders of Judaism: Abraham, Isaac and Jacob. Queen Esther, with the help of Mordechai, was able to shut down Haman's plan and save the Jews.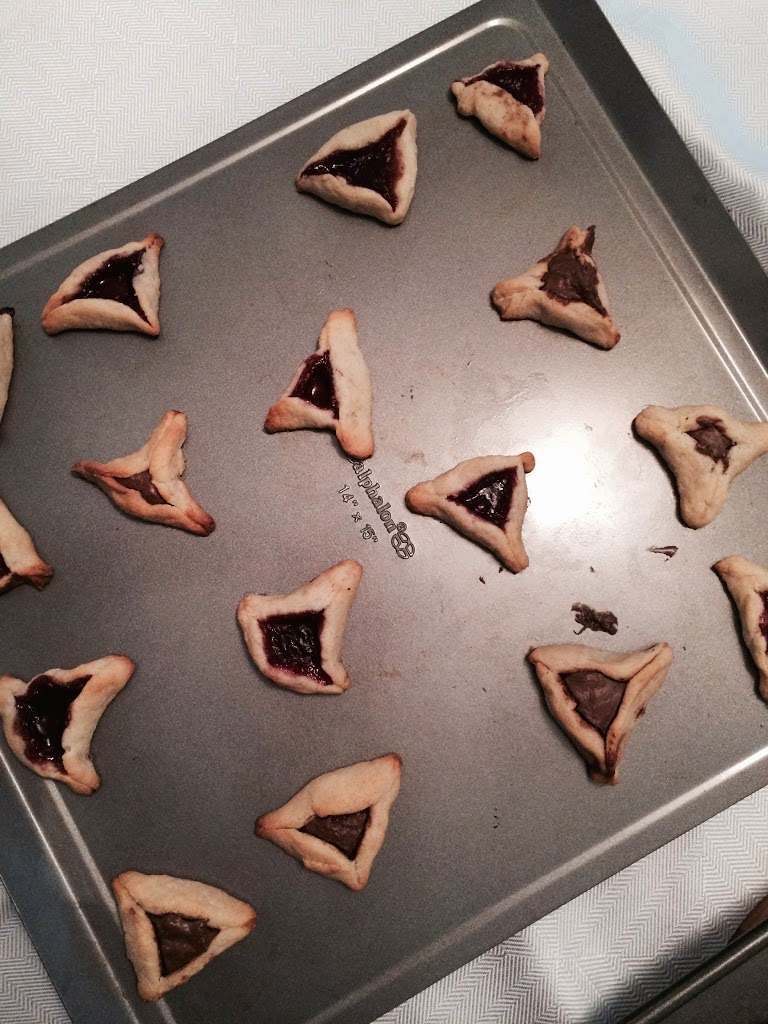 I'm not trying to get all religious and preachy here, but I have always been a fan of this holiday. It's a big celebration, full of lots of food and drinks and fun. (It's pretty appropriate that it just so happened to land during St. Patrick's Day weekend.) My synagogue back home always puts on a play telling the story of Purim during services; this year, my dad played Mordechai! I can't wait to see the video. After services, there is a big carnival and all the kids dress up as their favorite Purim character.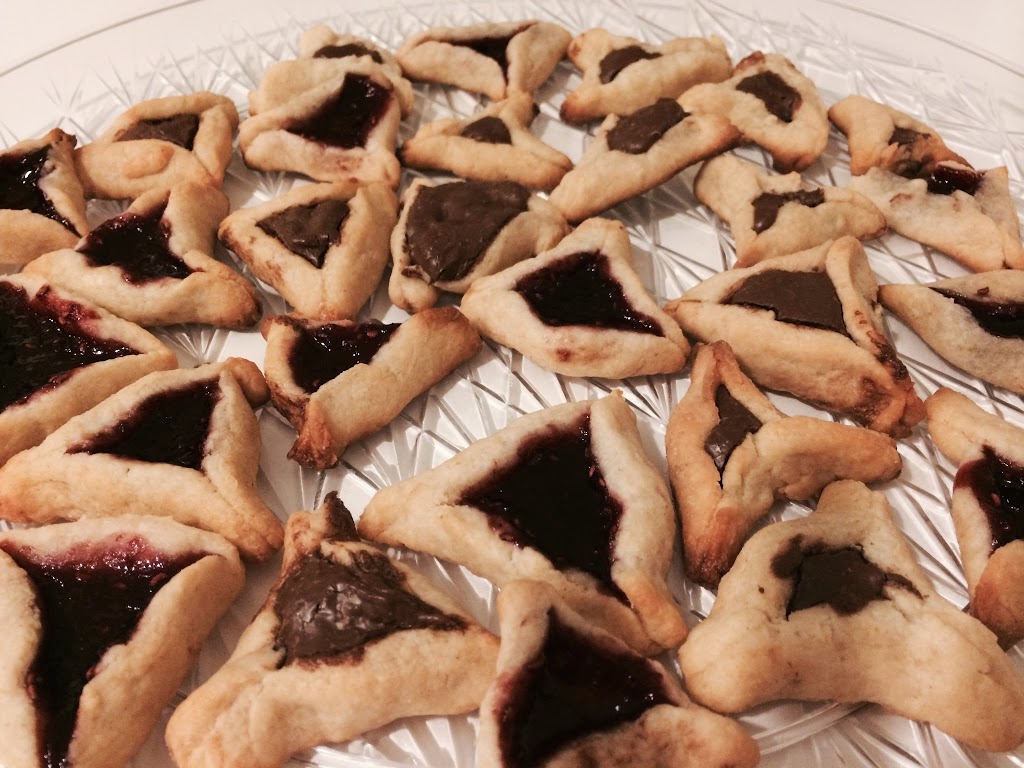 I've never let a year go by where I don't indulge in Hamantaschen during Purim, so in honor of this celebratory day, let's make some cookies!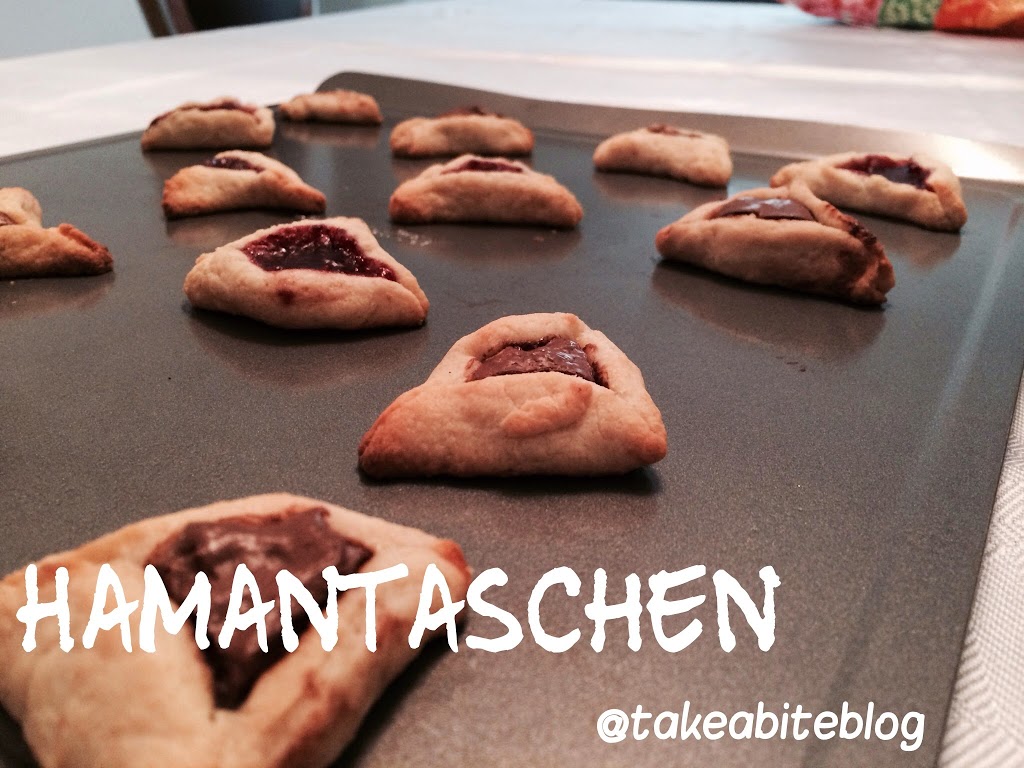 Hamantaschen

4 oz. reduced fat cream cheese, softened
8 oz. (1 stick) unsalted butter, softened
1/4 cup sugar
1 tsp vanilla
1 cup flour
1 egg white, beaten

I used raspberry preserves and Nutella for the fillings. Use whatever you prefer!

Beat together the cream cheese, butter and sugar in the bowl of a stand mixer until fluffy. Add the vanilla. Add flour and mix until well combined. Flatten the dough into a disc and place in plastic wrap. Refrigerate for at least 30 minutes.

Roll out the dough about 1/4″ thick onto a large floured surface. Use a small round cookie cutter to cut out circles. Reroll dough and continue to cut out circles until you've used all of the dough.

Place a teaspoon of filling in the center of each dough round and brush the edge with egg white. Pinch together three corners to form a triangle shape. Transfer onto a baking sheet and chill in the refrigerator for 30 minutes.

While your cookies are chilling, preheat the oven to 350 degrees. Once the cookies have chilled, bake for 18 minutes or until the edges have browned.