Never miss a bite! Sign up here to receive new recipes and reviews straight to your inbox.
Disclosure: I was invited to dine at DaVinci's as a guest of the restaurant. No monetary compensation has been received for this post. As always, all opinions are 100% my own.
In celebration of DaVinci's of Boca's one-year anniversary, the restaurant is rolling out brand new menu items and introducing their new Executive Chef, Ardany Rivas. Chef Ardany worked at the DaVinci's restaurant in Marco Island, FL, and now will oversee the culinary operations right here in Boca Raton.
I was invited to get a sneak peek at some of the new items from Chef Ardany before the public could get a taste — and I can tell you, guests are in for a delicious treat! My foodie friend, Denise from Savor Our City, joined me for the Italian feast. We visited DaVinci's together last year not too long after they opened and had a wonderful experience, but we were excited to see and taste something new!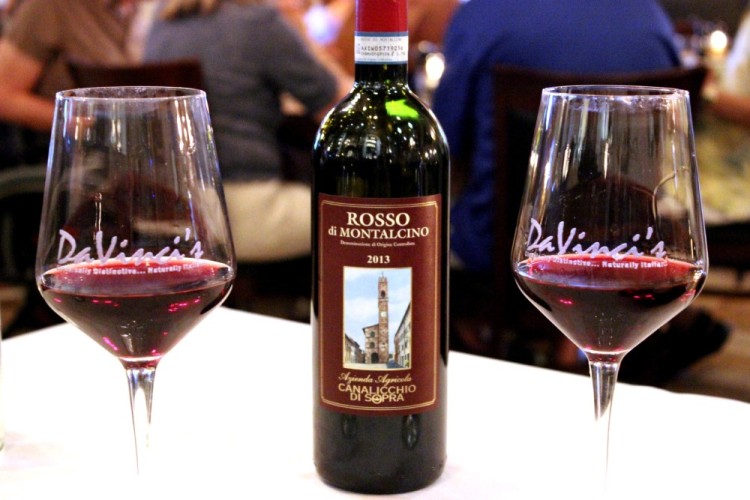 Rather than order off the new menu (which hadn't yet been released), the staff surprised us with a 5-course meal composed of some of their finest new items. First we started with a cold appetizer, the Vegetable Terrine. It's composed of layers of all my favorite things — eggplant, roasted red peppers, zucchini, portobello mushroom, goat cheese, and arugula, drizzled with balsamic reduction. I actually was not expecting the dish to be served cold, and was a bit surprised when I took my first bite. But as soon as I took in all the incredible flavors of each vegetable, I was hooked. The dish could be warm or cold and I'd still love it just the same. This combination of ingredients could not be any better! My only gripe? There could have been a little more goat cheese!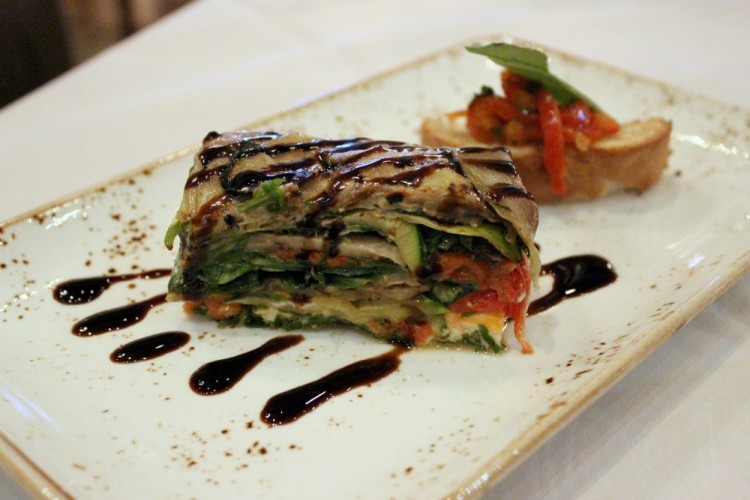 As soon as the next dish hit the table, I squealed with excitement. Can you guess what it was? Come on — you guys should know me well enough by now… It was octopus! Denise and I tried the octopus during our last visit, a cold dish served with lemon, olive oil, parsley, fingerling potatoes, peppers, and arugula. But this? This was much better. Perfectly charred octopus laid over a bed of arugula with a bright, citrusy lemon dressing, crispy potatoes, and a white bean and squid ink puree, drizzled with pepperoncini aioli. I was incredibly impressed with the flavor of the puree. Although it looked a bit like charcoal, its smooth and creamy texture and subtle yet delicious taste were enough to make you want to lick the plate clean. And trust me, if that were appropriate, I just may have done so.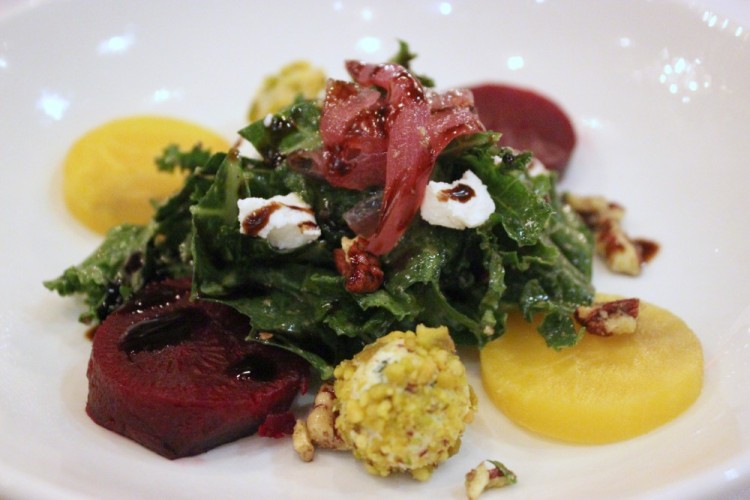 Our third course was a house-made spinach gnocchi in a rich, velvety gorgonzola cream sauce. Gnocchi is one of my favorite Italian dishes, so I was thrilled to be able to try these little pillows of deliciousness. Seriously, each piece was almost cloud-like. So fluffy and soft, enveloped in a deep and flavorful sauce — it's a good thing they brought a very small serving of this, because neither Denise nor I could put our forks down!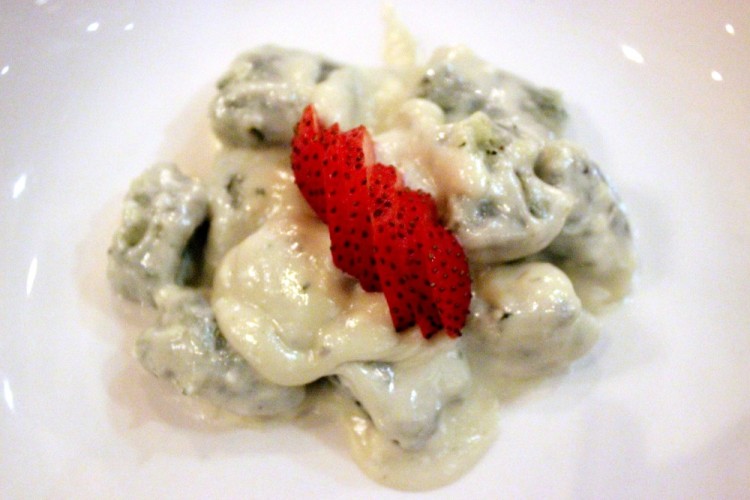 The Kale and Beet Salad came out next — a colorful plate of roasted red and yellow beets, pickled onions, pecans, basil citrette, pistachio-crusted goat cheese, and a balsamic reduction. I could eat beets everyday and be happy; I love the balance of sweetness between the two varieties and always enjoy when a chef uses both in a dish. The salad was a nice light palate cleanser between the filling gnocchi dish and what was to come — our main course!
Denise and I were both served our own entrees; she received a dish off the new menu, the Veal Porcini, and I received the seafood special of the night, Shrimp-stuffed Branzino. Both dishes were accompanied by scalloped potatoes in a lemon sauce, asparagus and baby carrots. Denise enjoyed her veal, and I loved the Branzino. I have always seen Branzino prepared and served as a whole fish, never filleted and stuffed as it was here. All of the flavors played well with one another, and the fish was tender and flavorful.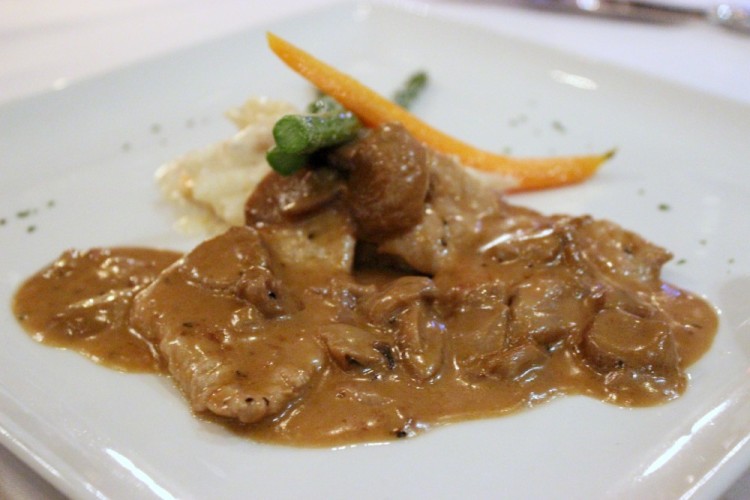 After five amazing and filling courses, we had to pass on dessert. There will not be any new desserts added to the menu, so we felt it was okay to skip. We did get to try the Sea Salt Caramel Tiramisu and Lemon and Mascarpone Cheese Meringue during our last visit, and if you read my last post, you'll see just how much we enjoyed them.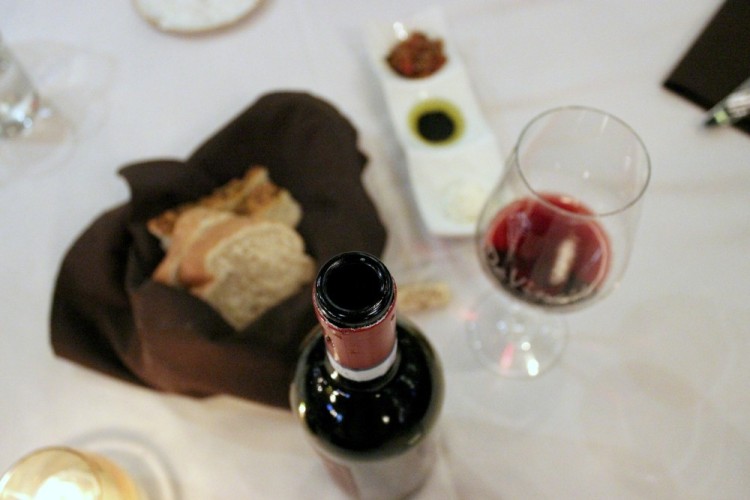 DaVinci's of Boca is located at the Town Center Mall at 6000 Glades Rd.