Oh hey, Happy Fourth of July!
This Red White and Blue American Pie is the perfect dessert to bring to any of the July 4th celebrations you've got going on today.
I named this pie after my all-time favorite song, "American Pie" by Don McLean (click on the link to download the song on Amazon!). I don't remember when or where I was when I first heard this song, but it's been number one on my list ever since. I know I was a kid, and it was probably while I was in the car with my dad. I know every word and can't contain myself from singing along anytime I hear it. The song refers to the "day the music died" when Buddy Holly, Ritchie Valens and The Big Bopper were killed in a plane crash in 1959. These were iconic American musicians and the song talks about how things drastically changed after they were taken from our world.
Similar to Fourth of July, we are celebrating the drastic changes that happened to our country after we declared our independence from Great Britain. The big difference here is that we are celebrating while "American Pie" is mourning. So, it's the same, but different. Just like this Red White and Blue American Pie is almost the same as my Banana Cream Pie, but different.
Don't you love my analogies?
So, let's talk pie. My new favorite graham cracker crust (straight from Emeril's recipe) filled with sweet, creamy banana filling and topped with fresh, plump blueberries and raspberries — arranged into an American flag. Duh.
When you're put in charge of dessert and want something quick and easy that will satisfy everyone's sweet tooth, this Red White and Blue American Pie is the perfect recipe! It's no bake (except for the 25 minutes you'll throw the crust in the oven) and super light! The filling is pretty healthful, and we're topping this with lots of fruit! I use fat free Cool Whip, my favorite kind of whipped topping to use for no-bake recipes, and sugar free JELL-O Banana Cream Pudding mix, You can slice yourself a piece of this pie and go back for seconds (or thirds) without feeling any guilt.
This Red White and Blue American Pie is easily adaptable to any holiday, or just make it on a whim whenever you're in the mood for some pie. And let's be honest, when are you not in the mood for pie?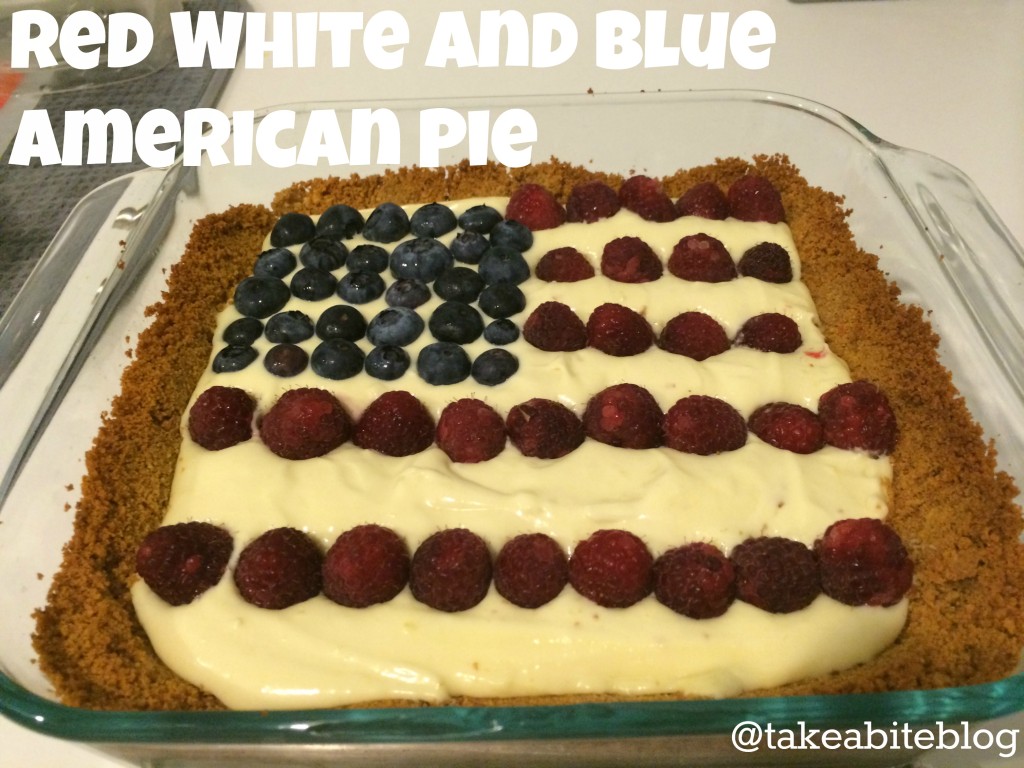 Disclaimer: This post contains Amazon Affiliate links to products I love to use. If you click through the link and purchase one of these items, I will receive a small percentage of the sale price. It's the little things like this that help me to continue bringing you yummy treats. Thank you in advance for helping out Take A Bite Out of Boca with your purchases through Amazon.
[yumprint-recipe id='2′]