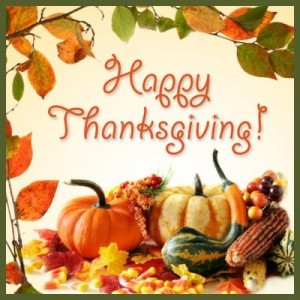 Today gives us a chance to think about all the things for which we are thankful. The people in our lives, the places we've traveled, our jobs, health, happiness, the experiences that keep coming and coming each and every day. I am thankful to my family for supporting my decision to move to Florida. Last September I made a huge change — I picked up my life in Egg Harbor Township and moved it to Boca Raton. Without my family in New Jersey and Florida, I would never have been able to do it and actually make a life down here. I am forever grateful to my Bubby for giving me a home for 10 months, and completely indebted to my parents for helping me find my own place after I wore out my welcome at Bub's apartment (Kidding! We loved being roomies, but of course we all need our own space sometimes). I am thankful for the Kabbalah Centre and all of the amazing knowledge and wisdom I have received there and continue to receive every day, for all of the people I've met who have become my best friends, my confidants and the strength I need when things may not go as I'd like them to, and the opportunity I've been given for spiritual growth in this lifetime. I am thankful for my job, to have co-workers and managers who are also my friends. After being unemployed for the first four months I lived here, finding this position with Clothpromotions (on Craigslist, believe it or not!) in January was a gift. Last, but certainly not least, I am thankful for the food blogging community! Starting Take A Bite Out of Boca was one of the best decisions I have ever made. I have learned so much from all of my fellow food bloggers — some that I have been lucky enough to meet, but most are those that I have never met. I feel as though I know them all, though, from their posts and recipes. You have all been such an inspiration to me and make me want to keep the blog going for a very long time.
Thanksgiving is every foodie's favorite holiday, not only because it is a holiday almost 100% centered around delicious food, but there are so many opportunities for us to play with the traditional recipes and come up with new ways to serve our favorite dishes. One thing I absolutely love about being part of the food-blogging community is having all these awesome recipes at my fingertips. Between Facebook, Twitter and Pinterest, I find the most amazing recipes from all of my fellow bloggers and other recipe sites.
Of course, there are some Thanksgiving staples that just shouldn't be messed with. But that's not to say we can't try! This year I turned to my trusty Food Network Magazine's Thanksgiving Issue for a twist on the typical sweet potato dish. Guy Fieri's Whiskey-Glazed Sweet Potatoes will be gracing the table at my Thanksgiving dinner. We're having our dinner at my aunt's home again this year. Normally she makes a sweet potato casserole, but she is pretty excited to have something new and different. Sweet potatoes, apples, pecan and whiskey — this should be good!
When you think of Thanksgiving, what comes to mind? Turkey, cranberry sauce, sweet potatoes, stuffing, green beans, pumpkin pie, pecan pie… Those are pretty much the top items always found on your table, but what if we took these traditional foods and transform them from good to great, from delicious to mouth watering, from ordinary to EXTRAORDINARY!
Below is a roundup of some inspiring and innovative Thanksgiving recipes that I've found from some of my favorite food bloggers.
This is a really great way to make your turkey. Instead of roasting it like you typically do for Thanksgiving, try Katie's recipe for brown sugar grilled turkey.
Cranberry sauce can either be really good or really, really bad. I absolutely hate canned cranberry sauce — it tastes so artificial. Homemade is much, much better. This cranberry sauce with Grand Marnier from Lindsay at Love & Olive Oil sounds really good to me.
My cousin Emily has a food blog too! (Guess it runs in the family) Check out her blog, C
orcoran Street Kitchen, for
a different way to incorporate
sweet potatoes
into your dinner without the traditional casserole dish.
Green bean casserole is a dish that can easily be made extremely calorie-dense, but Kelly from Eat Yourself Skinny put together a really great lightened-up green bean casserole that sounds too good to be healthy.
This is another really interesting take on stuffing from Katie at Dashing Dish. This apple-cranberry and pecan stuffing is a sweet version of the usually savory dish, but as are all of Katie's recipes, it's super healthy and clean!
Everyone's favorite Thanksgiving dessert is pumpkin pie. Pumpkin cheesecake is even better. These mini pumpkin cheesecake bites from Julie at Table for Two are the perfect way to indulge without overdoing it.
Craving a little chocolate with your pecan pie? Kelly at Just A Taste's recipe for pecan pie brownies will help!
The day after Thanksgiving leaves us with lots of leftovers, so what do we do with them all? Turn to this recipe from Michelle at Brown Eyed Baker for turkey tetrazzini.
Of course there are plenty of other great recipes out there that turn your ordinary Thanksgiving dishes into something new and different, but these are just a few that have stood out to me recently. Share your favorite Thanksgiving recipes or let me know what you made this year.
Hope everyone has a Happy Thanksgiving filled with lots of family, fun and of course, FOOD!