Never miss a bite! Sign up here to receive new recipes and reviews straight to your inbox.
Disclosure: I was invited to dine as a guest of the restaurant. No monetary compensation has been received for this post. As always, all opinions are 100% my own.
East Delray's newest plaza, Delray Place, welcomes Harvest Seasonal Grill and Wine Bar, an under-500-calorie, seasonally-changing, local-farm-to-table restaurant concept with over 50 wines by the glass, plenty of seasonal cocktails and local craft beer. It is a part of the Dave Magrogan Restaurant Group and has six other locations — five in Pennsylvania and one in New Jersey. Harvest Seasonal Grill changes the menu along with the change in seasons (yes, even here in South Florida) and works with local farmers to source the freshest and highest quality products available. Their motto is "Give, Love, Serve" and they work hard to stay true to it.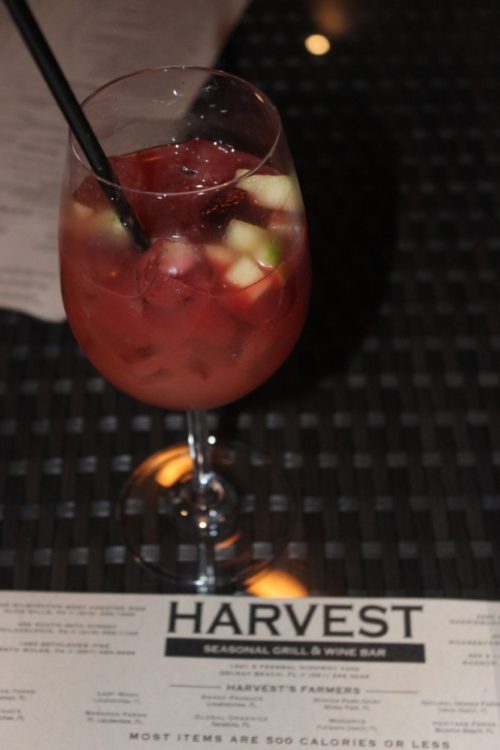 Executive Chef Bill Ring heads up the new Delray Beach location — a familiar face in the Delray restaurant scene, having come from the very well-known 32 East. His skills and knowledge in the kitchen are much appreciated at Harvest, where the owner strives for a high-quality, farm fresh menu — something Chef Bill is definitely familiar with from his previous place of work.
I attended the Grand Opening for Harvest about a month ago, and was incredibly impressed with the decor, both inside and out. The few things I had a chance to try were delicious, and I couldn't wait to get back for a real dining experience. The menu is extremely vegetarian- and pesctarian-friendly, and caters to those with vegan or gluten-free diets as well. Most of the menu items are under 500 calories and are noted as so, making it easy for guests to find the lower-calorie options. However, lower-calorie definitely does not mean lower flavor. Harvest wants its guests to enjoy healthy indulgence — and I believe they are succeeding in that goal.
My dining partner for the evening was Sebastian of SocialBuzzTV, who decided it was time for his #FoodieBUZZ segment to take a trip up to Palm Beach County for some good eats. I immediately took charge (as usual when it comes to food) and decided on our appetizers — warm butternut squash and asiago dip; and vegetarian poutine. There was no way I was saying no to poutine when the word vegetarian is in front of it. Chef Bill told me this is the first of Harvest's locations to try this dish — so you won't find it at any of the other six spots. They're still trying to perfect it, but I thought it was pretty close to perfection. The dish consists of oven-baked parsnip fries (Harvest doesn't even own a fryer) mixed with roasted oyster mushrooms, charred romanesco (a spiky vegetable resembling broccoli and cauliflower), cheese curds and a vegetable demi glace. It's such a fun and spirited dish with so many flavors swimming around together in perfect harmony. I could not put my fork down.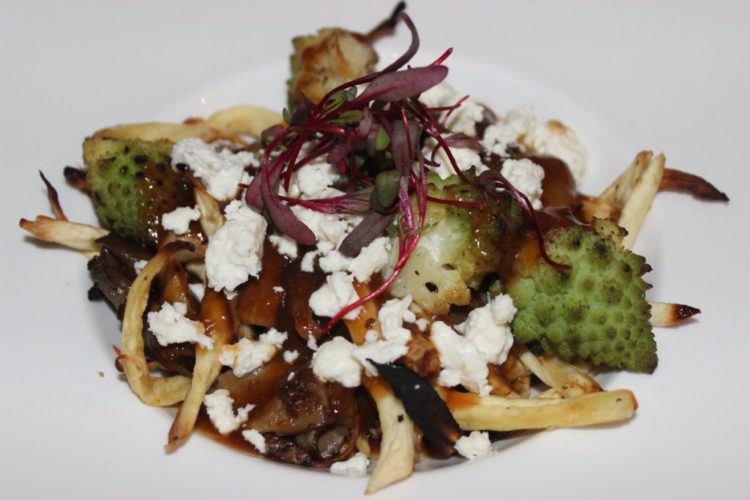 The warm butternut squash and asiago dip was a suggestion straight from the Chef, and who am I to say no to that? Even our waitress said it was one of her favorites. The creamy dip comes topped with crispy kale, sage and toasted pumpkin seeds, and is served with crispy pumpernickel crostini. I could dip anything into this stuff — including just my spoon. The flavors are so fall, so comforting and so delicious. Butternut squash and asiago cheese make a pretty sweet couple. I've got to remember that for future squash preparation!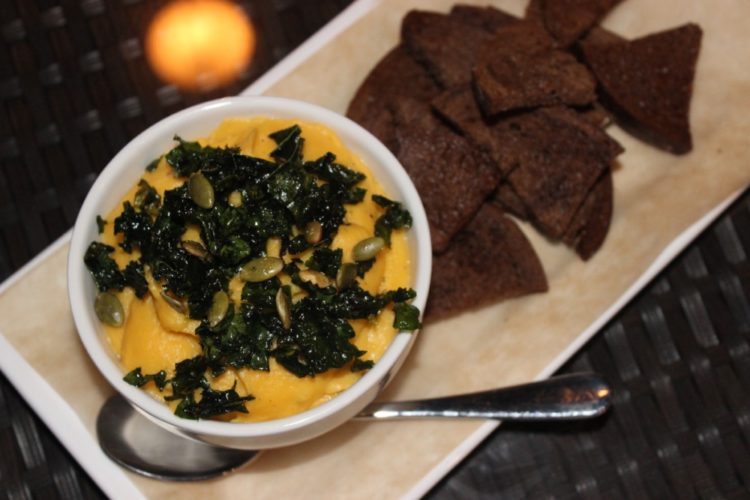 While we're on the subject of appetizers, I tried a few others at the Grand Opening — roasted local beets with buttermilk goat cheese crema, candied pecans, sweet and sour cipollini onion and micro beet greens, and the organic hummus trio of roasted acorn squash, ginger carrot and sriracha beet. The beets were delicious, especially when you got all of the ingredients together in one bite. And the hummus? Well, I'm a sucker for any hummus — but the ginger carrot was by far my favorite. I also tried the blackened mahi tacos and a super fall-inspired vegetarian dish, pumpkin ravioli with butternut squash puree, sage brown butter, cranberries, sautéed baby spinach, toasted pumpkin seeds and gingerbread dust. It screams holiday season in every way possible, and I highly recommend you get yourself over to Harvest soon to try it before the menu changes!
But I digress… Let's get back to my dinner this time around. We went the seafood route for entrees. I decided on the wood-grilled swordfish served with creamy braised leeks, carrots, roasted fingerling potatoes and a pomegranate reduction. Sebastian ordered the seared sea scallops with caramelized leeks, butternut squash and pancetta risotto and micro beet greens. General Manager, TJ Elbahmi, graciously offered to bring me my own side dish of the risotto sans pancetta. He assured me it was too good not to try — and oh my God, was he right. Chef Bill seasoned this risotto unlike every risotto I've ever tasted. As soon as I took my first bite, flavors of cinnamon and nutmeg burst in my mouth. It's something I've never thought to do before, but now I can't believe how it's never crossed my mind! While I really enjoyed my entire meal, start to finish, that risotto was the best bite. The scallops were beautifully seared as well. But man, that risotto takes the cake. Bravo, Chef, bra-freaking-vo.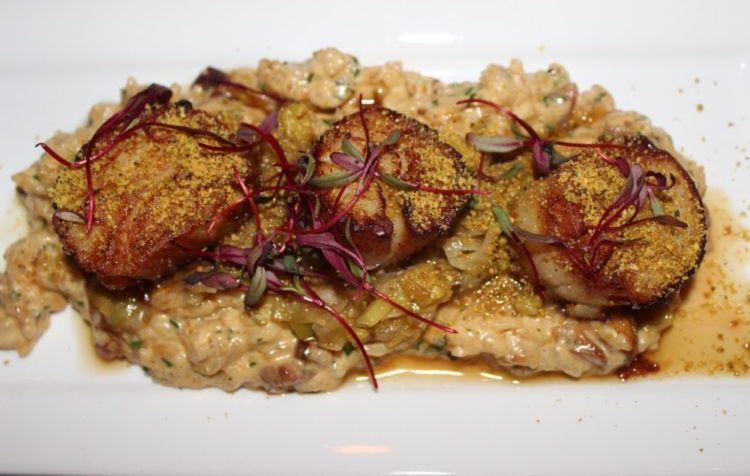 The swordfish was very good too, but I was so enamored with the risotto at this point that I don't think anything else could wow me as much as that. I did really enjoy the creamy braised leeks that topped the thick, juicy piece of grilled fish.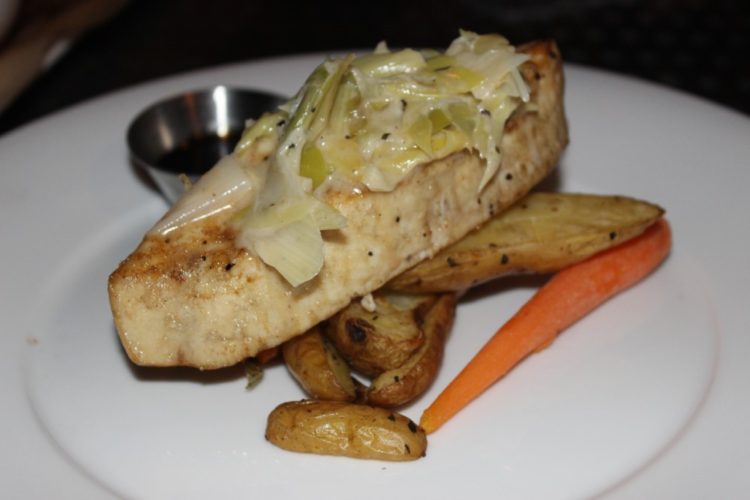 Harvest has a wide selection of seasonal mini desserts, including chocolate salted caramel mousse, pecan pie, pumpkin pie cheesecake, gingerbread poached pear, peanut butter cup and caramel apple crunch. Although we didn't have dessert, all of these sound and look amazing and make for a delicious, albeit waist-friendly, way to end your night on a sweet note.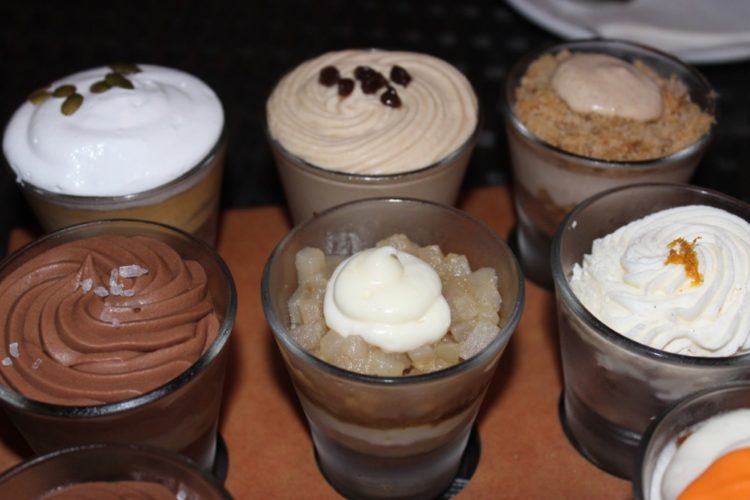 Harvest's menu is extremely varied, and I can't wait to get back there to try more! They offer brunch on the weekends and happy hour is Monday through Friday 3-7pm and includes $5 cocktails, $4 wines, $3 draft beers and $5 flatbreads — which can be made with gluten-free crust! The prices are reasonable, the atmosphere is spacious and inviting, and the food is on point.
Harvest Seasonal Grill and Wine Bar is located at 1841 S Federal Highway, Suite #402 in Delray Beach.