Never miss a bite! Sign up here to receive new recipes and reviews straight to your inbox.
Disclosure: I was invited to dine as a guest of the restaurant. No monetary compensation has been received for this post. As always, all opinions are 100% my own.
As the seasons turn, you can always expect something new and exciting from Executive Chef Bill Ring at Harvest Seasonal Grill & Wine Bar. This summer, enjoy a menu full of dishes using ingredients sourced from 75 local South Florida farms.
I introduced you to Harvest Seasonal Wine Bar & Grill back in December after the Pennsylvania-based Dave Magrogan Group opened its seventh location here in Delray Beach. I attended the grand opening party, got a taste of the delicious winter menu, and was now lucky enough to be invited back to experience the summer menu. The season-forward, farm-to-table concept is widespread in South Florida, but Harvest exudes a sense of comfort and warmth in its atmosphere you don't always find — not to mention that it's helmed by Bill Ring, whose experience in the kitchen is very well known, and very well liked.
We were welcomed in the best fashion — with cocktails! Specifically, the three new summer-inspired sangrias: the mango-apricot tango, greens and orange, and strawberry-rhubarb. I was immediately drawn to the flavors highlighted in the strawberry-rhubarb version — rosé wine, brandy, lime, strawberry and rhubarb (duh). It was just as refreshing as it sounds, and certainly screams summer drinks by the pool. The greens and orange sangria was an interesting mixture, made with cold-pressed juice (a very creative way to use green juice!), white wine, orange brandy and basil. For those who like a stronger red sangria, the mango-apricot tango has your name written all over it. It's made with apricot brandy, Patrón Citrónge mango, lemongrass, and also features cold-pressed juice. Why stop at one? Take a taste of all three!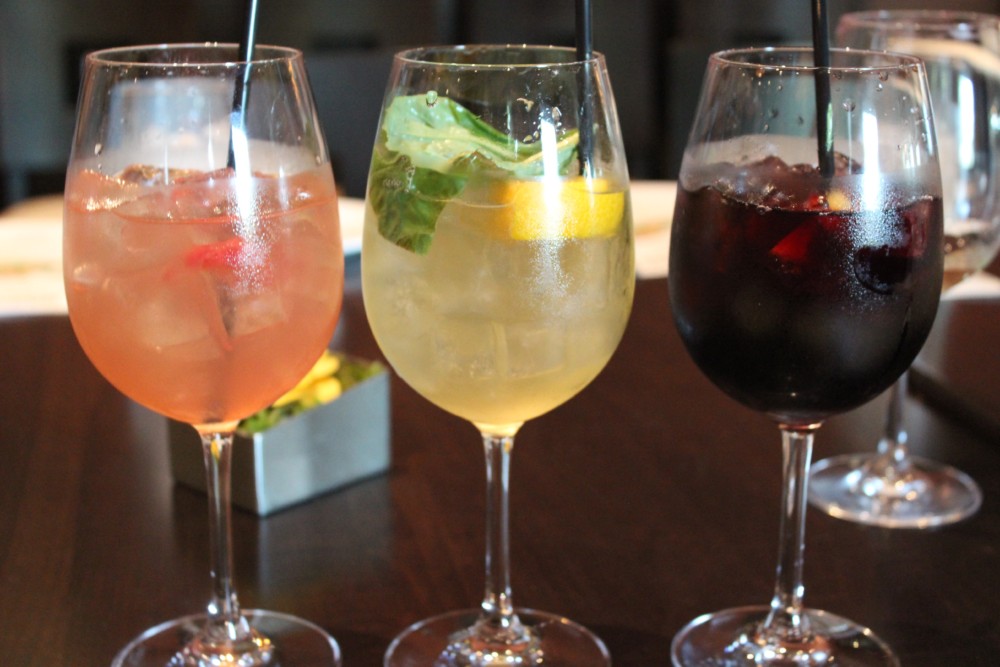 After whetting our palates with a refreshing drink, the appetizers began coming out one by one. One of Harvest's most popular items is their flatbread (available with gluten-free crust when requested). They are filling and make a great sharing plate, and you can get them for only $5 during happy hour, Monday through Friday 3-6pm! We were treated to the pesto caprese with tomato, house-made mozzarella and basil pesto, and the BBQ pulled pork with chipotle-blackberry BBQ sauce, poblano coleslaw and mild cheddar. Although I have to steer clear of the flatbread part, that doesn't mean I can't take a taste of the toppings! The pesto caprese is pretty straightforward with bold, bright flavor. You can't really mess up a caprese-style dish. Over on the BBQ pulled pork front, I just had to try this chipotle-blackberry BBQ sauce. I mean seriously, isn't your mouth watering just reading those four words?! It was a wonderful balance of sweet and spicy, and the cold, crunchy poblano 'slaw was a genius complement. I pushed aside the pork and dug my fork right into those two components for one perfect bite.
Next up was what quickly became pretty much everyone's favorite dish of the night — the avocado artichoke dip. With healthy fats such as organic yogurt and avocado, this is a dip you can feel good about devouring all by yourself. Not that I've done this — but I can totally see that happening in the near future. What I like best about this dip is that you can really eat it with a fork and not feel weird. Instead of chopping up the artichoke hearts finely and mixing completely with the kale, yogurt and avocado, there are pretty large chunks. It does come with herbed naan flatbread, but if you need to cut the carbs, just pick up a fork and go to town! The dip itself is impressive, but what also stands out is the roasted red pepper oil surrounding it. I want to have this on everything. I could go on and on about how obsessed I am with this avocado artichoke dip, but there's a lot more I need to tell you about. So let's move on… (although now all I can think about is this dip and how I can't wait to eat it again).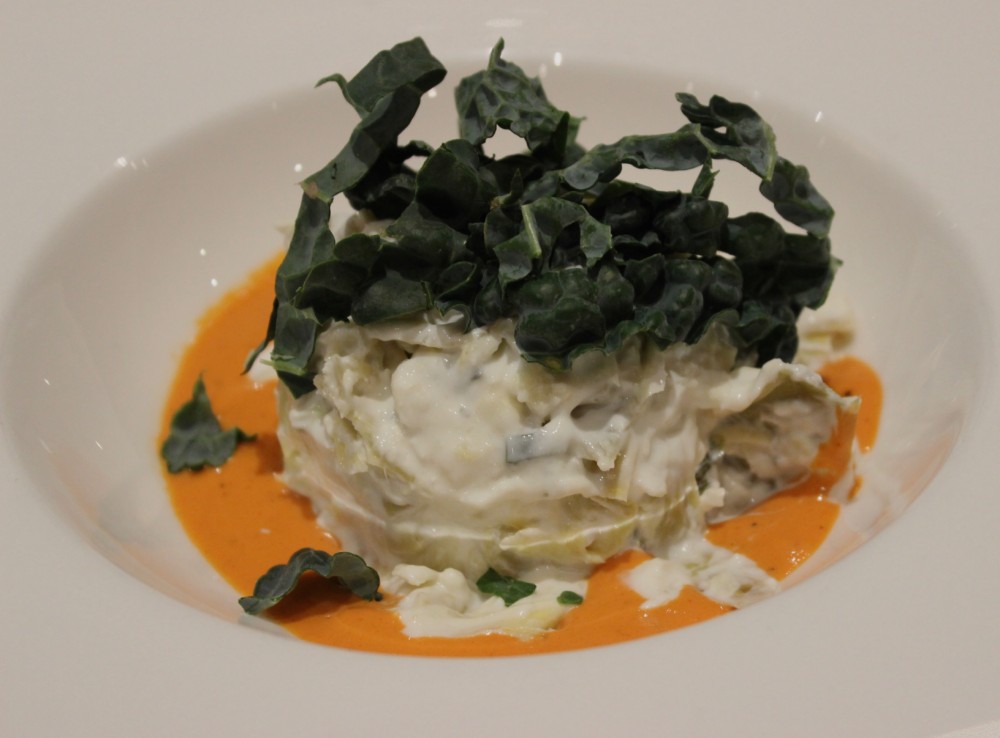 We were presented with the summer tuna tartare, which although seen on most South Florida restaurant menus, surprisingly stood out with its list of ingredients — watermelon yuzu vinaigrette, avocado, ginger-soy reduction, basil oil and cashew dust, served with spiced sesame wontons. Have you seen a tuna tartare with these elements before? I didn't think so. The tuna was flavorful and fresh, and all of the components really worked well together. This is another one you don't necessarily need a vessel for. I'm all for forkin' it!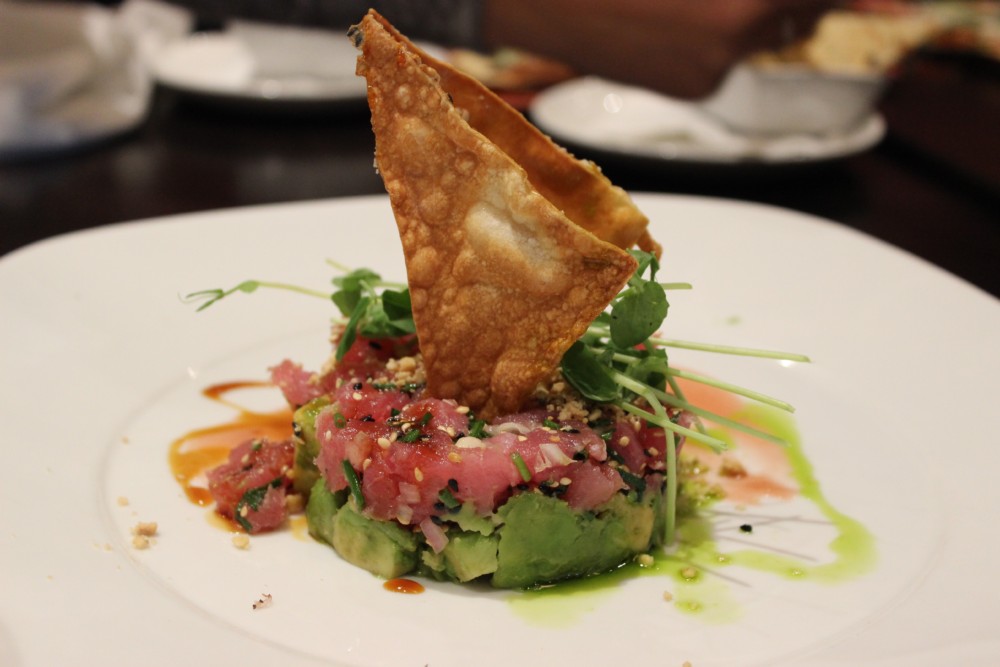 It's time for the salad course. The nutty watermelon salad reminds me of something you'd pile into tupperware and tote with you to the beach. It's full of fresh fruit and a bright, citrusy vinaigrette that really popped. The watercress lends a spicy, peppery note and the toasted almonds lend a nice textural element. The super grain salad is a staple on the menu, with rotating ingredients based on the season. It features quinoa, farro, freekeh, Tuscan kale, Moroccan carrots, dried blueberries, toasted almonds, tangerine mint yogurt, toasted pumpernickel breadcrumbs, feta and a ginger-carrot hummus vinaigrette. I know — that's a mouthful, huh? It's packed with everything under the sun, and is a really hearty, filling dish.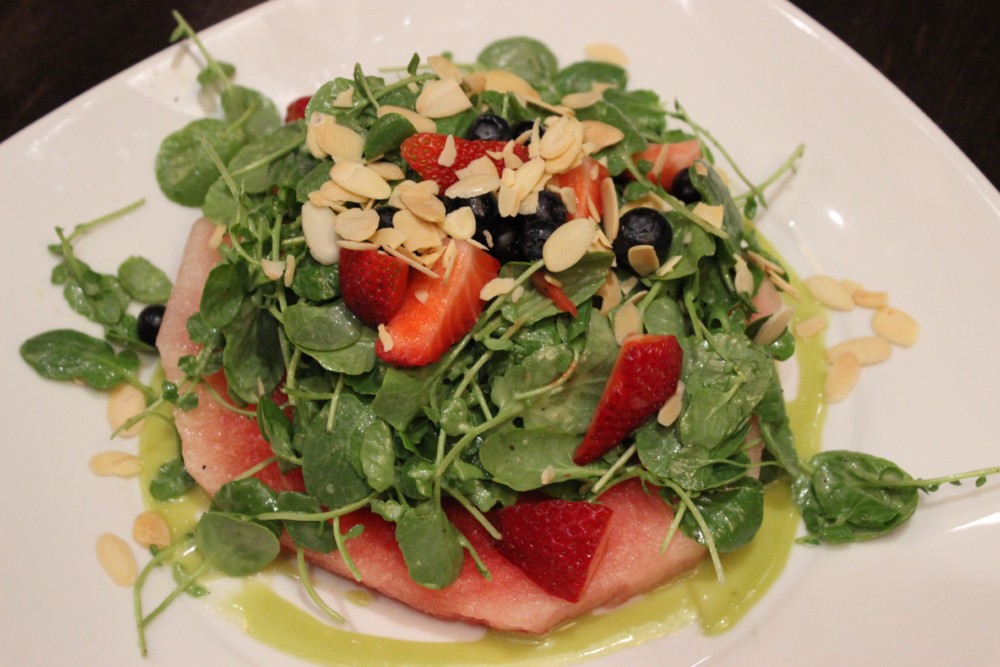 For our entrées, each of us were able to choose whatever we'd like from the menu. There is plenty to choose from, that's for sure. Sandwiches, entrée salads, seafood, chicken and even a vegetarian section. I opted for the wood-fire grilled swordfish, a meatier fish that I don't eat too often, but really do enjoy. It's topped with a crab and artichoke salad (this may have been what sold me on the dish), heirloom cherry tomatoes, Meyer lemon juice and watercress, and served with roasted fingerling potatoes. It can be hard to get swordfish just right since it's so thick-cut, but this was prepared very well, and I absolutely loved the crab and artichoke topping.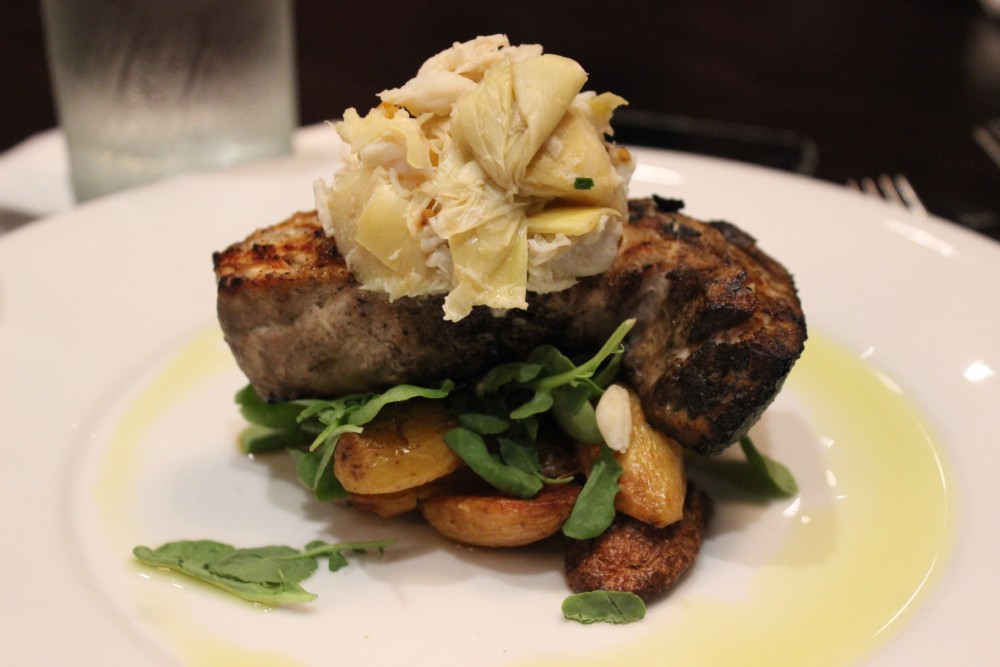 Other summer entrées include Jamaican jerk salmon salad with mixed greens, roasted corn and black bean salsa, avocado, toasted almonds and papaya and mango vinaigrette; summer crab cakes with sweet corn and peach chowder, grilled zucchini, stone fruit and jalapeño salsa and cilantro-lime crema; Moroccan-spiced kabobs with marinated grilled vegetables, heirloom tomato relish, roasted olives, golden raisin couscous, Moroccan carrots, chermoula and herb naan flatbread; lemon-thyme chicken with shaved fennel, roasted tomatoes, artichokes, baby arugula, grilled zucchini and lemon-thyme vinaigrette; and the vegetarian portobello "cheesesteak" with roasted peppers, baby arugula, caramelized onions, sun-dried tomato vinaigrette and mild cheddar on a toasted roll.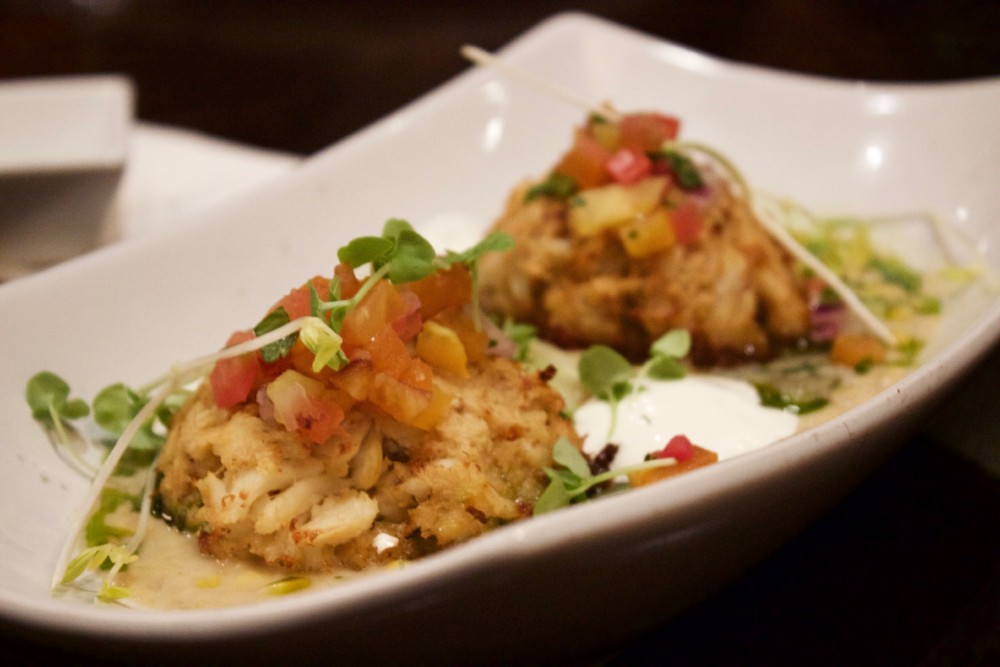 You can't leave Harvest without dessert. You just can't. And you won't feel guilty about it either, I promise. Their individual mini desserts are served in little shot glasses and perfect for those who feel the need to end their night on a sweet note, but don't want to roll out of the restaurant with their pants unbuttoned and belts undone. Flavors include everything from s'mores and chocolate peanut butter to raspberry lemon and blueberry cornbread. There will also be a seasonally inspired special too. You can hoard one all for yourself — or, if you're with a group, order a variety and get a little taste of everything.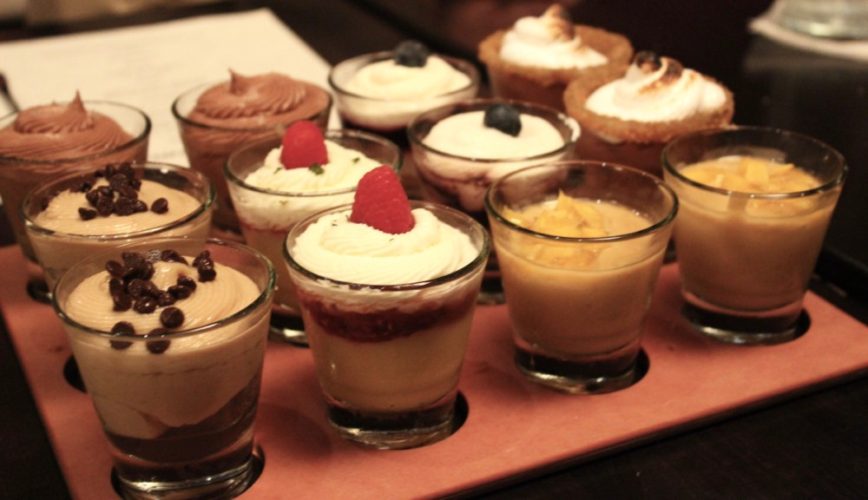 The intimate private dining room at Harvest is also available for parties and events, so keep that in mind when you're planning any upcoming affairs!
Harvest Seasonal Grill and Wine Bar is located at 1841 South Federal Highway, #402, in Delray Beach, FL.