Never miss a bite! Sign up here to receive new recipes and reviews straight to your inbox.
Disclosure: I was invited to dine as a guest of Hawkers Delray Beach. As always, all opinions are 100% my own.
Brunch Is Now Offered at Hawkers Asian Street Food
Hawkers is known for providing its guests with bold flavors, unique craft cocktails, and a super fun and vibrant vibe. Ten years after opening its first location in Orlando, FL (and quite a few more thereafter), the restaurant has finally unleashed a brand new element to the Hawkers experience: BRUNCH!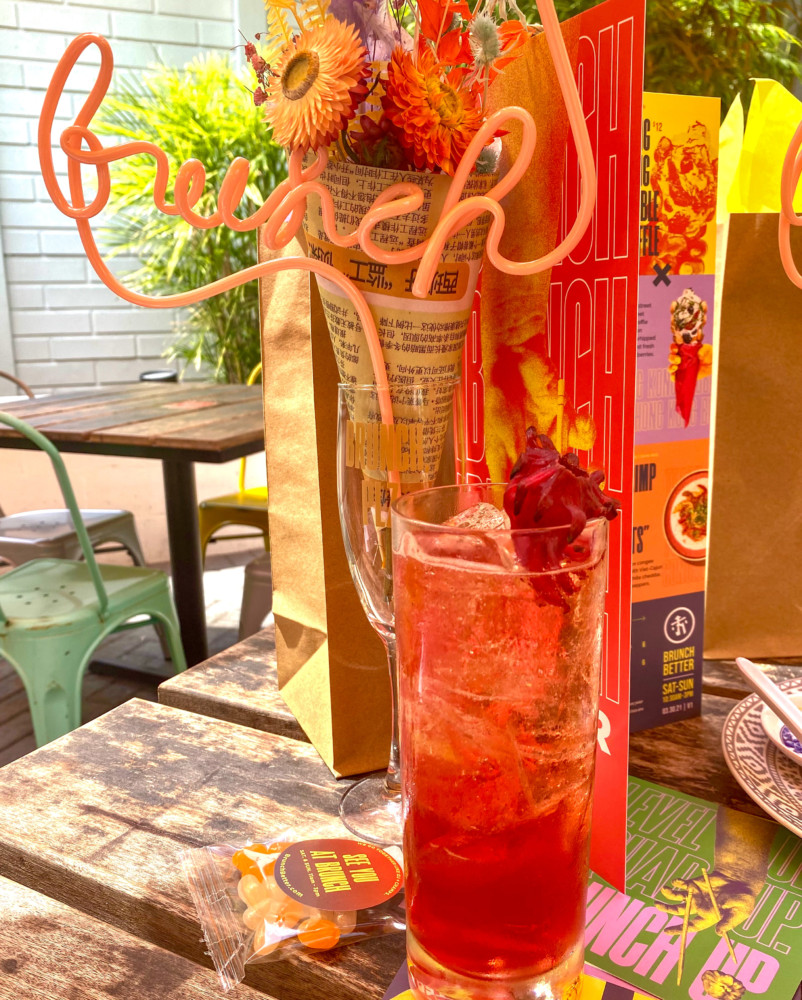 If you've never been to Hawkers, the first thing you need to know is that it is an Asian street food restaurant created by four best friends with family roots in Malaysia, Hong Kong, and Vietnam — so, you know it's the real deal. The menu is filled with traditional Asian street food faves like bao buns, egg rolls and dim sum, a variety of rice and noodle dishes, and so much more. One of the most popular items is the Roti Canai, a Malaysian-style flatbread served with the restaurant's signature curry sauce. Unfortunately, roti is not gluten-free, so I've never tried this, but I have heard how good it is from so many who have.
The new brunch menu adds ten new items to this mouth watering collection of flavors and ingredients — and there are new cocktails too! This is not your typical brunch menu by any means. Although inspired by breakfast classics like eggs Benedict, shrimp and grits, pancakes, and waffles, the Hawkers culinary team has done a great job of infusing Asian inspiration and flavor to create something totally different.
The Brunch Menu
Each of the new brunch dishes at Hawkers is seriously unique. If you're tired of the same old omelettes and steak and eggs, and in need of a brand new brunch experience, this is it.
Side note: the brunch menu is not very Shaina-friendly. The only thing listed here that I tried was the Shakshuka. However, I previewed the brunch with a group of influencers who all vouched for all the deliciousness. The Hawkers team was amazing and generously prepared Shaina-friendly regular menu items for me in lieu of the brunch food, so rest assured, I was just as full as everyone by the end of the meal!
Let's dig in, shall we?
Soup Dumplings: One of the most iconic Asian street food dishes, these dumplings are filled with pork and bone broth. It's a recipe that has been passed down through generations that really will never get old.
Korean Fried Chicken Biscuits: If you want something hearty, this will do the trick. The fresh baked biscuits are topped with Korean fried chicken, sausage gravy, fried eggs, and a sweet and spicy gochujang sauce.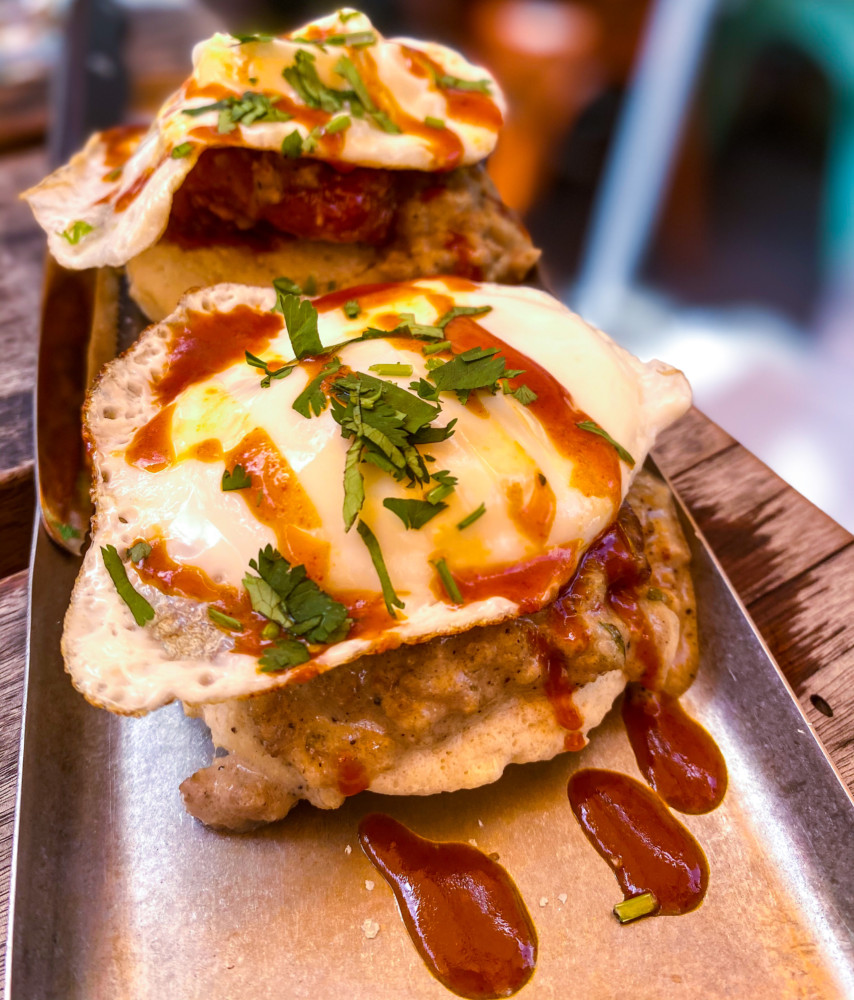 Coconut Curry Eggs Benedict: This is definitely not like the eggs Benedict you get at your favorite local breakfast spot. Hawkers uses toasted baguettes instead of English muffins, and tops them with crisp pork belly, spinach, poached eggs and a coconut-curry hollandaise.
Shrimp & "Grits": Another twist on a classic, Hawkers used rice congee instead of corn-based grits. Congee is a rice porridge popular in Asian countries. The shrimp are also dubbed "Viet-Cajun" and there's also parmesan and bell peppers.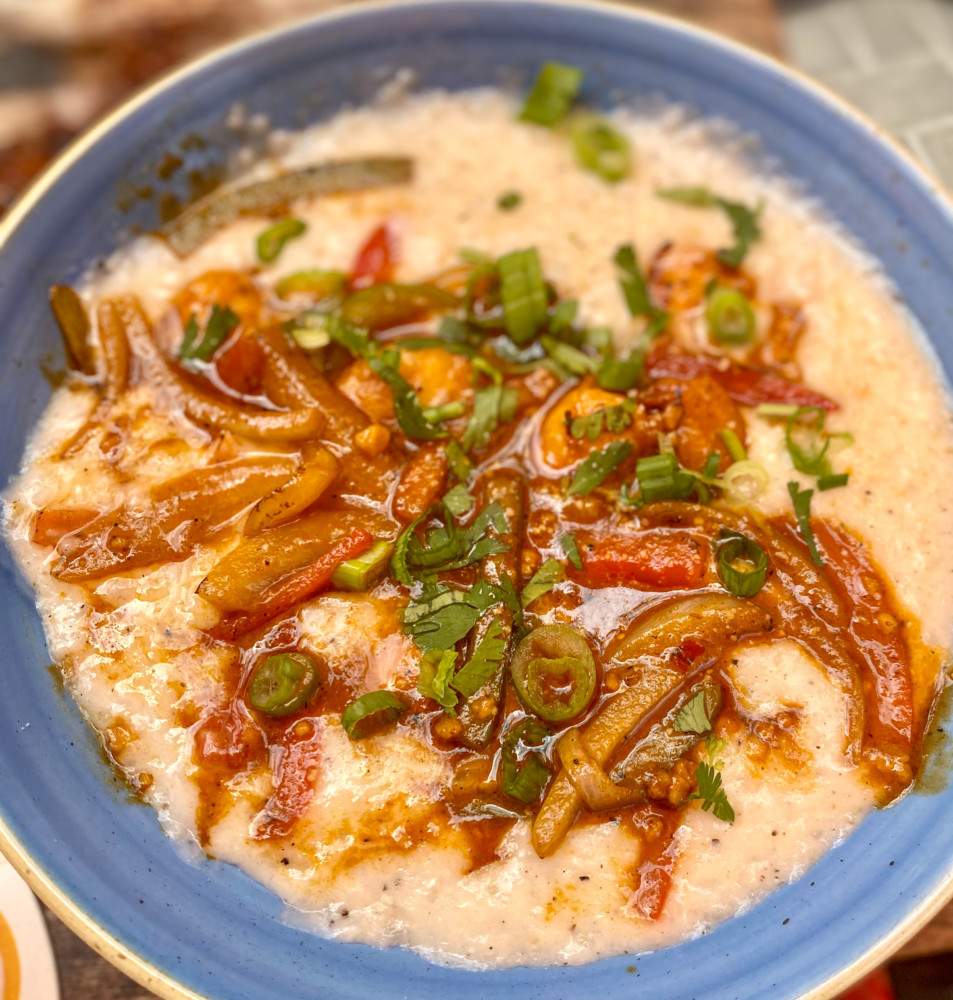 Char Siu Baos: Fluffy bao buns filled with Chinese BBQ pork and topped with scallions.
Pork Belly Hash: This is the one dish I couldn't try that I really, really wanted to. Crispy pork belly, tater tots, bell peppers and onions are topped with a fried egg and smothered in Hawkers signature curry sauce.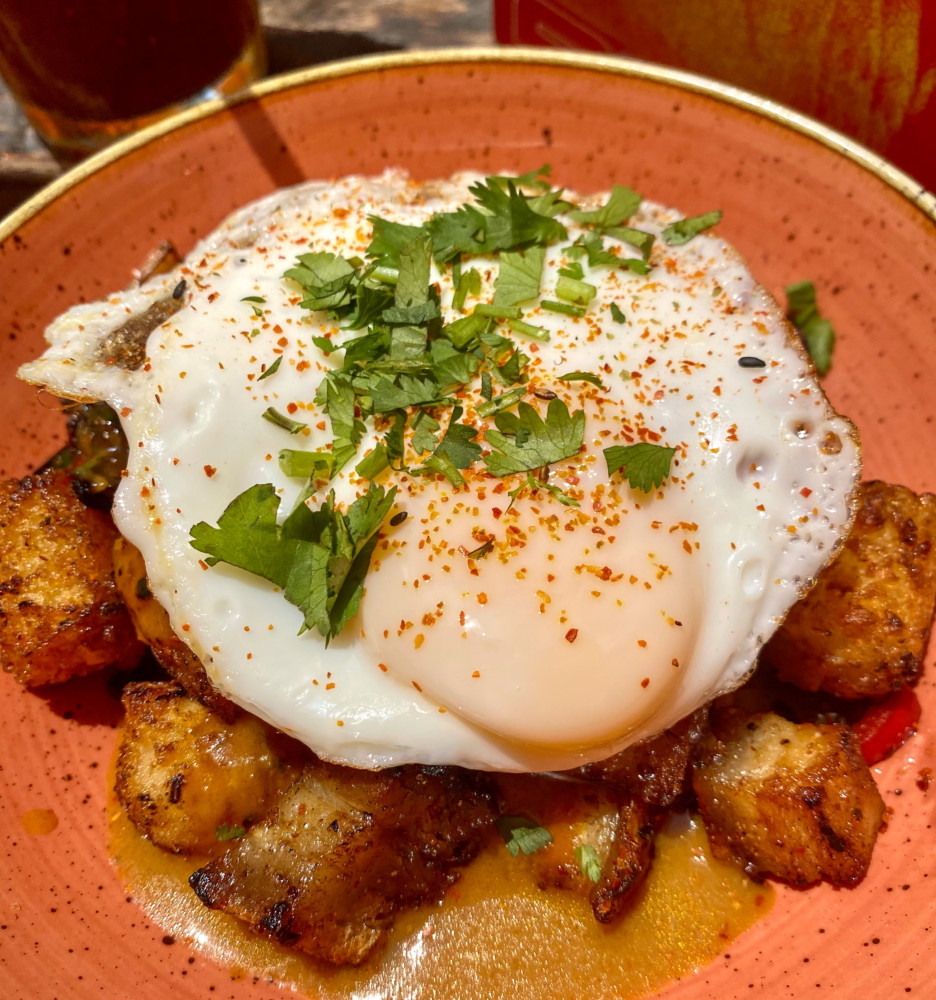 The Traditional: For those who just want something simple, steamed white rice is served with lap cheong (Chinese sausage) and a fried egg, and seasoned with soy sauce.
Sichuan Shakshuka: Shakshuka is actually a traditional dish in North African and the Middle East, but Hawkers put an Asian spin on it, and I am not mad about it. This dish was jam-packed with flavor, and some of it quite spicy. It's a spiced tomato base with ground pork, peppers and onions, topped with silken tofu, a poached egg, and fresh cilantro.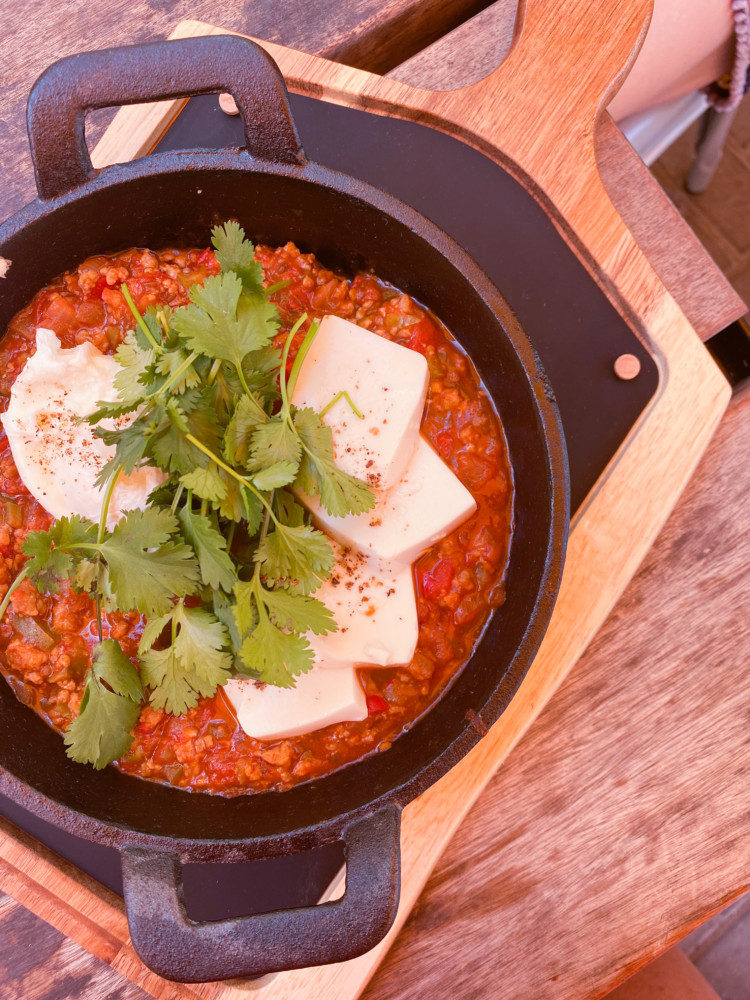 Pandan Kaya Pancakes: This required some Googling on my end. Pandan is an herbaceous tropical plant that grows in Southeast Asia, and Kaya is another name for coconut jam, which is made from coconut milk, eggs and sugar. These pancakes are also topped with maple cream, toasted coconut, whipped cream and fresh seasonal berries.
Hong Kong Bubble Waffle: This classic street food dessert is topped with lemon custard, whipped cream and fresh seasonal berries.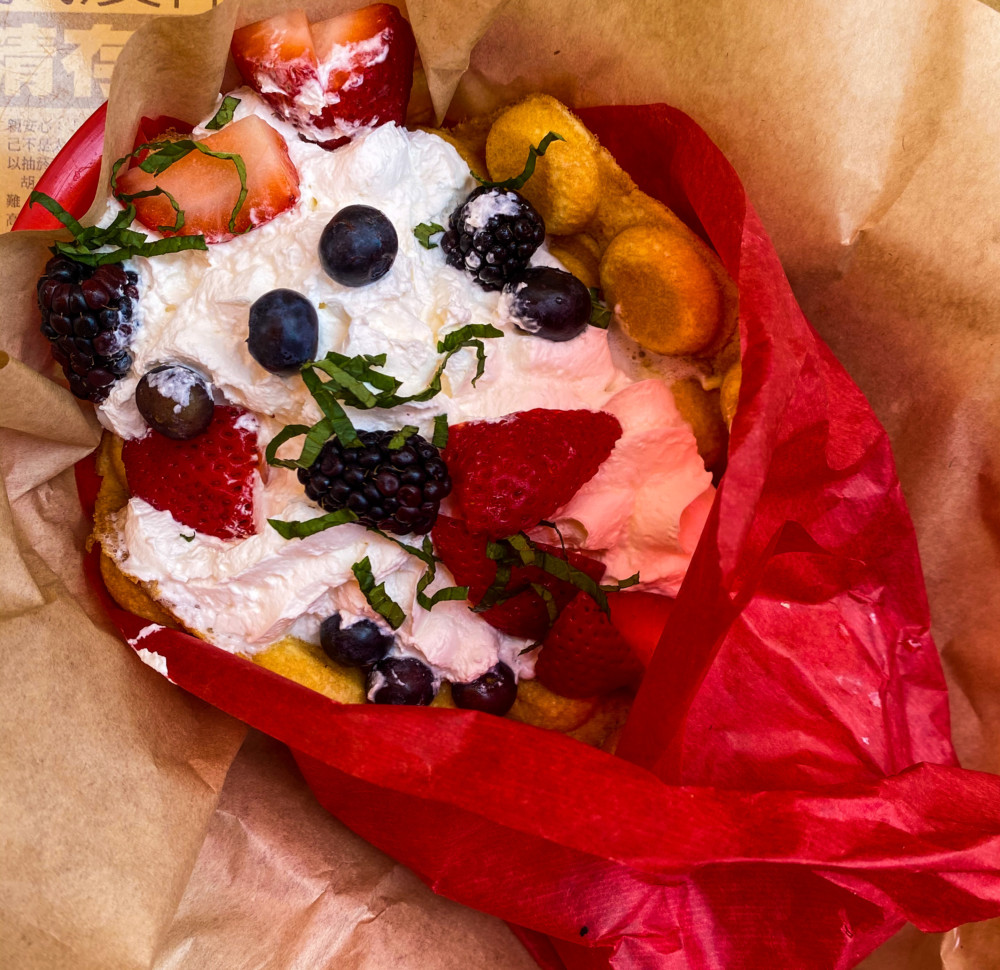 In addition to these dishes, sides include egg curry tots, biscuit and gravy, fresh berries and custard, and congee cheese grits.
What's Brunch Without a Cocktail?
Hawkers brunch offers bottomless mimosas and rosé, as well as five new brunch cocktails that are anything but boring. Here's what they've got:
Hibiscus Fizz: A gin cocktail with a floral and refreshing kick and beautiful presentation. It's made with blueberry hibiscus-infused gin, fresh lemon juice, sparkling wine and edible dried hibiscus fruit.
Butterfly Effect: This vodka cocktail is a stunning shade of purple thanks to the addition of butterfly pea flower tea. It comes with a sidecar of fresh lemon juice that, when poured into the glass, instantly changes the shade of purple and gives the drink a "mood ring" effect.
On Cloud Wine: Simple and sweet, this drink marries a split of sparkling rosé with cotton candy.
Kimchi Bloody Mary: The Hawkers version of a Bloody Mary is not for the faint of heart. This spicy concoction is made with green chili-infused vodka and Hawkers house-made kimchi mix and topped with a jumbo cocktail shrimp and kimchi-stuffed olives.
Morning Mez: The Hawkers take on the classic tequila sunrise. Instead of tequila, they use smoky mezcal, then sweeten it up with elderflower liqueur. It all gets topped off with fresh ruby red grapefruit juice. The cocktail is refreshing, and perfect for someone who has never tried mezcal and isn't sure if they're into it. It is definitely more sweet than smoky — however, I do like mezcal a lot and appreciate its smokiness, so I would have preferred to have a little more smoke than sweet.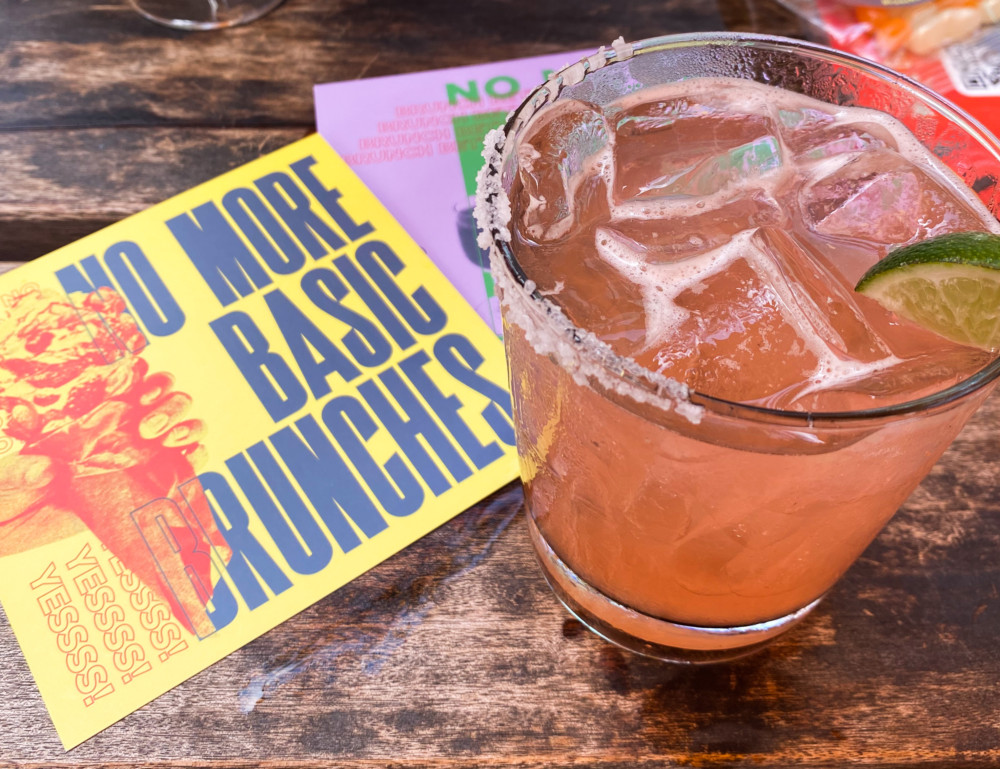 Make Your Brunch Reservation at Hawkers Delray Beach
Hawkers brunch officially launched at the Delray Beach location on Saturday, April 24th, and is now offered every Saturday and Sunday from 11am-3pm. This is their first and only South Florida location. It's right in the middle of all the Atlantic Avenue action, and is one of the most colorful places in town. It also has one of the largest patio areas in town, as well as a very large and spacious inside seating area and an indoor/outdoor bar.
Hawkers is located at 640 E Atlantic Avenue in Delray Beach. The restaurant is open Sunday through Thursday from 11am-11pm, and Friday and Saturday from 11am-midnight. Happy hour is Monday through Friday from 3-6pm and includes special pricing on a selection of small plates, specialty cocktails, house wines, select Asian lagers, and saké bombs.