I haven't done nearly enough baking with pumpkin! It's still pumpkin season, thankfully, but if October was any kind of indication of how the rest of this year is going to go, November will be over before we know it. With that said, I better get moving with more pumpkin recipes before peppermint and eggnog take over!

I am usually a no-fuss breakfast eater (unless I'm going out to brunch for a special occasion; that is a totally different story). But on a normal day, I always like to start out with something healthy. I have my go-to dishes that are quick and easy to prepare after I get home from the gym and before I leave for work. That usually consists of Greek yogurt, oatmeal or cereal with almond milk – and always lots of fruit in everyhting; and I make smoothies on my days off. But sometimes, there is a moment when I want to have something a little bit more indulgent, but still maintain my healthy-breakfast tradition. Enter these Chocolate Chai Pumpkin Muffins! These muffins are the perfect mix of fall dessert flavors without all the heavy ingredients that would make you feel sluggish for the rest of the day, like a sugary, high-calorie muffin would do. They are made with a mix of white whole wheat flour and all purpose flour, egg whites and coconut oil. NO butter, and NO white sugar in the mix. I used this new Tazo Chai Tea Latte concentrate that is only 90 calories per 1/2 cup and fat-free. This gives a very intense smell to the muffins. Chai spices will do that to anything; add in some chocolate and it's even more enhanced!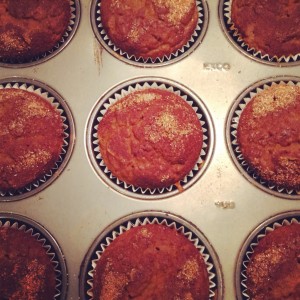 Next time I'm feeling a little bored of my usual breakfast routine (probably tomorrow), I will reach for one of these muffins instead. They may not look or feel healthy, but I promise you they are. The chai tea concentrate is the only "bad" ingredient, but honestly it isn't even that bad. Whatever. Aren't you supposed to eat the most calories for breakfast anyway? You know that old saying, "Eat breakfast like a king, lunch like a prince, and dinner like a pauper."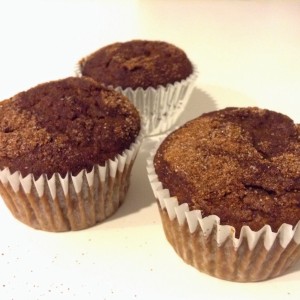 Healthy Chocolate Chai Pumpkin Muffins
Makes 12 regular sized muffins

1/2 cup white whole wheat flour
3/4 cup all purpose flour
3/4 cup packed dark brown sugar
3/4 tsp baking soda
1 1/2 tsp pumpkin pie spice
1/2 tsp cinnamon
1 15 oz. can pumpkin puree
1/2 cup Tazo Chocolate Chai Tea Latte
2 tbsp coconut oil
2 large egg whites

For the topping
1 tbsp cinnamon
1 tbsp nutmeg
1/2 tbsp granulated sugar


Preheat the oven to 350 degrees. Line a muffin tin with 12 liners.

In a medium bowl, whisk together the flours, sugar, baking soda, pumpkin pie spice and cinnamon. In the large bowl of a stand mixer, add the pumpkin puree, Tazo Chocolate Chai Tea, coconut oil and egg whites. Beat on medium speed for 1-2 minutes. Add the flour mixture and mix on low speed until combined.


Use a cookie scoop to fill each muffin liner to the top with batter.

In a small bowl, mix cinnamon, nutmeg and sugar. Sprinkle on top of the batter in the muffin tins. Bake for 25 minutes.

Posted with Blogsy