Never miss a bite! Sign up here to receive new recipes and reviews straight to your inbox.
Disclosure: I was invited to dine as a guest of the restaurant. No monetary compensation has been received for this post. As always, all opinions are 100% my own.
The healthy food trend is on the rise, and Boca Raton is no stranger to its popularity. Fit Foodz Cafe is a perfect example of this fit and fresh mindset, with a menu filled with breakfast, lunch and dinner options that can accommodate any lifestyle — vegan, vegetarian, gluten-free, paleo, etc. They also offer catering, one and three-day juice cleanses and meal plans.
Owner Susan Klein started Fit Foodz Cafe after a personal lifestyle change to lose weight, eat healthier and start exercising. She combined her degree in International Business and her 20+ years in the restaurant industry with her new lifestyle to create a cafe-style restaurant with both dine-in and take-out options, as well as homemade snacks and desserts, juices and smoothies. Their meal plans are popular among customers. You can purchase 10 meals for $80 — just $8 per meal! Each dish is individually portioned in microwavable and freezer-safe containers, and the dishes rotate weekly to keep things from getting boring or repetitive. There are breakfast, lunch, dinner and snack choices to fit your dietary preference. This is such a great option for those with busy lives looking to eat clean.
But there's much more to Fit Foodz Cafe than their convenient meal plans — there's a whole menu of deliciousness waiting for you right in the restaurant. A few local bloggers joined me for lunch recently, and we got to try some of the menu's most popular dishes. There is a huge variety of options ranging from bunless burgers to protein-packed bowls, Asian-inspired dishes and healthy takes on classic comfort food. To get started, we were each able to order one of their juices or smoothies. While some opted for the sweet and heavier drinks like the chocolate peanut butter and French toast smoothies, I was looking for a little bit of a detox from the previous evening's activities so I chose the spicy lemonade. The refreshing combination of cucumber, lemon and lime were just what I was looking for — and then the cayenne kicked in and gave my body the reboot it needed. Not only did it taste good, but the color was so pretty!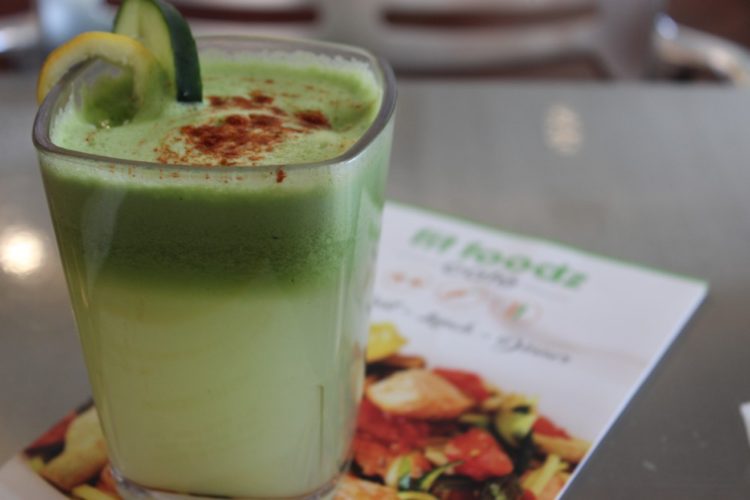 During another visit, I tried the green coolada, and it seriously is one the best smoothies I have ever tasted. Made with raw vegan vanilla protein, pineapple, raw spinach and kale, coconut oil and coconut flakes, it's great for after a workout or when you need a burst of energy for a long day ahead. The very small amount of coconut oil used helps to really smooth out the taste and texture, and makes you feel like you're sitting on the beach, drinking a pina colada — but with good-for-you ingredients.
Onto the appetizers… Let's start with the tuna tartar with hot sweet-chili sauce, diced avocado and served with thick-cut cucumber rounds (gluten-free crackers available upon request). One bite of this and I was hooked. It's like my spoon was magnetically bound to the plate, scooping spoonful after spoonful onto cucumber, or just shoveling it directly into my mouth. This is something I could enjoy time and time again and never get bored. The flavors popped in your mouth and the diced tuna was just perfect. Although tuna tartar is pretty much a staple in most restaurants nowadays, there was something new and refreshing about this one, and I especially liked that it was served with cucumber to keep it starch-free.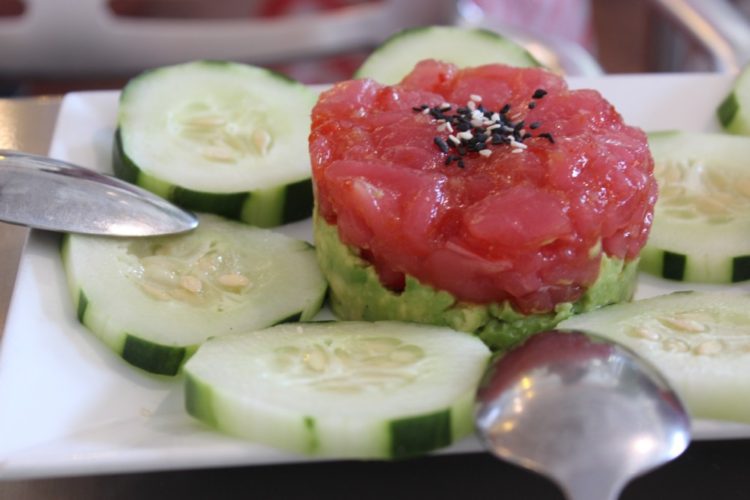 We also tried the quinoa cheese sticks, which are baked with garlic, parmesan and egg whites, topped with shredded skim-milk mozzarella and served with tomato sauce. My favorite part about this was the crust of cheese melted on top. I would have liked a lot more cheese inside the actual stick, which sort of crumbled apart when you cut into it and became more of a pile of yummy quinoa and cheese. No complaints here! The sauce was an excellent complement.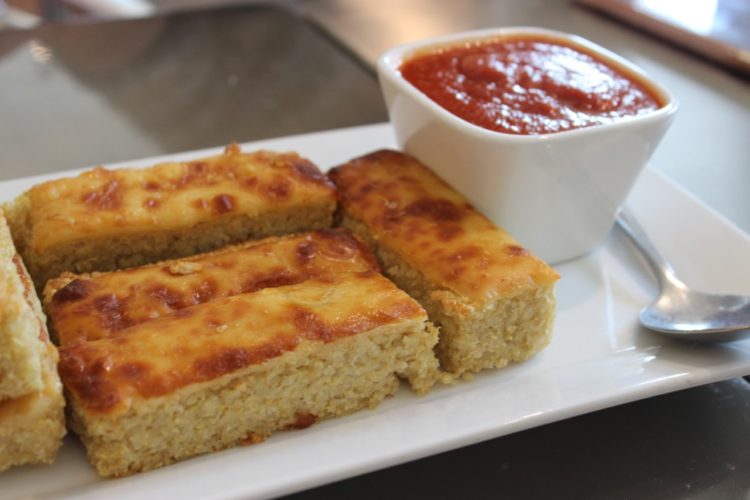 Salad time! Two very colorful platters were delivered to the table, one with bright red strawberries and the other with a heaping pile of nuts, seeds and dried fruit. Stacey's Strawberry Salad hit all the right spots with its mixed greens, juicy strawberries, walnuts, mushrooms, goat cheese, red onions and the house vinaigrette. While you do often see strawberries, walnuts and goat cheese together, I have never seen mushrooms added to the mix and I absolutely loved the combination. The vinaigrette was flavorful, but very light, which we all appreciated. Salads drenched in dressing is never a good thing. The 'Nutmaste' salad is new to menu and already garnering quite the following. It's packed with protein in the form of walnuts, almonds and sunflower seeds, as well as mixed greens, dried cranberries and apricots, gorgonzola and more of that delicious house vinaigrette and again, very lightly dressed.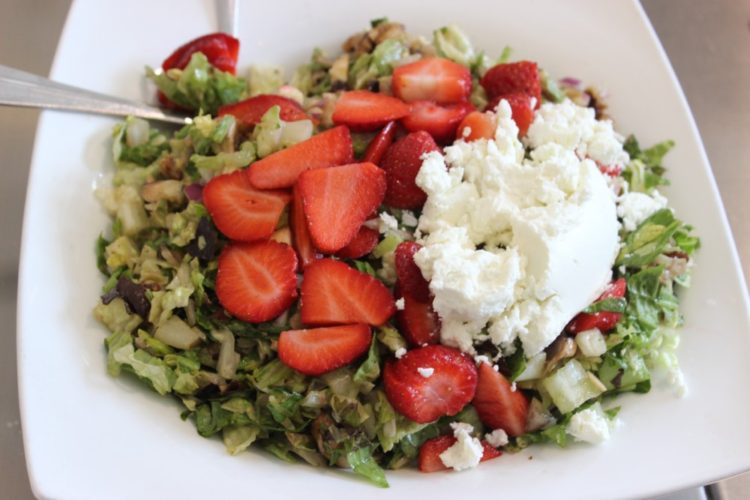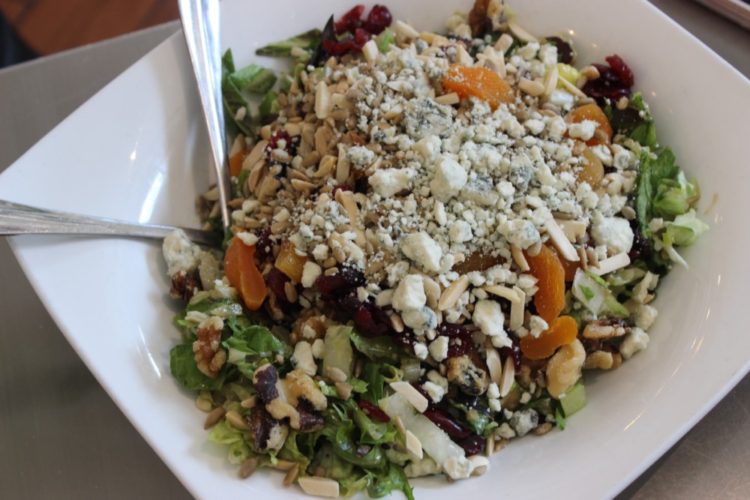 Fit Foodz Cafe is best known for taking traditional dishes like spaghetti and meatballs, chili and lasagne and turning them into something guilt-free. This was evident in all three of the entrees our group got to try — spaghetti squash turkey bolognese, chicken pad Thai, and zoodles with pesto. Bolognese is a classic dish of egg noodles smothered in meat sauce, but Fit Foodz Cafe's take uses spaghetti squash in place of the pasta and lean ground turkey instead of beef. You see the portion size? That's exactly what you get when you order it, and it's only 330 calories! That blew my mind. (By the way, all of the dishes shown are true portion sizes.) Also notable at Fit Foodz Cafe are the prices. This dish in particular only costs $10. Everything is extremely reasonable, especially since most are large enough to share or bring home leftovers. Although I didn't have any, everyone raved about the flavor-packed sauce and loved the idea of using spaghetti squash. Since I have to stay away from pasta, I've been turning to spaghetti squash a lot lately as a replacement and it is definitely one of my favorites.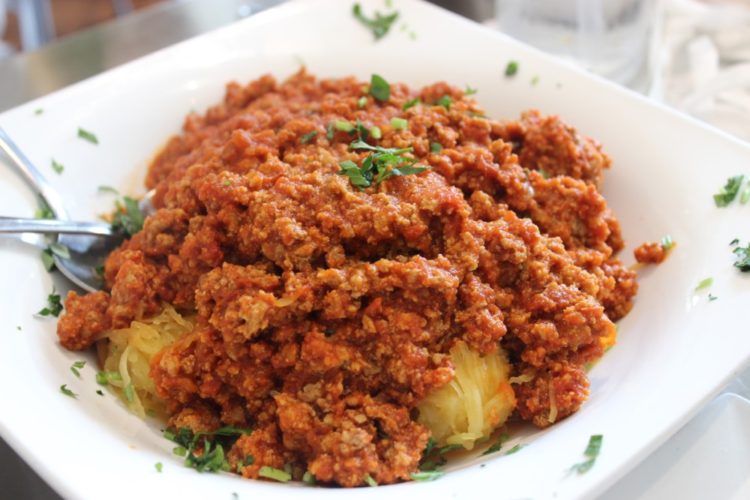 The chicken pad Thai was another hit with everyone, even me. The aroma of that amazing peanut sauce was just too enticing, so I had to give it a try. One forkful of rice noodles, covered in sauce, was all I needed to taste the intense depth of flavor. I felt like I was eating pad Thai at an Asian restaurant — although a much healthier version, I'm sure.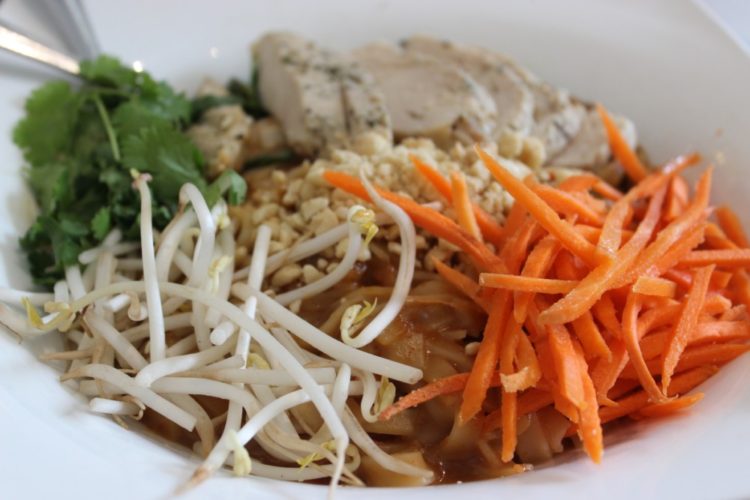 Now we come to the entree I could actually eat all of, and that I did! I took a fairly large portion of the zoodles with pesto and gobbled it right up. Spiralizing vegetables is super on-trend, and Fit Foodz Cafe has not missed the boat. There are four different zoodle dishes on the menu — one with chicken and veggies, salmon and veggies, bolognese-style, and the one we tried, pesto. It's a vegetarian dish with sauteed mushrooms, tomatoes, broccoli and a pesto sauce that's made in-house. I loved the combination of ingredients, especially the pesto. It was flavorful without overpowering the veggies, and it wasn't too thick or creamy — almost the consistency of a vinaigrette. The one issue we all had? Getting the extra, extra-long zoodles from the bowl to our plates!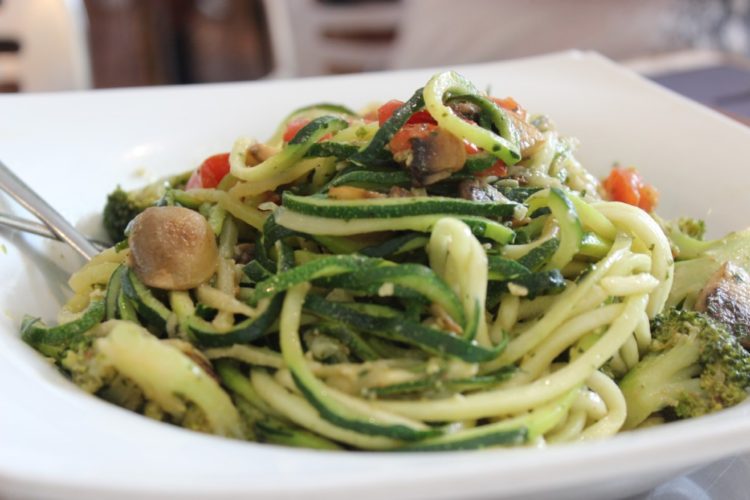 And then, just as we thought we couldn't fit anything more into our full bellies, the most beautiful plate of desserts appeared. Fi Foodz Cafe makes all of their baked goods in-house, most of which are gluten-free and vegan. Susan (Fit Foodz Cafe owner) put together an incredible spread that included house favorites: almond butter cookies made with almond butter, raw sugar, baking soda, egg whites and chocolate chips; gluten-free chocolate cake with vegan chocolate frosting; gluten-free chocolate peanut butter brownies; gluten-free chocolate chip sandwich cookies with vegan chocolate filling; and my absolute favorite of everything, the raw protein bars made with homemade almond butter and date paste, chia, almonds, walnuts, vanilla, pumpkin seeds, raw protein, vegan chocolate chips, coconut flakes and almond milk. These bars were incredibly addicting. The vanilla and coconut added the perfect amount of sweetness. I could easily snack on these all day, every day. Just because these treats are missing gluten, dairy and eggs doesn't mean they're missing any flavor. I couldn't resist trying a little bit of everything — and I maaaay have indulged a bit more in the almond butter cookies and raw bars. They were too good to resist taking just a few more bites.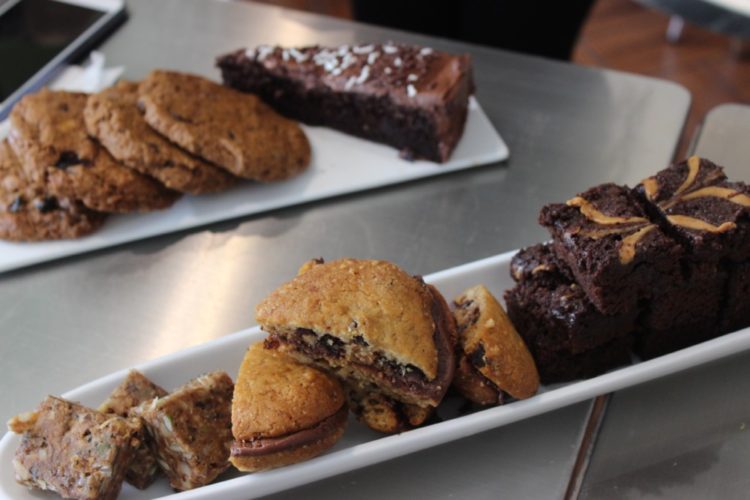 We also were able to get a taste of Fit Foodz Cafe's Açai bowls, which all start with a base made of Açai, banana, mango, honey and almond milk topped with different fruits, granolas, nut butters, etc. You can create your own or try one of the three varieties available — the Crunch 'n Much with banana, granola, hemp, chia, sunflower seeds, bee pollen, honey and natural peanut butter; the Forbidden Bean with raw chocolate protein, banana, strawberries, whole almonds, vegan chocolate chips and honey; or the Berry Bee Licious with banana, blueberries, strawberries, goji berries, coconut, bee pollen and honey.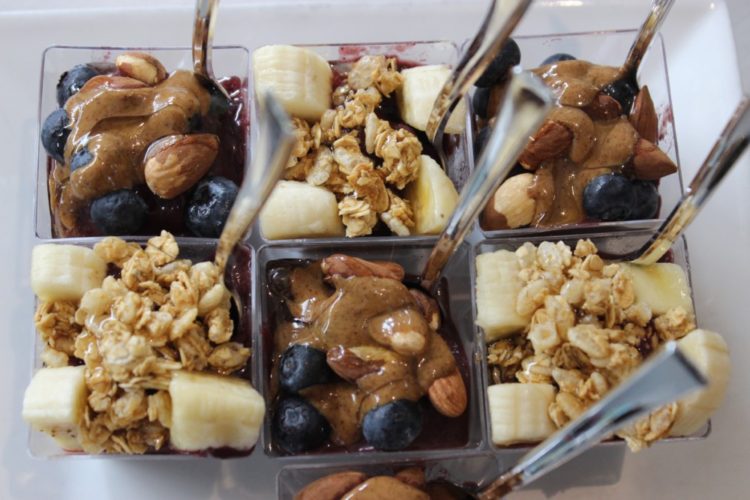 Fit Foodz Cafe is perfect for those looking for healthy, quick and flavorful options. It's located at 9704 Clint Moore Rd., Suit A-108 in The Reserve Shopping Center in Boca Raton.