Never miss a bite! Sign up here to receive new recipes and reviews straight to your inbox.
Disclosure: I was invited to dine as a guest of Henry's and received a complimentary meal in exchange for this post. As always, all opinions are 100% my own.
Sunday Brunch just got a lot sweeter when you brunch at Henry's on Jog Road in Delray Beach. Every Sunday, from 11:30am-2:30pm, you can sip on bottomless mimosas and bellinis for just $5 when you purchase one of the 20+ brunch entrées available on the menu.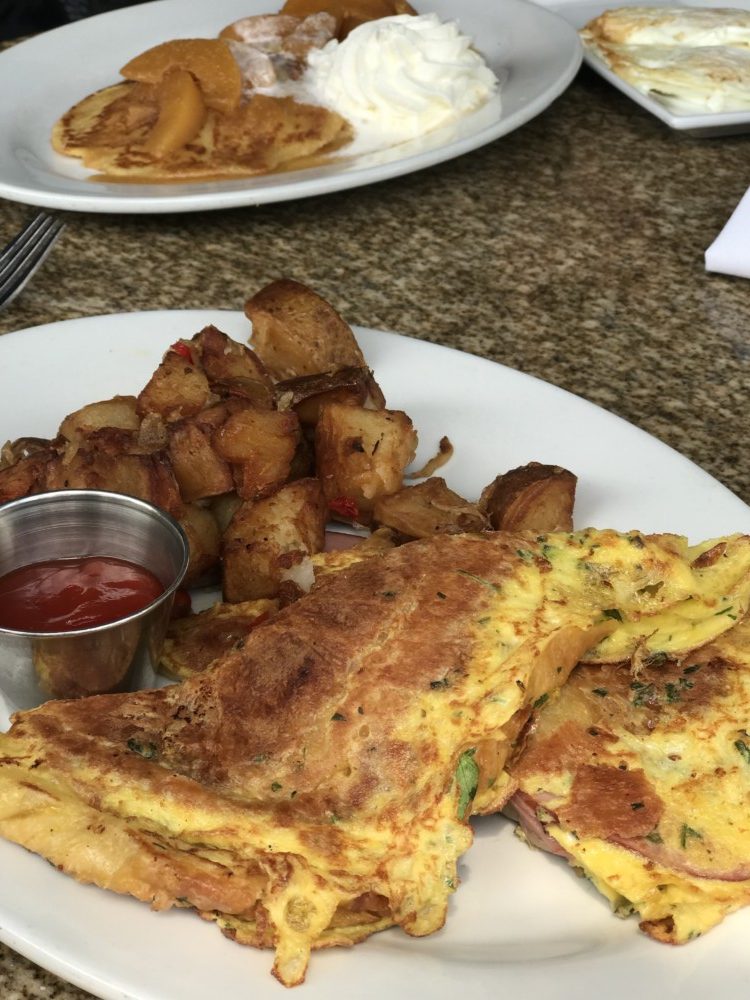 Henry's has been a go-to dining destination for American comfort food in the Boca and Delray area for over 18 years. It's one of those restaurants that has some serious regulars — you know, those people who must always sit at their table, whose drink orders are memorized by the servers, and who dine in at least 2-3 times a week. That's Henry's for ya, and rightfully so. The food and service are always on point, and it has an old school, charming and comfortable atmosphere.
Henry's has gone through a few different chefs in the years since it's been on my radar, but current Executive Chef Amy Mandile has stepped up the restaurant's game by adding a combined 30 new and unique items to the menus for lunch, early dining, dinner, brunch and bar bites.
Many of these new dishes were inspired by Chef Amy's family, experiences and even Henry's sister restaurant, Ke'e Grill (located in Boca Raton on Military and Clint Moore). The new menus are largely focused on sourcing local and organic ingredients whenever possible, and serving only free-range, non-GMO, antibiotic-free chicken and cage-free eggs.
There are a lot of restaurants offering bottomless drinks with their brunch specials, but at $5, this is quite the steal. You'd think there would be a catch, but nope — no catch here, just refreshing cocktails. I prefer peach over orange, so I'm all about those bellinis, and I'm all about that $5 price tag too.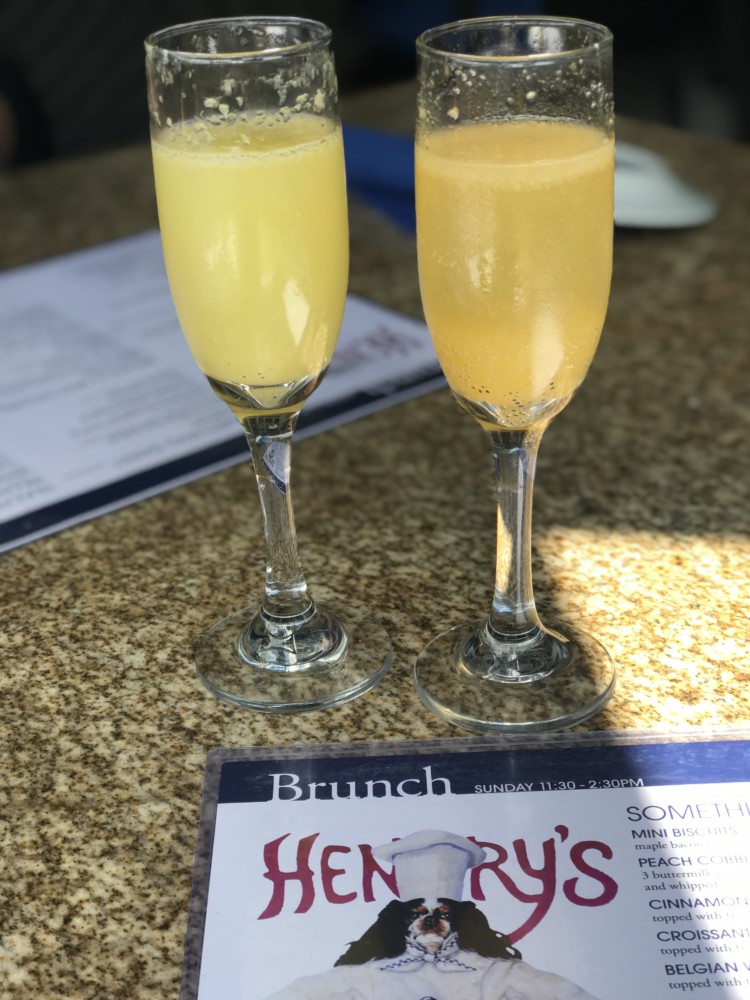 My parents and I enjoyed a leisurely Sunday afternoon brunch outside on Henry's covered patio, where the fresh air and cool breeze made for a perfect experience. Mom and I ordered our bottomless cocktails and Dad got a pink lemonade, which was served with a paper straw — something he cares deeply about, as he volunteers frequently at Gumbo Limbo in Boca Raton and works with the sea turtles. Henry's is a proud supporter of the Skip The Straw campaign, as many other restaurants in the area have caught onto as well.
Brunch at Henry's is not complete without an order of homemade biscuits, straight outta the oven, served with a soft and creamy maple-bacon butter, perfect for slathering all over those freshly baked carb-a-licious creations. They're on the smaller side, so you won't feel guilty if you eat more than one. Mom and Dad certainly didn't.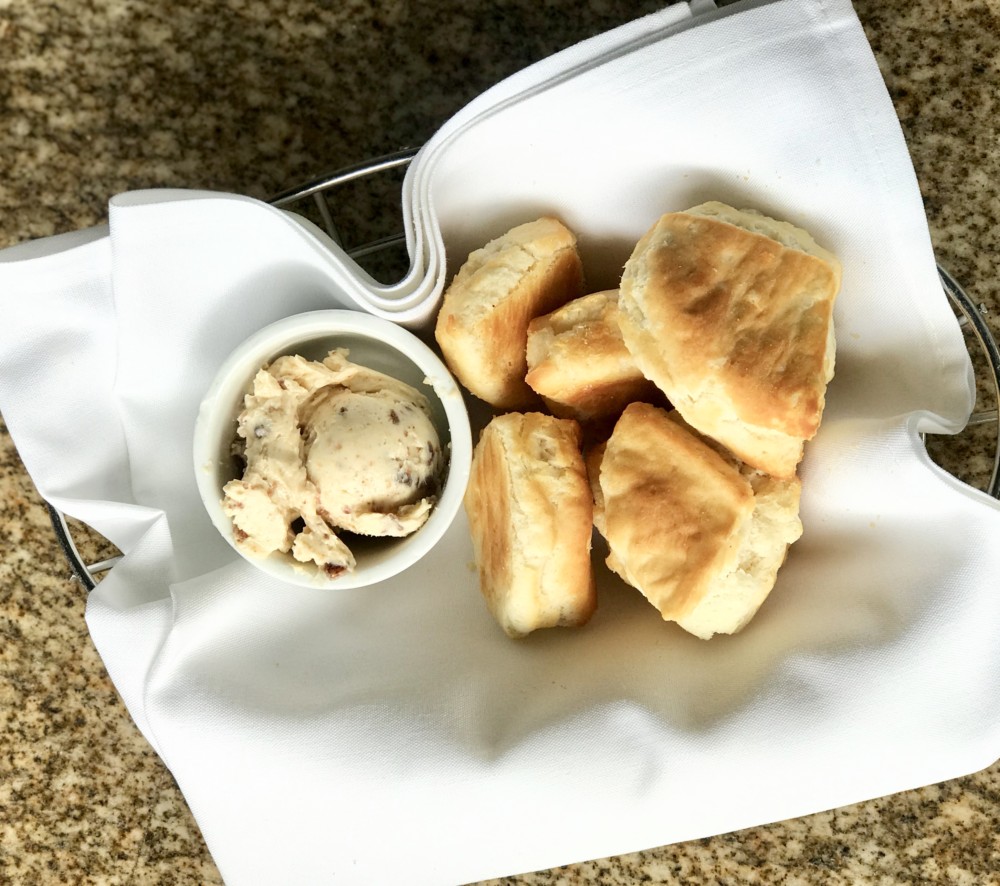 Chef Amy's brunch specialities are just as decadent as those biscuits. Let's start off with Dad's order — the peach cobbler pancakes topped with peach compote and whipped cream. Dad polished off that plate of warm buttermilk pancakes in no time, and he even took things up a notch by ordering two eggs over medium to throw on top. Not so sure how I feel about this combination of dessert-like brunch with eggs, but hey, not my meal, and he loved it.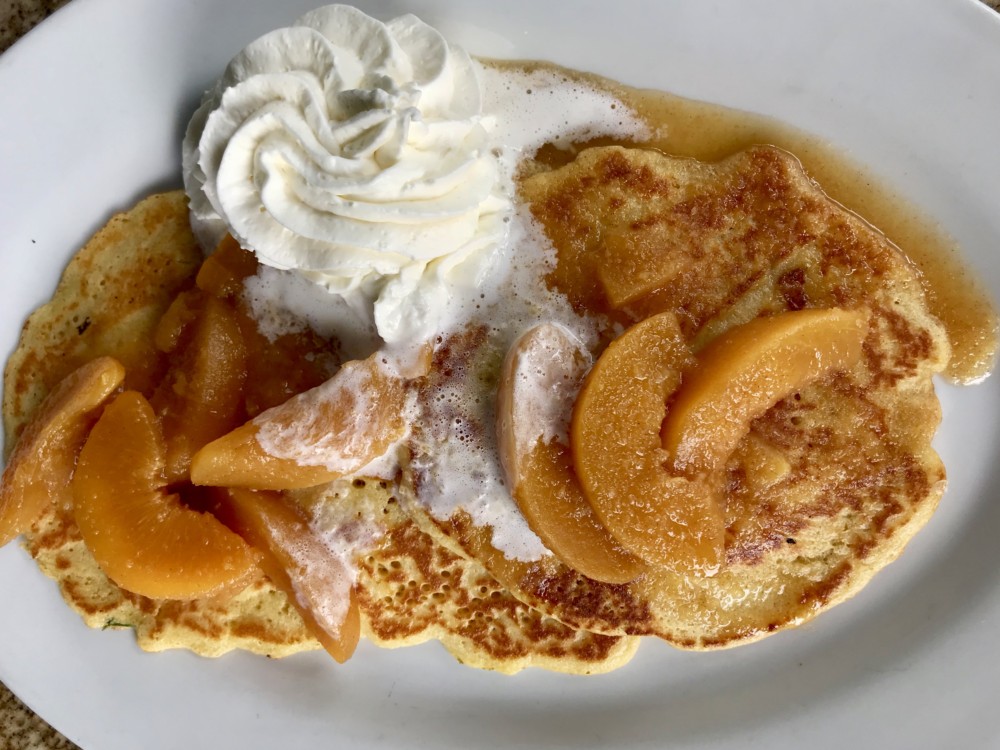 Mom went for a straight-up savory selection, and ordered the croque monsieur, which is basically a gourmet ham and cheese sandwich on an egg-battered and sautéed croissant, served with crispy home fries. Mom's eyes grew huge as the platter was brought to the table — she had no idea she was in for such a treat. And a treat it was. It looked and smelled so good, I wish I could have had a bite!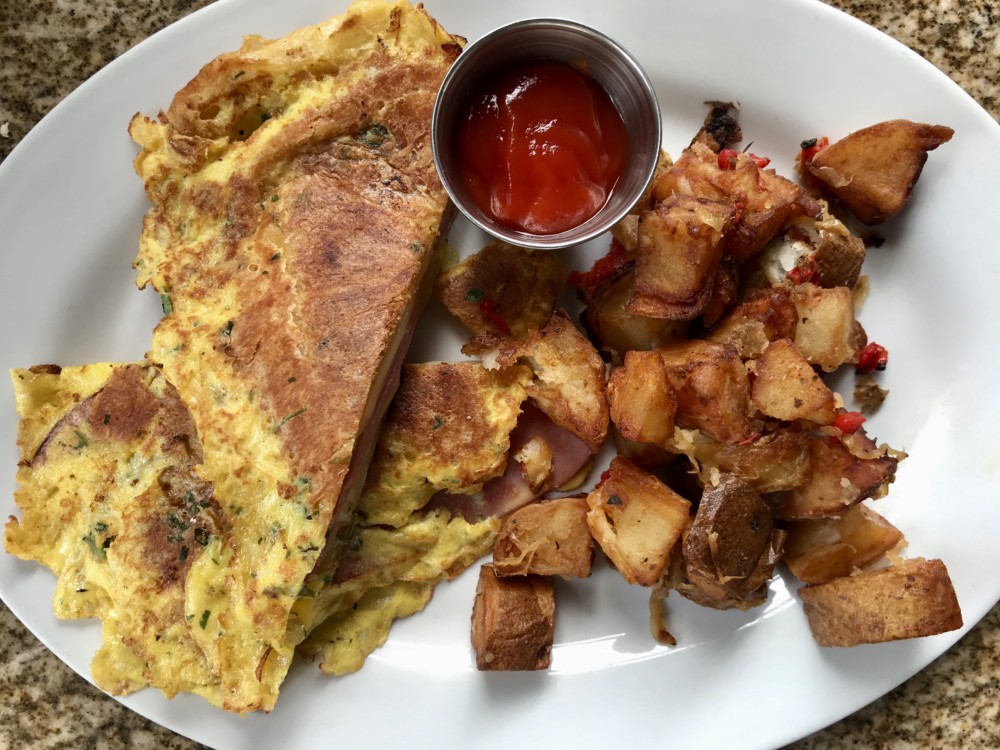 Brunch food is hard for me unless there are specific vegan/gluten-free friendly menus available, so I usually lean toward the salads. The chopped vegetable salad at Henry's is full of veggies and the grilled shrimp makes an excellent choice if you want to add in some protein. It has squash, zucchini, asparagus, carrots, red onion, corn, roasted red pepper and aged cheddar, all tossed together in a roasted tomato vinaigrette. I omitted both the corn and cheese from mine, and it was still jam-packed with flavor, texture, and bright beautiful color. This is the kind of salad I could easily enjoy on a regular basis.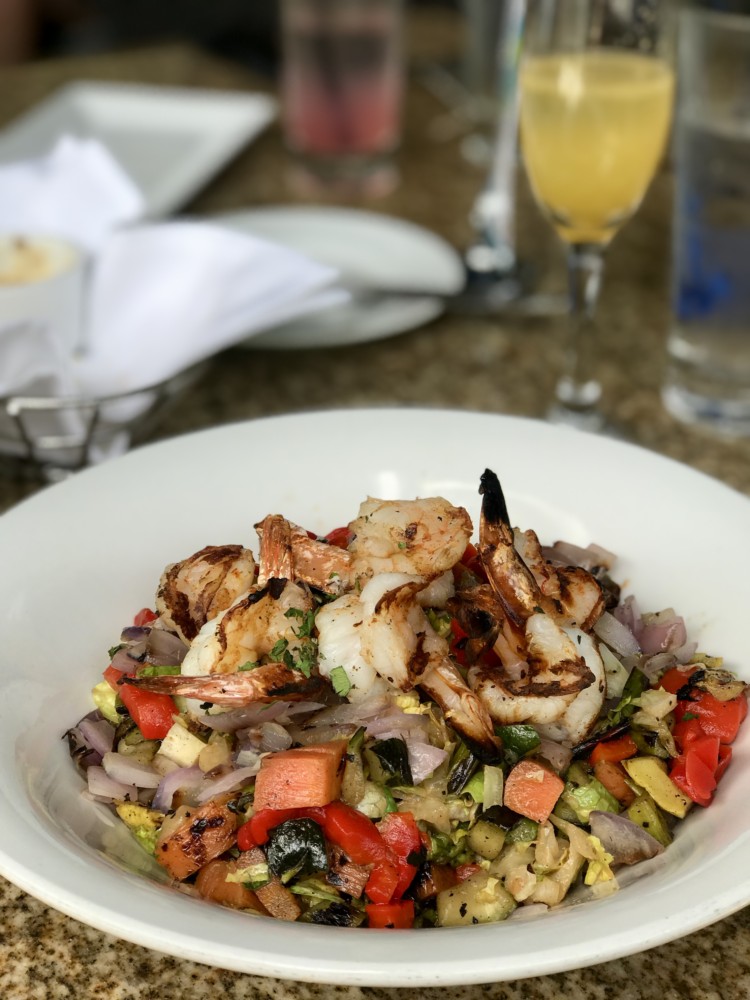 Additional new brunch dishes include savory items like shrimp and grits and short rib hash skillet, and sweets like croissant or cinnamon bun French toast. Don't forget — when you order any of these entrées, you can wash 'em down with $5 bottomless mimosas and bellinis. You can't beat that!
Henry's is located at 16850 Jog Road in Delray Beach. The restaurant is open Monday through Saturday for lunch and Sunday for brunch from 11:30am-2:30. Happy Hour is offered from 11:30am-2:30pm in the dining room and bar, at the bar only from 4-6pm, and in the dining room and bar from 5-6pm. Dinner is served Monday through Saturday from 5-9pm, and Sunday from 5-8pm. The early bird Sunset Dinner Menu is available daily from 5-5:45pm.