Never miss a bite! Sign up here to receive new recipes and reviews straight to your inbox.
Dress up your main entree with a tasty side or serve as an appetizer or tapas-style dish. Herb-Marinated Mushrooms are versatile and full of flavor!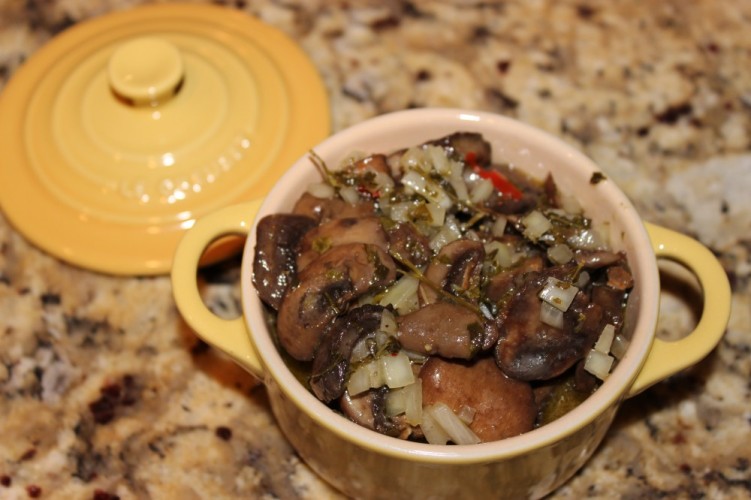 I love going out to eat and trying a little bit of everything. Tapas-style restaurants are definitely my favorite — and marinated mushrooms are something I always order. There's a restaurant in Delray called Papa's Tapas that serves the most delicious marinated mushrooms. I found myself craving them recently and instead of driving all the way out there for a simple bowl of 'shrooms, I decided I'd try making them myself. All you do is throw a bunch of herbs, oil and vinegar in a jar along with your mushrooms and keep in the fridge overnight. Piece of cake!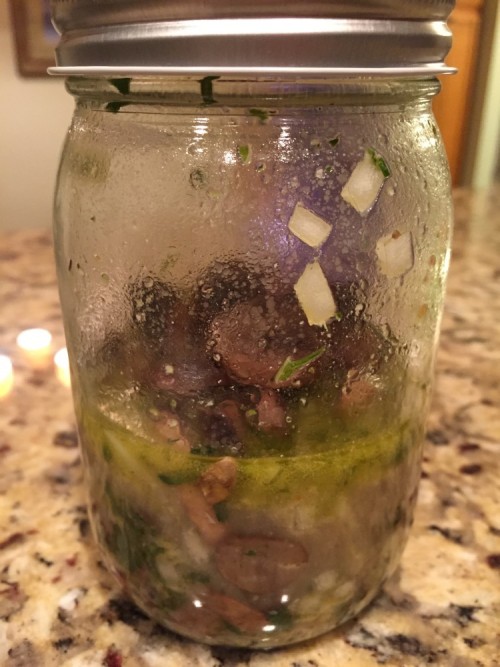 I'm participating in this month's Wine Pairing Weekend and my Herb-Marinated Mushrooms were just the thing to pair with a nice smooth glass of Chilean Cabernet Sauvignon. This month's theme is "New Wine Resolutions for the New Year." We are all choosing a specific wine, region or grape varietal that we want to learn more about in the new year. I've recently tried a few different wines from Chile and have been pleasantly surprised — especially with the chardonnay, a wine I don't always love. I was gifted a bottle of Alto Roble Vina Caballero during the holidays and upon noticing it was from Chile, was pretty excited to try it. I did some research to see what kinds of flavors complement this medium-bodied red wine. The bottle itself says to pair it with BBQed beef, but uh…that obviously wouldn't work for me. I needed a second opinion. Various websites listed mushrooms as a food pairing. Lucky for me, I was already planning to make my Herb-Marinated Mushrooms — perfect!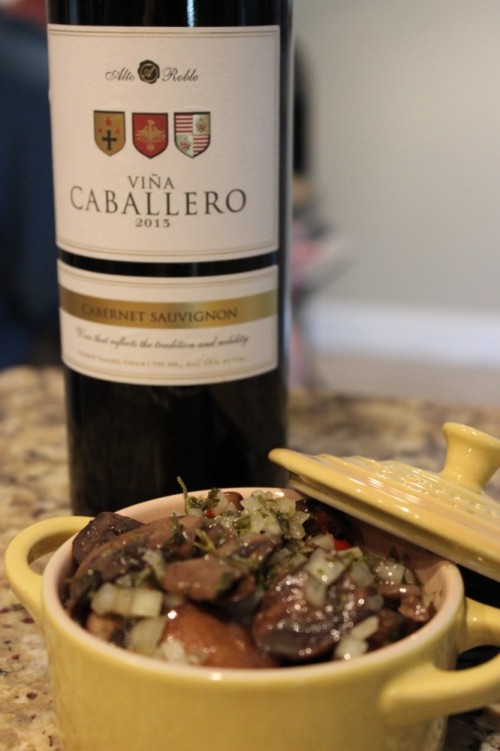 The wine has very strong notes of strawberry and raspberry and a hint of cacao, it's a beautiful deep red color and has an enticing aroma from the berries. And the mushrooms?! I'm thrilled to know how easy it is to make my own Herb-Marinated Mushrooms at home.
If you want to make them into a meal, they would be great over a bed of polenta, mixed in with quinoa, rice or pasta. They can be eaten alone as a side dish or pile 'em high onto a piece of crostini and serve as an appetizer. Herb-Marinated Mushrooms are restaurant quality but super simple to make and use ingredients you probably have in your pantry right now.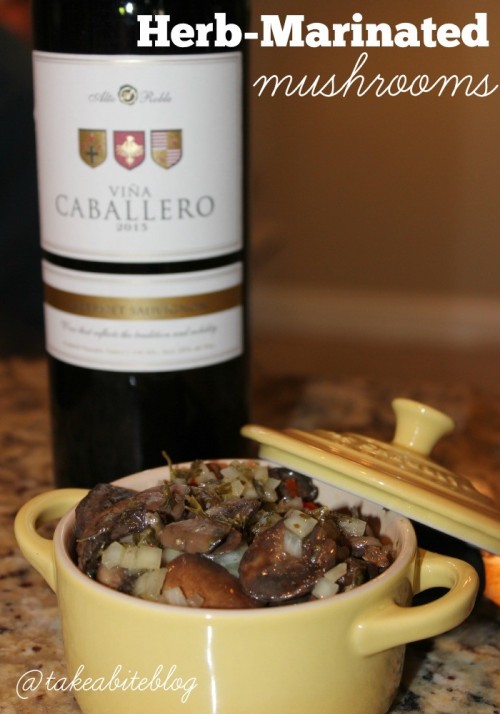 Herb-Marinated Mushrooms
Recipe Type
:
Side Dish/Appetizer
Author:
Dress up your main entree with a tasty side or serve as an appetizer or tapas-style dish. Herb-Marinated Mushrooms are versatile and full of flavor!
Ingredients
8 oz sliced baby bella mushrooms (or mushrooms of your choice)
1/2 small yellow onion, small diced
2 tbsp olive oil
3 tbsp champagne vinegar
1/2 tbsp Gourmet Garden Garlic Paste
1 tsp fresh basil
1 tsp fresh parsley
1 tsp fresh oregano
1/4 tsp red pepper flakes
salt and pepper
Instructions
Combine all ingredients together in a jar with a screw top lid and shake well.
Keep in the refrigerator overnight.
Shake well before serving.
Here's what the rest of the Wine Pairing Weekend crew have paired up for you!