Never miss a bite! Sign up here to receive new recipes and reviews straight to your inbox.
"So, how do you make money from food blogging?" My fellow food bloggers can agree that they are asked this question far too many times. I go into the whole shpiel about working with brands on product promotion and recipe development, sponsored posts, etc. but then I also mention other perks — complimentary meals at the best restaurants, opportunities to go to restaurant openings and VIP celebrations, and invitations to all kinds of food-focused festivals and events. That's the part that seems to stick out most to people. Life of a food blogger ain't so bad, huh?
Speaking of those festivals, Denise and I were invited to attend the Hess Select South Beach Seafood Festival Chef Showdown this past Friday night. Despite the unfortunate rainy weather, a huge crowd stormed the beach for the night's festivities. Tents were set up along the sand and there was a huge pavilion complete with a stage, front and center, where the chef battles would take place. There were definitely a few monsoon-like moments that had the covered pavilion JAM-PACKED, but as soon as the rain stopped, people wandered back and forth, inside and outside pretty frequently. There was food to be sampled no matter where you were!
Here's how the #ChefShowdown works — there were 5 battles, 11 chefs, a judges panel, and of course, the people's choice. Upon arrival, every guest was given 5 tokens, which they awarded to their favorite dish at each station. Then, the chefs battled it out on stage and served their dish to a select panel of judges who voted for their favorite. I'll let you know all the winners a little later 😉
Denise and I didn't waste any time. We immediately found ourselves standing in front of Battle #1 — Surf 'n Turf. Of course we happened to start at the one station where I have to ask for a special plate. Park Central Cafe served a seared scallop the size of my head, paired with short ribs and served over a parsnip puree garnished with micro greens. My plate came — without short ribs — and I dove into that parsnip puree without any hesitation. It was as if a blanket of thick, creamy sweet deliciousness had taken over my mouth. Then came the scallop and I may as well have stopped eating right then and there because there was no way anything was coming close to this dish. My compliments to the chef, one of the most perfectly cooked scallops I've ever had. The sheer size alone had me in awe before I even took a bite!
The contender? Cafe Avanti's shrimp scampi paired with their signature meatball. I'm sorry — shrimp scampi can't compete with the fan-freaking-tastic plate of food I had from Park Central. I think we know where my token went on this one… Battle Surf 'n Turf goes to Park Central Cafe!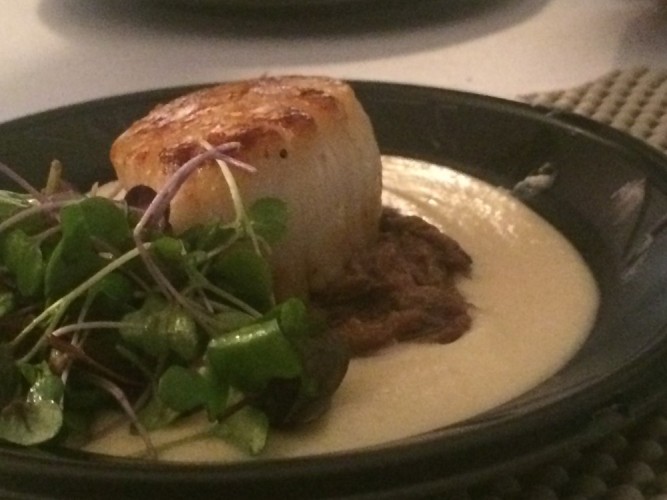 We needed a palate cleanser (a.k.a. wine) before our next tasting, so we headed to the pavilion in search of some of a glass. We walked into the pavilion just in time as the first signs of a drizzle started to appear. Then we saw it… The light shining down from the heavens onto an enormous table full of more scallops the size of my head, even bigger shrimp and prawns, lobster tail, salmon, mussels, and oysters… Is this not the most perfect event for me or what?! With the exception of the surf 'n turf, there was not one other thing there I couldn't stuff my face with!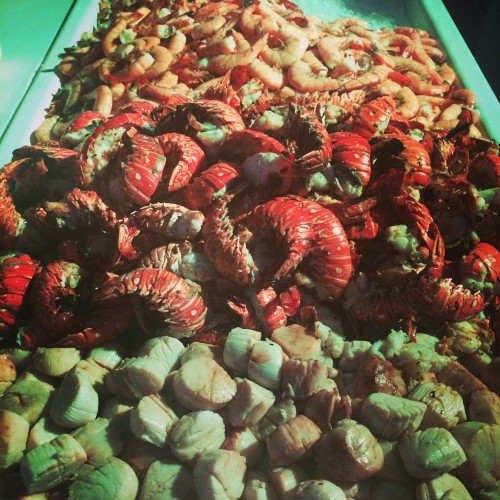 Like octopus. My favorite thing in the world. I was so ready to stuff my face with two yummy preparations of octopus. I honestly enjoyed both dishes a lot; each of them had their perks. Poseidon served their Greek-style octopus in a lemon oil sauce. The slices of octopus were super tender — like, melt in your mouth — and cooked in a simple, flavorful sauce. That's it, nothing else. But this octopus totally didn't need anything else on the plate. It was that good. BUT, Dolce Italian served their grilled octopus on top of a salad of chickpeas, farro, and a pistachio vinaigrette. The main star of the dish didn't quite have that tender touch like Poseidon's, but it was cooked the way I love my octopus. A little char from the grill adds some bite, but it was the addition of chickpeas and farro that won me over. Battle Octopus goes to Dolce!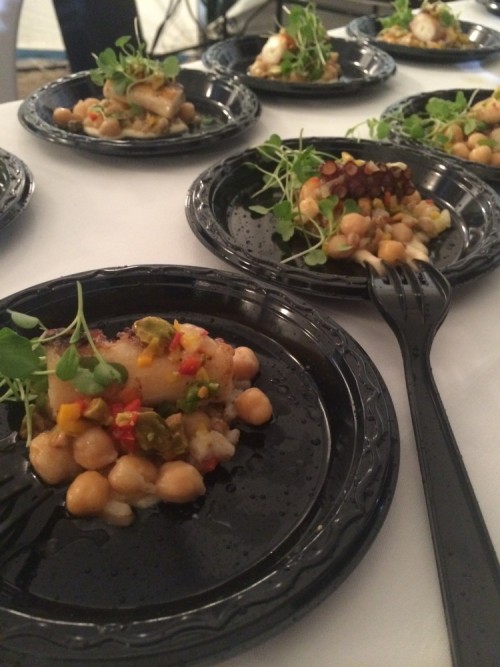 Next up was Battle Lobster between the host of the evening, Chef Ralph Pagano from Naked Taco and Fabio Vivinai (You know… from Top Chef season 5, and Top Chef All-Stars, and Life After Top Chef!!!) who is just about to open a new restaurant in Miami, Siena Tavern. Naked Taco's lobster empanada was totally on par with those scallops. This is probably the first lobster empanada I've ever had, and easily the best empanada I've ever tasted. It was served with a pineapple-rum shooter that enhanced all the spice in the empanada if you took a sip immediately following biting into that crispy, crunchy, lobster-y pocket of deliciousness. It took all of my will power not to go back for seconds. There were way too many other things I still had to try — like the lobster roll from Siena Tavern. It was a very simple roll in my opinion, and while it was tasty and definitely fresh, it didn't make my tastebuds sing to the Food Gods like the empanada. I did, however, really like how the bun was toasted. Ugh, that was such a "Chopped" judge thing to say. Battle Lobster goes to Naked Taco!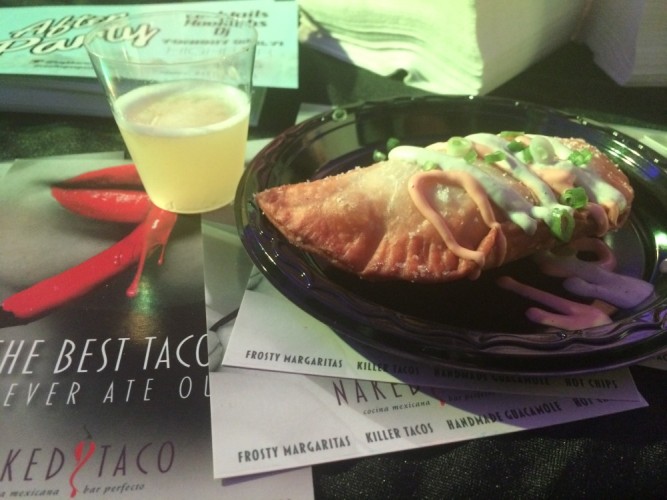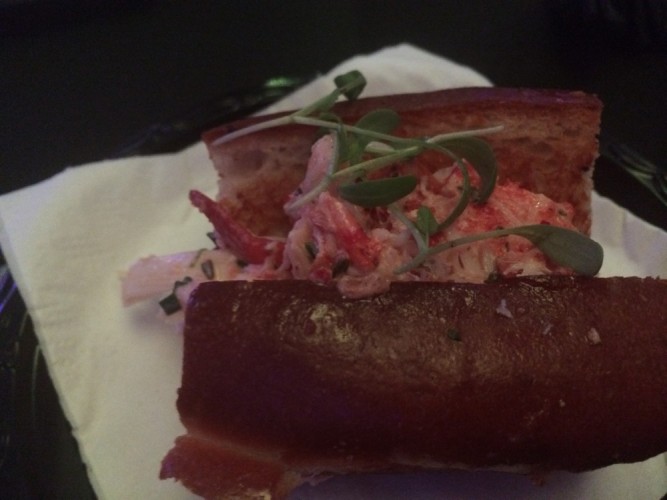 Now we moved along to Battle Tuna, where there could not have been a clearer winner for me within two seconds of trying each dish. Red The Steakhouse served their tuna tataki with yuku aioli and wakame — a simple preparation but it's all you need when you have good ingredients to work with. Cibo Wine Bar, on the other hand, served seared tuna over an arugula salad with tomatoes and…OLIVES. I didn't see the olives hiding underneath the greens, but as soon as it touched my tongue I was done with the dish. Plus, the tuna was just…meh. Battle Tuna goes to Red!
The last category left was Battle Fish, this time between three competing restaurants — Oceanaire Seafood Room, Florida Cookery, and City Hall The Restaurant. All three of these dishes were incredibly full of flavor, and I honestly wish I could have given my token to all of them! City Hall served sesame seared salmon with jasmine rice and bok choy — one of my favorite veggies! The salmon was delicious, perfectly cooked, and the crunch from the sesame added a great texture to the dish. Oceanaire went super spicy with their jerk mahi-mahi served with citrus sweet potato and pineapple chutney. The fish was actually a little too spicy for me. Although delicious, I just couldn't have more than one or two bites. I did finish off that sweet potato and chutney though! Florida Cookery served smoked cobia with a lemongrass vinaigrette and a quinoa salad. The quinoa was a nice healthy addition, but it may not have been needed — the cook on this piece of fish was out of this world. I set down my plate to taste the other dishes and found myself going back to finish off that piece of fish because I just couldn't let it go uneaten. Battle Fish goes to Florida Cookery!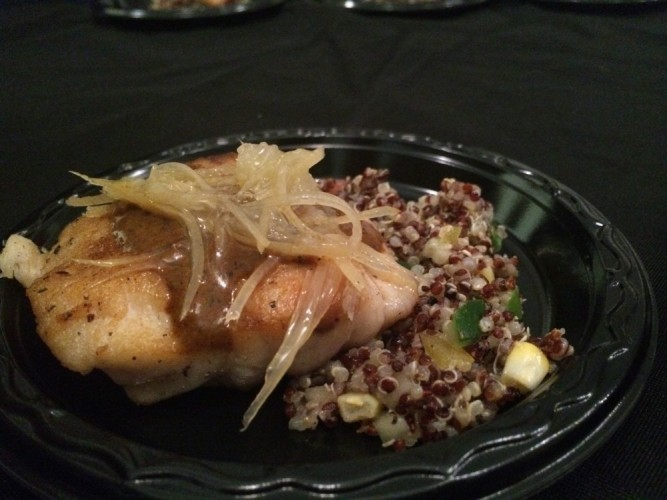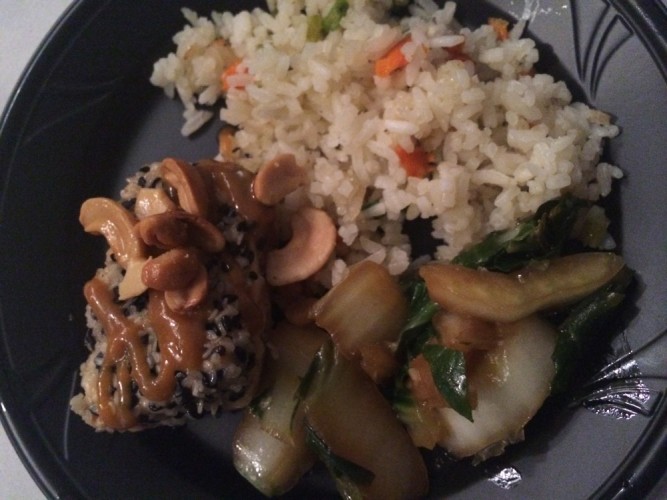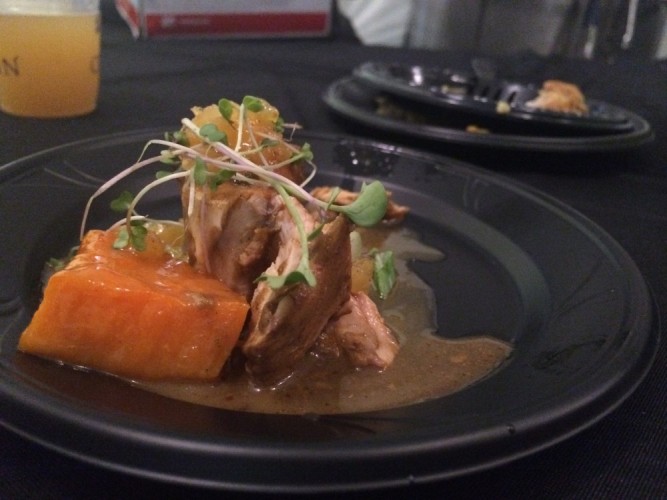 I bet you're wondering who the real winners were, right?
Battle Surf 'n Turf
Judges: Park Central Cafe
People's Choice: Cafe Avanti

Battle Octopus
Judges: Poseidon
People's Choice: Poseidon
Battle Lobster
Judges: Siena Tavern
People's Choice: Naked Taco
Battle Tuna
Judges: Red The Steakhouse
People's Choice: Red The Steakhouse
Battle Fish
Judges: Oceanaire
People's Choice: Oceanaire
Disclaimer: I received complementary admission to this event.