Never miss a bite! Sign up here to receive new recipes and reviews straight to your inbox.
Disclosure: I was invited to dine as a guest of Galley at the Hilton West Palm Beach and received a complimentary meal in exchange for this post. As always, all opinions are 100% my own.
Galley is located within the Hilton West Palm Beach, right in the heart of Downtown West Palm just minutes away from popular attractions such as City Place, Clematis Street and the Kravis Center for the Performing Arts. The hotel's award-winning restaurant recently went through some changes, including a new general manager, new menu, new specials and promotions, and new contemporary art collection adorning the walls, giving it a chic, modern feel.
The Hilton WPB is a prime location for out-of-towners looking for that Downtown West Palm Beach experience. It's even connected to the Palm Beach County Convention Center, making it super convenient for those attending conferences or events. It's only 3 miles from the Palm Beach International Airport, and features 400 rooms, 24,000 square-feet of modern and refined meeting space, a beautiful pool deck with cabanas and poolside bar, and a grab-and-go convenience store.
Galley is known for its ability to blend its culinary creations with beautiful presentation and visual arts. Not only is the food presented artfully, but the mixology program is super inventive as well. The bartenders are constantly experimenting and entertaining guests while they masterfully mix their cocktails, sometimes even tableside, like their Smoked Old Fashioned, which is presented in a smoking globe right at the table.
The kitchen is led by Executive Chef Miguel Santiago, who has 20 years of culinary experience under his belt. He's even cooked for multiple U.S. presidents while helming the kitchen at The Capital Hilton in Washington, D.C. He's also worked at Loews Miami Beach, Acqualina by Rosewood, Hyatt Pier 66 and El Conquistador, a Waldorf Astoria Resort. This award-winning chef is inspired by his Puerto Rican background, and works with local South Florida farmers to ensure that the produce and herbs used at Galley are of top quality. New general manager, Craig Steele, also has an impressive background. Born in the UK, but in America for over 21 years now, he was raised in the hospitality industry in one of my favorite cities: Philadelphia. His career blossomed and eventually he found himself in West Palm Beach, where his most recent GM stint before Galley was at The Alchemist Gastropub, which he opened. I always gravitate toward people with NJ and PA backgrounds, so you know we spent a decent amount of time talking about our fave Philly hotspots.
Chef Miguel prepared quite the meal for us, starting with one of the most delicious lentil soups I have ever tasted — black beluga lentils, topped with a day-caught scallop and sprinkled with crispy pieces of fried spinach. The lentils were smooth and creamy, the scallop was perfectly cooked, and the spinach added just the right pop of texture to balance everything out. I crave soup any time the temperature drops, and as Florida has seen its share of chilly days lately, this soup has been on my mind…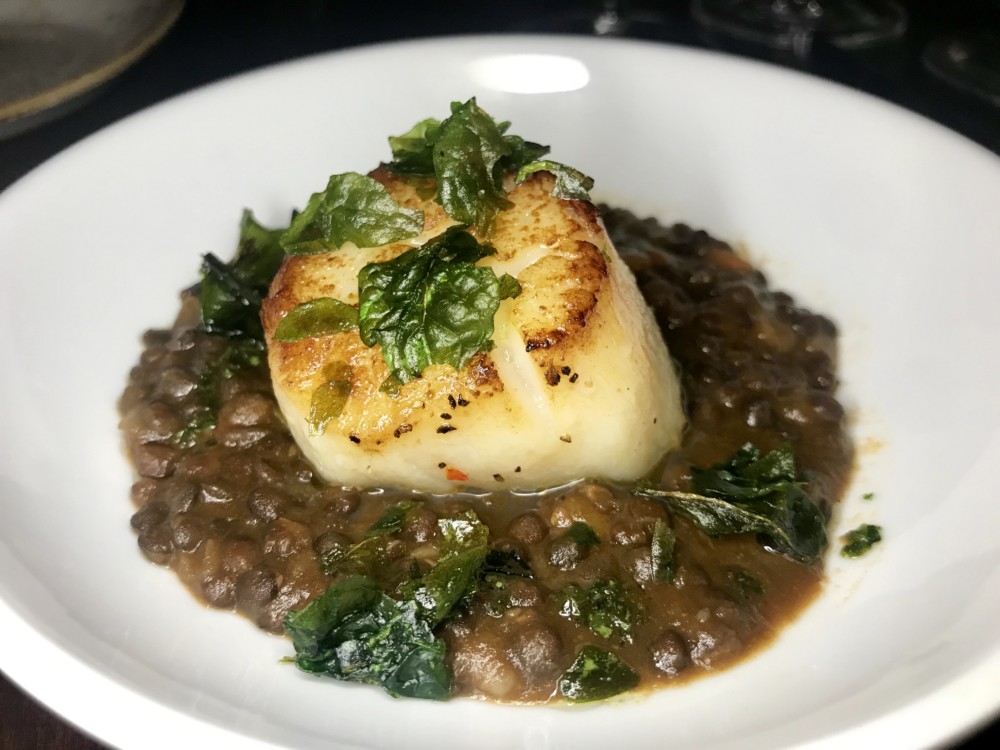 Next up, Chef Miguel served his burrata salad with heirloom tomatoes, baby greens and balsamic pearls. For me, however, he added grilled tofu in place of the burrata. I never liked tofu until this past year, and now it's one of my favorite ingredients — mainly because it has very little flavor on its own, so it completely takes on whatever flavor profile you add to it. This simple grilled preparation married perfectly with the intense balsamic and juicy tomatoes. The colors on the plate really popped too. Chef Miguel clearly understands that we eat with our eyes before anything else.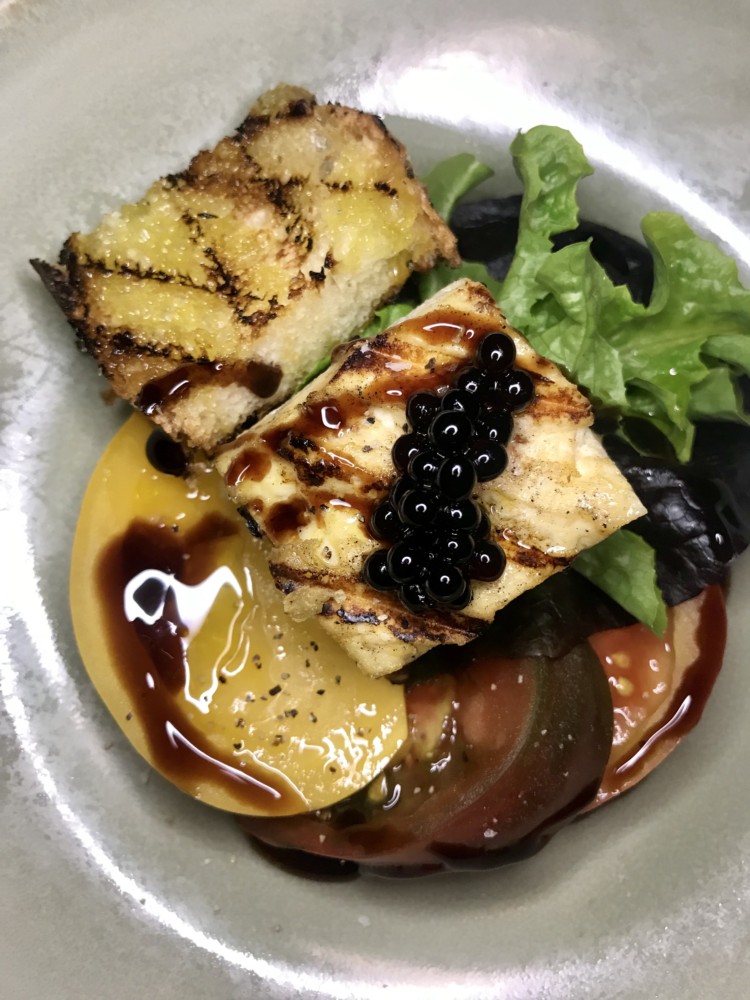 Galley is well known for its pizza. In fact, the staff is always challenging other local restaurants to go against them in a pizza-making contest. Their pizza oven is hard to miss when you walk into the restaurant, and the pizzas are hard to say no to. We were served the classic Margherita with San Marzano tomato, buffalo mozzarella and basil, and the carne asada with skirt steak, pico de gallo and chimichurri sauce.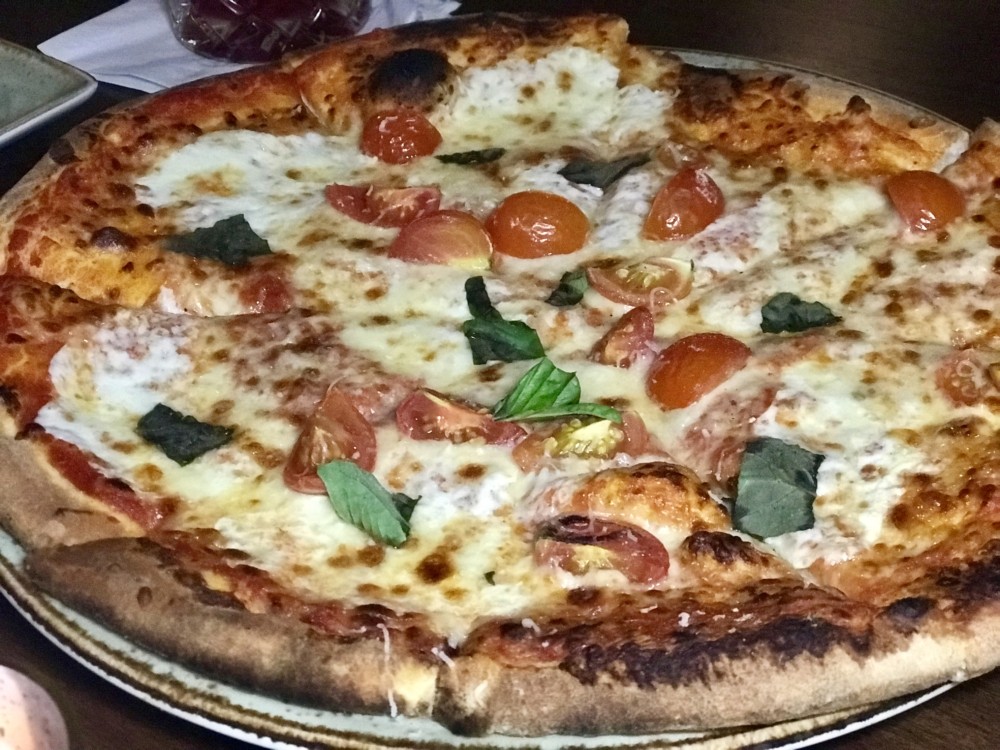 Our entrees came out with sides of blistered shishito peppers (my favorite!!!), brava potatoes, and some of the most ooey-gooey, creamy macaroni and cheese, topped off with toasted breadcrumbs. Its cheesy aroma filled the air. It took all of my willpower not to dive right in and devour the entire bowl. You could tell it was just oozing with deliciousness.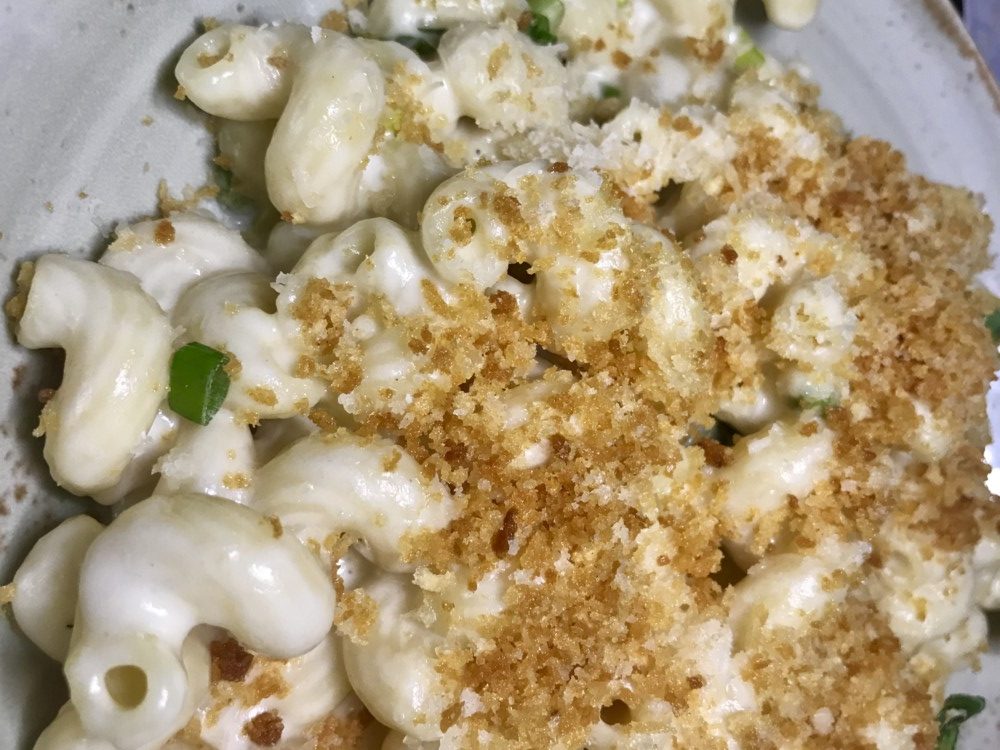 But back to that entree… It was a duo of meat, featuring grilled Wagyu beef tenderloin and harissa-rubbed organic chicken. The chicken was not gluten-free, so I was met with a plate full of beef, and I was not mad about it. The beef was so tender and flavorful. I'm telling you, becoming a meat-eater again was one of the smartest decisions I have ever made.
Galley's new menu is full of options for everyone, including the vegan impossible burger with vegan cheese and the oven-roasted harissa-rubbed cauliflower appetizer that is both vegan 
and
gluten-free. Side note: I had that cauliflower during my first visit to
Galley
and it is hands down the 
best 
cauliflower ever. It's no wonder they kept it on the menu.
Dessert at Galley is not to be missed, especially not the oven-baked chocolate chip cookie. It's served with vanilla ice cream and caramel sauce, and will have your taste buds singing and dancing all night long. It may not be Shaina-friendly, but it is 100% Shaina-approved. This too is one of the things I had when I visited Galley after it opened a little over a year ago, before I knew for sure about my intolerances. I can tell you with total confidence — this cookie is worth every single calorie, and then some.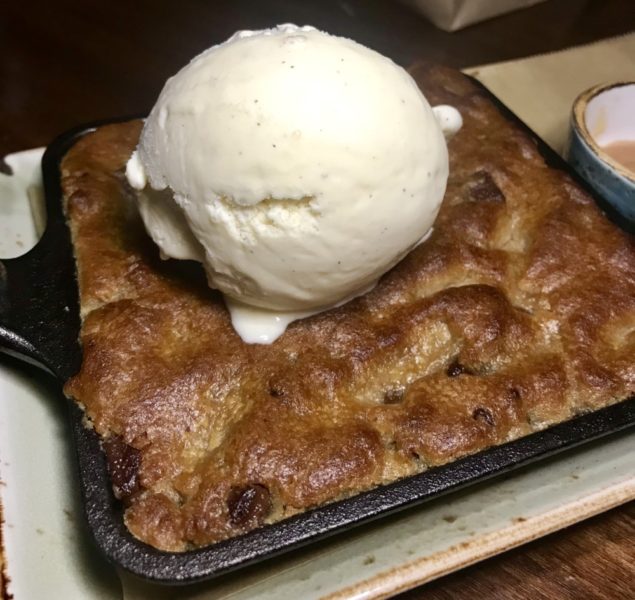 There are lots of fun things going on at Hilton West Palm Beach and Galley, including fitness classes out on the back lawn, live music on Friday nights starting at 7:30pm, poolside brunch on Saturdays with DJ entertainment, and more.
Galley
in located at the Hilton West Palm Beach at 600 Okeechobee Blvd. in West Palm Beach. The restaurant is open for dinner Sunday through Thursday from 5pm-10pm, and Friday and Saturday from 5pm-11pm. The bar is open Sunday through Thursday 4pm-12am, and Friday and Saturday from 4pm-2am.